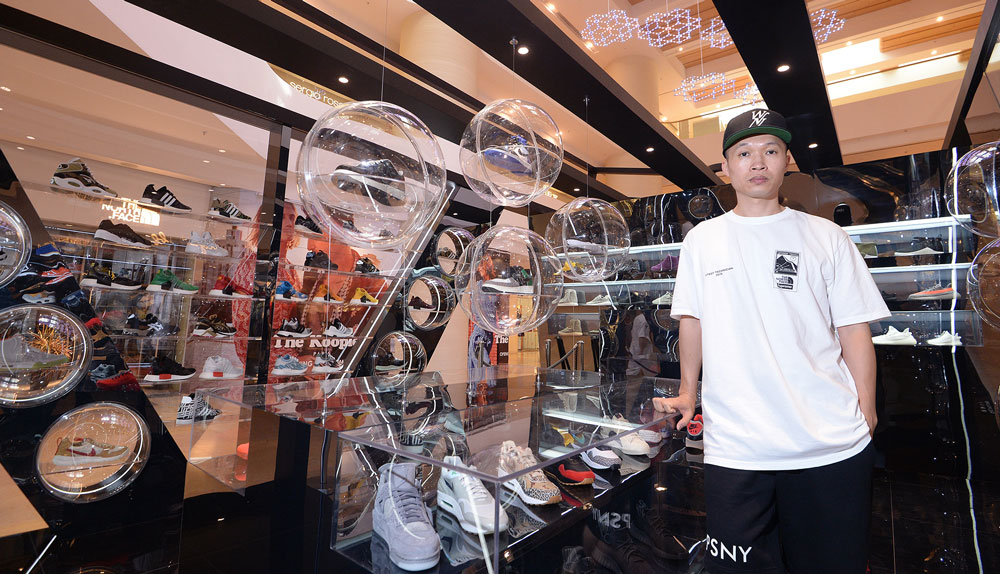 My thoughts on the current state of sneaker-addiction have been thoroughly documented—seriously just take a look here. So, when the sneaker godfather himself, Yu-Ming Wu, came to Hong Kong I had to meet him. We spoke at the grand opening of his unique exhibit in Pacific Place, which displays over 100 rare and limited edition sneakers from his personal collection.
Check out the Stadium Goods x Pacific Place opening party
Wu, the founder of Sneaker News and Sneaker Con, and the Chief Marketing Officer of New York's sneaker mecca, Stadium Goods, has a natural, laid-back, California-cool vibe. Arguably one of the most important figures in the sneaker industry, he's one of the first people to see that sneakers were more than just part of your ugly sports kit. Now they're an essential part of our everyday uniforms.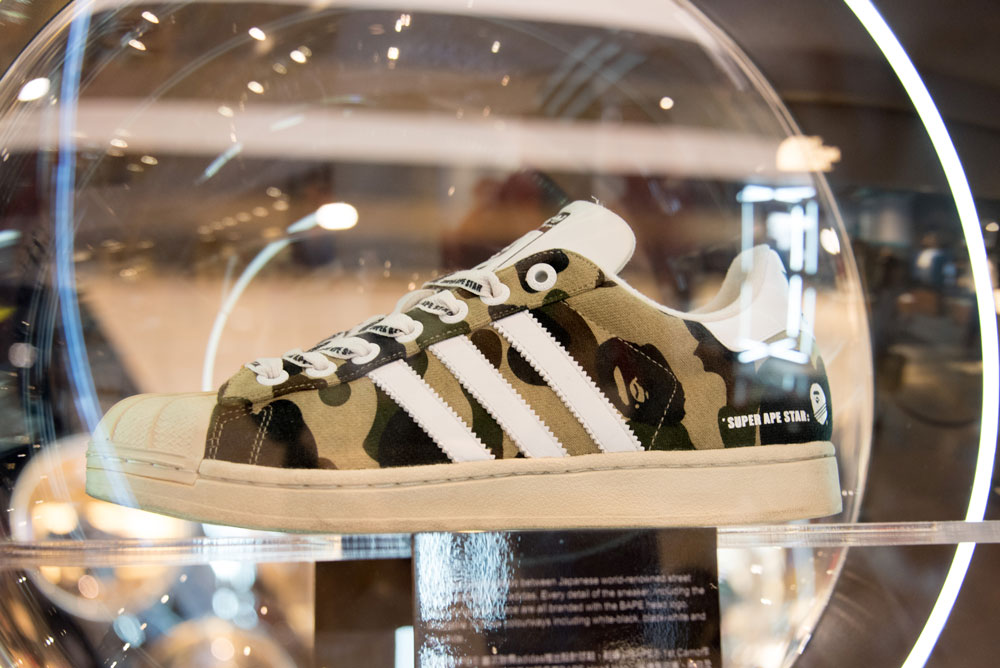 It all started in 2003, when he had his first paid internship, and, for the first time in his life, the opportunity to buy his own kicks. The child of immigrants, who worked tirelessly in sweatshops and kitchens, Wu knew better than to waste his own money by making sure he copped the perfect pair.
"There were no blogs, no Instagram, no social nothing. I had to go deep dive into sneaker forums, and really geek out," he says, recounting why he started his first blog. "No one was really talking about sneakers on a high level, so I started playing around with the idea of a blog, and it worked." Today, his own Instagram, @mryumingwu alone has 28,300 followers at the time of writing, but all of his accounts together—@freshnessmag, @jordans_daily, @sneakercon, @sneakernews, @stadiumgoods—reach well over 12 million users, making him a bona fide sneaker influencer.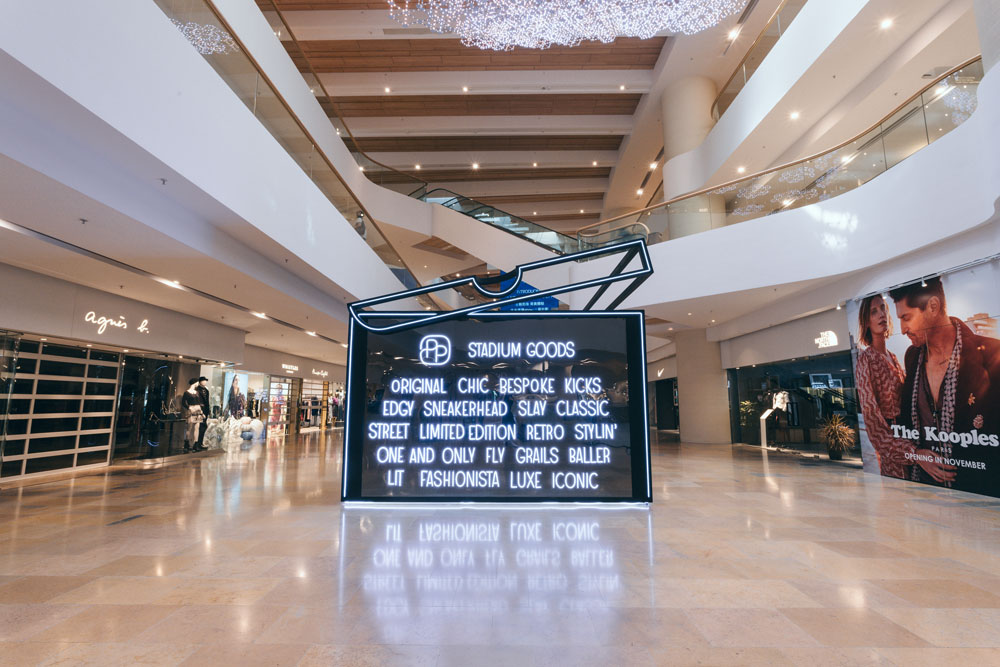 I had to ask: why is everyone so obsessed with sneakers, and will this ever end? The answer is surprisingly simple: "In a metropolitan city, you really have to stand out. Sneakers are probably the easiest fashion accessories to put on, to stand out. You want to look your absolute best walking down the street, you want to be fresher than the next." As for the sneaker bubble bursting, Wu says not any time soon, "We've been talking about this for the last 10 years, and I just don't see it happening. As long as there are teenagers, and kids and sports, they're not going anywhere."
The exhibit is a dream come true for sneakerheads, who can oggle and awe over the Atmos x Nike Air Max 1 "Safari" kicks, the Nike Air Mag (aka the Back to the Future shoes) and of course a healthy selection of Yeezys. There are 3D-printed sneakers, limited edition sneakers, and sneakers that were never even sold: "This shoe is about US$10,000, it is a friends and family version of the one Pharrell designed for NMD The Human Race."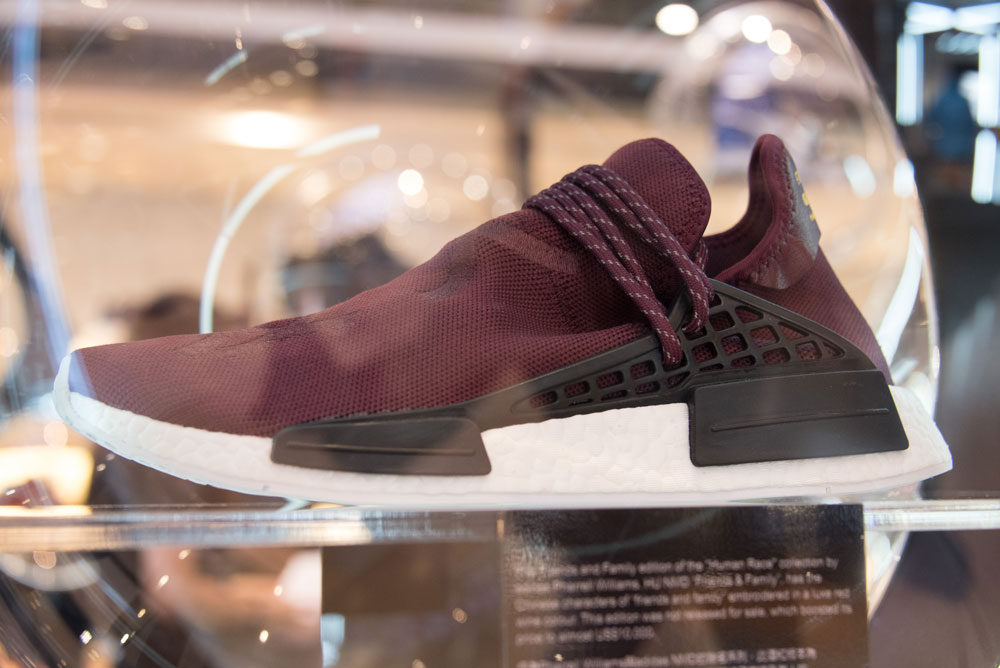 A US$10,000 sneaker. Think about that for a second. To put it into context, that equates to more than HK$78,000. That pair of sneakers, touched by the mighty hand of Pharrell though they may be, could pay for a 21-night stay at the Mandarin Oriental Hong Kong (or seven round trip tickets to New York, with change left over.) And that's not even the most expensive shoe Stadium Good's sells. A size 40 pair of Eminem Air Jordan 4 retros, will set you back US$23,000 (HK$180,000).
To quantify the value in this collection would be eye-watering, and it's only a small fraction of Wu's full shoe artillery. "I'm the ultimate consumer. I consume on a level unlike any other. I buy on levels unseen. Since I've been here [12 hours] 10 pairs of shoes have arrived in my office. It's a never-ending process of consuming." At last count, he has 800, down from 1,400 pairs in 2015. "I've been purging," he says, before taking me around the exhibition again.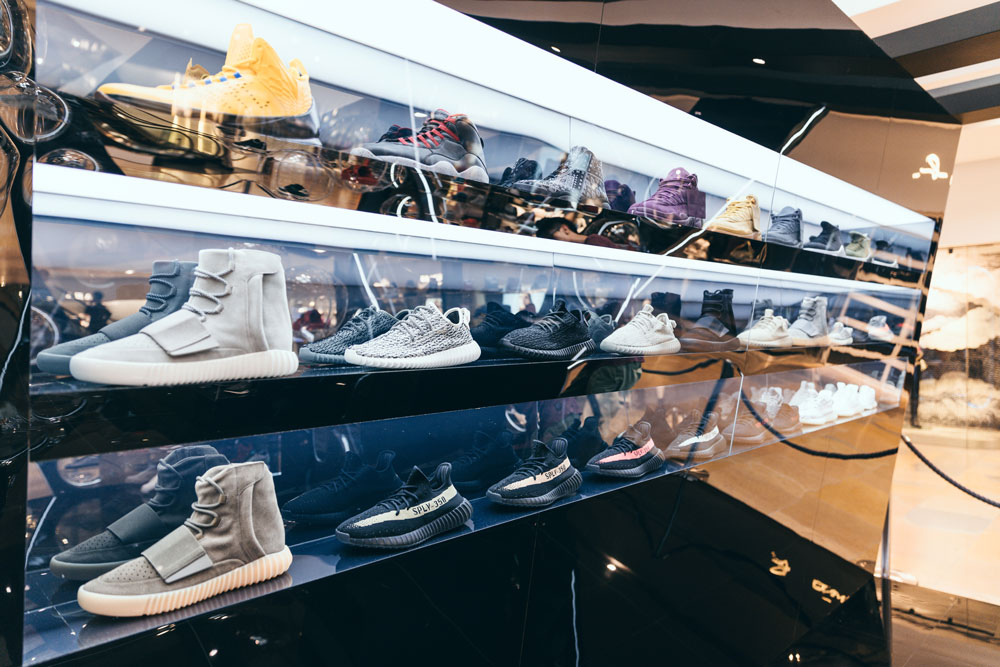 With his parent's history of working in sweatshops, it's somewhat surprising to hear Wu speak so candidly about his rapid consumption – one of the biggest plagues on our planet. High fashion and luxury brands are notably no longer able to ignore sustainability. But he sees no ethical issue.
Stella McCartney talks sustainability in fashion
"I have no issues with it, I've worked in sweatshops for years, and it was a great learning experience for me." He says that the conditions have improved, especially around Nike and Apple – though Apple did famously have to install safety nets to stop their factory workers from killing themselves. "There are going to be bad conditions but you know what? It's a job. You don't have to do it."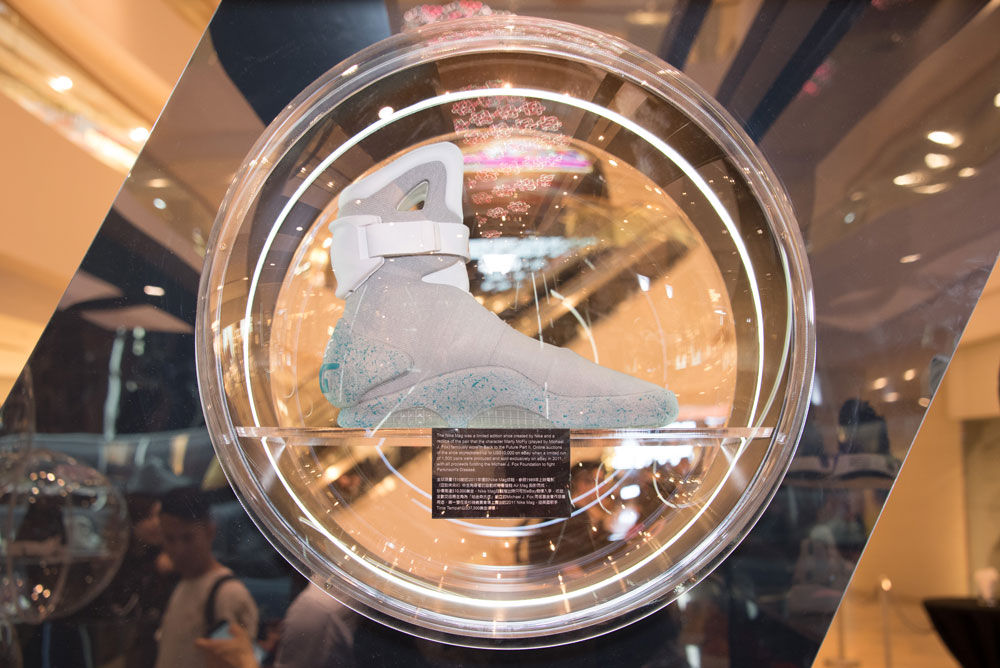 But what is it about a shoe that takes it from obscurity to legendary? What makes it cool? Celebrities, Wu says. "I look at guys like Kanye and Virgil Abloh, and what they're doing in this world. Introducing things that you didn't think were cool. When the ultra-boost first came out, I thought they were ugly, and then Kanye wore them, and it was acceptable." For Wu, Kanye's entrance into the sneaker market was the ultimate game-changer. All the hype made sneakers mainstream. "We just had a mom come by and be like, 'Yo, are those Yeezys for sale?' If a mom can see them and understand their worth, that's something."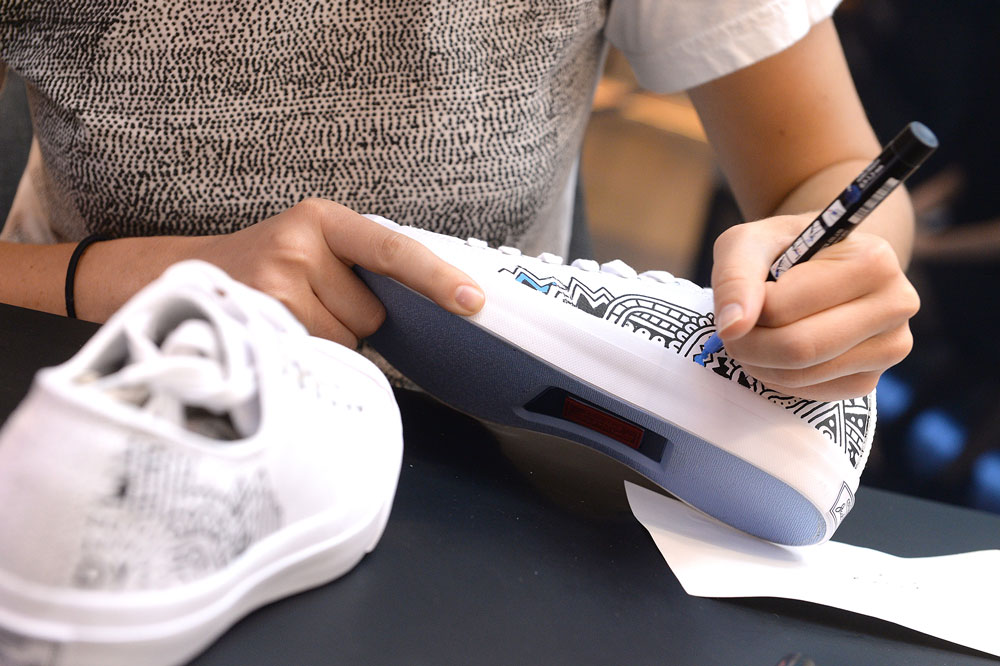 The Stadium Goods pop-up completes its three-week residency on October 15, 2017. In addition to purchasing rare sneakers from Wu's collection, you can also get a pair of white trainers customised by one of four on-site artists.
Stadium Goods x Pacific Place, Level L1, Pacific Place, 88 Queensway, Admiralty