Richard Mille: RM UP-01 gets thin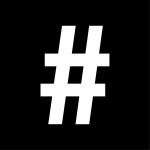 By: #legend
November 13, 2023
Richard Mille and Ferrari fight for the very last hundredths with the exceedingly thin and exceptionally innovative RM UP-01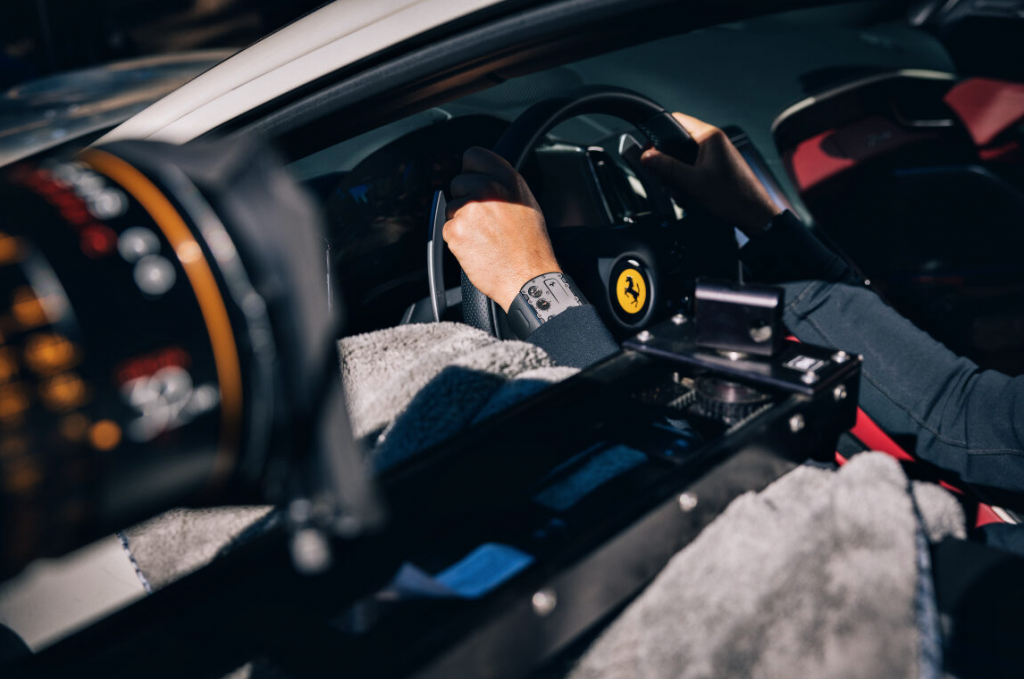 The first timepiece born of the partnership between Richard Mille and Ferrari – two exceptional brands that joined forces in 2021 – is the result of many years of work, dozens of prototypes and more than 6,000 hours of development and laboratory testing. At a thickness of just 1.75mm, including 1.18mm for the movement, it's also the thinnest watch in the world.While most of the cars produced from the dawn of the marque to today still exist and run, thanks in large part to the care taken by their owners, Ferrari has made it a priority to protect the invaluable heritage that the Prancing Horse represents and provide owners with the support they need for everything from everyday driving to participation in classic car events.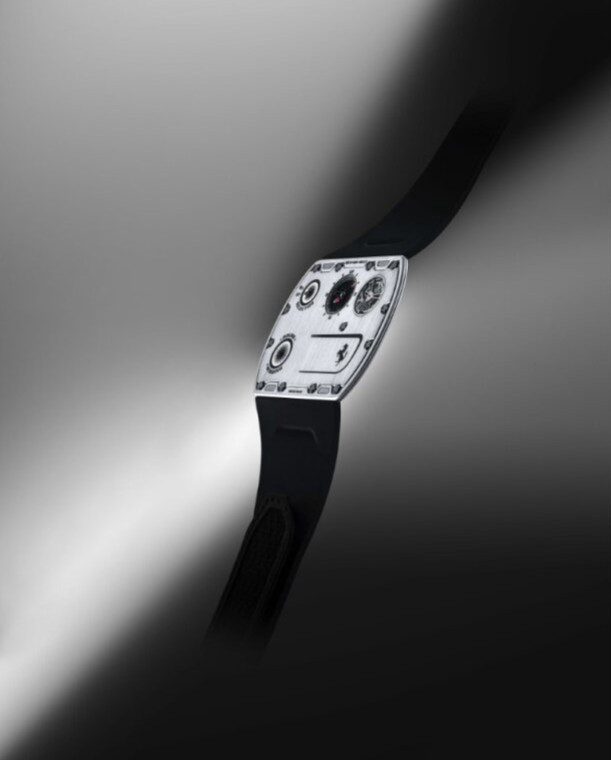 While it represents a break from Richard Mille's established stylistic codes, the RM UP-01 remains faithful to the brand's identity and spirit. It also exemplifies the Swiss watchmaker's and Italian luxury sports car manufacturer's shared quest for perfection and commitment to excellence in craftsmanship.
In developing the RM UP-01, Richard Mille was determined to retain a traditional architecture in which the movement is assembled within the case, rather than a construction in which the caseback doubles as a baseplate to minimise the thickness, in order to ensure total shock resistance under any circumstances.
"For such a project, it was necessary to set aside all the knowledge we had amassed over years of practice, and every conceivable standard of watchmaking," explains Julien Boillat, technical director for cases at Richard Mille. "Shaving off those last millimetres of depth was an extremely demanding and lengthy process."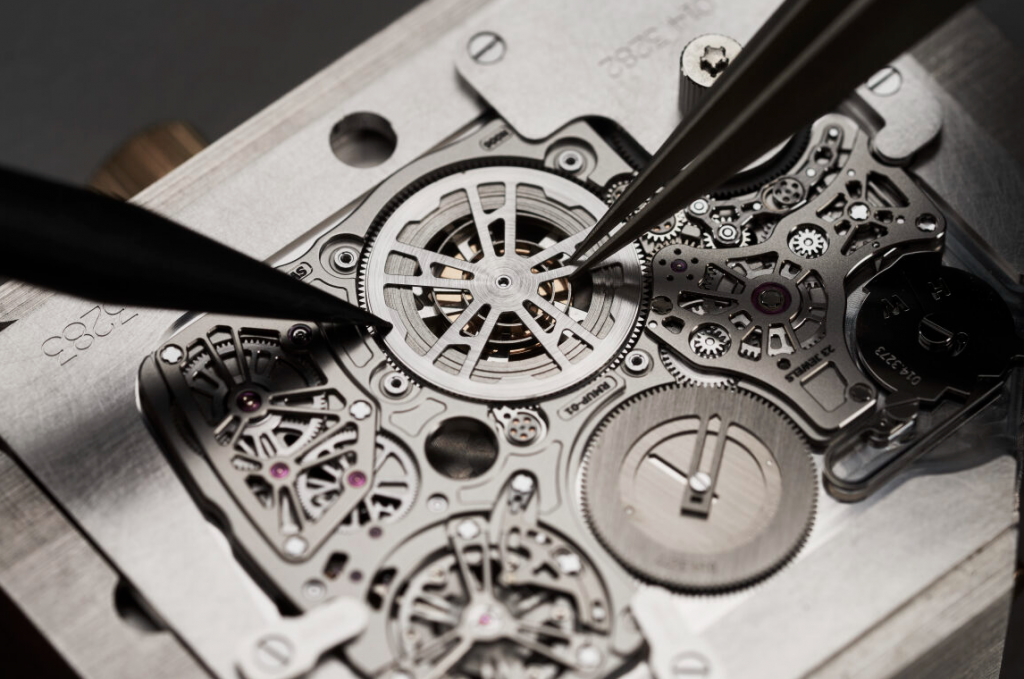 The RM UP-01 manual-winding movement with hours, minutes and function selector measures a thickness of 1.18mm, a weight of 2.82g and a power reserve of 45 hours. It's also capable of withstanding accelerations of more than 5,000 g's, compared to the highest horizontal g-force ever survived by a human being of 214 g's and a Sprint missile's acceleration of about 100 g's.
"Even in the realm of extreme flatness, we were determined to make a watch that met the same validation requirements as all our other models. In this quest for absolute flatness, we had to offer a watch that, far from being a 'concept watch', was up to the task of following a user's daily life, whatever the circumstances," says Salvador Arbona, technical director for movements at Richard Mille.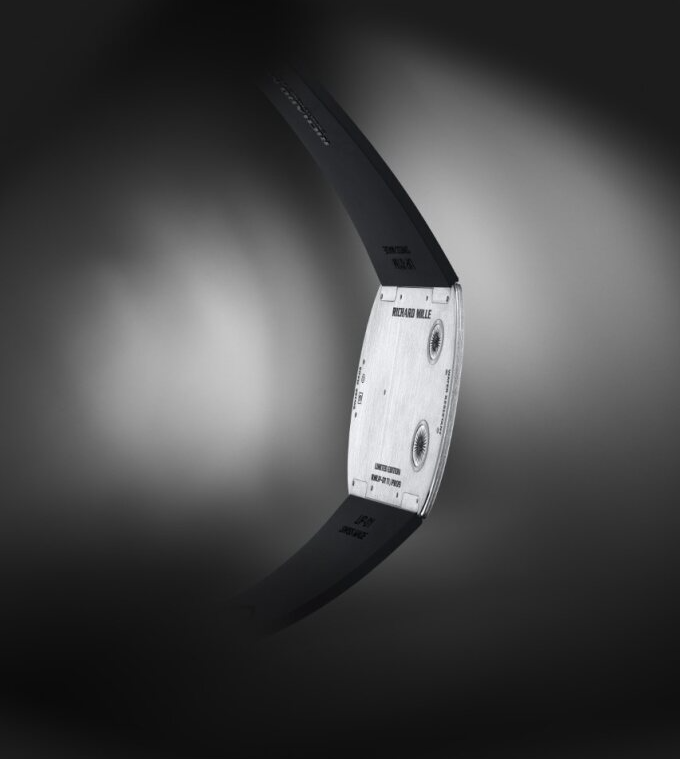 To ensure optimal functioning of the going train, the baseplate and skeletonised bridges are crafted of grade 5 titanium, guaranteeing perfect flatness without compromising strength. The case, which is water resistant to 10 metres, is also crafted entirely from grade 5 titanium due to the advantages it offers in combining lightness and laboratory-tested resistance. The alloy of titanium reinforced with 6% of aluminium and 4% of vanadium has much higher hardness, stronger tensile strength and a higher yield point than pure titanium, which is already the strongest metal by weight. It was used on Richard Mille's first model, the RM 001 released in 2001.
Like the prestigious Italian automotive legend – and consistent with the standards of the Richard Mille manufacture thanks to its extreme lightness, tonneau shape, spline screws, skeletonised bridges and level of finishing – the 150 limited-edition timepieces in the RM UP-01 Ferrari series combine innovation with performance, strength and aesthetics.
Also see: Erik Ku's watch collection