What are the top 10 Priority Pass airport lounges in APAC?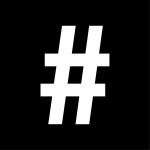 By: Hill Choi Lee
March 10, 2023
2023 is proving to be a year where international travel makes a major comeback. To make your trip even more comfortable, here is a list of APAC's ten best Priority Pass airport lounges (in no particular order) where travellers – regardless of ticket class – can kickstart their holiday before boarding their flight
1. Bangalore – 080 Domestic Lounge, Kempegowda International Airport
Located on Level 1 of the Kempegowda International Airport in Bangalore, the 080 Domestic Lounge offers one of the most premium lounge experiences in India. Designed thoughtfully, the lounge features an exclusive dining area, bar area, and multiple lounge areas and cosy nooks to cater to the unique needs of every kind of traveller – including closed workspaces for guests to participate in zoom meetings or attend important phone calls.
The bespoke library in particular caters to anyone looking to enjoy a moment of quiet reading while they wait for their flight. For travellers who prefer visual experiences to the written word, there's a mini theatre with a large screen and ultra-comfortable recliners to sit back and watch the featured film or sports game. To ensure guests are well-fed, the lounge has a lavish buffet comprising authentic local treats, freshly made Indian beverages, as well as appetising options from international cuisines.
2. Tokyo – ANA Lounge, Tokyo Narita International Airport, Terminal 1, Satellite 5
Designed by the Japanese architect Azusa Sekkei, the ANA Lounge at the Narita International Airport in Tokyo offers a spacious and comfortable area for guests to relax. A reflection of the warm and caring Japanese culture, the lounge is complete with dining services, work and relaxation areas. The work areas in the lounge are well-equipped with free Wi-Fi, printing services and reading materials, while the relaxation areas have comfortable massage chairs that help guests loosen up before their flight.
The buffet counter at the lounge is a delight for guests looking to savour scrumptious Japanese delicacies. The Noodle Bar offers famous Japanese "Curry", while the dedicated bar counter serves up traditional Japanese alcoholic beverages including sake and single-distilled shochu. In addition to this, the lounge also has a 100 per cent blend of 12 natural aromas, including Japanese umbrella-pine and Yoshino Japanese cedar, rosemary and mint.
3. Guangzhou – China Southern First / Business Class Lounge, Guangzhou Baiyun International, Terminal 2
Located at Terminal 2 of the Guangzhou Baiyun International Airport, the China Southern First/Business Class Lounge oozes a warm, positive energy; the design of the lounge also has delicate touches of the local culture. It presents a perfectly classic resting zone for high-end travellers and has multi-functional areas including business rooms, sleeping pods, a leisure area, a reading room, shower rooms, a nursery and baby care room, a Chinese tea art display area, as well as baggage storage service for guests.
The popular outdoor garden of the lounge offers the perfect place to view the airport skyline and aeroplanes. On the inside, the lounge is equipped with an exquisite bar room for guests to enjoy a selection of more than 20 red and white wines from around the world, China Southern Airlines' special cocktails, and freshly ground coffee all day.
A standout feature of the China Southern Airlines First / Business Class Lounge is its catering service. The five-set menus not only comprise international dishes. It also seeks to introduce guests to the Canton dining culture. Dishes include barbecued pork, oden, rice with preserved meat, teppanyaki, wonton noodles and beef noodles. Ranging from tea parties, Chinese traditional events, member clubs, and more, a slew of themed activities are organised in the lounge, to offer guests a unique and memorable lounge experience.
4. Da Nang – CIP Orchid Lounge, Da Nang International Airport, Terminal 2
Resembling more of a boutique hotel or private club than an airport lounge, the CIP Orchid Lounge at Da Nang International Airport in Vietnam is a calming sanctuary nestled in the midst of a bustling airport. Every feature has been designed carefully, keeping luxury in mind, while retaining the comfort and friendliness of being in the space.
Attention has been placed on the natural flow of the space. To ensure that guests feel welcome and be able to move comfortably around the space, the lounge is intentionally designed to create different ambiences and is organised in a way where guests can move from an active space (the entrance) to a passive space.
The lounge also has free massage chairs, nap boxes with LCD screens for entertainment, the latest newspapers and magazines in different languages, exclusive shower suites with a range of complimentary items and an inspiring buffet.
5. Bangkok – Coral Finest Business Class Lounge, Suvarnabhumi International Airport, Concourse D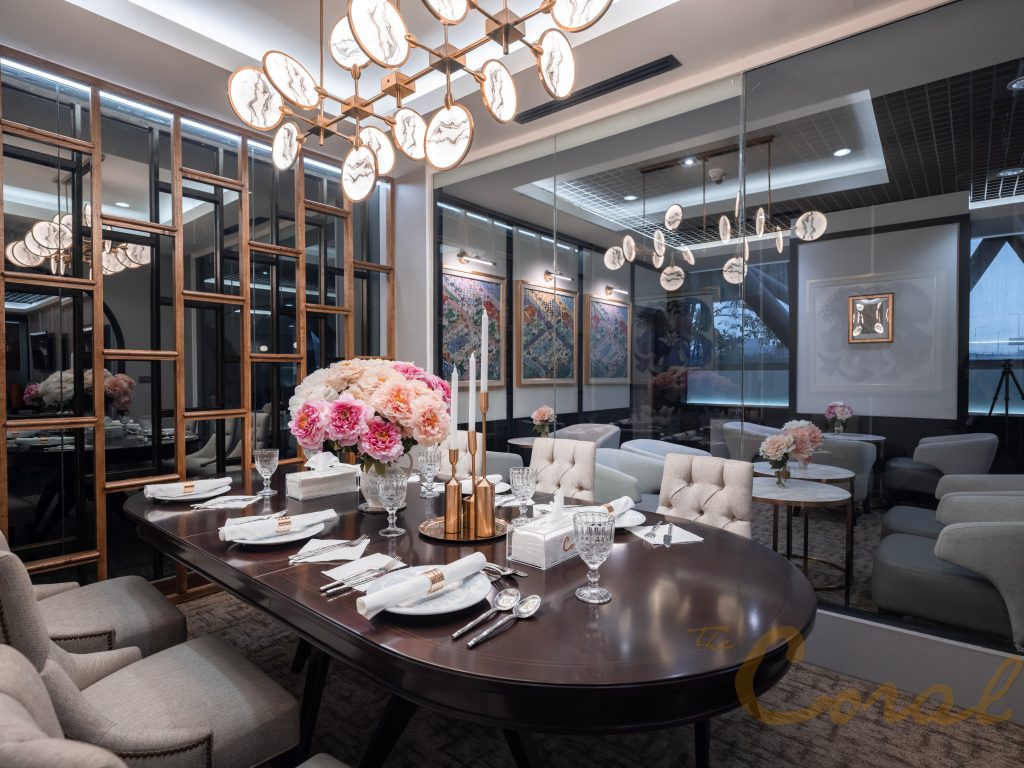 Thailand is famous for its world-class hospitality. The Coral Finest Business Class Lounge, located in Suvarnabhumi International Airport, Concourse D, is everything you'd expect from a luxurious Thai travel experience.
The founders were inspired to create a service beyond standard luxury lounge services to take away the stresses of airport travel and ensure passengers enjoy every journey with the best service and comfort. Visitors can indulge in a delicious variety of Thai and international fine dining, a wide range of drinks, aroma Drury English tea, premium Nestle coffee, organic dry fruits and more. And what would Thai luxury be without a massage? The Coral has both shoulder and foot massage available, and if that isn't enough to take away your travel fatigue there are bedrooms for short naps or a long layover.
A pro-tip: Get some premium popcorn to bite down on while easing your travel-weary feet with an
intense Thai foot massage.
Also see: 4 New winter journeys with Belmond's Venice-Simplon-Orient Express
6. Singapore – marhaba Lounge, Singapore Changi Airport, Terminal 3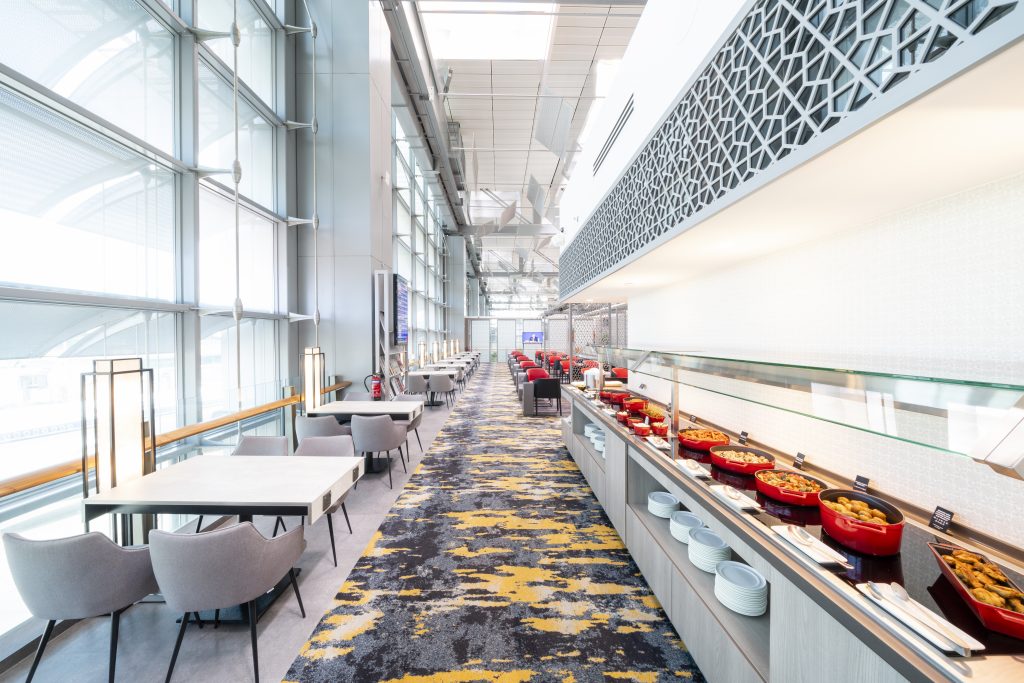 Located at the Departure Hall on Level 3 at Terminal 3, the marhaba lounge at Singapore's Changi Airport offers the perfect combination of practicality alongside luxury. The lounge offers great views of the runway and benefits from an "open air" design that makes the most of Terminal 3's abundant natural lighting.
Featuring an international buffet that caters to a wide range of requirements, the all-day dining menu at the lounge provides an international buffet featuring Middle Eastern, Asian and Western cuisines. It also includes vegetarian, gluten-free and halal options. Local Singaporean delicacies like chicken rice are also part of the menu, of which it is updated monthly. To go with the delectable range of food, the lounge has an assortment of alcoholic beverages as part of its full-service beverage offering.
A winning feature of the Marhaba lounge is its abundance of power outlets – nearly every single seat has a dedicated universal socket and USB port! Guests looking for a quick refresh can also enjoy a warm shower at one of the three shower suites in the lounge, which feature rain showers, built-in hair dryers and private toilet cubicles. Alternatively, guests can choose to unwind in the quiet zone for relaxation.
A pro-tip: To enjoy an unrestricted view of the runway at Terminal 3 while enjoying your meal, occupy one of the many window seats on the left of the premise as you turn into the lounge.
7. Seoul – Matina Lounge, Incheon International Airport, Terminal 2
Inheriting the heritage and legacy of Korea's finest hotel, the Walkerhill Hotel, the Matina Lounge at Incheon International Airport welcomes visitors from all over the world to a home-like lounge. In fact, it was awarded the Grand Prize for being "Korea's leading brand in Airport Services" in 2021 – voted for by consumers.
Cat robots Mati and Tina constantly serve customers inside the lounge by clearing away empty dishes without a break. Additionally, wireless chargers are available on the table for guests to rest comfortably in the lounges. They can also choose to use the luxurious Harman Kardon headsets provided to enjoy an immersive audio experience. Guests at the Matina Lounge can further immerse themselves in a range of themed spaces including a library zone, kids' zone, and different comfort zones, with the signature menu including modern Korean food as well as street food, and vegan food to cater to a global clientele.
A pro-tip: To enjoy a whole, unrestricted view of the duty-free zone at the Incheon Airport Terminal 2 while enjoying a tasty meal, be sure to occupy a single window seat on the left side of the lounge entrance!
8. Auckland – Strata Lounge, Auckland Airport, International Terminal
Auckland Airport's first airline agnostic premium lounge was newly refurbished at a cost of US$4 million in 2017 when it was rebranded as the "Strata Lounge". The 185-seat lounge welcomes guests to a warm and comforting vibe that represents New Zealand hospitality at its very best! The lounge offers panoramic views of the main runway, the Manukau Harbour, as well as an elevated view of the airport's retail and hospitality spaces located airside.
The colours and textures reflect the country's unique array of flora and fauna; with the flooring mimicking the gradations of New Zealand's oceans and beaches, and the name being derived from the remarkable rock formations found in the country's mountain ranges.
From architecturally-designed shower suites with premium toiletries to a sound-proofed play zone area for children, the lounge has everything guests need to get into the holiday spirit. Talking of spirits, a luxurious open bar treats guests to a full range of unique local wines and international beers and spirits; while a constantly evolving menu developed by MasterChef winner, Brett McGregor, and a café-style buffet service that blends local ingredients with a fusion of exotic international influences, reflect a traveller's culinary world while also giving them a taste of New Zealand.
A pro-tip: Check out the beautiful photography created for the lounge by award-winning New Zealand photographer, Peter Latham.
9. New Delhi – Encalm Lounge, Indira Gandhi International Airport, International Departure, Terminal 3
Be the first to experience one of the newest lounges in Asia. The Encalm Lounge at Indira Gandhi International Airport, International Departure, Terminal 3 opened on 6 December 2022. It's the largest lounge at Delhi Airport, so finding a good seat shouldn't be a problem. The lounge is airy and spacious with ample natural light and lots of comfortable seating.
The food counters at Encalm offer a wide delectable variety of freshly made Indian and international cuisine, including Jain (vegetarian) and gluten-free options on request. Visitors should make sure to ask about the special of the day to find out what new creations the chefs have come up with.
10. Melbourne – The House by Aspire Lounge, Melbourne Airport, Terminal 2
With an undeniably gorgeous contemporary design, The House at Melbourne, Australia is as premium as premium can get! The spacious lounge offers sweeping views of the runway, particularly when sitting at the bar, and it resembles a lounge in a high-end luxury hotel.
It boasts an extensive à la carte menu, offered alongside a fresh buffet, as well as a unique collection of cocktails, wines, freshly made smoothies, and signature Australian barista-made coffee. The lounge is equipped to handle high traffic throughout the day, with different kinds of seating configurations and seats available, including armchairs, bar stools, lounge-style seats, swivel chairs, and dining tables, to accommodate solo as well as group travellers.
For guests travelling with children, the lounge includes access to a sound-proofed kids' playroom complete with toys, books, and stuffed animals. It also houses an exclusive VIP room, accessible to VIP guests such as celebrities, politicians, or heads of state. To top it off, The House even has separate prayer rooms for men and women to practice their faith whilst waiting at the airport.
Also see: #review: Views and feeling renewed at Grand Hyatt Jeju