Sun, sea and sand at Joali Maldives and Joali Being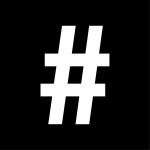 By: Stephenie Gee
July 24, 2023
Can one survive the earthly paradise that is the Maldives, despite not being a fan of the sun, sea and sand? Stephenie Gee journeys to Joali Maldives and Joali Being in the picturesque Raa Atoll to find out for herself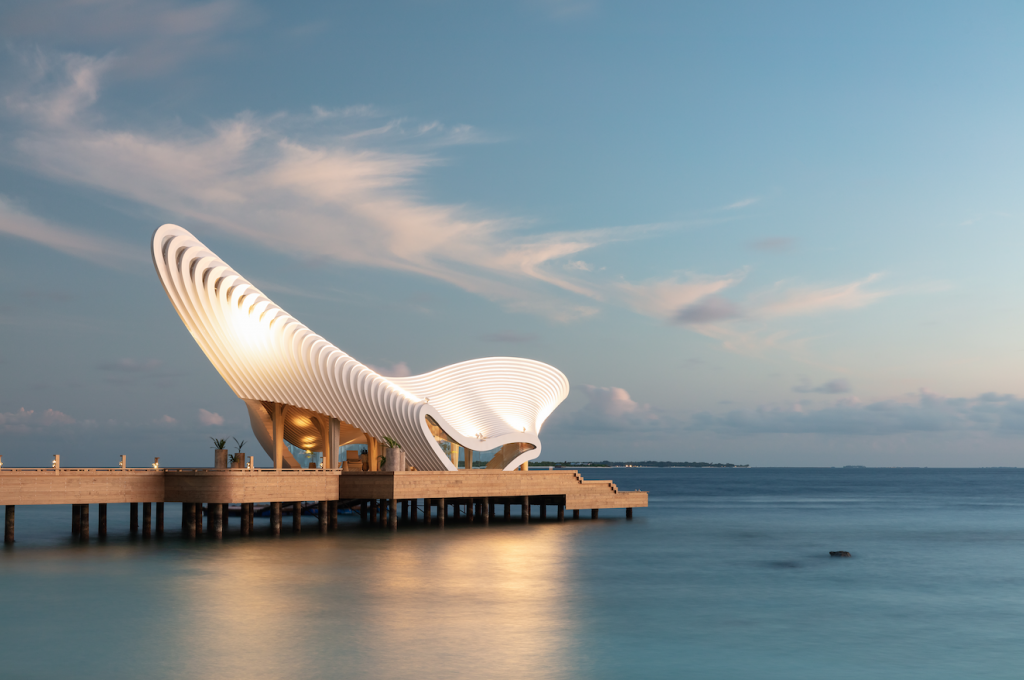 I hear it before I see it. A gentle splash breaks the morning calm of the Indian Ocean. "Oh, shit…" I whisper to myself – because there is no-one else to whisper it to – as that unmistakable dorsal fin emerges, not five metres from me. I can already envision tomorrow's headlines: "Lone 24-year-old Hongkonger mauled in tropical shark horror".
The shark begins its approach and slowly, the full shape of my fishy cartilaginous grim reaper comes into focus. Silvery slate-grey skin, a cream-coloured underside and wide-set eyes separated by a mallet- shaped snout – I quickly identify it as a hammerhead shark. A tiny, entirely harmless one; one foot long, give or take. Then, with a flick of its caudal fin, I am alone again. I have lived to tell the tale.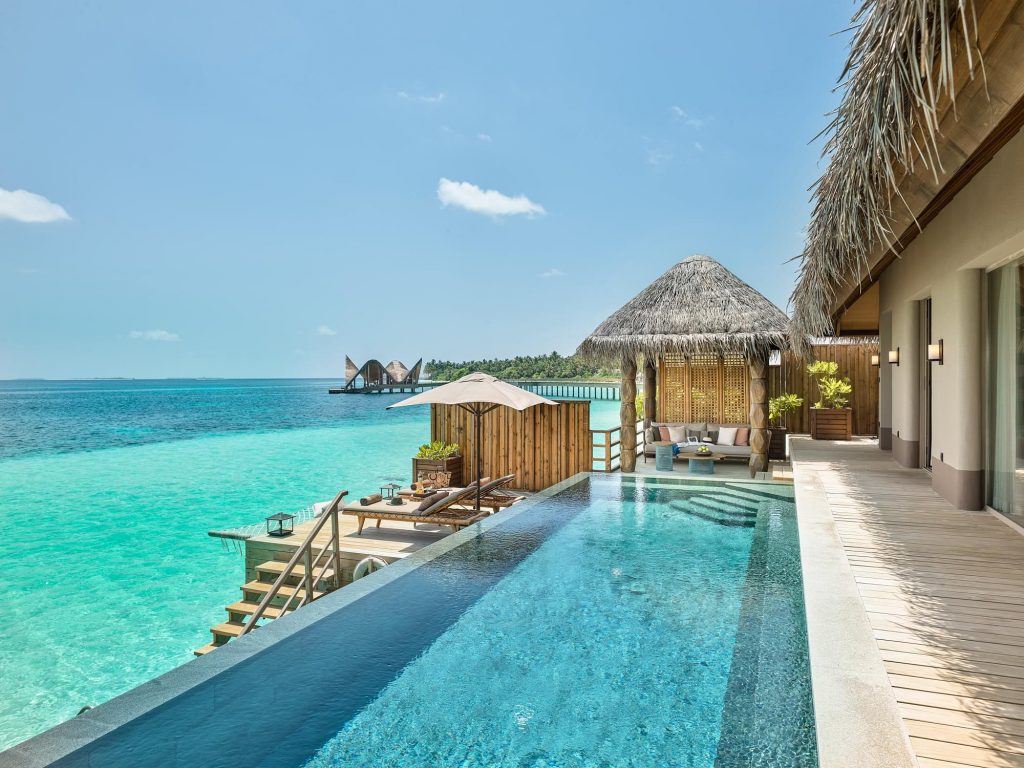 I begin to wonder what I've done to deserve this. As in: what kind of overprivileged monster gets to do this as part of her job? But also: how did I, the least summery person you could ever come across, end up here, alone and friendless, in the archipelago nation famed for its caustic sunlight, sandy white shorelines and shockingly aquamarine waters? The answer, simply put, is to experience the two Joali properties, lovingly owned and operated by Turkish businesswoman Esin Güral Argat, who first visited the Maldives in 2000 and was instantly smitten: Joali Maldives and Joali Being.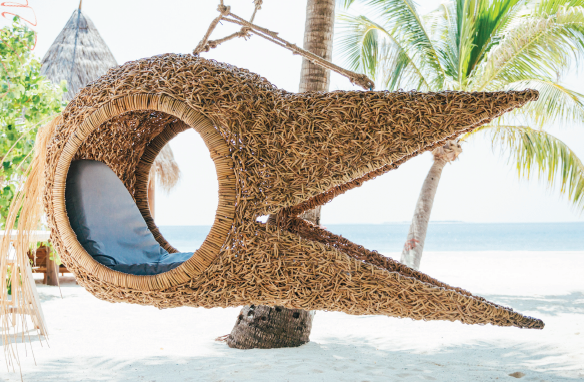 All this takes place not too far from the private dock of my luxury overwater villa at Joali Maldives on the island of Muravandhoo, the first of two Joali properties located in the Raa Atoll. The resort is made up of 73 residences and villas – 24 set on the pristine white sand and 49 stilted above the crystalline waters – with thatched roofs, infinity pools, outdoor showers, Bose sound systems and tasteful colonial Southeast Asia- leaning interiors. It has five restaurants: there's the best of Southeast Asian, Chinese and Indian fare at Vandhoo; Saoke serves Nikkei cuisine overseen by two-Michelin-starred chef Takagi Kazuo in a floating haven designed by world-renowned Japanese restaurant architect Noriyoshi Muramatsu; Bellinis offers a piece of Italy with a carefully crafted menu by Michelin-starred chef Theodor Falser; Tuh'u serves up Levant flavours alfresco on the sand; and Mura Bar is the place to enjoy a barefoot sunset martini, buttermilk-chicken slider and shisha.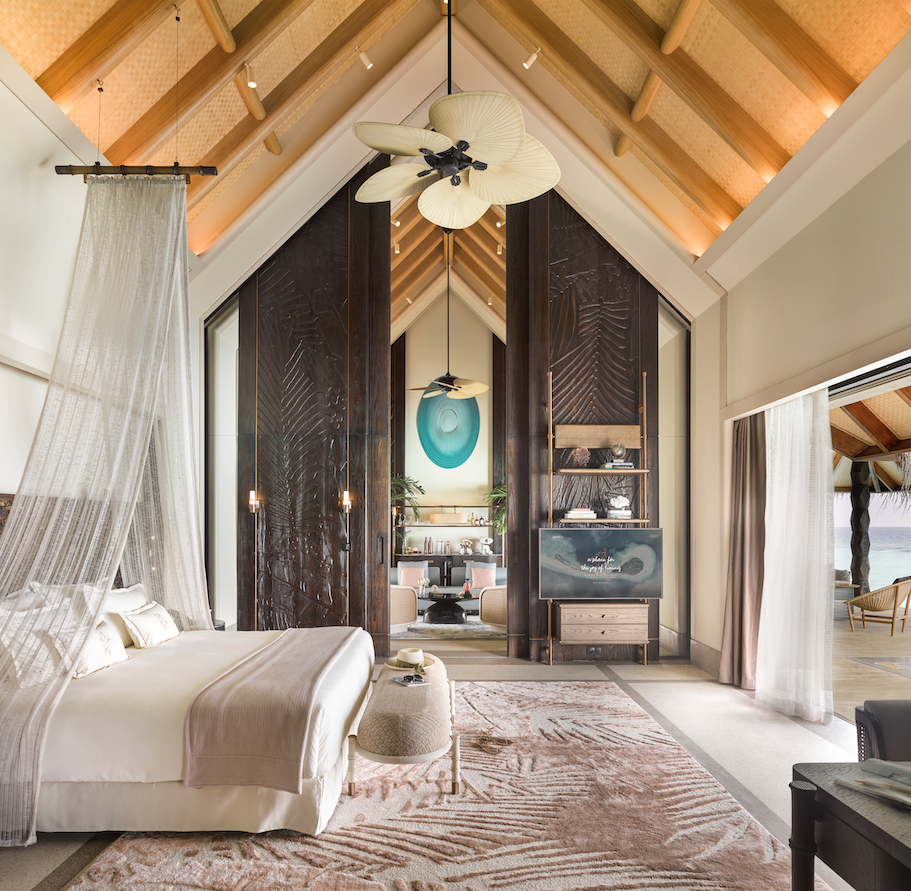 There's a kids club, a padel court, a tennis court, a football pitch, a dive centre where you can take out kayaks or seabobs, an all-day artisanal chocolate and ice cream parlour and, as the first – and only – art- immersive luxury resort in the Maldives, an art studio that hosts interactive workshops and events, as well as a portfolio of bespoke installations curated by Istanbul- based curator No LaB, including Minnesota-born artist and designer Misha Kahn's Antoni Gaudí- and Niki de Saint Phalle-inspired vibrant 10,000-pound mosaic table; Israeli artist Zemer Peled's porcelain sculpture that captures the intricate poetry of Maldivian corals; and two "inhabitable nests" that take their shape from local wildlife by South African designer Porky Hefer – one of which, a manta-ray treehouse where, as an intimate private destination-dining venue, I later enjoy a traditional Maldivian breakfast of mashuni (tuna with fresh coconut, onion and lime, served with chapatti) while looking out over the treetops to the shockingly aquamarine waters beyond.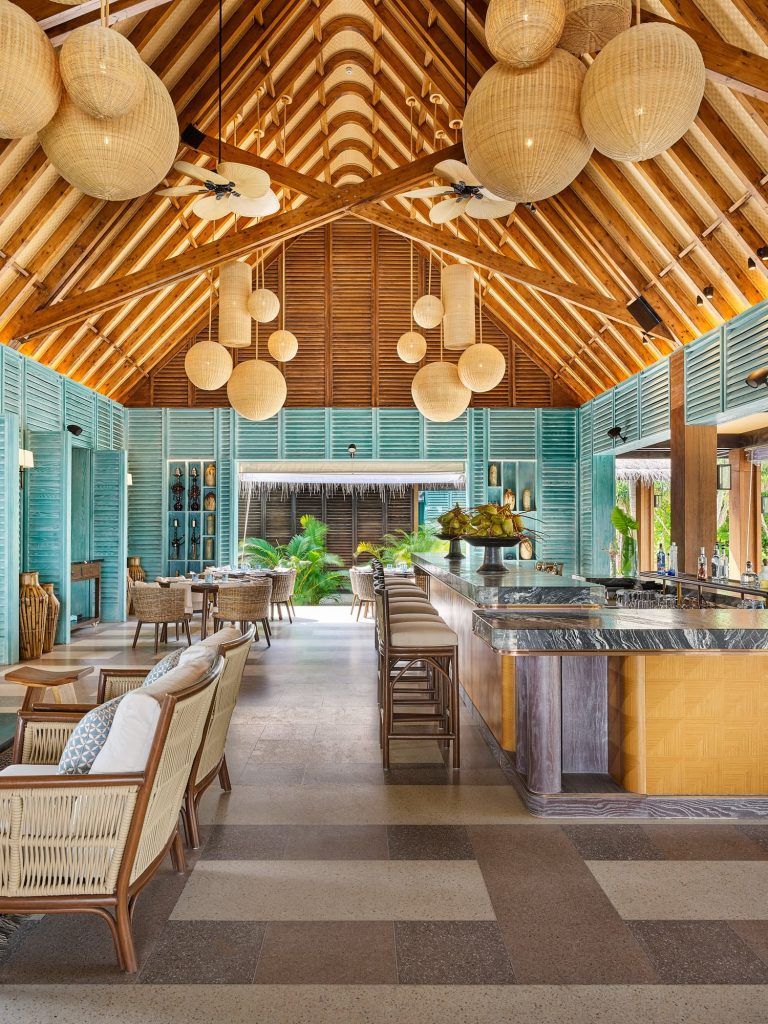 All this is scattered inland amongst the island's canopy of long-established coconut palm trees (over 1,000 palm trees were preserved during construction as one of Joali's conservation efforts), connected to the overwater villas by a 1.3km jetty (the longest in the region) featuring a unique a double-helix design that winds around coral reefs to protect their rich marine life and punctuated by a Zaha Hadid-inspired structure resembling a manta ray from one side and two fish kissing from another. I walk on one occasion. Bike on another. But for most, I hitch a ride on a buggy from my butler, or jadugar, Asim. With a title meaning "magician" in the local language, his can-do attitude definitely casts a spell.
Also see: Castello di Casole offers the best of Tuscany
At Joali Maldives, the motto is "joy of living" and it's beautifully delivered. I succumb to full-body bliss with a Turkish hammam at the ESPA spa. I watch a dutiful Instagram boyfriend take photos of his girlfriend in ever more elaborate poses. I lock eyes with a man taking a drag from his shisha, just a couple of seconds, before returning to my avocado salad made with greens from the chef's garden, harvested using recycled rainwater. I photograph one corner of the beach, documenting it across every hour and shade of light.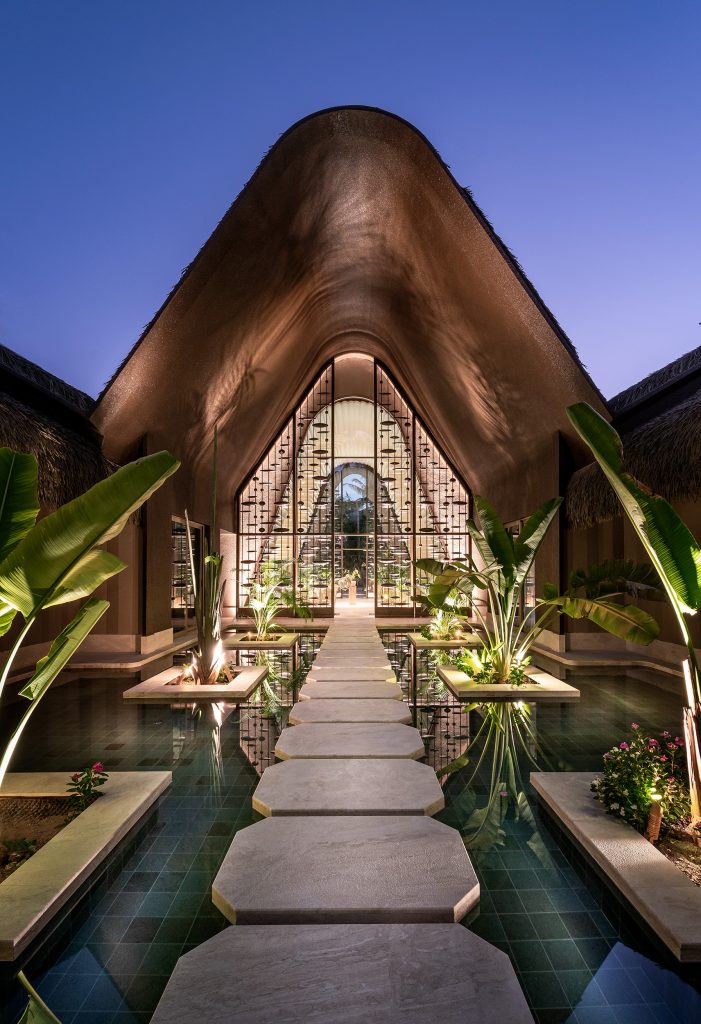 Eating dinner alone, I listen to the sound of my cutlery clinking to waves crashing on a darkened beach. In the morning, I inspect the water for that dorsal fin. There's no sign of it, but I'm met instead with a shoal of black striped cardinal fish. At night, I sit on my deck in the dark, the only light coming from a cluster of stars above me. For the first time in a long time, I am taking life slowly and enjoying the moment.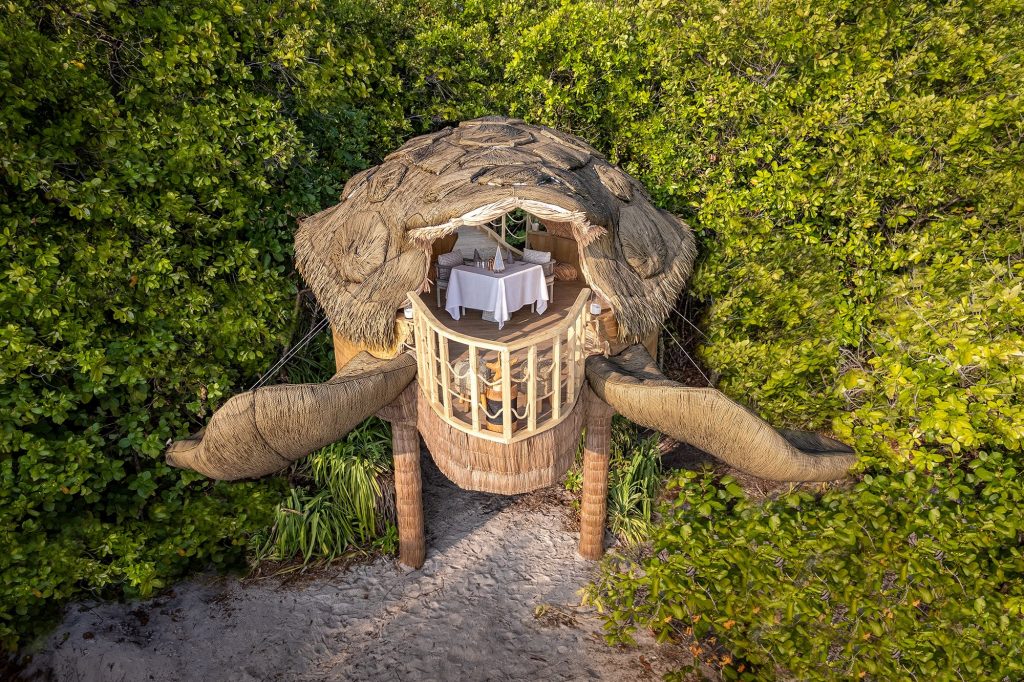 This idea of taking care of yourself takes on an even broader spectrum of meanings at Joali Being, the younger, more serious of the properties and the first dedicated nature-immersive well-being (not wellness, because that implies a more holistic concern for overall satisfaction and fulfilment) retreat in the Maldives just a 15-minute speedboat ride away, on the neighbouring Bodufushi Island. Anchored in the "joy of weightlessness", the island promises a transformative journey of self-discovery and renewal, beginning the moment you alight at the architecturally striking welcome jetty, Gate of Zero, where inspired by the semazen's flared white skirt, egos and the greater weight of the world are let go to reset you to "zero", the indefinable point at which true introspection becomes possible.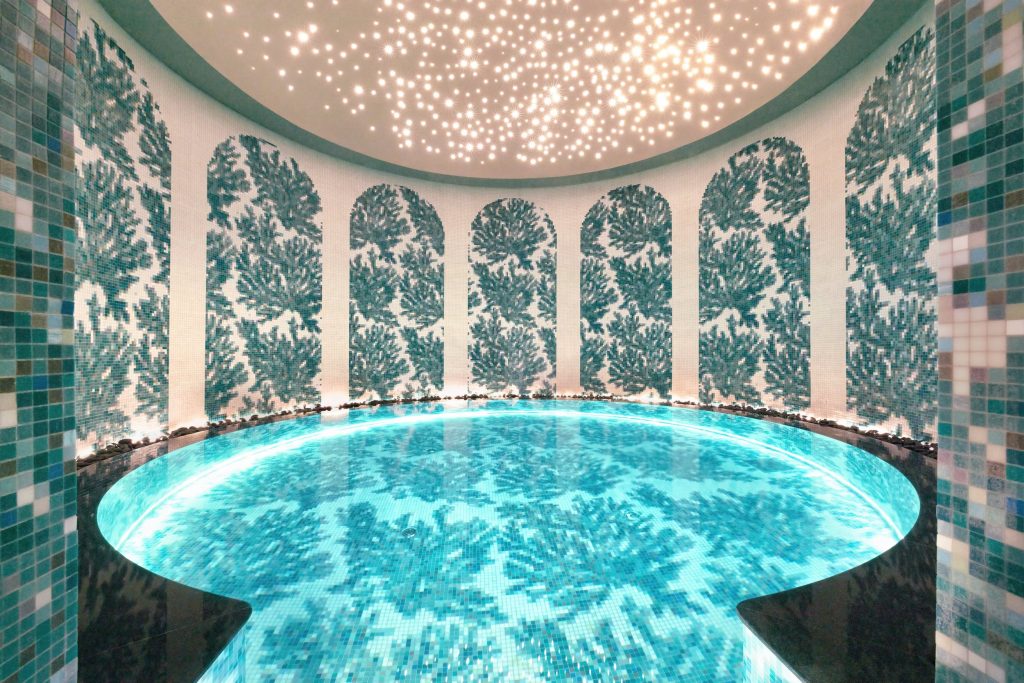 From here, each guest is offered a complimentary integrative lifestyle assessment, inclusive of a basic lifestyle evaluation, a talk through of well-being goals and a bio-energetic test to identify any imbalances in the body, at Areka – an architectural temple where energy flows – to craft a personalised, results-driven programme woven around Joali Being's four key pillars: Mind, Skin, Microbiome and Energy. It's even more eye-opening than it sounds. I learn that I should consciously up my morning water intake to four glasses, practise "meditating with breath" three to five times a day to detach from my thoughts, indulge in some form of physical activity daily for at least half an hour without gadgets to train my mind and body to be in the present, and be in bed by 10:30.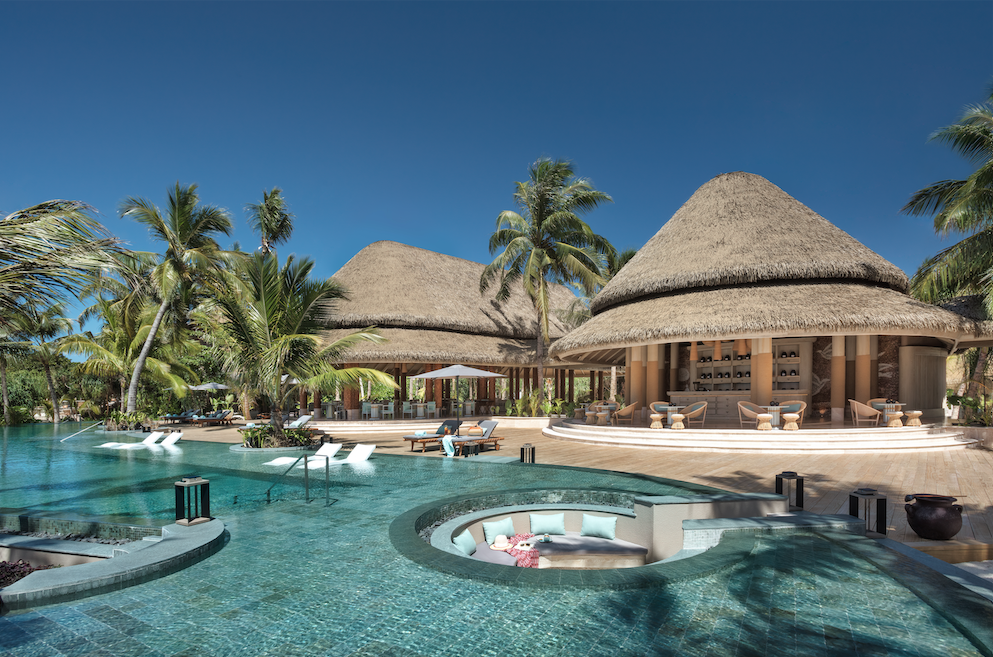 Between activities – which include a signature Four Pillars Massage at one of the 39 spa treatment rooms set to soundtracks aligned with planetary frequencies and mapped to its location on the island; sipping cups of potent herbal tisane at the herbology centre Aktar; surviving three minutes in the cryotherapy chamber at Core (the largest fitness centre in the country); and immersing myself in a healing euphony of oversized swinging chimes, plate bells, storm drums and a one-of-a-kind Nidrantar sound bed at Seda, a mesmerising space for sonic healing created in collaboration with sound-healing visionary Aurelio C. Hammer – I find myself playing with the wooden mind games in my beach pool villa finished with a colour palette that draws from the island's leafy jungle in lieu of a TV; wandering the discovery sound path, an al fresco trail of gongs, tubular bells and lithophones tucked in among the pandanus trees; indulging in treats brimming with nature's vitality at earth-to-table restaurants Flow and Mojo; enjoying a post-prandial spiced chai at the tea bar Sai; re-calibrating my thoughts at the Ocean Sala's overwater meditation deck; breathing in the mineral-rich air of the Himalayan Salt Room to improve my mental clarity; and trying my luck with sea turtles (there are seven sea turtle nests and a turtle conservation sanctuary run in partnership with the Olive Ridley Project on the island).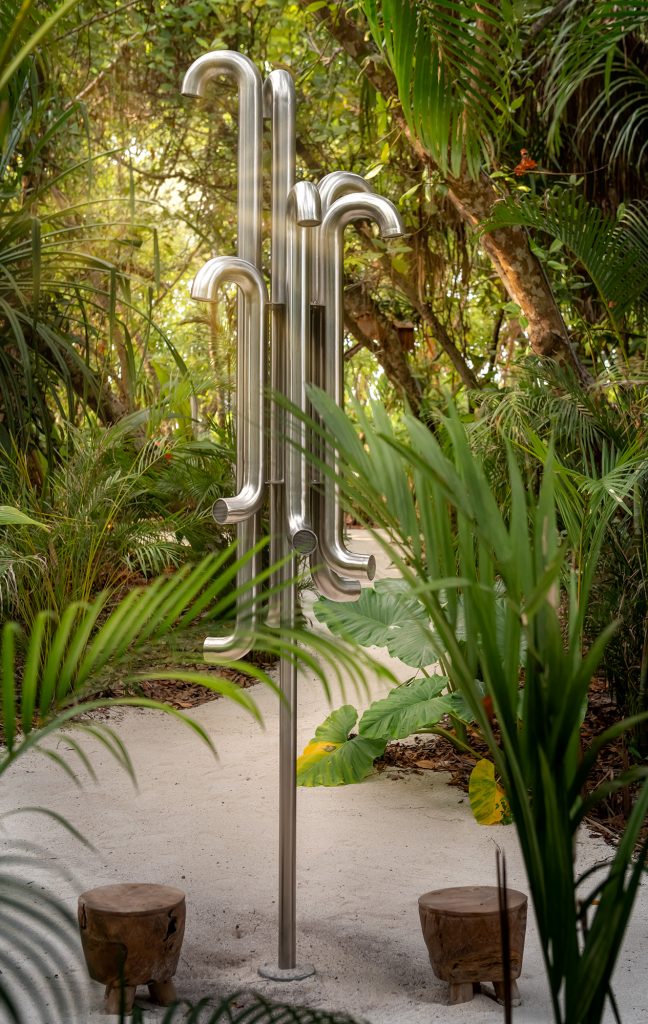 It is at Kaashi ("coconut" in Dhivevi) – the vast, magnificent hydrotherapy hall that honours the tradition of sanitas per aquas ("health from water") – in a twinkly domed heated pool encircled with palm tree mosaics, my body weight surrendered to the hands of my Watsu practitioner, where I truly experience that elusive sense of weightlessness. During Watsu, a form of aquatic bodywork that unites Japanese shiatsu with the therapeutic effects of water, I am cradled, whirled around, rocked, stretched and pulled at gently. The sensation feels strange but freeing. I focus on the here and now, the water, the muffled sounds of the world, and the easing of tension in my muscles. When I emerge, I find myself calm and contented. And, of course, that comes all the easier when you're in a place so paradisiacal. It's tough to be anywhere but present.
Also see: Belmond and Galleria Continua revitalise historical sites with art