Hotel ICON partners with KEF for music-themed getaways
October 12, 2020
Calling all music enthusiasts, Hotel ICON is inviting you to experience the getaway of your dreams. In collaboration with their long-standing partner, British audio company KEF, Hotel ICON has transformed three suites into thematic pop-up experiences that are sure to strike a chord with all melophiles. 
From now till 30 November, Hotel ICON is taking guests on a trip down KEF Music Memory Lane starting with the Above & Beyond Lounge and ending at the Club 80 Harbour Suite, Club 65 Studio Suite, or Designer Suite by Vivienne Tam. Or, go all-out and book a night at each.
Each corresponding to a significant genre of music, the spacious suites are decked out in state-of-the-art sound systems guaranteed to have the music coursing through your veins – but it doesn't end there. Guests can indulge in a curated culinary and cocktail menu that speaks to the suite's theme as they jam out to exclusive Spotify playlists by DJ Dr. Wong Chi Hung or enjoy a movie from a recommended list catered to each room's theme.
For those ready to elevate their musical journey, listening sessions, masterclasses and lectures have been arranged to feature some very special guests. This is what it means to get the full experience. 
Above & Beyond Lounge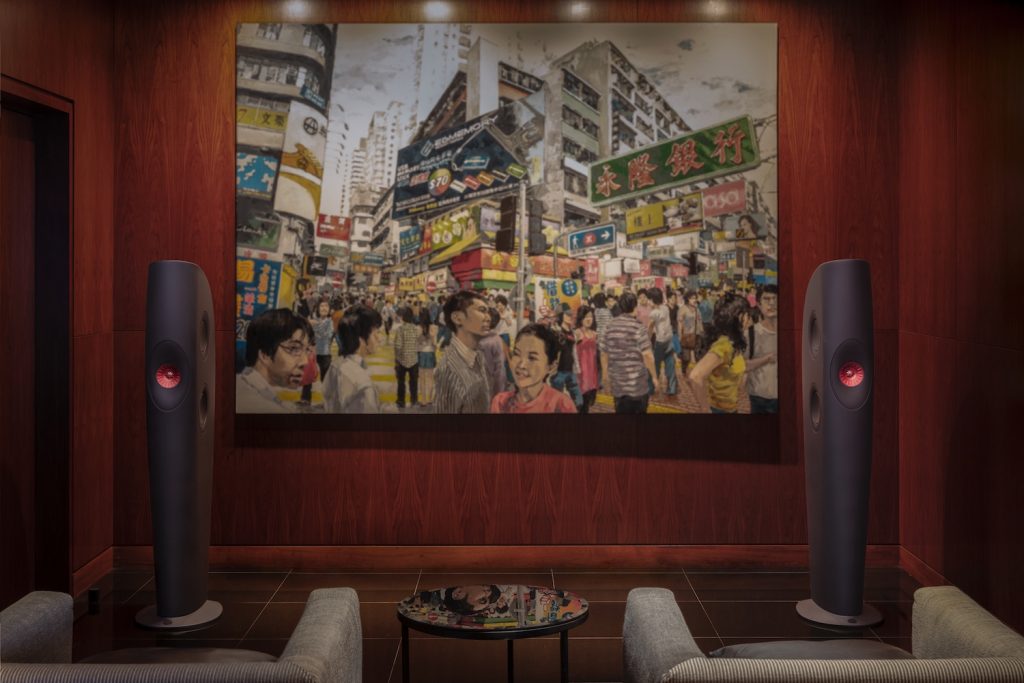 Your journey starts here at the Above & Beyond lounge, where panoramic 28th-floor views and a revolutionary BLADE TWO sound system set the tone for the rest of your stay.
Club 80 Harbour Suite
Credit: Hotel ICON
Hotel ICON has transformed their largest suite into a Beatles-Bowie bachelor pad. Clocking in at 80 square-meters it's just about large enough to carry the legacy of these pop-culture legends. Flip through exclusive documents about The Beatles straight from BBC's archives, mull over iconic David Bowie imagery, or simply kick back and enjoy KEF's crisp LS50 Wireless II audio.
The Club 80 Harbour Suite also extends its rockstar inspirations to the food and drinks brought to you by the award-winning culinary team at Hotel ICON. Step into John Lennon's shoes for the day and get a taste of his signature open-faced brekkie sandwiches, or go full Bowie with a glass (or two) of his all-time cocktail favourite, the Bombay Martini.
Club 65 Studio Suite
Credit: Hotel ICON
The '80s was a time like no other, and Hong Kong's music scene was no exception. Hotel ICON's spacious Club 65 Studio Suite has been transformed into a Cantopop time capsule. An assortment of posters, vinyl's and vintage books decorate the space, sure to evoke feelings of nostalgia for many Hong Kongers.
Continuing on with the theme of Hong Kong spirit, sip on some 20-year vintage Pu-er bubble milk tea and indulge in some decadent egg tarts perfect for a casual saam dim saam. Whether intentional or not, this Cantopop-inspired room also comes with the EGG Duo and LSX Soundwave Edition, so there's no need to eat in silence.
Designer Suite by Vivienne Tam
Credit: Hotel ICON
Perfectly suited to represent the Jazz Age is the Designer Suite by Vivienne Tam. There's really no better way to wind down than with some timeless jazz music, and the Designer Suite is here to offer a mix of both old and new. Chet Baker, Miles Davis, Lee Morgan and Norah Jones – you can practically hear the music already. What more when you're hearing it through a multitude of high-resolution sound KEF speakers?
For the specially curated menu, Hotel ICON looks to jazzy films for reference. Serving up a very literal interpretation of Chicken on a Stick from La La Land are chicken satay skewers with a side of peanut sauce. And in an unexpected show of colour is a purple Bluberry Nights cocktail, inspired by singer Norah Jones' movie debut, My Blueberry Nights.
Ready to book your stay? Head to hotel-icon.com
See also: 5 incredible castle hotels to add to your bucket list