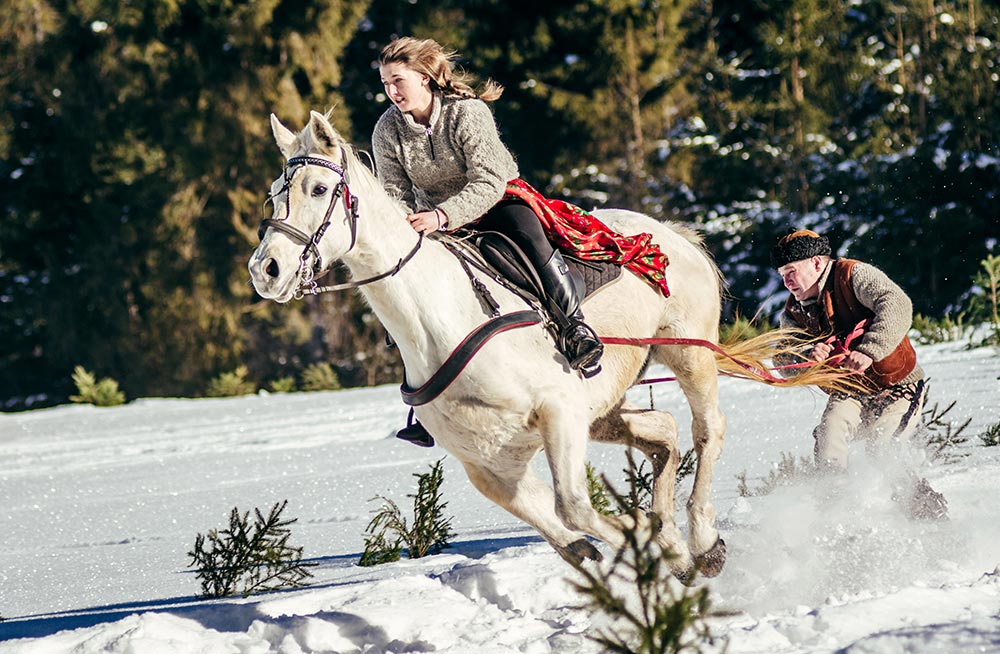 All winter long in Poland's Tatra mountain region, residents don colourful traditional costumes to race horse-drawn sleds and compete in ski joering, a Scandinavian sport where galloping horses pull skiers at breakneck speeds.
"It's not just about winning. The key thing is for us mountain folks to get together and show our horses, the harnesses, the sleds, argue over the races like we've always done and preserve our heritage," says local enthusiast Janusz Stoch.
Stoch is from Zab, the southern village located at Poland's highest elevation as well as the hometown of ski jumper Kamil Stoch, a double Olympic champion and, like half the village, a very distant relative.
The region's equestrian skiing events take place every winter weekend in different villages around the mountain resort town of Zakopane and involve three disciplines.
There is ski-ski joering, a kind of horse-drawn skiing whose name means "ski driving" where a horseback rider tows a skier teammate along.
The second, and most popular, discipline is simply ski joering, which sees a lone skier compete while harnessed to his horse.
The third called "kumoterki" is named after the tiny wooden sled raced by each husband-and-wife team.
But for starters, there is always a sled parade with folk music against the backdrop of the snow-covered mountains.
"Every family shows off its beautifully adorned horses and the kumoterki sleds which are used to go to church for christenings," says Andrzej Skupien, president of the association of Tatra residents.
"We examine the traditional mountain costumes from head to toe, checking out even the smallest of details," adds Skupien, himself dressed in traditional trousers with an embroidered pattern called "parzenica".
"Everything is noted by the jury which gives out prizes for the three most beautiful outfits," he says.
Ela Rzadkosz, in her sixties, takes part in the competition every year with her husband.
"You have to attach yourself well to the sled and balance your body right on every turn, otherwise you risk falling or worse: your sled may tip over," she explains.
Attending the event in a clearing near the village and ski resort of Male Ciche, she brings over their horses Orlik, Marysina and the regal Cezar, a magnificent white stallion of the Lipizzaner breed.
"We raise them to use in traditional ceremonies. A wedding in the Tatra region without horses is no wedding at all. You absolutely need two white horses to bring the newlyweds to church," she says.
"Funerals are also done the traditional way, with two black horses harnessed to a hearse."
The competition near Male Ciche took place in a U-shaped arena some 800 metres (2,600 feet) long and guarded by around 50 firefighters.
"Ski-ski joering is the one that draws the most competitors," says Lukasz Nodzynski, spokesman for the southern village of Poronin.
One of the participants, Jacek Dziuba, is a mountain man now living in Warsaw who returns every year for the event.
"The snow was pretty soft, the course hard. Good for the large horses, not so much for the smaller ones," he says.
There is always an ambulance and veterinarian on hand because the events can be dangerous, according to Skupien.
"The difficulty of ski joering lies in staying upright on your skis behind the horse while its hooves slide around on the snow surface and on chunks of ice," he says.
"To win and stand on the podium, you need a good horse, a good rider, and a good skier."