Facials to lift you into 2022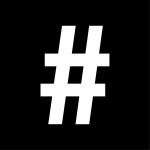 By: Zaneta Cheng
January 5, 2022
While technology has taken us far beyond the need for a scalpel in search of that ever-youthful, lifted visage, many are now looking to more traditional manual methods to get their facial perk-up. Zaneta Cheng explores the newest ways to refresh your face using customs of yore with a 21st-century twist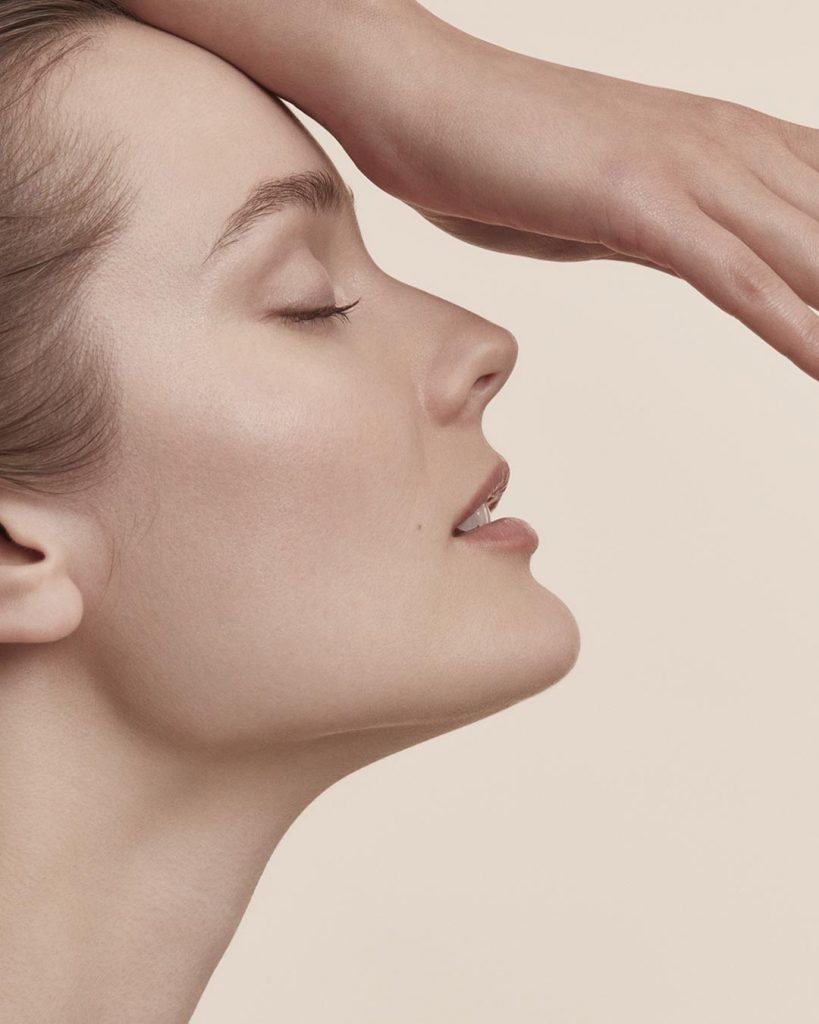 Lifting has come a long way in the beauty industry with science and technology veering further and further from the scalpel and dreaded facelift towards less invasive procedures. Nowadays, a lift is but a visit to the dermatologist or aesthetician, where faces can be beamed with laser, shot with ultrasound, ironed out with radio frequencies or pricked with Juvederm for a tauter appearance.
In the wake of COVID-19, options are even coming in the form of new beauty gadgets. From LED masks to microcurrent-based devices, there are home kits that can do everything from erase wrinkles to drain swollen faces. Many are clinical-grade and lots yield visible results with almost no downtime. They are easy to get a hold of – Joyce Beauty has come out with a dedicated Gadget Bar in its stores – but while efficacy and technology can yield an instantaneous facial boost, there's nothing quite like lying down for a few hours of pampering.
And so, in the post-Covid landscape, facial trends have come full circle. Even as gizmos become ever more accessible and self-operable, good old muscle manipulation has returned for those in search of a more youthful visage.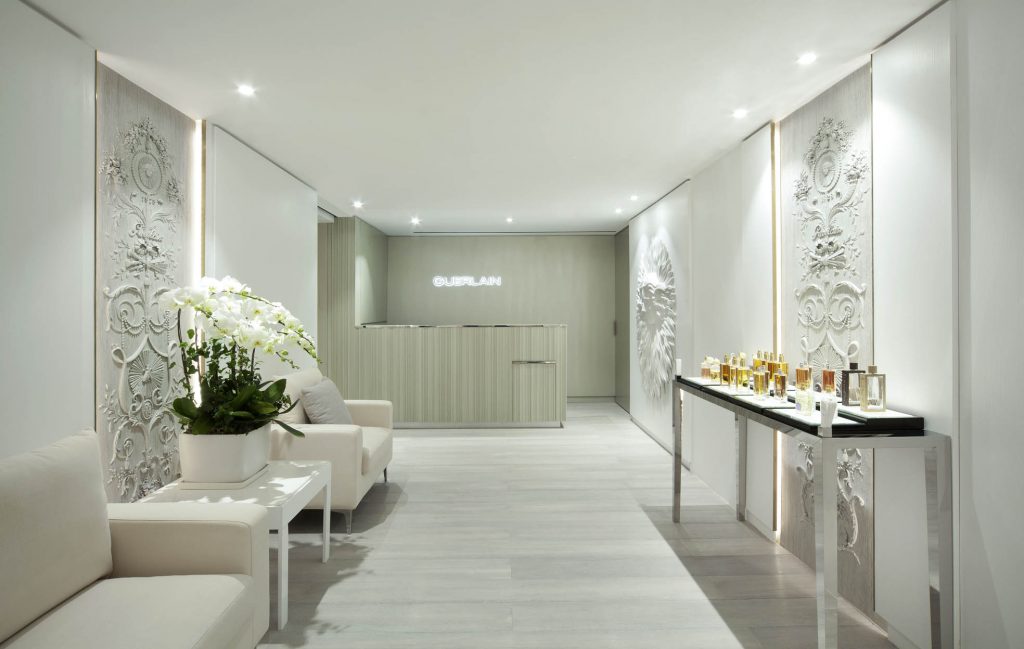 Face Sculpt Treatment at L'Institut de Guerlain
One of the more interesting facials is Guerlain's Face Sculpt Treatment. Developed as a response to tech-heavy skin-lifting treatments, the three-part treatment involves only facial massage. For those who regularly opt for manual facials, this version involves no extractions but rather 55 precise massage movements that aim to stimulate muscles and reshape facial contours, enhancing cheekbones, lifting the eye area and softening wrinkles.
L'Institut de Guerlain treatment rooms are spacious and hidden from the main reception and tea area behind glossy false walls. It's a small maze of wooden-floored, soothingly lit corridors with white walls carrying a hint of Versailles. Each room is furnished with a changing area and facial bed designed to be similar to the beauty brand's flagship spa on 68 Champs-Elysées in Paris. The space is so gentle and calming, it's really not one to associate with the facial gymnastics I'm told the treatment will involve.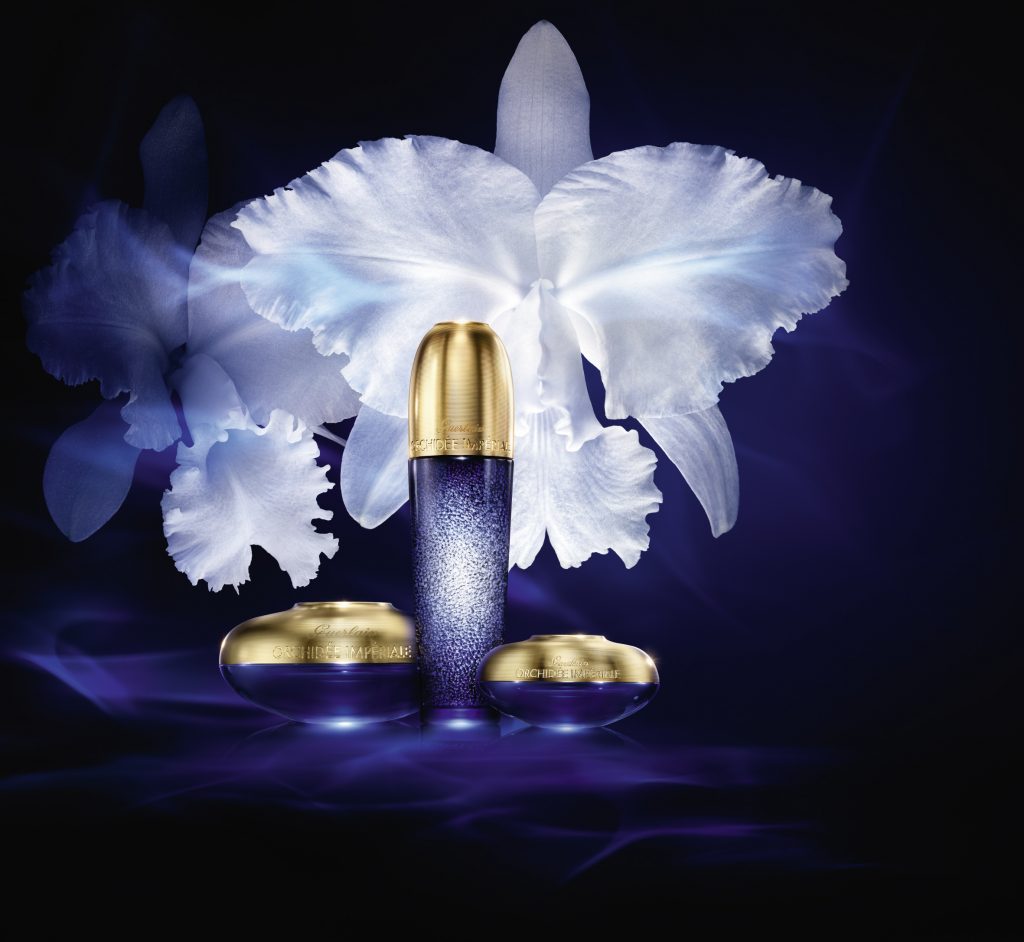 Ambience is an important part of the process, which is a far cry from the usual medical facial where bodies are slid onto beds, covered in paper-thin towels and zapped with a machine for 20 minutes. To get started, Guerlain's Eau de Cologne Impériale, a scent created in 1853 by Pierre-François-Pascal Guerlain for Napoleon III's wife Empress Eugénie, is sprayed onto towels for me to breathe in. The aroma is fresh and citrusy, good for relaxation and even better for ridding me of the stress headache I had all day.
After determining areas to target – I mention my laugh and marionette lines that need extensive work – the therapist cleanses my face and applies Orchidée Impériale serum. The treatment then begins with a rigorous massage. The therapist has asked me for my pressure preference and being a devotee of massages, I let her know I err on the firmer side of pressure. She obliges.
Much like the strong strokes and pulls of the very famous Korean golki small face massage, this treatment is perfect for those who can take knuckle and pinpointed finger pressure on the face. My tailor-made massage involves a few strokes that use the therapist's wrists, which she drags and ends with pressure from her fingertips. It might be pain to some but it's heaven for not only promoting lymphatic drainage but also to relieve tension for those who hold stress around the face.
The latter half of the roughly 100-minute massage is a gentler affair using the brand's Moon Walk massage technique, which was specially created for the Face Sculpt Treatment to strengthen a greater area of muscles, holding them in place to prevent mass sagging. After a mask is applied and the creams slathered on to prepare me for the outside world, my therapist hands me a mirror. The lift is real and my cheeks have also taken on a rosy flush thanks to the healthy blood circulation that is guaranteed after this massage.
Afterwards, as I sip tea and snack on one too many biscuits in the waiting area, I'm taught a series of movements to maintain the lift at home. But truthfully, just the desire to have a facial massage performed amidst the vapours of the Eau de Cologne Impériale is enough to have me eschew the maintenance and regularly come back for more.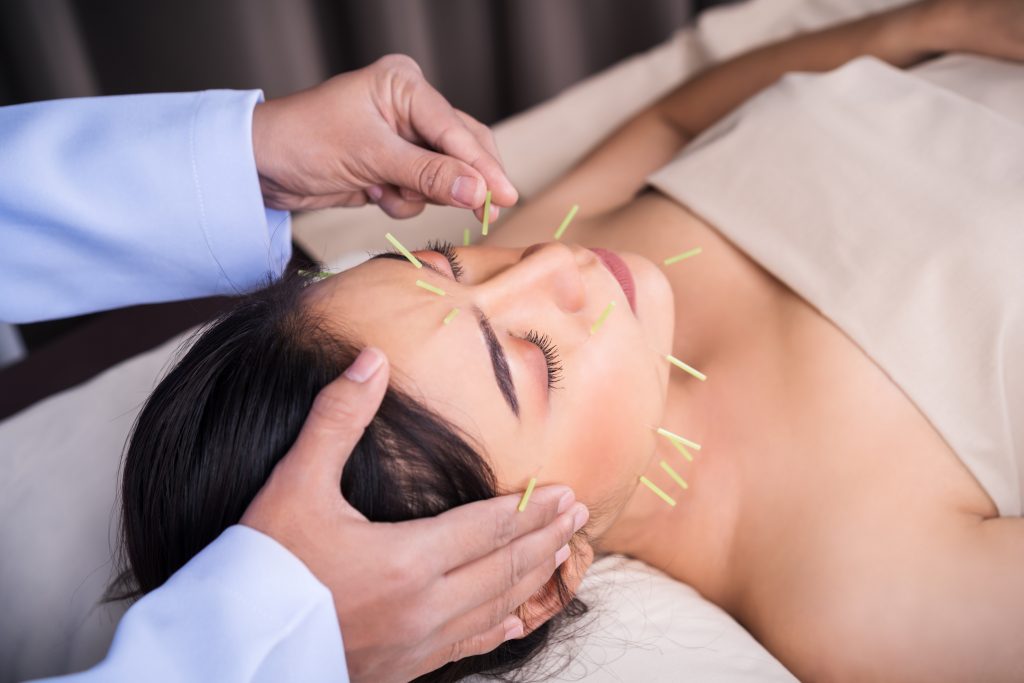 "Facial acupuncture has been practised for centuries – a favourite of consorts hoping to trap youth and favour from the emperor. Only, I'm not a consort and I'm terrified of needles"
CBD Facial at Balance Health
Chinese medicine and its practises seem to have undergone quite an image rehabilitation in the wellness revolution that has taken place in the past decade or so. From acupuncture to gua sha and the jade rollers that are now sold in upscale locations like Lane Crawford, the acceptance of the ancient medicinal method has become widespread. Balance Health has taken this to another level by merging traditional Chinese medicinal practices with a facial and CBD.
In order to maximise relaxation, a cup of CBD-infused tea is offered during my consultation with Chinese medicine practitioner Michelle Zhang. I'm told my liver and my chest are suffering due to stress, causing lackadaisical circulation and not enough qi. I'm taken to a room where I lay down and am dotted in certain areas with aromatherapy oil.
None of this feels too bad until I hear a crackling of plastic wrap and Zhang's explanation that her needles today are thinner than usual because they will be going into my face. Facial acupuncture has been practised for centuries – a favourite of consorts hoping to trap youth and favour from the emperor. Only, I'm not a consort and I'm terrified of needles.
Nevertheless, already committed to the treatment at hand, I remain still – and petrified – as needles are quickly inserted along meridian points on my face. It's not intolerable. With a heat lamp on my belly and a few needles in my legs to help with circulation, I manage to fall into one of the deepest slumbers I have in a while, only waking to find the needles being removed from my face and decidedly shocked that I had slept so deeply – probably thanks to the CBD.
Zhang ends her session with a singing bowl, and the next 50 minutes are spent with Balance Health's bodywork therapist and energy healer Hafsa Khan, who starts with a neck massage – I'm very stiff, from stress, I'm told – and then proceeds to a gua sha session. An amethyst mask is applied as Khan continues with her gua sha and ends the session with a mini card reading that tells me to release expectations.
Only, when I look into the mirror, I find my expectations for the facial surpassed as the glow is pretty good and I might just be alright with acupuncture in the future.