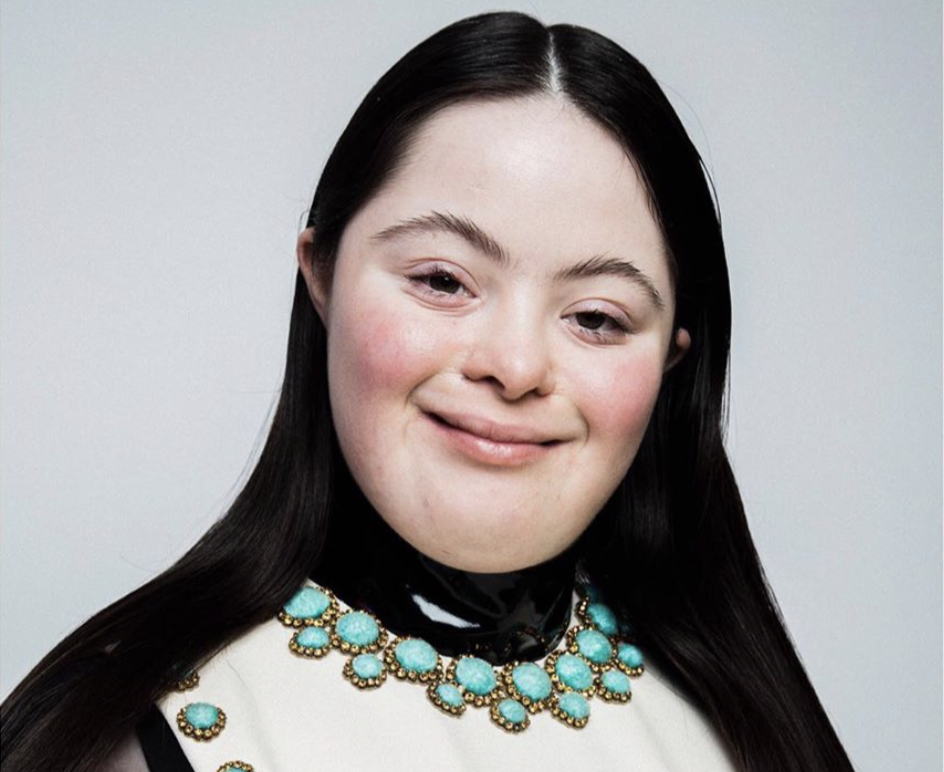 Fashionistas, we've discovered the next supermodel to watch – her name is Ellie Goldstein and she's making great strides towards changing the fashion industry. The 18-year-old just became the newest face of the Gucci Beauty campaign, making her the first model with Down syndrome to pose for the luxury brand. After her photoshoot in Vogue generated buzz around the internet, the fashion world couldn't wait to get to find out more about Goldstein. Here are five things you should know about her.
1. She started modelling at age 15
Goldstein wanted to be a model from a very young age. She loves the feeling of being in front of a camera and the thrill of presenting herself to the public. Goldstein signed with Zebedee Management when she was 15 years old, having been drawn to the agency's focus on untraditional models.
2. She became the first model with Down syndrome to be featured by Gucci Beauty and in Vogue
British photographer David PD Hyde shot the photograph of Goldstein, who is seen smiling for the camera, styled with Gucci's Mascara L'Obscur. The photo was published in Vogue Italia and posted on Gucci's Instagram, garnering more than 800,000 likes thus far.
3. She was scouted through a social media campaign
David PD Hyde was chosen from more than 6,000 applicants who sent in submissions to #theguccibeautyproject, an Instagram scouting project jointly launched by Gucci Beauty and the Photo Vogue Festival. He was selected to shoot the Gucci campaign, which featured Goldstein, Jahmal Baptiste, Enam Asiama, Kadri Vahersalu and Ruoyi Yi. Each model challenges mainstream attitudes and deconstructs stereotypes in unique ways.
4. Aside from modelling, she's also passionate about the performing arts
Goldstein enjoys drama and dance in addition to modelling. Her dream is to ultimately be on the front cover of the biggest fashion magazines and brands in the industry. She can't wait to showcase herself to the world.
5. She joins a growing list of Down syndrome models chosen by global fashion brands
More fashion brands have recognised the importance of diverse representation in fashion. Other models with Down syndrome including Sofía Jirau, Marian Ávila and Madeline Stuart made their debuts at New York Fashion Week, with Stuart being the first model with Down syndrome ever to strut down a runway. 
The emergence of Goldstein and many other unconventional beauties in fashion is no coincidence; people should celebrate them and remember that beauty comes in all forms. 
See also: 7 transgender models bringing change in and out of the fashion industry