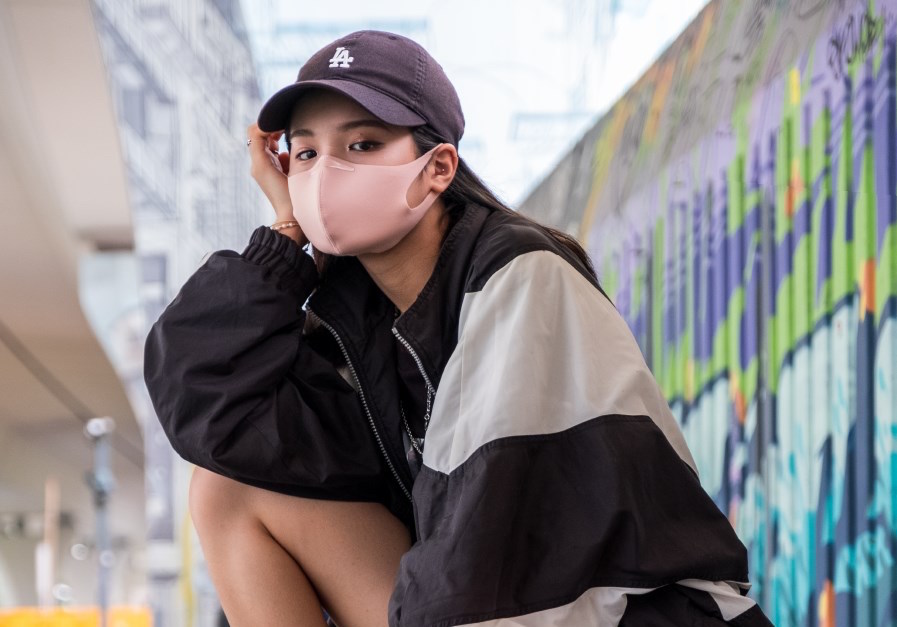 Now that masks have become part of everyday life, it's no surprise that they've also become quite the fashion statement – with camo, coloured and even tie-dye versions hitting the market. But when you consider that the majority of masks being worn are single-use and disposable – with approximately 129 billion face masks thrown away each month, according to Green Matters – it's about time that we all did something about it.
In today's eco-woke times, wearing a disposable, one-time-use mask is no different from printing paper irresponsibly, using plastic bags excessively or asking for a plastic straw (!) from restaurants. And now that more brands are producing reusable masks that offer the same level of protection as standard surgical masks (or better), there's really no excuse.
Luckily for us, there's no shortage of locally produced, high-quality reusable face masks in Hong Kong. From breathable, single-layered masks to those with built-in filters, here are five of the best we've found so far:
Green Sisters Creation
Proudly made in Hong Kong, Green Sisters Creation is a new homegrown business promoting health, holistic self-care, skincare and food. Their first product is a high-quality, hand-stitched mask that's available in an array of colours including navy, lavender, pink, gray, baby blue, denim blue and olive green.
The triple-layer mask includes a super soft, inner layer of Japanese medi technology fabric, a middle non-woven cloth with PE breathable coating and an outer layer made of 100% water repellent polyester.
Fans of Green Sisters' masks include #legend100 lister, @jlouofficial, and other Hong Kong celebrities (see their Instagram for more customer snaps).
Price: HK$128 per mask; reusable up to 100 times
Use the code '#legend" at checkout for a 10 percent discount
Available at greensisterscreation.com
Nanoknit
Designed in Toronto and manufactured in Hong Kong, Nanoknit's innovative reusable masks are made with a unique 3D knit fabric with over 100 facial mapping points for a super soft, slim and seamless fit.
Choose from the Classic 360 or Ultra version – both have a handy pocket on the bottom to insert a PM2.5 filter to add five more layers of protection against particles and pollutants.
Their wide range of colours includes charcoal, green earth, taupe, black, denim, red wine, peachy rose, clear sky and fresh mint, as well as several multicoloured designs.
Price: US$23.50 (HK$182) per pack of two masks; reusable up to 100 times
Available on nanoknitmask.com
Lockill
Under a 'business and charity model', Lockill is another company that manufactures reusable masks in Hong Kong. Their FaceOff masks have been spotted around town especially on the athletic types, who love the masks for their slim, stretchy and breathable fit.
Available in black, denim blue, baby blue and pink, Lockill's masks are made from a lightweight antimicrobial fabric with silver and bamboo components, plus an adjustable nose clip for a tighter fit.
Price: HK$118 per mask; reusable up to 20 times
Available on q-please.com
Pacsafe
For an extra protective reusable mask, Pacsafe's silver ion mask has a total of five layers (including an advanced silver ions layer, high fluid resistance layer, advanced high charged filter, 3D skeleton construction layer and antimicrobial lining) to make sure nothing gets through. It even comes sterilised and vacuum sealed to make sure there is no product tampering in transit.
For something more breathable, their thinner polyester/spandex face mask is treated with Polygiene ViralOff technology that reduces viruses up to 99% within two hours but does not have a built-in filter. Both masks come in a variety of colours including grey, black, pink, purple, blue and beige.
Price: HK$315 for the silver iON face mask (reusable for life) and HK$102 for the ViralOff face mask (reusable up to 30 times)
Available on pacsafe.com
Aveita
Popular among Hong Kong's fitness community but equally chic in the workplace, Aveita's thin, stretchy and reusable masks are treated with an antimicrobial finish called UltraFresh that helps inhibit the growth of bacteria and fungi. The seamless design is comfortable to wear and stays sleek due to its single-layered, filterless design.
A new business that pivoted from the undergarment industry, Aveita's masks are available in twilight blue, desert green, cosmic black and a limited-edition pink colourway for breast cancer awareness month.
Price: HK$100 per mask; reusable up to 30 times
Available on aveita.com
See also: Masks for good: Fashionable face masks that give back to charity