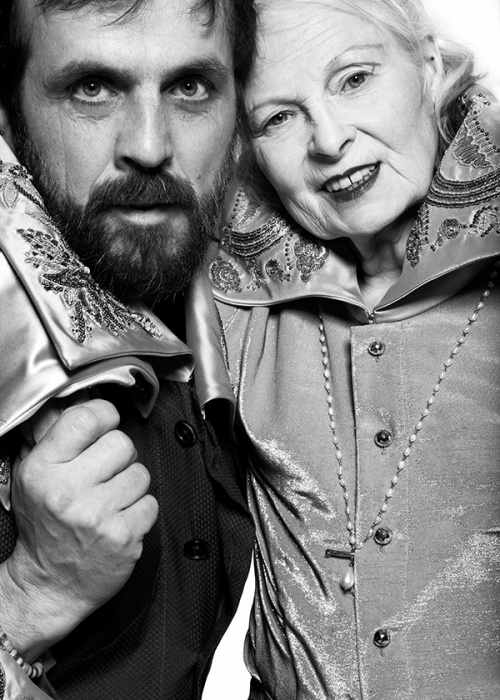 ​Vivienne Westwood has announced plans to fuse her womenswear and menswear lines under a single label.
The grande dame of British fashion has announced she will present her autumn/winter 2017-18 collection in one show in January 2017, as part of London Fashion Week Men's. The move effectively puts an end to the practice of showing her womenswear line, formally known as the Red Label, and her menswear line, formally known as the MAN Label, separately, in London and Milan respectively. The two lines will now sit together under the name Vivienne Westwood.
As a result, there will be no spring/summer 2017 womenswear show during London Fashion Week this September, with the collection being presented only via a lookbook and private appointments. The Andreas Kronthaler for Vivienne Westwood collection, which carries the name of her husband and business partner, will continue to show in Paris during Fashion Week in October, positioned as a unisex concept collection. The company's diffusion line Anglomania, the Worlds End Collection, and all accessories collections will remain unaffected by the shake-up.
The move is part of the house's strategy to simplify its portfolio, and give buyers a clear vision for the season prior to showroom appointments, by presenting the collections ahead of the sales period. Dame Westwood summarised this new approach in a statement, saying: "Reduce our company in size. And reduce it to its essentials. Selling only what we love. Our whole structure will be directed by quality. Buy less, choose well, make it last. Together Andreas and I head the design teams for all lines."
Vivienne Westwood is the latest in a long list of fashion houses currently reviewing their catwalk show strategy, in what is becoming a turbulent period for the industry. Earlier this year, Italian designer Antonio Marras and high-fashion giant Gucci both announced plans to streamline their men's and women's ready-to-wear shows as of 2017, while UK label Burberry is set to cause a stir this September with its debut 'see now, buy now' show. From now on, Burberry will put on only two 'seasonless' runway shows per year (instead of the traditional four), mixing menswear and womenswear and putting the clothes on the rack at the same time as the catwalk. Several other major brands have since followed suit, with Tom Ford and Tommy Hilfiger adopting a 'see now, buy now' philosophy, and French label Vetements eschewing the traditional fashion week calendar to show its men's and women's collections simultaneously.