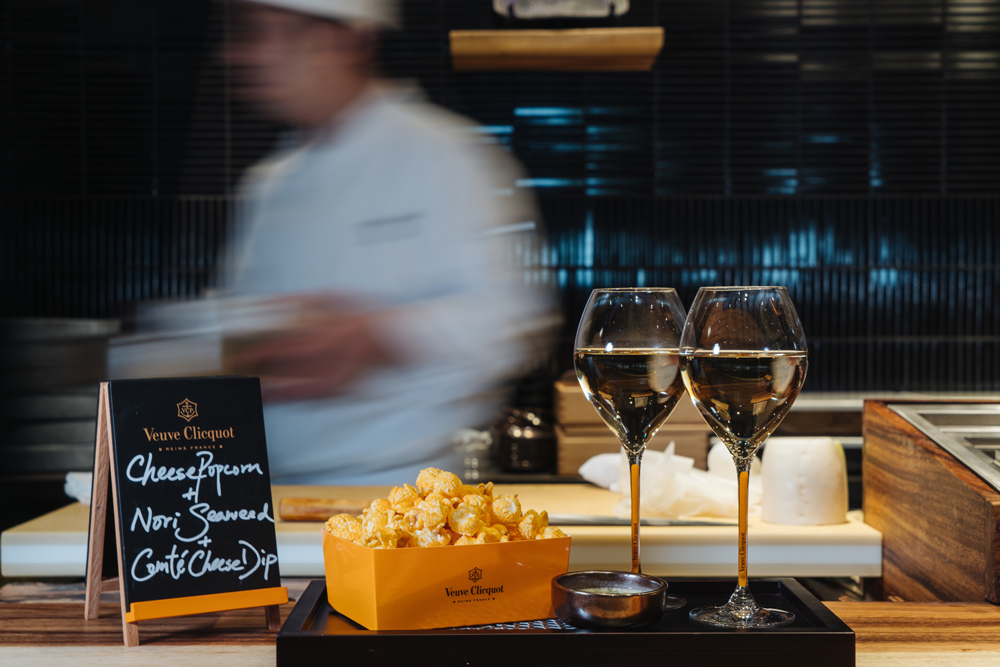 French Champagne house Veuve Clicquot is collaborating with 14 of Hong Kong's best restaurants to bring you "Yellow Hour", a new apéritif named after the brand's iconically coloured label. See the full list of restaurants and their offerings below; promotion times are flexible, with most available between 5-7pm.

Participating chefs are challenged to create a rotating selection of snacks to accompany the refreshing bubbly, changing each quarter to reflect a new theme. The first of the four-part series uses popcorn as its key ingredient. Try playful combinations like the moreish cheese popcorn with nori seaweed and comté cheese dip at Dining at Murasaki, or opt for a sweet start to the night at Metropolitain, who are dishing up banana and popcorn beignets.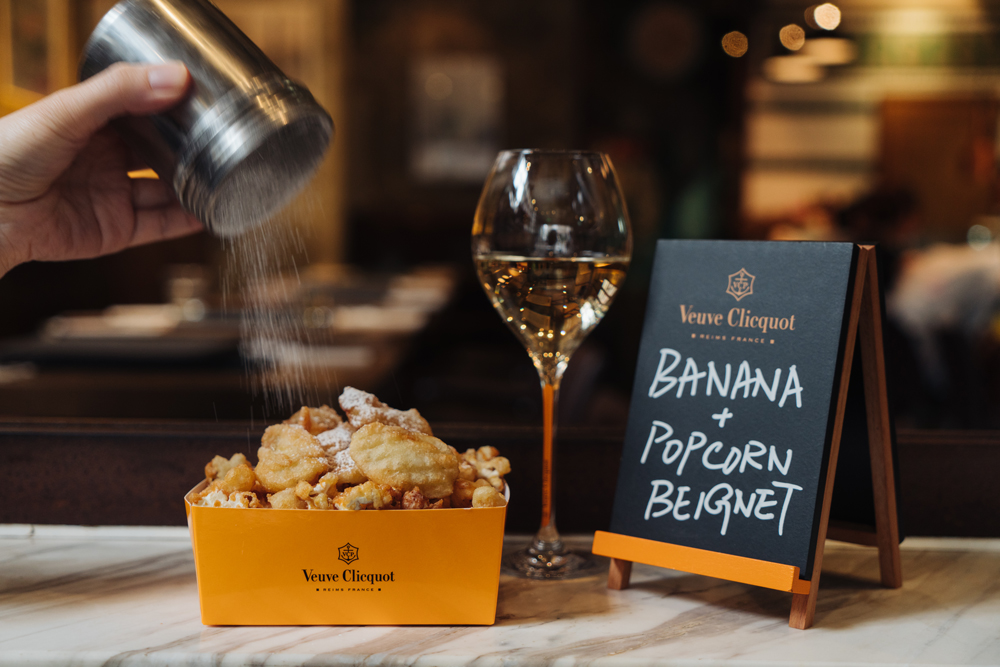 ​Catalunya, Comptoir, Eiffel Bistro, F.A.B, Flying Pig Bistro, FoFo by El Willy, La Paloma, Pastis, Saint Germain, Shore, Tazmania Ballroom and the Sheraton Hotel Sky Lounge are all participating with unique offers, ranging from spicy chicken popcorn to crab roe salad papadum's served with caramel flavoured kernels.
The first series of Yellow Hour will run until April 30.
Catalunya, Guardian House, G/F, 32 Oi Kwan Rd, Wan Chai
Popcorn Bon Bon with a glass of Veuve Clicquot Yellow Label (HK$180)
Comptoir G/F 42 Forbes Street, Kennedy Town
Truffle, parmesan and thyme popcorn with a glass of Veuve Clicquot Yellow Label
Dining at Murasaki, Shop 8, UG/F, Sino Plaza, 255 Gloucester Road, Causeway Bay
Cheese popcorn with nori seaweed & comté cheese dip, with a choice of one glass, two glasses or a bottle of Verve Clicquot Yellow Label
Eiffel Bistro, Stage 5, Shop G514 Tai Yue Avenue, Hing On Mansion, Taikoo Shing
Crispy raspberry popcorn w/pistachio dip and a glass of Veuve Clicquot Yellow Label
F.A.B 30 Hollywood Rd, Central
Bacon and parmesan flavoured popcorn + a glass of Veuve Clicquot Yellow Label
Flying Pig Bistro, 62 High St, Sai Ying Pun
Caramel popcorn + a glass of Veuve Clicquot Yellow Label
FoFo by El Willy, M882-8 Wellington St, Central
Foie gras mi cuit bikini with popcorn and tomato chilli jam and a glass of Veuve Clicquot Yellow Label
La Paloma, 1 Floor, 189 Queen's Road West Sai Ying Pun
Tomato salad with white anchovies and popcorn ice cream and a glass of Veuve Clicquot Yellow Label
Metropolitain Aspen Court, 46 High St, Sai Ying Pun
Banana and popcorn beignet (5pcs) and a glass of Veuve Clicquot Yellow Label
Pastis, 65 Wyndham St, Central
Chocolate covered caramel popcorn balls (6 balls) and a glass of Veuve Clicquot Yellow Label
Saint Germain, 1A Wong Nai Chung Road, Happy Valley
Green tea ice cream & caramelised popcorn and a glass of Veuve Clicquot Yellow Label
Sheraton Hotel – Sky Lounge, 20 Nathan Road, Kowloon
Iberico ham croquette, tomato confit with olive oil
Boston lobster with mango, crispy breaded oyster & roasted scallop
Assorted macarons, lemon & strawberry meringue tart & praline
Veuve Clicquot Yellow Label and Veuve Clicquot Vintage 2008 available
Shore, 3/F & 4/F, The L. Place, 139 Queen's Road Central, Central
Spicy chicken popcorn with a choice of one glass or a bottle of Verve Clicquot Yellow Label
Tazmania Ballroom, 1/F, LKF Tower, 33 Wyndham Street, Lan Kwai Fong, Central
Crab roe salad papadum with cheddar cheese and caramel flavoured popcorn and a glass of Veuve Clicquot Yellow Label