Thanksgiving in Hong Kong only means the weather has dipped, the puffer coats are out, the days are getting longer, everyones grumbling about when the turkey will be done, and oo-ing and aah-ing over that sweet pumpkin pie. The American-contingent is all about eating, friends, family and celebrating the harvest and other blessings of the year, and of course giving thanks. Here are our top picks for Thanksgiving dinners around Hong Kong, with the options of dining in or taking away to avoid the fuss-free cooking in your own home.
Hunter & The Chase's Thanksgiving Menu

If you haven't tried the newly opened Hunter & The Chase, Thanksgiving's the perfect time. This Thanksgiving, do yourself a favour with blessedly simple, but packed-with-a-punch dishes that deliver on flavour. Chef Lopez is best known for his attention to detail and experimenting with alternative meat cuts rarely seen in Hong Kong restaurants. He taps into his American roots with a menu packed with a festive fare, from Potted Turkey Confit, Butternut Salad, Ham Steak, and a Grilled Whole Turkey with signature wild boar stuffing and cranberry sauce. Chef Lopez pairs these unique dishes with signature sides, including the popular smashed potatoes with rosemary salt. Finish your frenzy with Pumpkin Pie with whipped cream; and Lemon Meringue Pie, the perfect sweet touches before your traditional post-meal food coma kicks in.
The Thanksgiving Sharing Frenzy, (HK $588 per person, minimum of four guests) is available from 22-25 November, reservation is required at least three days in advance.
3/F and 4/F, The L place, 139 Queen's Road Central, Central, 2915, 1638
https://www.hunterandthechase.com/
Porterhouse
Leave the blizzards, the traffic jams, the family bickering and the long flight delays behind, because Porterhouse have got all you sorted. Chef Angelo Vecchio has created two set dinner menus, available for pre-order. In true Thanksgiving spirit, everything is made to share in the impressive Thanksgiving Sharing Feast, which includes a Roasted Whole Organic Turkey and much more. Smaller groups can tuck into a five-course feast of reinvented classics, dubbed the "Thanksgiving Set Dinner", like the Roasted Squash & Ginger Soup, USDA Prime Beef Tartare, the pasta dish of Pumpkin Pennete LIsce. For the main course, Turkey Leg Roll, accompanied by sides of herbed-mashed potato, sautéed baby green vegetables and homemade cranberry sauce. The meal ends with a dessert of Pumpkin & Pecan Pie. It's like cooking at home, but without the prep, hassle and cleanup. Thanksgiving Turkey Takeaway Packages are also available upon request.
The Thanksgiving Sharing Feast (HK $888 per person, minimum of eight guests) and Thanksgiving Set Dinner (HK $588 per person, minimum of four guests) is available from 20-22 November.
Porterhouse, 7/F California Tower, 30-36 D'Aguilar Street, Lan Kwai Fong, 2522, 6366
Posto Pubblico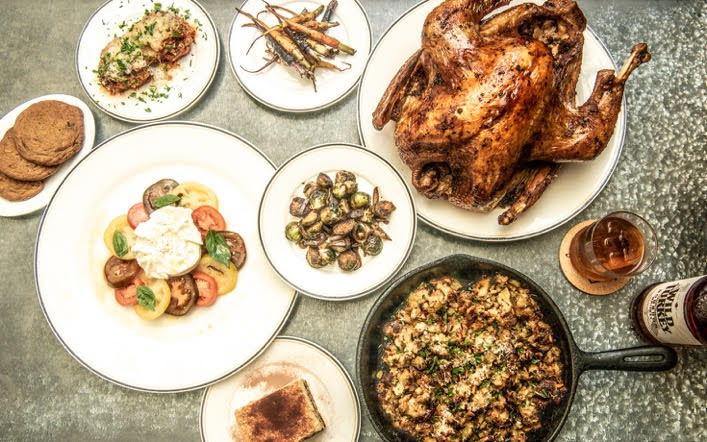 Garlic Butter Roasted Turkey Celebrate the most iconic of North American festivals with a refined celebration at Posto Pubblico, Hong Kong's favourite Italian-American Osteria, with their epic gourmet feast. Their Limited Edition Menu features an array of traditional Italian-American dishes as the price of just HK $439 per person, served to the beloved eatery's renowned hip hop soundtrack. The Thanksgiving dinner starts with the Homemade Burrata with Organic Heirloom Tomato and Veal Meatballs with Tomato Sugo. Next, the mouth-watering Garlic Butter Toasted Turkey, accompanied by sides including Brussel Sprouts, Stuffing made with all the trimmings, fluffy Roasted Baby Potatoes , Sambuca-glazed Carrots and Purple Cabbage Agrodolce. The Tiramisu and Home Made Chocolate Chip Cookies are a massive hit to finish off one of the finest Thanksgiving feasts to date. A two-hour free-flow package is also available for customers at an extra HK $249.
The Limited Edition Thanksgiving Dinner (HK $439 per person) is available for dinner from 6pm to 11pm on 21-22 November.
Posto Publico, 28 Elgin Street, Soho, Central, 2577 7160
Mandarin Oriental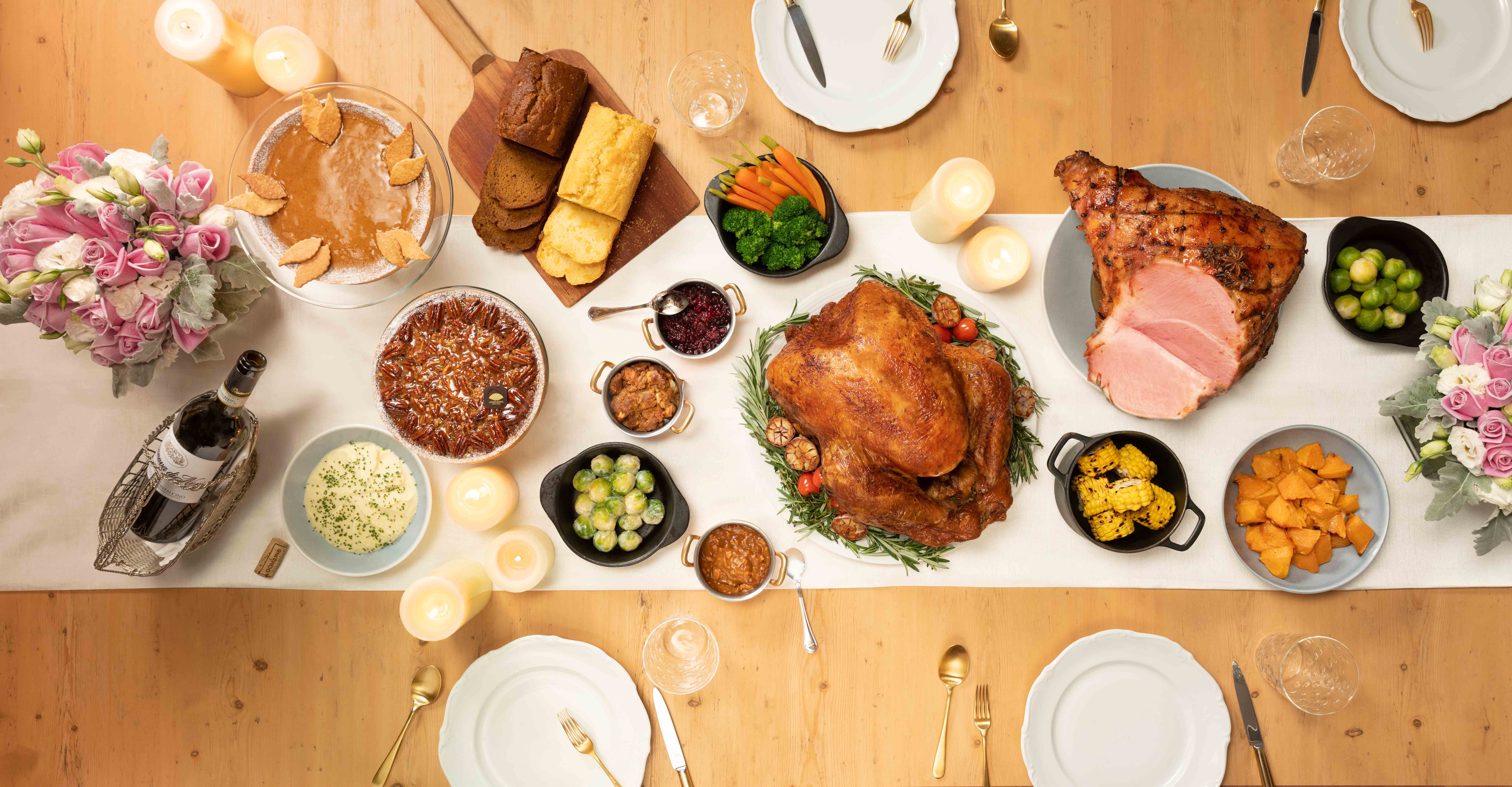 Forget the stress or mess of Thanksgiving dinner prep, the Mandarin Oriental presents its annual homemade holiday feast for a hassle-free Thanksgiving celebration. Prepared with care for two days by the hotel's culinary team, the Five-Star meal can be delivered anywhere in the city for guests to enjoy with family, friends and colleagues. The Thanksgiving feast comes in the hotel's famed "Top Hat" box that contains either a 7kg or 10kg roast turkey from the U.S. with servings of stuffing, pumpkin wedges, mashed potatoes, cranberry sauce, corn on the cob, cornbread and giblet gravy. Guests can also enjoy a 7kg honey glazed ham from the U.K. that is complemented with pumpkin wedges, mashed potatoes, and Madeira sauce. Last but not least, the finest desserts in the city including pumpkin pie, salted butter pecan pie and rum raisin chocolate mousse cake . Created with convenience in mind, guests only need to place the items in the oven for 15 to 20 minutes, depending on the size.
Thanksgiving delivery orders are available until November 19 and have to be placed 72 hours in advance. Prices include:
- U.S. Roast Turkey (7kg) with trimmings - HK $2,928
- U.S. Roast Turkey (10kg) with trimmings - HK $3,528
- U.K. Honey Glazed Ham (7kg) with trimmings - HK $3,088
- Family Feast: U.S. Roast Turkey (10kg) with trimmings and desert - HK $4,028
Delivery can be arranged throughout Hong Kong and surrounding areas between 16 November and 1 December 2018 at an additional charge.
Mandarin Oriental, 5 Connaught Road, Central, 2825 4008
Jamie's Italian
No one does Thanksgiving quite like Jamie. Indulge in a true Thanksgiving feast including Jamie's Festive Turkey Menus for Dine-in, Takeaway and Event Catering needs. This year, two festive menus have been launched by Head Development Chef, Atisha Kumar. Make your way down to Jamie's Italian Causeway Bay or Tsim Sha Tsui to experience an upgraded American Thanksgiving feast that includes hallmark seasonal favourites on tried and tested recipes by celebrity chef Jamie Oliver. Look forward to sumptuous fall creations including a starter of Tomato Bruschetta, mains such as Roasted Pumpkin Panzerotti stuffed with herby ricotta and pumpkin with buttery sage sauce, the Turkey Plate, featuring a comfortable portion of sliced roast turkey with glazed carrots, potato gratin, stuffing and gravy. The chef's recommendation for dessert is the Pumpkin & Pecan Crumble, the ultimate fall sweet, made with pumpkin & cardamom pie, a crunchy topping of pecans and oats served with hokey-pokey ice cream.
The 3-course Thanksgiving lunch (HK$198 per person), and Thanksgiving dinner (HK$228 per person) is available from 22-25 November.
Jamie's Italian Causeway Bay, 2/F, Soundwill Plaza II - Midtown, 1 Tang Lung Street, Causeway Bay, 3958 2222
Jamie's Italian Tsim Sha Tsui, Shop 412, Level 4,Ocean Centre, Harbour City, Tsim Sha Tsui, Kowloon, 3758 3333
www.jamieoliver.com/italian/hongkong/
Blue Butcher and Meat Specialist
The Blue Butcher and Meat Specialist celebrates this season's bounty with crowd favourites taken up a notch with their epic Thanksgiving spread. From the Free Range Hunter Valley Turkey (semi-deboned), with cranberry sauce and gravy, Toasted Garlic Mashed Potatoes, Fried Brussels with honey and chili to the Milk Chocolate Brioche Bread Pudding with double chocolate stout ice Cream, there's something for everyone. There is no better way to commemorate Thanksgiving than to gather around the table, and toast to good times over ingredient focused cooking and Blue's delicious Turkey menu.
Festive menu at Blue (HK $650 per person) will be available on 22nd November, all turkeys must be ordered 24 hours in advance and only limited portions are served each day.
G/F, 108 Hollywood Road, Central, Hong Kong, 2613 9286
Limewood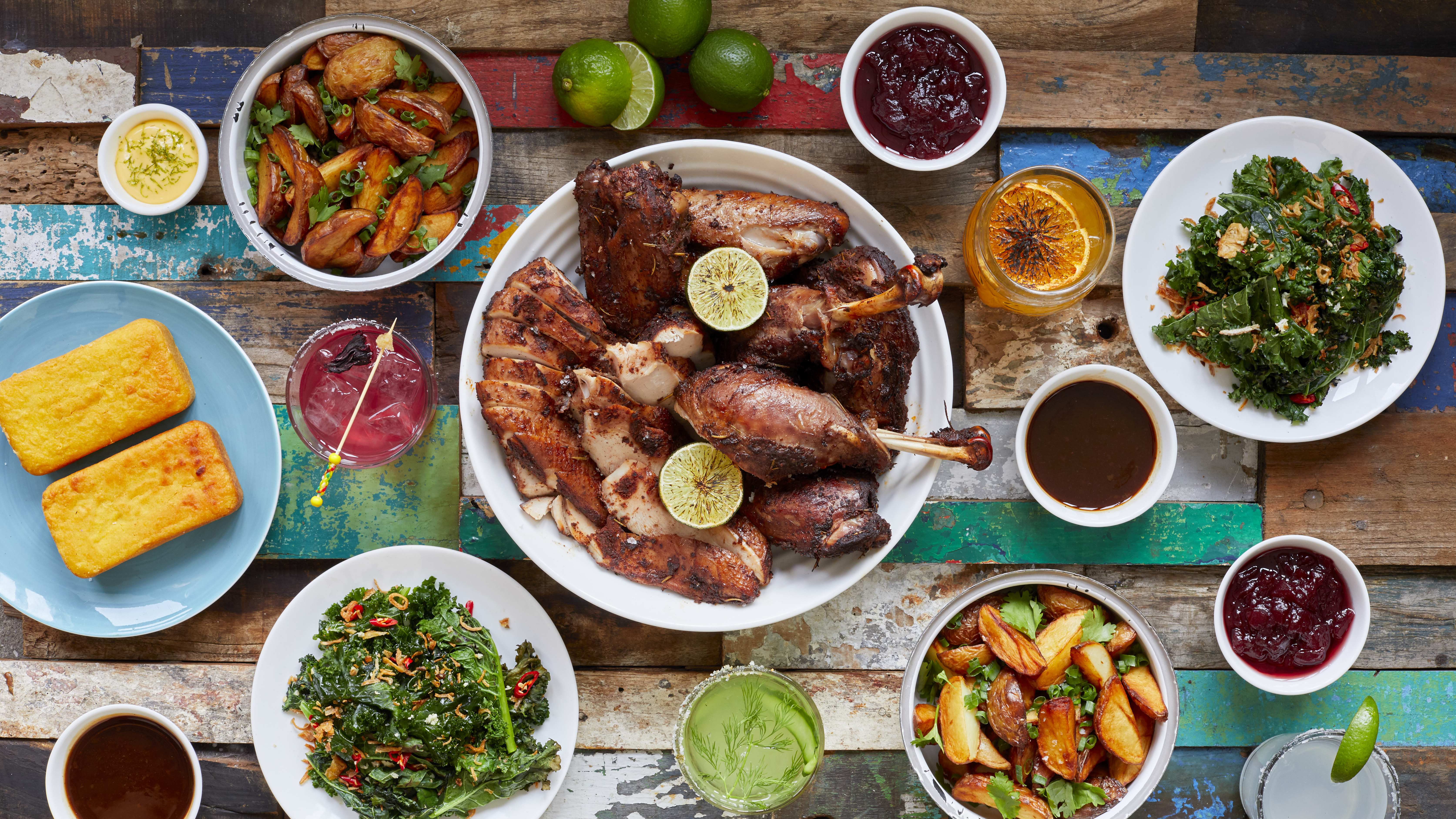 If you're looking for a festive escape to pamper your friends and family, look no further! Limewood is where you'll find a Thanksgiving dinner menu that goes beyond traditonal. The seaside restaurant is bringing back a spectacular festive menu fusing South East Asia, Hawaiian, South American and Caribbean flavours, where guests can anticipate a dining experience unlike any other traditional feast. Executive Chef Russell Doctrove puts down his unique touch to the classic centrepiece – their version of Free Range Hunter Valley Turkey (semi-deboned) is seasoned with Achiote Marinade, giving the skin a deep red hue and complex taste that will stimulate your appetite. Side note, the glossy and rich Turkey Gravy will boast the flavour. Super kudos to Limewood for their zingy and fruity Sweet Potato Rum Pie to finish off and indulge on your sweet tooth.
Special Thanksgiving menu (HK $650 per person) and only available on 22nd November, all turkeys must be ordered 24 hours in advance and is available until stocks last.
Limewood Shop 103/104 The Pulse, 28 Beach Rd, Repulse Bay, 2866 8668
Stone Nullah Tarvern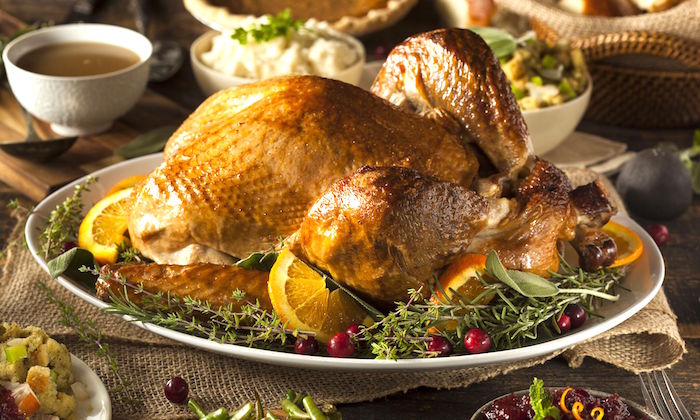 This Thanksgiving, Stone Nullah Tavern goes all out – you may want to wear elastic pants while reading this. Guests can enjoy Stone Nullah's Seafood Platter (option HK $50 per person), also available are the Homegrown Salad and Cheddar Biscuits. The showstopper of the evening is the choice between the classic Garlic Butter Roasted Turkey and a delicious Southern Fried Turkey. Mains are accompanied with a variety of classic sides, which include Apple and Cheddar Stuffing, Butter Roasted Potatoes, Charred Brussels Sprouts, and Pulled Pork Mac' n Cheese. For dessert, diners can't go wrong with warm Skillet S'mores or a rich Apple Crumble. With their great deals, it makes easy to save during this festive yet costly time of the year.
Thanksgiving dinner (HK $548 per person); two-hour free-flow package (HK $198 per person); exclusive two-hour free-flow package (HK $308 per person).
69 Stone Nullah Ln, Wan Chai, 3182 0128
http://www.stonenullahtavern.com/
Mott 32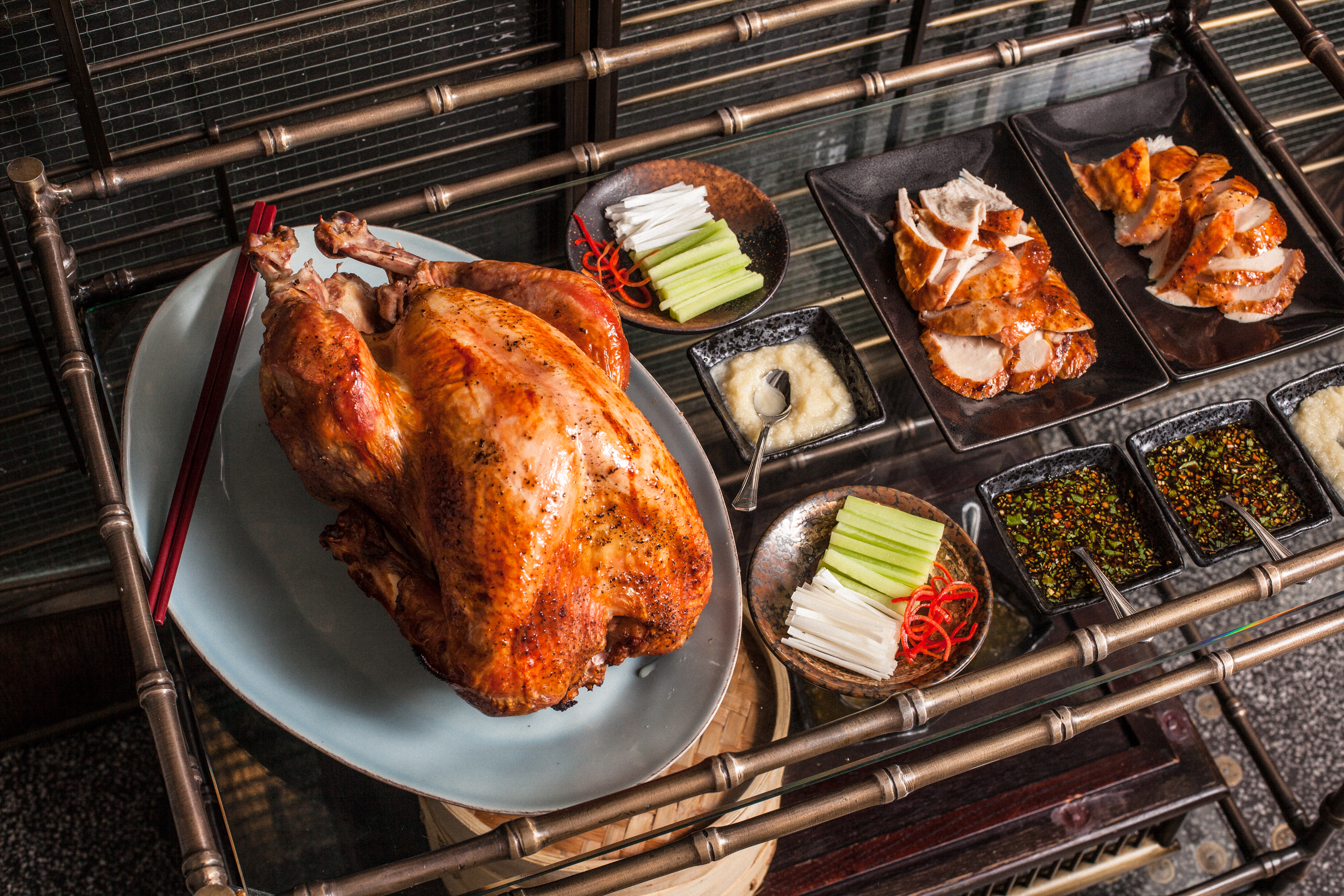 Plan the most epic holiday feast with Mott 32 where Maximal Concepts Culinary Director, Malcolm Wood and Executive Chef Lee Man Sing have pioneered a traditional take in this holiday season with their Whole BBQ Roasted Free Range Turkey being offered in three ways for you to share with family, friends and guests. This will be carved tableside and served with pancakes and three subtle, homemade sauces: a plum and lemon, fresh garlic and Chef Lee's secret turkey sauce. To follow Mott 32 will serve the Turkey and Five Shade Salad, a combination of fresh fruits and vegetables including papaya, dragon fruit, melon, scallion, red pepper, cashew nuts and sweet peanut sauce. The turkey trio is completed with a Minced Turkey served with water chestnut, mushroom and bamboo in a fresh, crisp lettuce cup.
Mott 32's BBQ Roasted Free Range Turkey menu (HK $1,880) will commence on 22nd November until stocks last, the Free-Range Turkey needs to be ordered 48 hours in advance and is only available for dine in only.
Standard Chartered Bank Building, 4-4A Des Voeux Rd Central, Central, 2885 8688
www.mott32.com
Feather & Bone

Feather & Bone is a collection of pioneering epicurean outlets. This butcher, deli, and grocer is well known for its vibrant assortment of fresh quality produce, artisanal pantry items, the finest cuts of meat and charcuterie, as well as expertly sourced seasonal cheeses.
This year, Feather & Bone invites customers to celebrate the festive season by indulging in a 5kg-9kg Steggles Turkey, which is available both online and in stores. The premium turkey is sure to steal the show at customers' home-cooked Thanksgiving dinner. This must-have dish is a breeze to cook and delivers crisp golden skin and impossibly moist meat with virtually no effort.
All Feather and Bone outlets' 5kg-9kg Steggles Turkey (HK $100/kg)
Feather and Bone Sai Ying Pun, Shop 1, G/F Commercial Accommodation, Bohemian House, 321 Des Voeux Road West, 3705 0280
Feather and Bone Gage Street, 18 Gage Street, Central, 2325 8570
Feather and Bone Happy Valley, Shop A&C, G/F., Winner Building, 11 Wong Nai Chung Road, 2836 3789
Feather and Bone Clearwater Bay, Shop 1-4, 1/F, Retail Block of Mount Pavilla, 663 Clearwater Bay Road, 2791 1680
The Butchers Club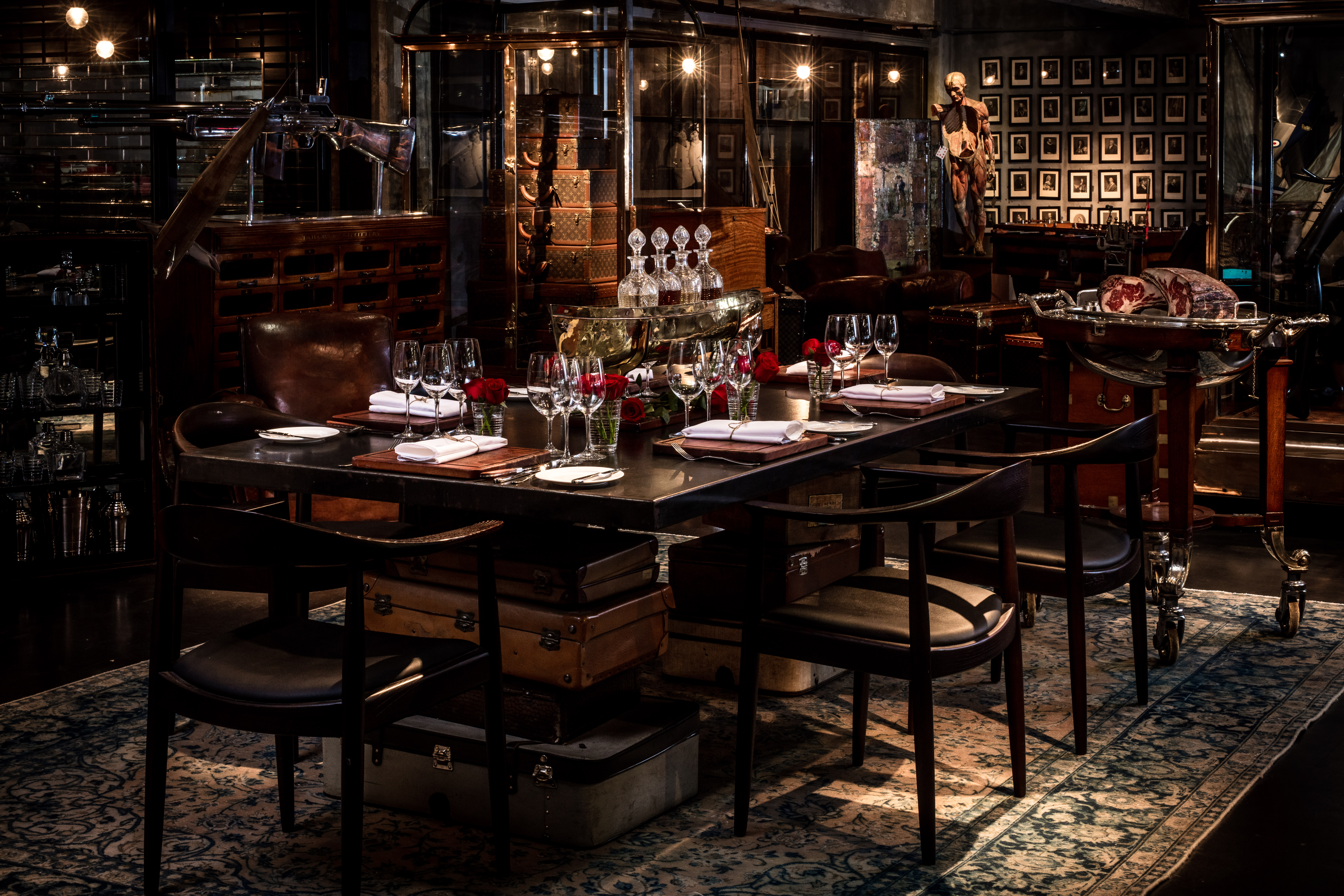 If you're looking for a fuss-free Thanksgiving, The Butchers Club are accepting pre-orders for their Grade A USA-reared Young Turkeys which are 100% natural with no added ingredients, a promise to make the ultimate home-served meal. Customers can also opt to have their bird cooked with the Sous-vide Turkey. It's ultimate tenderness will have guests licking their plates. Eight-person all-inclusive packages are also available and include epic sides for a hassle-free dinner party. Dinner package add-ons include -2kg Smoked Ham, 400gr's of Maple and Bacon Brussels Sprouts, 400gr's of Honey-Glazed Carrots, 400gr's of Herbed Baby Carrots, 400gr's of Apple and Smoked Bacon Stuffing, 200gr's of Gravy, 500gr's of Cranberry Sauce, and 12 Dinner Rolls. Last but not least, the 600g Turkey & Cranberry Sausage, the perfect partner for a festive bird.
The Butchers Club Grade A USA-reared Young Turkeys (HK $725), Sous-vide Turkey (HK $875 and must be ordered two days in advance), both Turkeys weigh approximately 7.3-8.2kg each; 600g Turkey & Cranberry Sausage (HK $160); Eight person all-inclusive dinner packages (HK $1, 988).
The Butchers Club Central, 82 Stanley Street, Central, 2347 0755
The Butchers Club Wan Chai, Shop 10, G/F, Rialto Bbuilding, 2 Landale Street, Wan Chai, 2528 2083
The Butchers Tsim Sha Tsui, G34-35, G/F, K11 Art Mall, 18 Hanoi Road, Tsim Sha Tsiu, 2897 7522
The Butchers Quarry Bay, G/F., Westland Gardens, 12 Westlands Road, Quarry Bay, 2388 9644