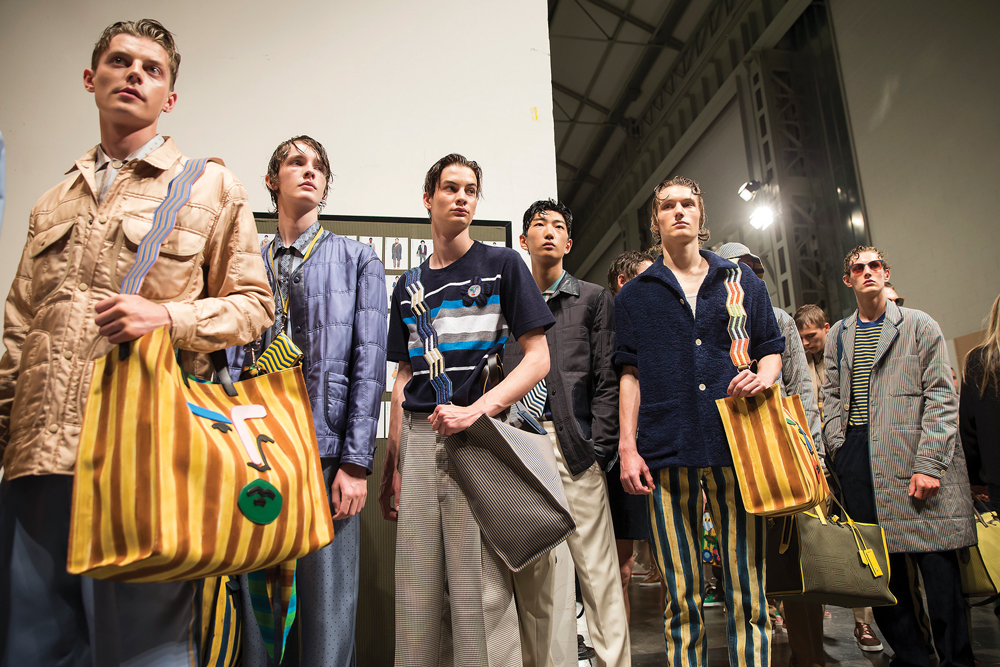 Free, individual and creative, summer fun pervaded Fendi's spring/summer 2017 men's collection, in a playful, energetic mix of soft and almost "washed" materials together with relaxed silhouettes which make for long, lazy days outside. Silk tracksuits and quilted caftans added a zing of exoticism, and terrycloth is everywhere – a plush indulgence like a summer fur. The collection also sees 
the debut of the brand's men's eyewear collection. Designer Silvia Venturini Fendi tells us more.

Who is the perfect man for the Fendi men's collection?
I was very much inspired by people that have been breaking the rules of the conventional way of dressing, like Pablo Picasso or Salvador Dalí, artists that have been dressing with very personal clothes. That's why I called an artist to work on our iconic stripes, the Pequin, that was so popular in the 1980s and 1990s for our travel line. We did a beautiful water colour on our Pequin stripes.
What is the inspiration for the collection?
The collection is really inspired by summer time and by the sun. I would call this collection sun and fun. That is why I decided to have the models walking by a pool.
How did summer and the sun influence you in the creation of the collection?
In summer everybody wants to dress in a freer and artistic way. When there are rays of sun, we are immediately in a good mood and this is shown in the collection.
Which kind of fabrics were used in the collection?
The collection is made of simple clothes, made with very light and fluid fabrics to give an attitude of easiness. The fluid, washed silks and viscose are used to stress this concept of freedom.