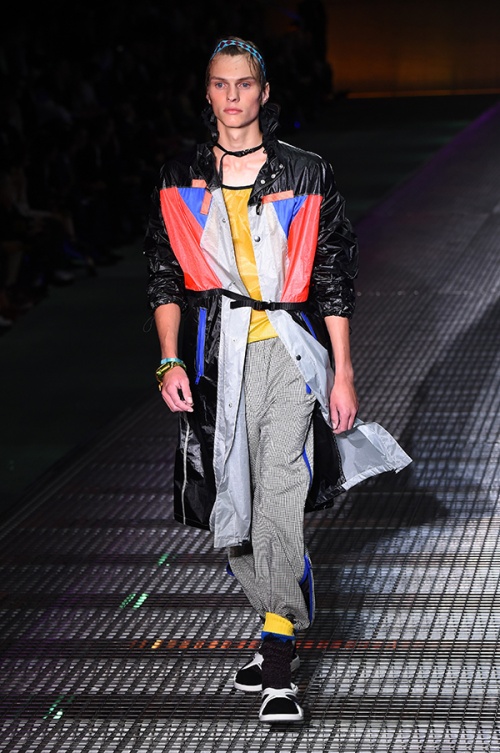 A round-up of the trends emerging for spring/summer 2017 menswear from Milan menswear fashion week.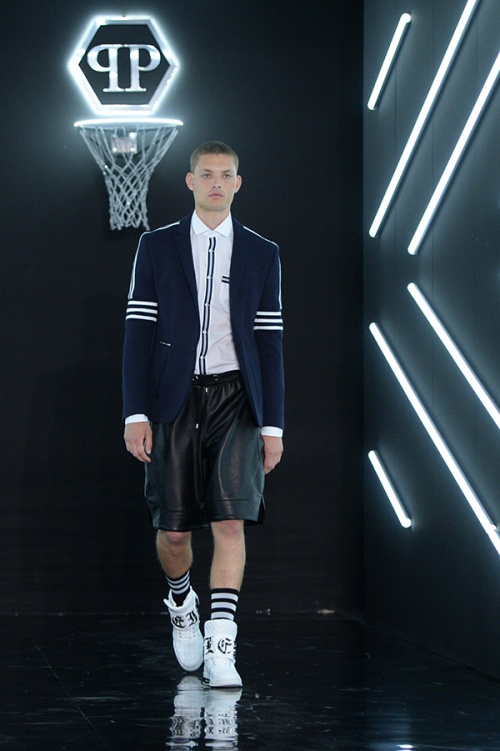 Athleisure
Sportswear continues to dominate the male fashion landscape, with Prada's colorful collection leading the way. Neon piping, lightweight parkas and rain pants combined to create a cheerfully informal and outdoorsy approach to menswear. This was followed up by Philipp Plein's contribution, which blended all-American basketball attire with tailored leather shorts and sharp blazers. Moncler also channeled an outdoorsy theme with its boy scout-themed adventurous outwear.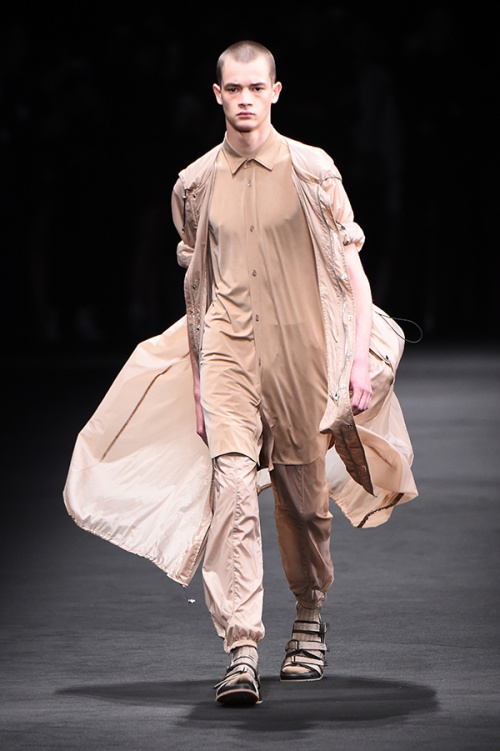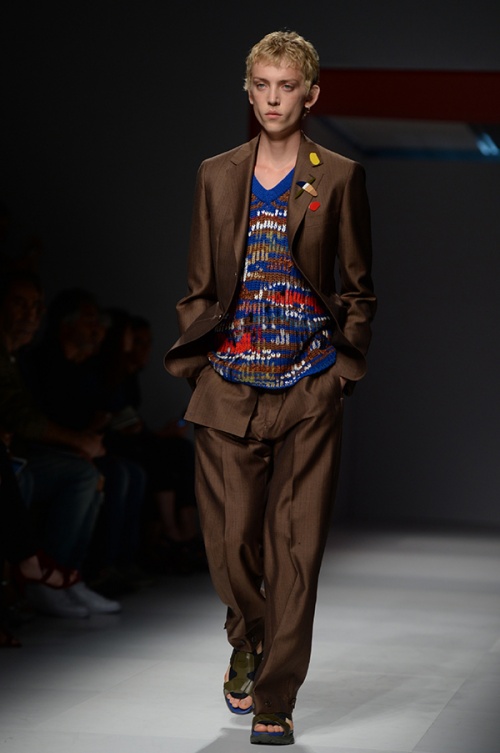 Daydreaming
Versace stunned with a lightweight collection that focused on fluid layering for a dreamy result. The collection featured ultra-light long parkas of near transparent nylon, silk shirts reborn as a zip-up blousons and silk knitwear tied round the waist. Salvatore Ferragamo melded "the spirit and attitude of the artist" with that of "the restless adventurer", resulting in a whimsical and imaginative show, while Dsquared2 cited "the quiet rebel" as one of the influencers for its artistic, androgynous glam rock collection.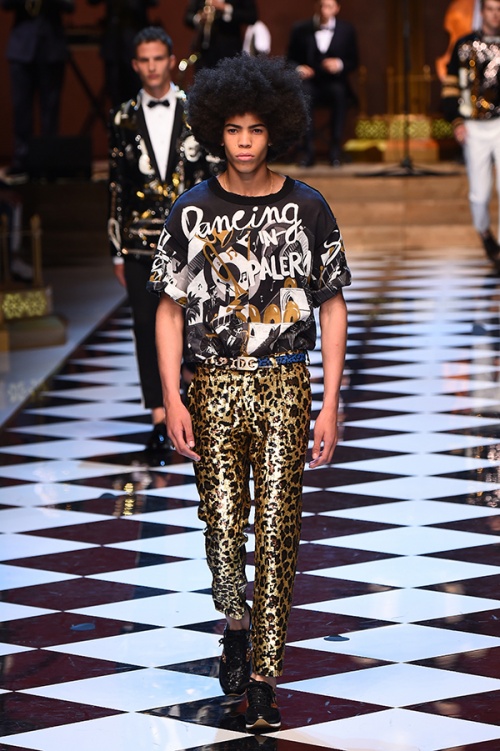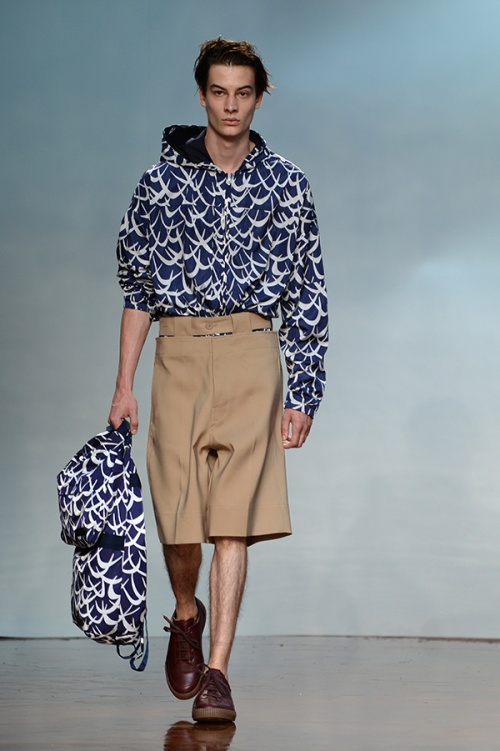 Printed
Prints have been out in force at Dolce & Gabbana's boisterous and chaotic festive show, with leopard print trousers stealing the limelight. Marni teamed matchy-matchy patterned jackets and accessories together, and Missoni approached the trend in a subtler way, showcasing multicolored patchwork knitwear inspired by Guatemala.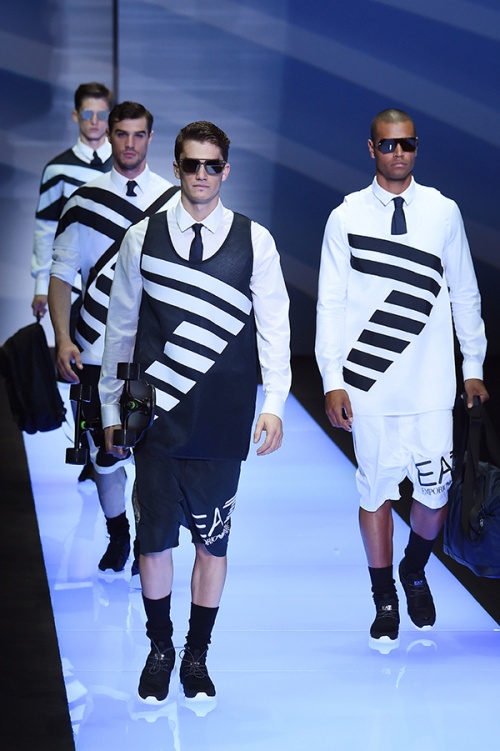 Identity
Emporio Armani led the way with a spirited collection that focused on DNA and individuality, featuring giant fingerprint patterns that appeared on everything from t-shirts to jackets. The Italian designer also jazzed up his typically neutral color palette, and although the opening looks were a haze of sophisticated blues, greens and neutrals, the show also featured glimpses of postbox red and softer salmon pink.
The looks available were also widely varied -- there were ample examples of gentlemanly tailoring, elegant blousons and raffish neck scarves, but also of salopette or overall-style pants and a series of futuristic, black-and-white athleisure pieces.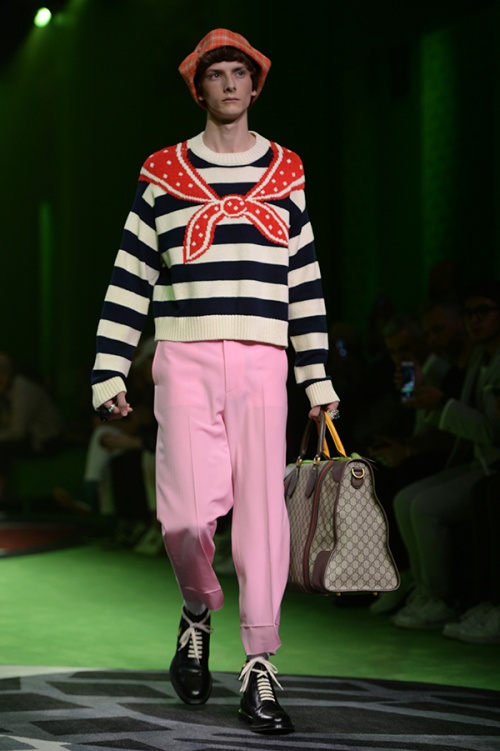 The Art of Travel
Over at Gucci, however, things were even more restless, with Creative Director Alessandro Michele using spring/summer 2017 to reflect upon the art of traveling. According to Gucci, the clothes were designed to "keep traces of otherness; echoes of spaces, crossed or imagined; temporalities, plural and thickened." This translated to an odyssey of fantasy looks, tailor-made for sailors, preppy intellectuals and fans of the cartoon character Donald Duck, whose image appeared splashed across a sleeveless knitted multicolored sweater.
The fluffy coats, detailed Chinese embroidery embellishments and kimono-style suits were a tribute to the scope of the Italian designer's talent for traveling within his imagination, to a place where toy soldiers and punk rebels can peacefully, and fashionably, co-exist.