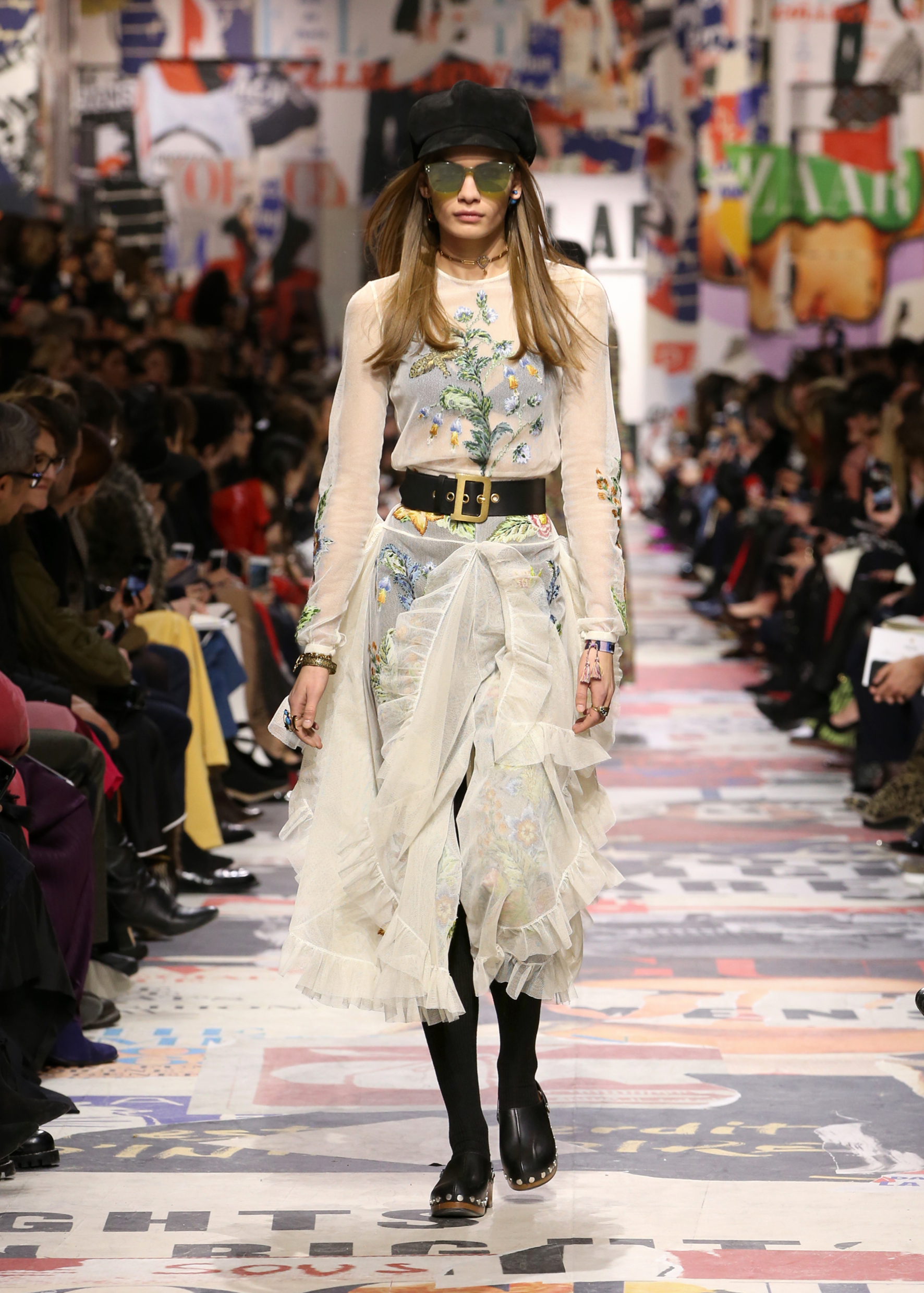 Let's get one thing straight, Paris fashion week seems ages ago. So long ago, in fact, that we might not even remember between the Cruise shows that are cropping up now. However, these collections are soon going to arrive in stores and online and we're loving these midi looks to take us through to fall.
Paris is bountiful with shows but we are only going to look through my top five.
Hermes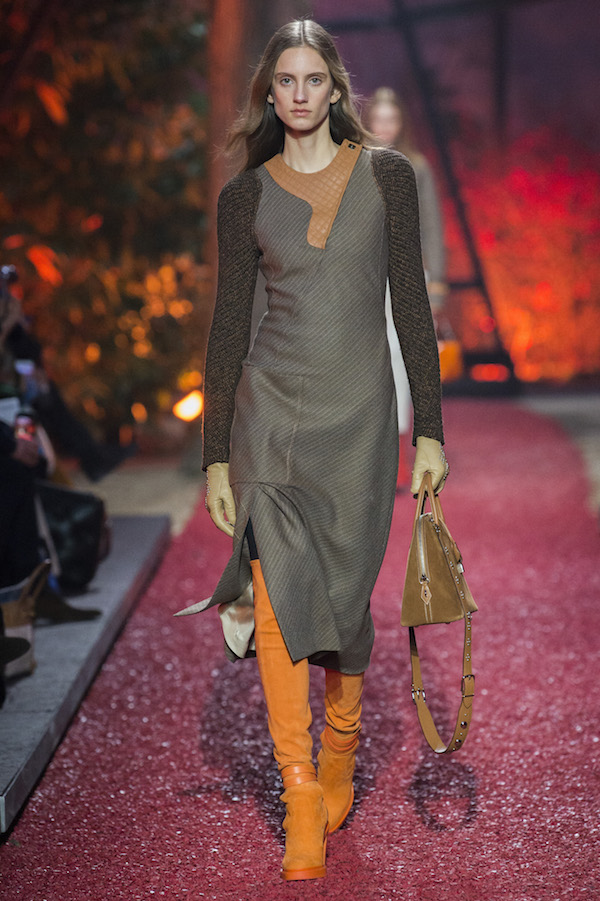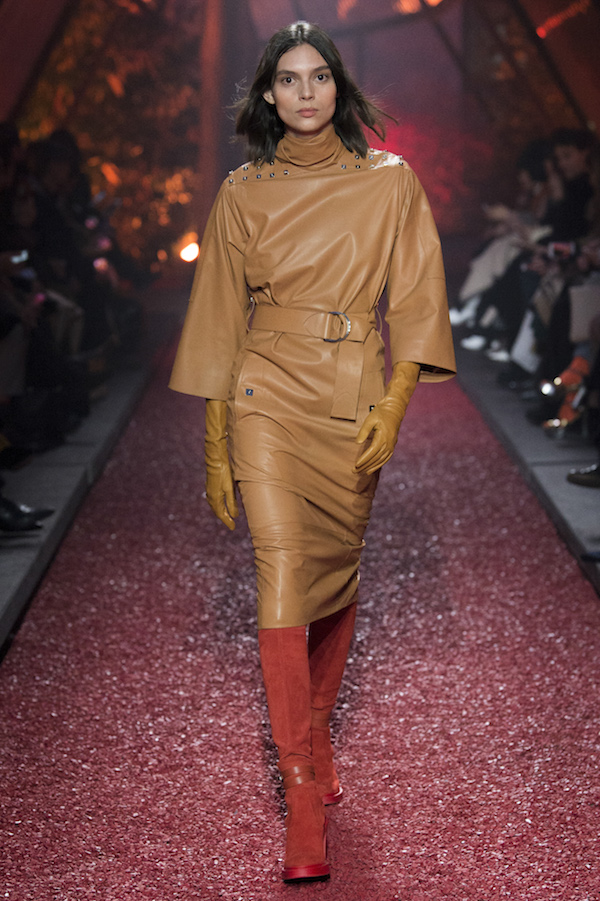 There is probably more accessories by the brand that are donned by most, but I think this collection will truly make everyone contemplate their ready to wear. Leather is a core part of the soul of the house, so to fashion these sleek midi dresses and slim knee length skirts made total sense. Black leather is definitely a trend this fall and it should come as no surprise that Hermes delivers some beautiful dresses and pants. Another note: the over the knee boots in rich bright color suedes such as red and orange.
Chanel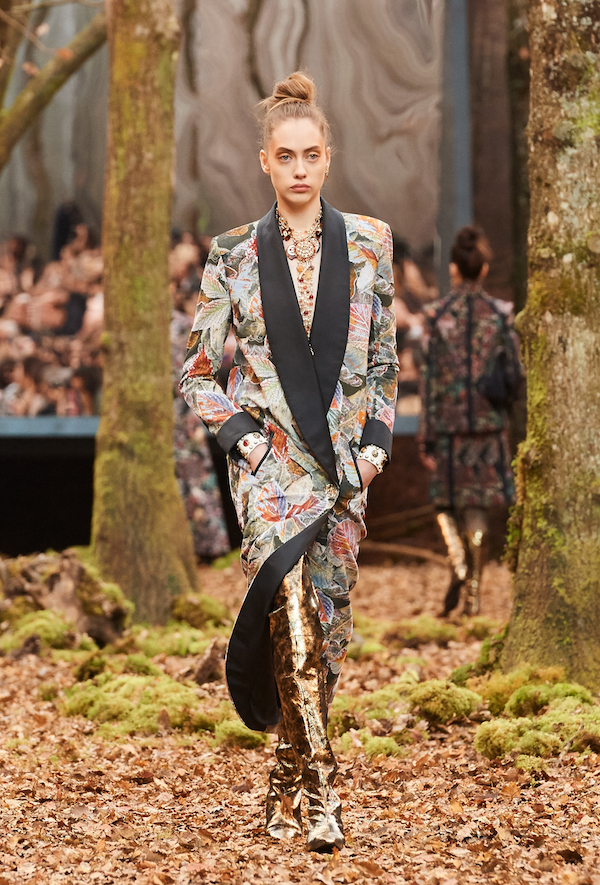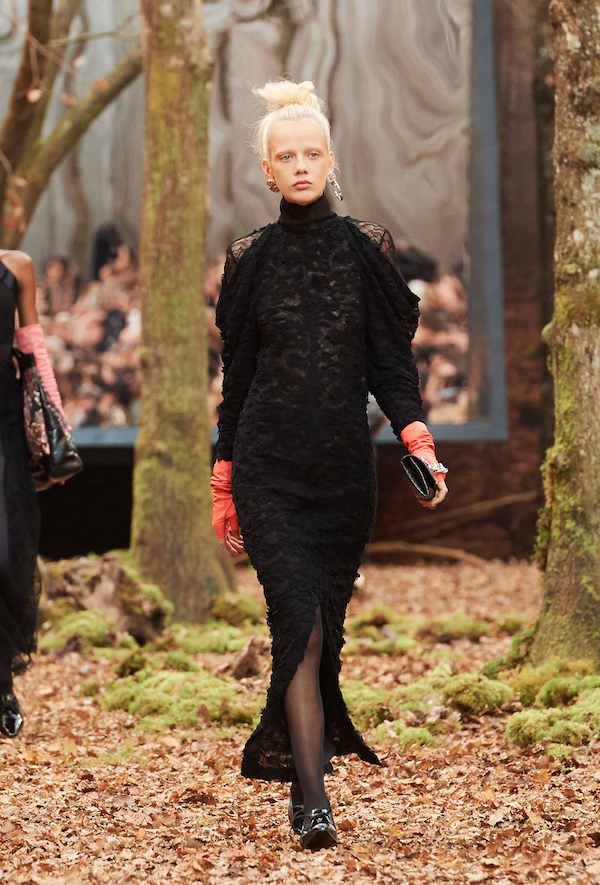 Shown in a forest, the Chanel collection proved to be the most effortless it has ever been. Long fluid lengths that goes nicely with Chanel's tradition of the tweed. There will be no complaints of more tweed with these modern looks. Silhouettes were slim with sporty jackets or classic jackets made dresses with plays on proportions. There was a gasp in the audience when the metallic over the knee boots in flat heel height presented themselves and danced their way through the rest of the show. Also interesting to note was the spot of evening black dresses that were feminine and timeless and just needing an occasion.
Sacai

Chitose Abe has a definite approach to how she sees what clothes can be. Deconstructed here and spliced there with an unexpected element, every season, I feel as if I have had my fill and have way too much Sacai in my closet. But then she reveals a new collection and there is a classic jacket or outerwear element that makes me feel all kinds of things. With each collection since she started showing in Paris, she had mastered an outerwear style: the puffer, the M16 jacket, the peacoat. This season, she presents the denim jacket. Take a pick between blue or black denim, but when spliced with a tailored blazer, the combination is superb and I am back in her grasps again. I might not mention the fur scarves that are attached to some of the jackets in case there are some anti-fur readers out there, but I guess I couldn't help myself. Count on the longer skirts with pleats and movement and the sweaters and shirts that are constructed in front and flow with volume in the back. The American Indian print definitely had a spirit.
H&M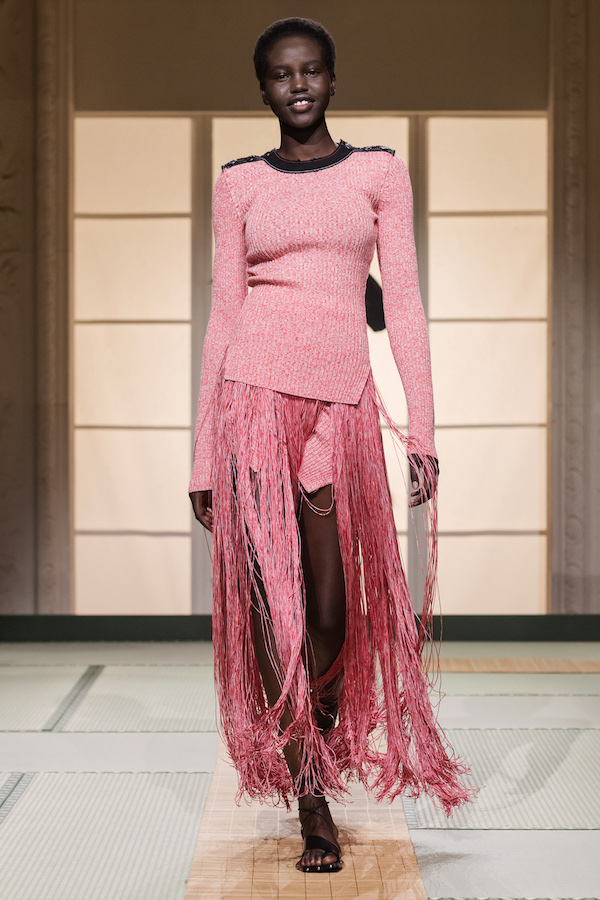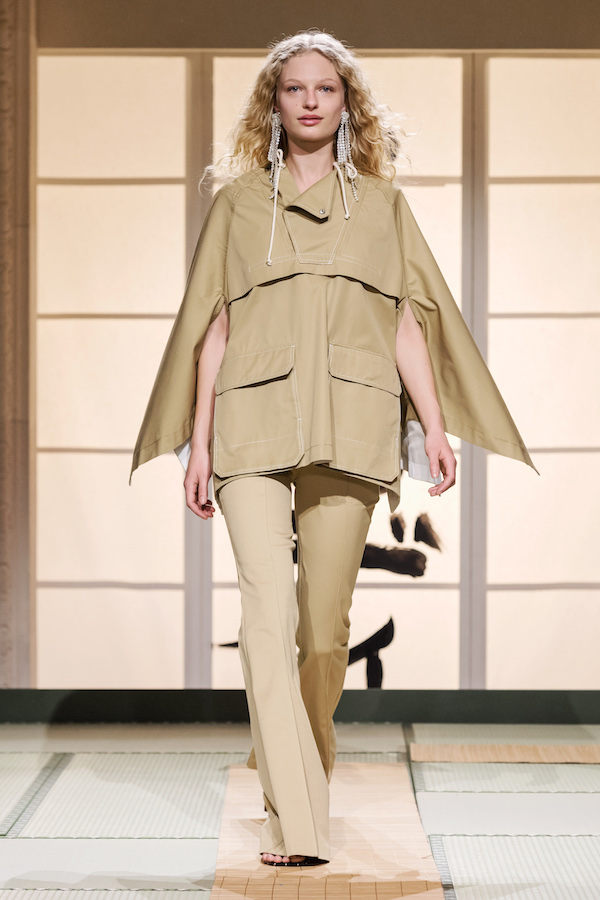 That's right. H&M was the surprise hit of the season in terms of collection. There was a little bit of doubt why a runway show was needed for a fashion brand that delivers a lot quicker than most. And delivered it did, immediately. The looks were available online to purchase right after the show. The monochromatic looks proved to be cool, sporty, tailored, completely relevant but not residual of the marketplace. For fans of the fringe, this is a collection to check out. There were a few looks with floor dusting fringe, guaranteed to make a grand entrance. Amber Valleta closed the show to everyone's delight and it was no surprise to see everyone pull out their phones at the end, not to take photos, but to shop.
Dior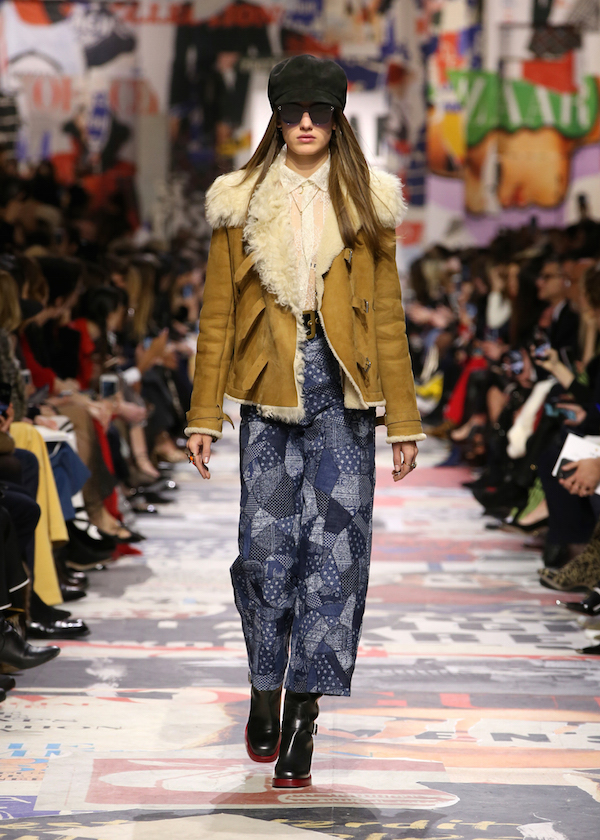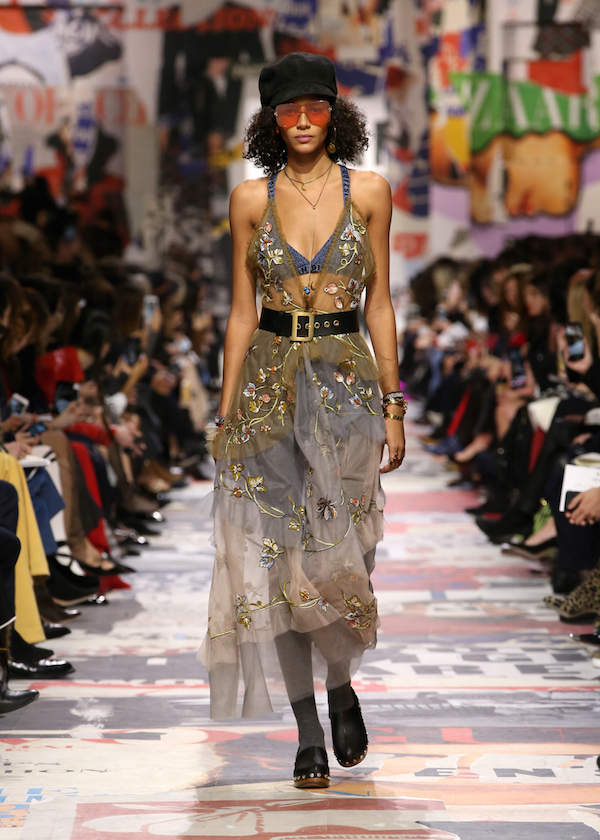 I need to preface that I identify most with the 70s. If it were a spirit animal, this would be me. Maria Grazia Chiuri was really feeling the 70s too for this collection. But it felt modern and fun. The girls looked like they felt so empowered in their clothes, which allow for movement and made them feel feminine and pretty. Did I mention that the Saddle bag reappeared on the runway? MGC has the magic touch when it comes to accessories. The sunglasses! The hats! The guitar straps! The bags!