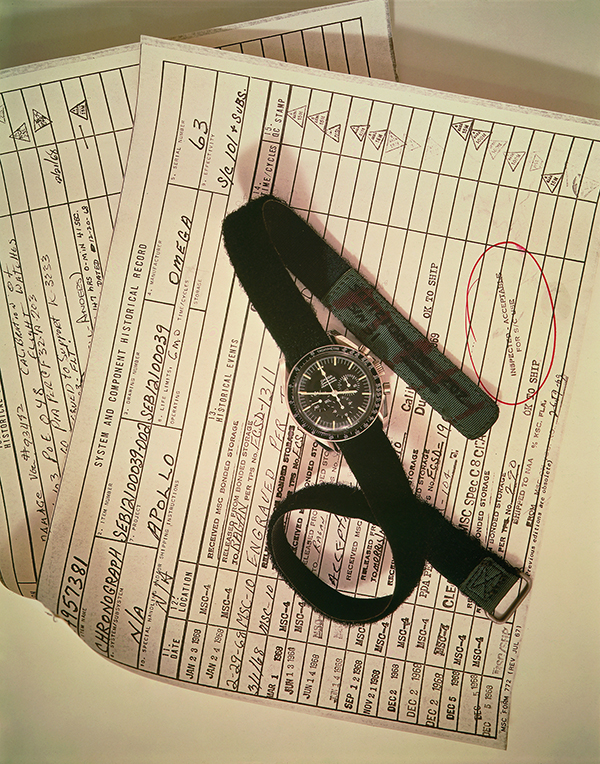 The Omega Speedmaster Moonwatch and its precursor have been the choice of NASA and its astronauts for more than half a century. The Speedmaster has been worn on every piloted mission since March 1965, from the Gemini programme to the International Space Station programme. In July 1969 it became the first watch worn on the Moon (pictured). It didn't get there by luck.
Introduced in 1957, the Speedmaster was a sports and racing chronograph designed by Swiss craftsman Claude Baillod. It was one of six chronographs looked at by NASA with a view to finding a space-worthy timepiece. Among the six were Longines, Omega and Breitling models. All were subjected to testing. Three passed.
The trio underwent 11 more trials, the most rigorous in the history of horology. The trials included the administration of six 40G shocks, each 11 milliseconds in duration and each coming from a different direction; acceleration from 1G to 7.25G in 333 seconds; and subjection to 15 cycles of heating to 71 degrees Celsius for 45 minutes and cooling to minus 18 degrees for 45 minutes, at pressures ranging from 6 atmospheres to 10 atmospheres. Only the Omega Speedmaster endured.
On March 1, 1965, NASA made the announcement. "Operational tests of the three selected chronographs have been completed; and, as a result, Omega chronographs have been calibrated and issued to three members of the Gemini Titan III crews."
One giant leap for horology. Omega for astronaut Alphamales. The legend was launched.