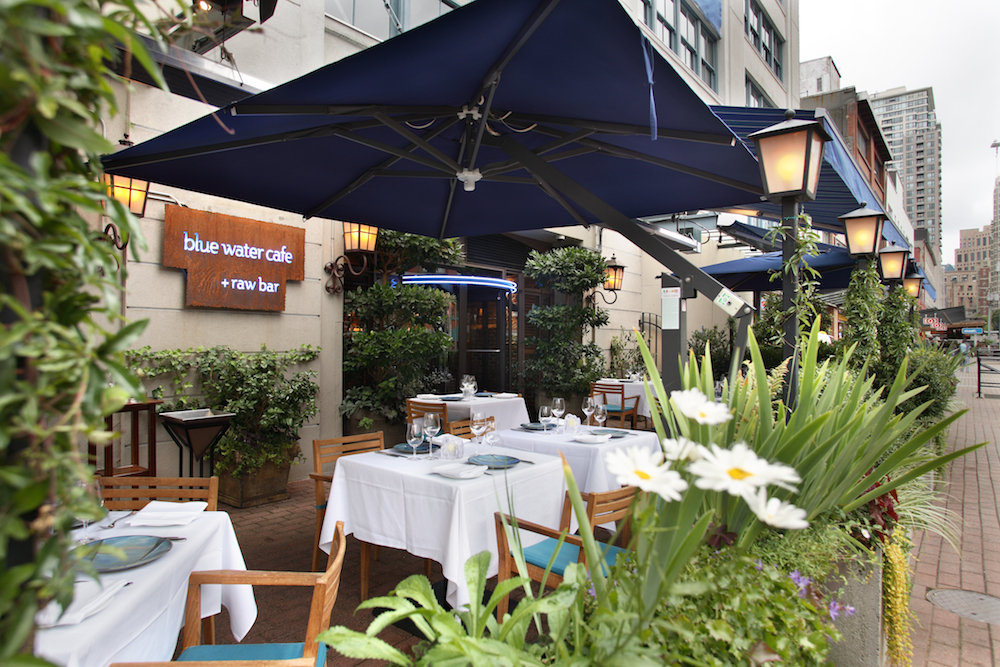 Vancouver is undoubtedly one of the most beautiful cities in the world. While you might plan to head straight up to Whistler for fun times in the snow, why not stay in this diverse spot a few days and sample all the delicacies it has to offer?
Seafood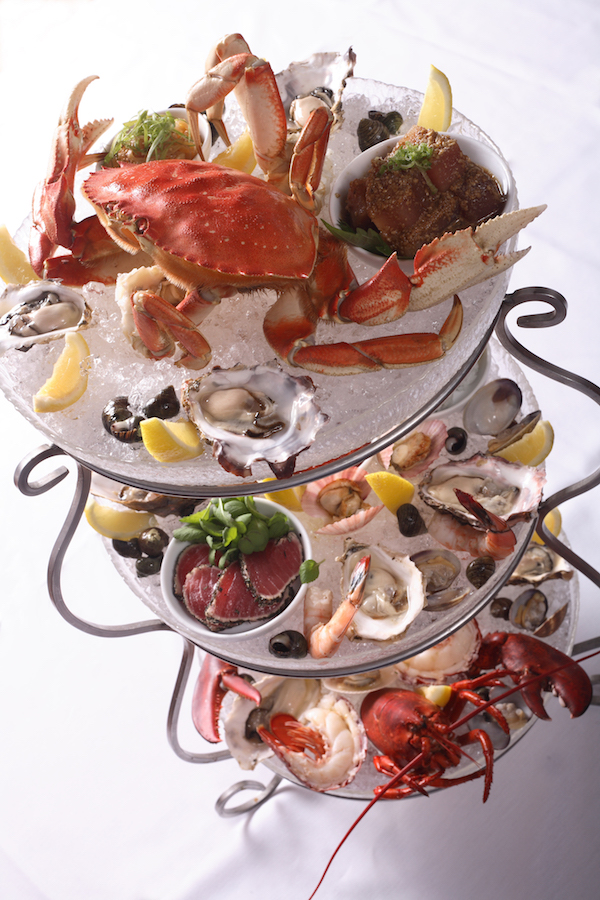 As a major port in the Pacific Northwest, Vancouver prides itself on having some of the best seafood in the world. For a casual meal, stroll into Rodney's Oyster House in Yaletown, a popular district with hip youngsters and the hottest restaurants. This seafood hotspot is open all day, but the best time to go is during Rodney's "low tide" from 3pm to 6pm, where daily fresh oysters go for C$1.50 each and other house favourites are a few dollars less than normal. Wash them down with a glass of British Columbian chardonnay, which is deliciously fruity and easy to drink. Order a bowl of piping hot clam chowder with a side of crab cakes and Haida Gwaii Candy (sweet-and-salty cured salmon jerky), and you've got yourself a prime afternoon spread. If you're in a group, why not go for a whole Canadian Dungeness crab – you are in Canada, after all! Enjoy it chilled and dipped in clarified butter for maximum sweetness. It also comes with roasted potatoes, corn on the cob and a bed of salad– truly a meal on its own.
The Japanese influence in Vancouver is undeniable and can be seen on a lot of menus around town – and Blue Water Cafe is no exception. Making it to Canada's 100 Best list in 2017, this multiple-award- winning restaurant boasts impressive seafood towers that come with delicious maki rolls such as fresh Dungeness crab rolls. The sablefish is not to be missed, either. This fish comes in sushi form (aburi sablefish battera), torched with white miso and drizzled with kabayaki sauce, or as a main course in a miso sake glaze. Sushi purists might scoff at the idea, but trust me, the flavours are to die for. Other popular mains include the char with braised leeks and trout caviar, the sturgeon in pumpernickel crust with cauliflower purée, the ling cod with chorizo sausage in a red pepper-smoked paprika sauce, fresh lobsters from the tank and seasonal whole fish. It's a pescatarian's dream. Another high-end option worth mentioning is Hawksworth, a beautiful restaurant serving contemporary Canadian cuisine with an amazing wine list.
Of course, Vancouver is well-known for its Chinese food, thanks to its ever-growing Chinese population and its rich supply of the best seafood the surrounding waters have to offer. So where can one find Chinese-style king crabs and yummy lobster noodles? Dynasty Seafood is the answer. Apart from the array of fresh seafood it serves, don't miss the signature spicy garlic Dungeness crab over sticky rice.
Sushi and izakayas
Minami in Yaletown is the more laid-back sister restaurant of Miku on the waterfront, offering innovative Japanese cuisine. Try the omakase at the sushi counter or just order a plate of the ever-popular salmon oshi – pressed aburi (flame-seared) sockeye salmon sushi, topped with slices of jalapeño and dressed in Minami's special sauce. Don't expect the rice to be as al dente as your sushi restaurants in Japan, but these little blocks of heaven are extremely addictive – so consider yourself warned that one piece is never enough! The kale gomae is a play on the typical spinach gomae (spinach in sesame sauce) and a great way to get your veggies in before you embark on an indulgent sushi marathon.
Vancouver is also home to great izakayas, another thing we have in short supply here in Hong Kong due to the sky-high rent. The Guu group is said to have pioneered the izakaya trend in Vancouver – it now has five locations in the city and another one in Toronto. There's Guu with Garlic, a fun and noisy spot with a small tatami area that's great to go with friends who enjoy sake bombs and sizzling Japanese hamburger steaks. There's also Guu Original on Thurlow (Vancouver's rst izakaya) and Guu with Otokomae in Gastown, offering a contemporary twist on the typical izakaya menu. Apart from the Guu group, Kingyo is another popular choice and recently reclaimed the title of Best Izakaya in the Vancouver Magazine Restaurant Awards.
Western
You're best to skip the Italian restaurants in Vancouver, unfortunately, as even the hottest ones don't come close to what Hong Kong has to offer. But other Western restaurants are worth considering, such as Le Crocodile, the leading high-end French restaurant in Vancouver for the past 30 years. Named in honour of the famed restaurant Au Crocodile in Strasbourg, chef Michel Jacob has been serving up French classics to generations of families who walk through his doors. The "Le Crocodile classic" tomato-and-gin soup was the first tomato soup I had as a child – and 20 years later, it still tastes the same. The foie gras terrine with ice wine gelée and toast is just as divine, as is the grilled beef tenderloin in peppercorn sauce, which comes with beautiful mini pear-shaped potato cakes. Other Western city favourites include Bauhaus, an award-winning restaurant owned by German film director Uwe Boll, popular for its modern take on German cuisine, and L'Abattoir, an unpretentious contemporary French restaurant in Gastown.
Quick bites
For a quick lunch, Vietnamese food lovers shouldn't miss Mr Red Cafe, serving up stellar northern Vietnamese delights. The crispy Vietnamese spring rolls with crab are made in square shapes (as they do in the north) – and these pockets of goodness alone are worth a trip. Order those with vermicelli salad on the side or a bowl of spicy beef pho. Whatever your choice, you'll be in good hands. The tiny restaurant also serves delicious pandan tea from northern Vietnam, which you can buy to take home.
Go Fish Ocean Emporium near Granville Island is another great place for a quick lunch on a sunny day. The beer-battered halibut with chips comes in a dim sum basket and is something I dream about to this day. Take a stroll through the Granville Island Public Market afterwards and sample what it has to offer – from house-cured salmon jerky, smoked salmon, salmon chowder pot pies, handmade colourful pastas and much more. The market offers a rich selection of fresh local fruit, vegetables and baked goods that'll be sure to get your stomach rumbling after a few loops around.
For lovers of the hot dog, Japadog is another must-visit – it's got a network of street stands, food trucks and a restaurant. Go to the restaurant on Robson for the best dogs and if you see the Japadog cart on Burrard Street, skip the one by the airport. All sausages are freshly grilled and made with kurobuta pork, wrapped in a soft brioche bun. Popular flavours include Terimayo, the brand's signature hot dog with teriyaki sauce, mayo, caramelised onions and crispy seaweed; Okonomi, which is basically okonomiyaki transformed into a hot dog; and the Spicy Cheese Terimayo.
Chocolate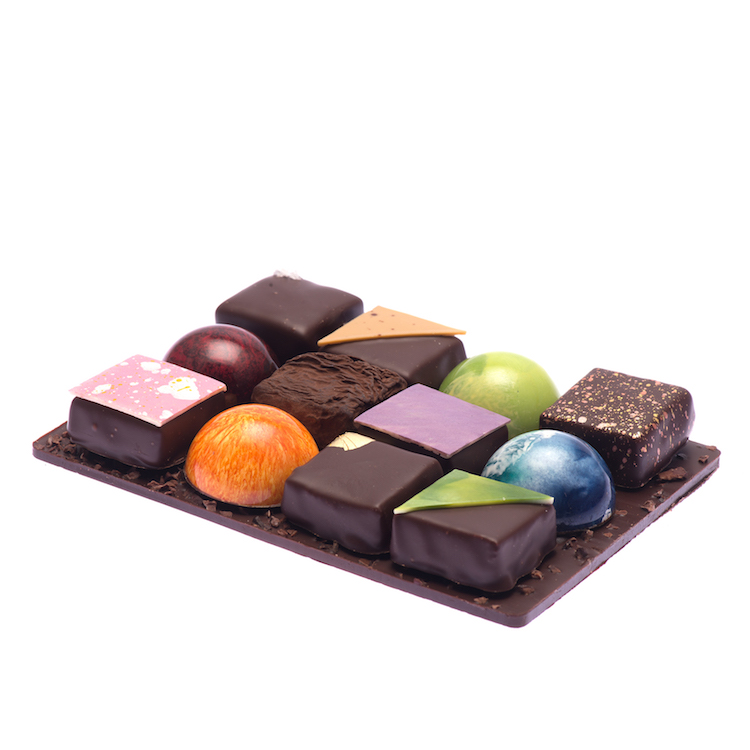 One place you shouldn't leave Vancouver without visiting is Beta5 – one of North America's top chocolatiers, proudly serving some of the most creative chocolates and cream puffs ever made. Located in one of the little warehouses on Industrial Avenue, this lab-like chocolatier and pastry shop may be small, but it makes magic. You'll get a whiff of what they're up to just by walking through the door. Apart from the ultra-chic packaging, Beta5 prides itself on its chocolates, produced in small batches using sustainable, direct-trade plantation cocoa and premium ingredients. Grab boxes of the award-winning signature chocolates (they're so colourful and artistic that you may find yourself staring at them all day), snap up a few 3D chocolate polygon bars (reflecting Vancouver's local mountains) and pick up a freshly made, Insta-worthy cream puff on your way out. Look out for seasonal flavours when you visit and give them a follow on Instagram @beta5chocolates so you don't miss out on any limited edition gems!