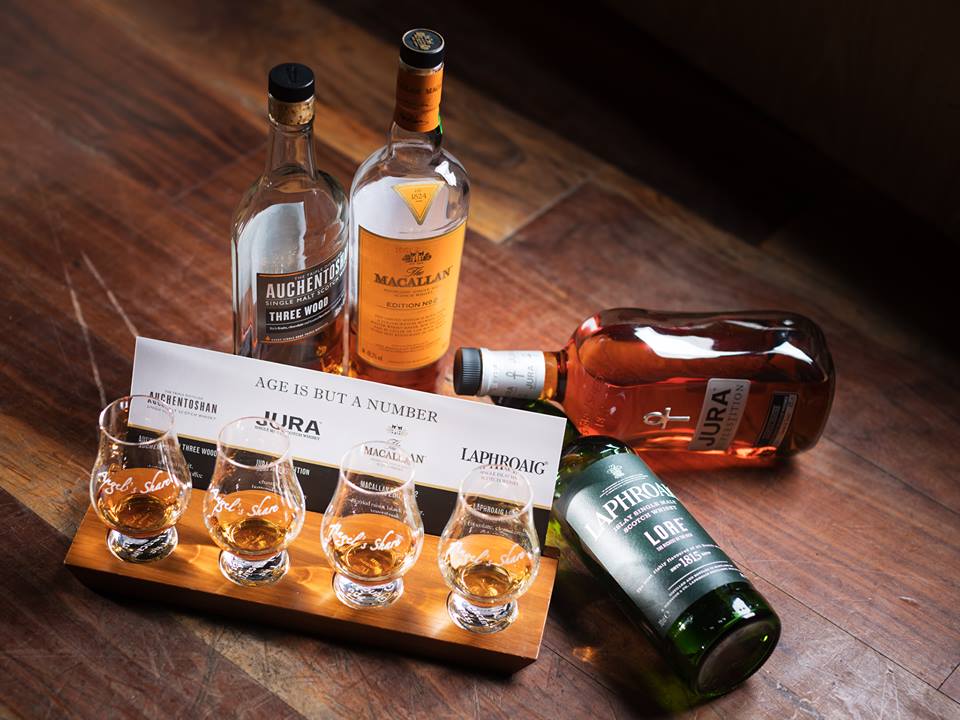 Nothing will quite hit the spot at warming you up than a delicately-crafted whisky cocktail or a whisky served neat at one of Hong Kong's best whisky bars. While most of them have a pretty decent selection of Scotch whiskies, some of them are known for a little bit more like the best Old Fashioneds or hard-to-find Japanese labels.
Not sure where to start? Check out #legend's guide to the best whisky bars—from swanky watering holes to hidden gems—in Hong Kong according to your night (and drink) of choice:
Cocktails
Stockton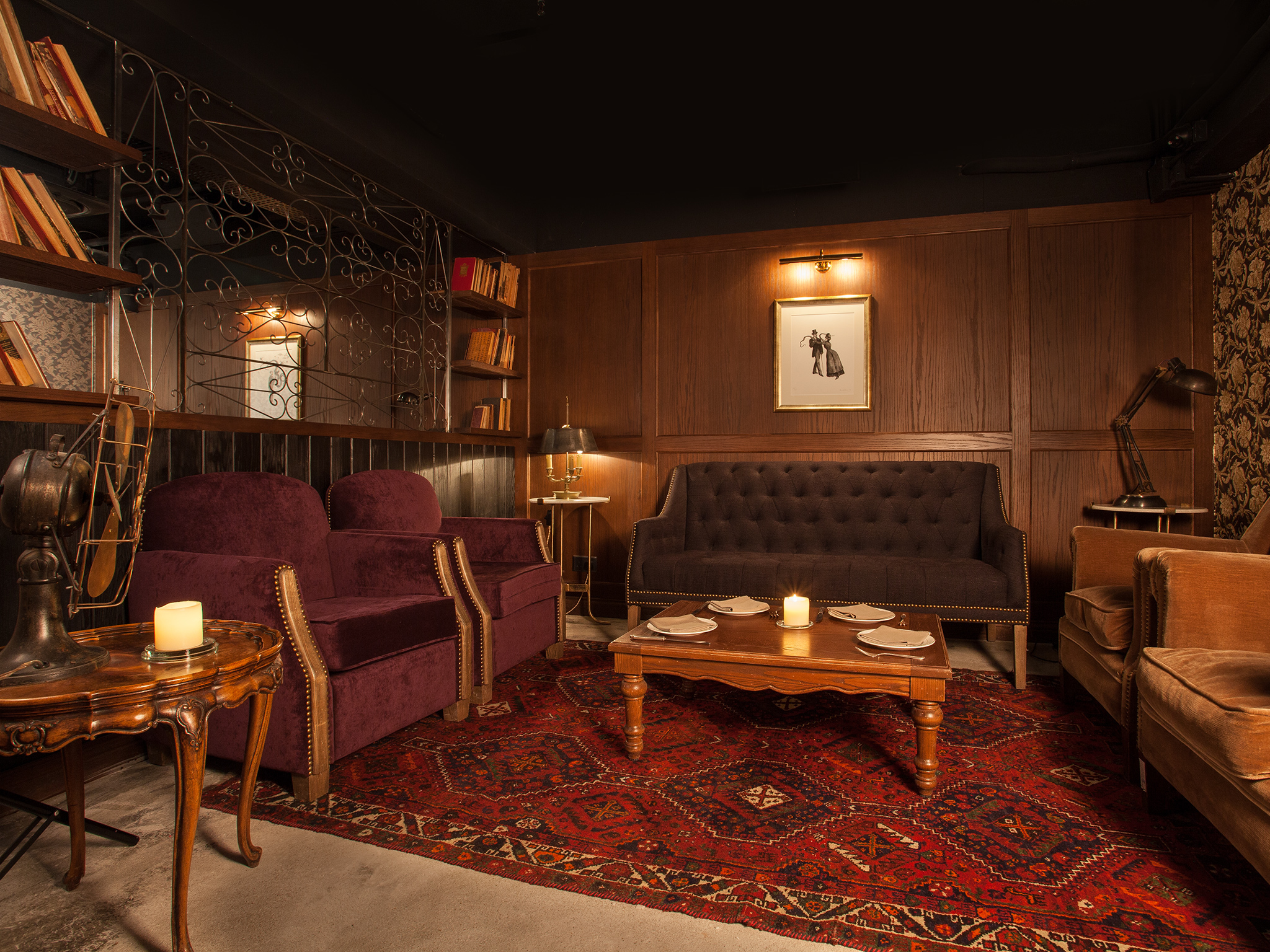 Cozy, intimate and great for a more relaxed night out, Stockton is our go-to if we're craving a little old-school decadence. We love their menu – a leather-bound book full of illustrations and anecdotes to accompany every cocktail. Their "Cake Eater", for example, is inspired by William Faulkner and feature a mix of single malt whisky, Caraway, cucumber, pineapple, white peppercorn, lemon sherbert and mace. The "Big Dick" is also worth a try and is inspired by none other than cocktail fanatic Ernest Hemingway. Enjoy this complex concoction of house rum blend, Irish whiskey, Pedro Ximénez Sherry, malted banana, lime, cane syrup and mace.
Whisky is made to be savoured and enjoyed not necked back – so for any whisky bar, it's important to have a good bar bites menu as well. Stockton does not disappoint with their duck scotch egg, buttermilk fried chicken with yuzu aioli, truffle fat chips and legendary sticky toffee pudding served with vanilla ice cream.
They also host a live jazz and blues night every Wednesday from 9pm until late (plus half a dozen oysters and a glass of champagne for HK$250).
Stockton, 32 Wyndham Street, Central, Hong Kong, +852 2565 5268, stockton.com.hk
Mizunara: The Library
The genius behind Miznuara: The Library is award-winning Japanese bartender Mashiko Endo. Great for a date or after-work dates with colleagues or clients that you want to impress, this swanky bar has a solid collection of coveted whiskies from both Japan and Scotland. You can't leave without trying one of Mashiko Endo's cocktails. We're particularly partial to the refreshing Hakushu mojito and the Kohbai – a mix of Hibiki Japanese Harmony, plum liqueur, Kyoho liqueur, lemon juice and grenadine syrup.
The great thing is—they're open until 3am from Monday to Saturday. Just note that they have a minimum spend of HK$400 per person from 9pm onwards and we recommend not heading here in your shorts or flip flops.
Mizunara: The Library, 4/F, Kiu Yin building, 361-363 Lockhart Road, Wan Chai, Hong Kong, +852 3571 9797, mizunarathelibrary.com
Bitters and Sweets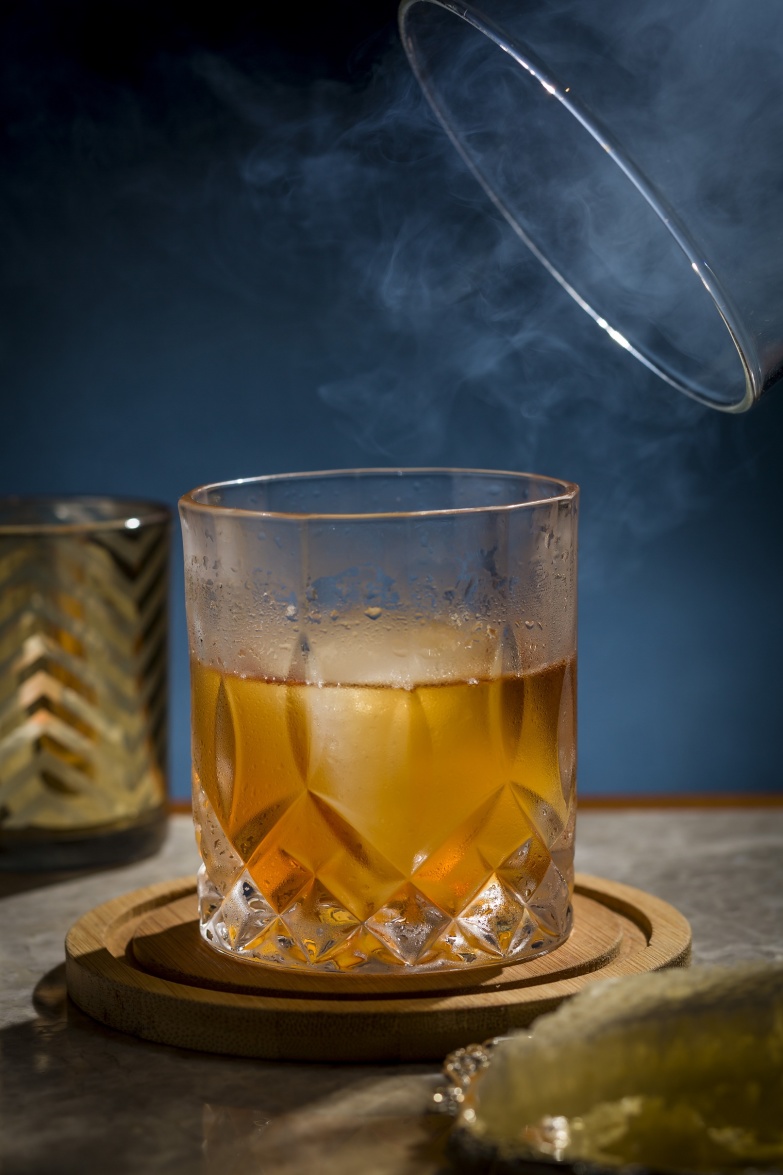 If you're looking for a less serious venue, Bitters and Sweets will be right up your alley. Specialising in cocktails and desserts, their Smokey the Pig cocktail, which features a bourbon base infused with bacon, is presented with a glass lid covering the tumbler so that you can capture the fresh smoke spiraling out as soon as it gets to your table. Highlights off their menu include churros, their smores dessert and tater tots.
Bitters & Sweets, 1/F, Somptueux Central, 52-54 Wellington Street, Central, Hong Kong, +852 2788 0103
Butler
Probably one of the only excuses we have to head over to Tsim Sha Tsui (sorry not sorry), Butler is on every whisky and cocktail aficionados list—and has been for quite some time. This legendary establishment is helmed by Masayuki Uchida (read: this is the guy you want to chat up if you're interested in learning more about whisky) and is small, but charming and is all about personalised service. List out your preferences at the bar and let them whip up a cocktail just for you—you'll be surprised.
Butler, 5/F, Mody House, 30 Mody Road, Tsim Sha Tsui, Kowloon, Hong Kong, +852 2724 3828
Foxglove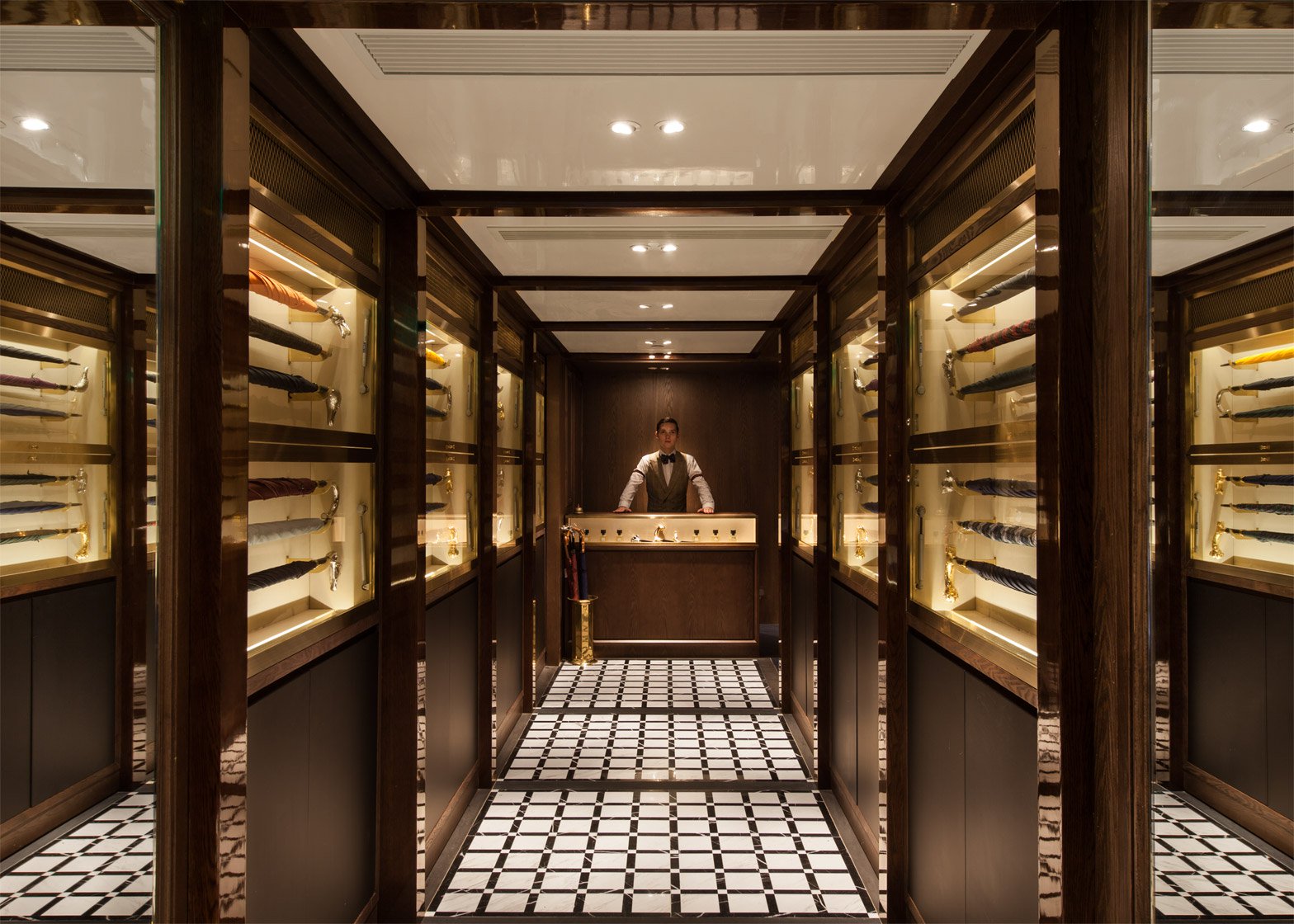 If we're being completely honest, we like this one more for the novelty of getting in and the live music than anything else. Disguised as an umbrella shop, you open the secret entrance by touching the head of the umbrella with the silver handle. Most of Foxglove's whisky cocktails use either popular Japanese brands or bourbon. There's a Tokyo Sour (Yamazaki 12 Year Old with Tio Pepe sherry, plum, lemon and cherry bitters) and a New York Sour (Buffalo Trace Bourbon with lemon, sugar, egg white and a Claret Float. Their Mizuwari cocktail (Yamazaki 12 Year Old with plum wine, chocolate bitters and a dash of plum soda) is great after a meal.
Lunch and dinner is a fancy affair at Foxglove with oysters caviar, scallop risotto, Boston lobster, braised lamb shank and the like on the menu.
Keep an eye out on their website for their line-up of quality live music.
Foxglove, G/F, 18 House Street, 6 Duddell Street, Central, Hong Kong, +852 2116 8949, foxglovehk.com
Japanese and Asian whiskies
b.a.r. Executive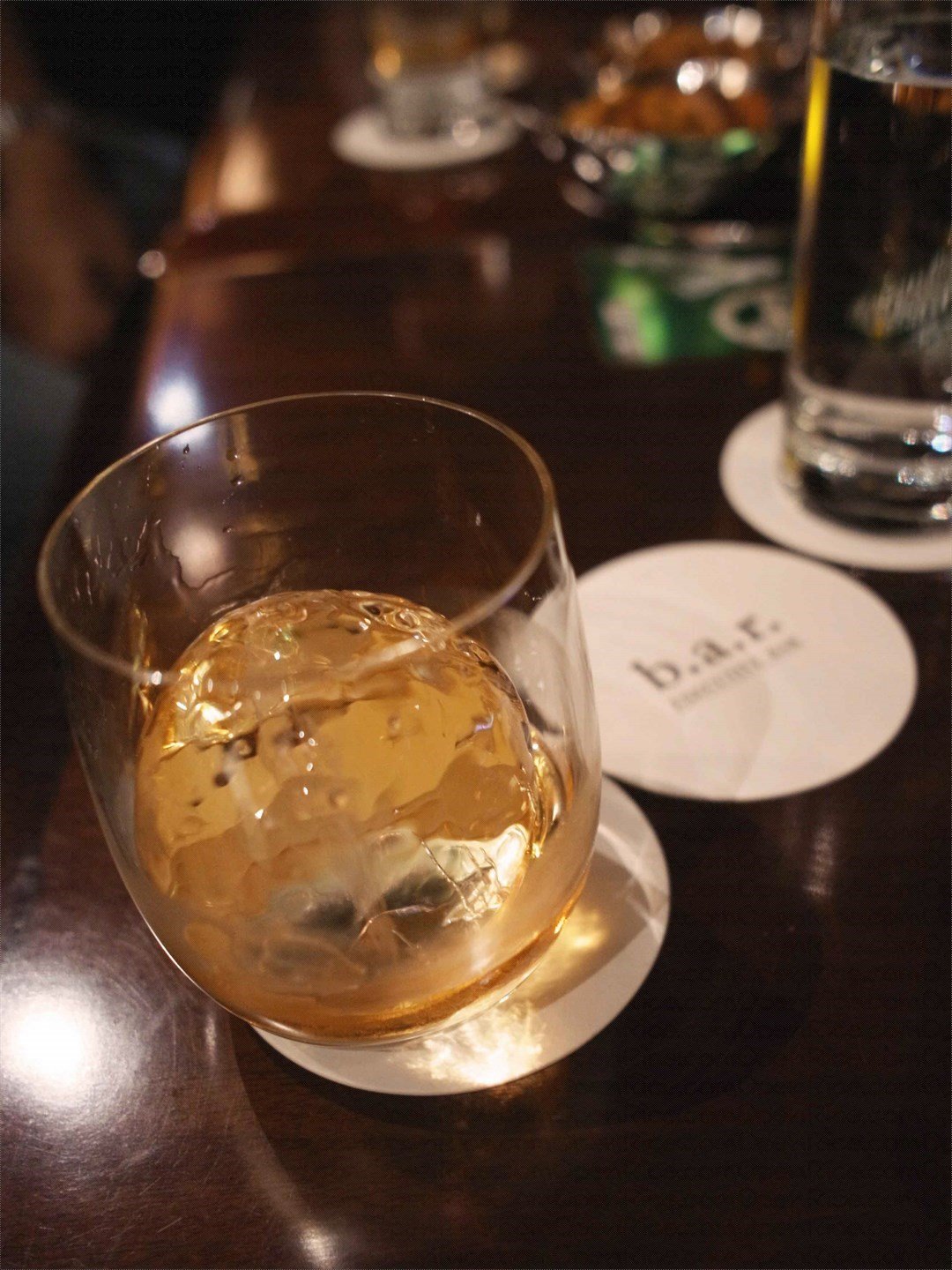 An oldie but a goodie, B.A.R. Executive is a popular date spot or for whisky drinkers who fancy a nightcap on their own. This intimate space is 'members-only' (but open to those who are willing to pay a minimum price and book in advance) and feature some of the best whiskies from around the world. Each whisky is served with hand-chiseled ice spheres.
b.a.r. Executive, 27/F, Bartlock Centre, 3 Yiu Wa Street, Causeway Bay, Hong Kong, +852 2893 2090, executivebar-com-hk
Club Qing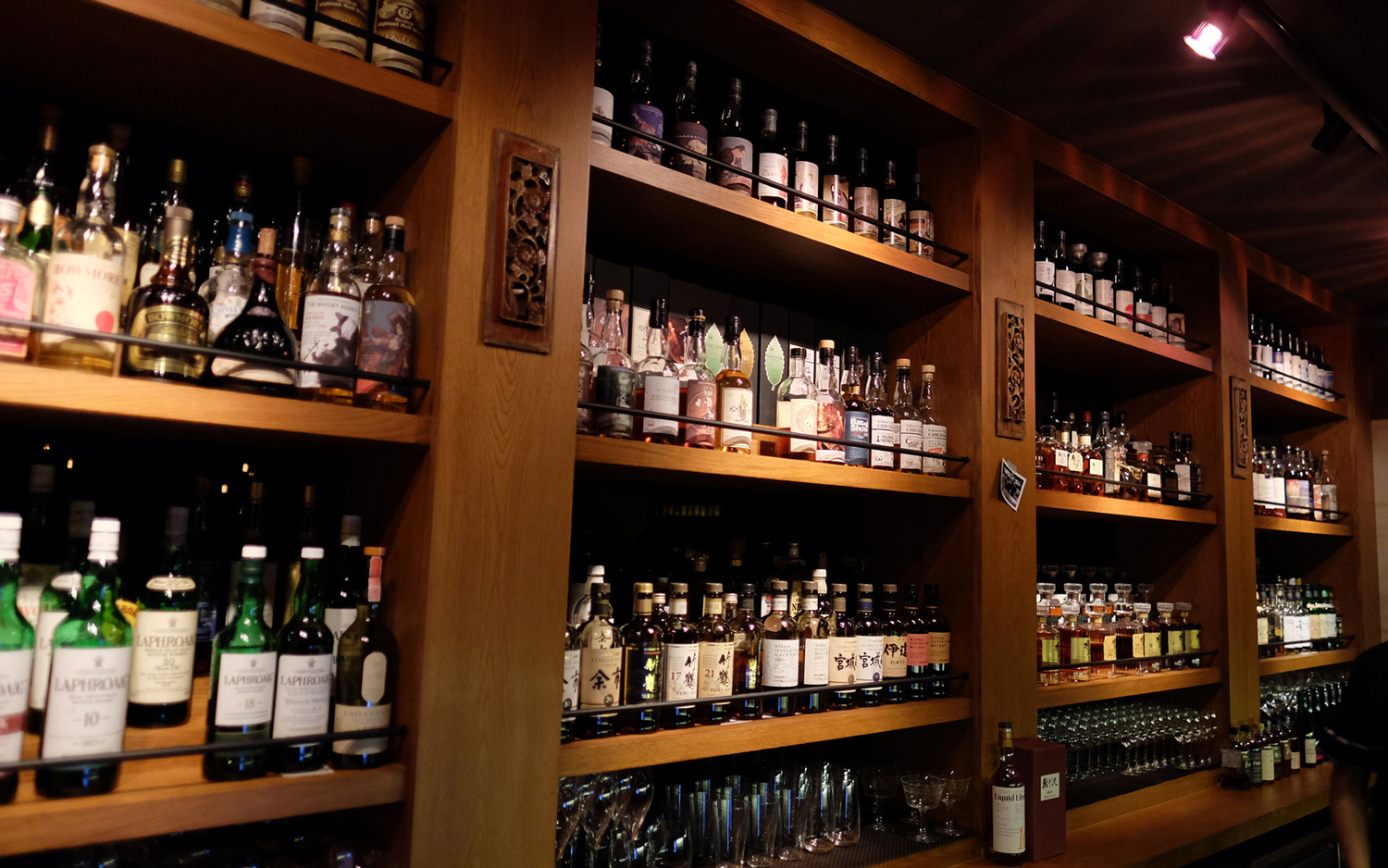 Avoid the crowds at Club Qing, which specializes in Japanese whiskies covering "all [distilleries], both past and present" including Yamazaki, Hakushu, Hibiki, Karuizawa, Nikka, Fuji Gotemba, Toyo Jozo and more. They also carry a selection of hard-to-find Scotch whiskies that you might not have seen or tasted before. Check out their full collection of Hanyu Ichiro's Full Card Series—it's definitely one for the gram.
Club Qing, 10/F, Cosmos Building, 8-11 Lan Kwai Fong, Central, Hong Kong, +852 9379 7628, clubqing.com
Old Fashioned
Bar De Luxe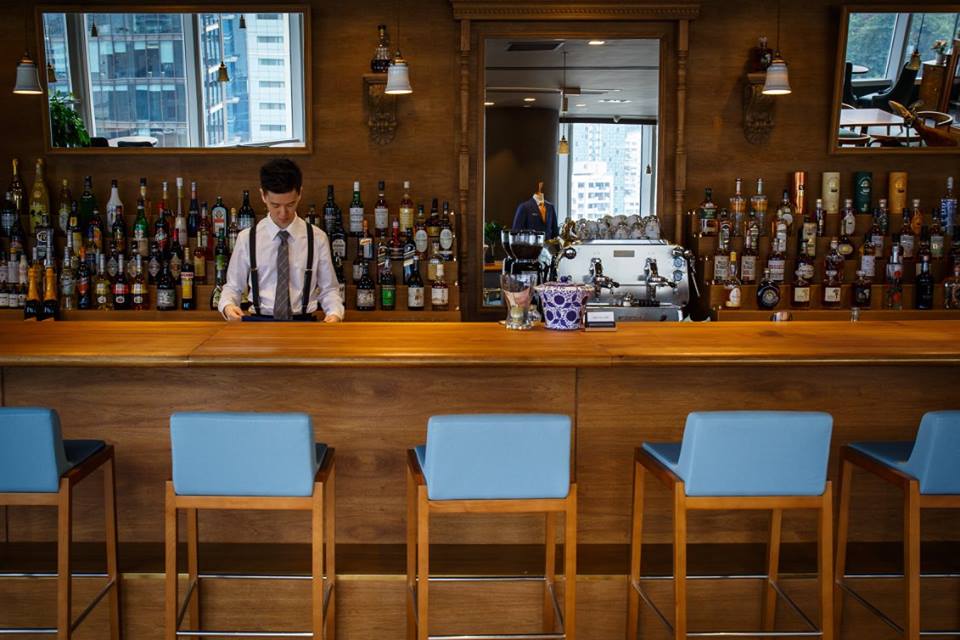 As someone who prefers their whisky neat, I have to say that it's quite difficult to pull off an Old Fashioned without having the sugar or bitters overpower the natural notes of the whisky itself. That being said, legendary mixologist Hidetsugu Ueno of Bar High Five fame's protégé Yuriko Naganuma at Bar De Luxe kills it. Located within gentleman's lifestyle space Attire House, Bar De Luxe is home to Naganuma's iconic Japanese-inspired Old Fashioned called the The Hidden Gem—made with Nikka from the Barrel whisky, sugarcane syrup, Amaro Averna and Japanese yomogi herb liqueur.
They also serve fresh fruit cocktails and homemade canapes, all crated and put together by Naganuma herself from Hong Kong's local markets.
Bar De Luxe, 29-30/F, 8 Wyndham Street, Central, Hong Kong, +852 3706 5716, attire-house.com
Angel's Share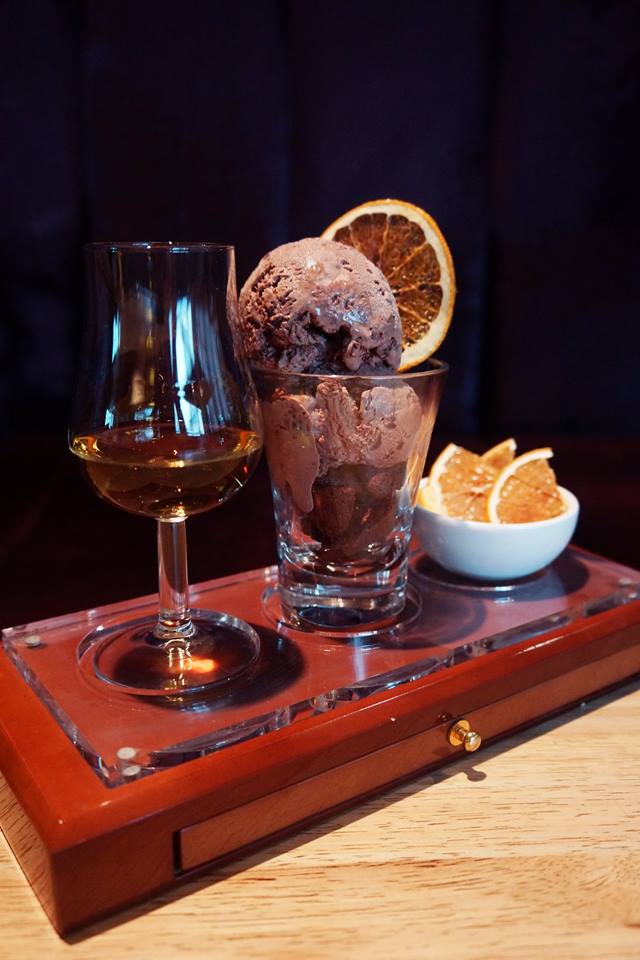 Brought to us by bar duo Charlene Dawes and Antonio Lai, Angel's Share is one of Hong Kong's longest-standing establishments. There are no frills here—Angel's Share boasts over 160 different types of whiskies and a comforting menu featuring everything from peri peri chicken lollipops and zucchini fries to whisky affogato (made with Highland Park 12 Year Old, chocolate-ice cream, cookies and dehydrated orange wheels) and a Bourbon Alaska.
While we are partial to their whisky flights (which include "Whirl Around the World", "Age is But a Number" and "The American Heroes"), they're definitely for more of the seasoned whisky drinkers. What you must try is their speciality Old Fashioned menu featuring their Iron Buddha Old Fashioned, Jaffa Cake Old Fashioned, the Original Old Fashioned, Salty Plum Old Fashioned and Yuzu Old Fashioned.
Aside from their extensive collection of Scottish single malts and Japanese whiskies, the bar also features plenty of varieties from Canada, France, India and Taiwan.
Angel's Share, 2/F, Amber Lodge, 23 Hollywood Road, Central, Hong Kong, +852 2805 8388, angelsshare.hk
All over the board
Ginger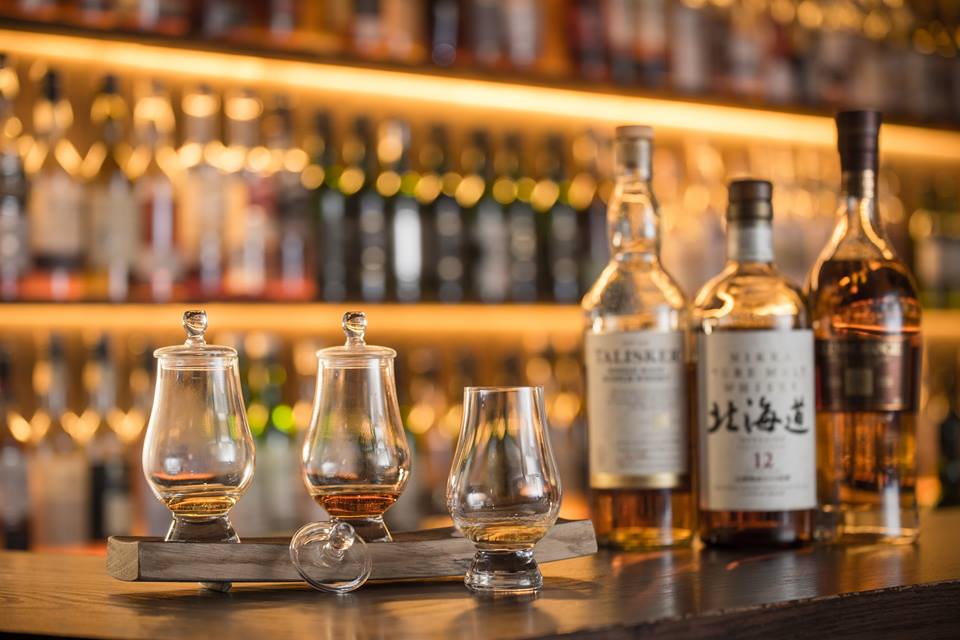 This cute little spot on On Wo Lane features whiskies from all over the world including Niika's Single Malt Miyagikyo, Highland Park's Single Cask Series, Ichiro's Malt Chichibu and also several craft beers such as Prairie Artisan Ales from Oklahoma. The menu can get a little overwhelming, but ask any of their bartenders or server for recommendations.
G/F, 12 On Wo Lane, Central, Hong Kong, +852 2868 0486, facebook.com/barginger.hk
Nocturne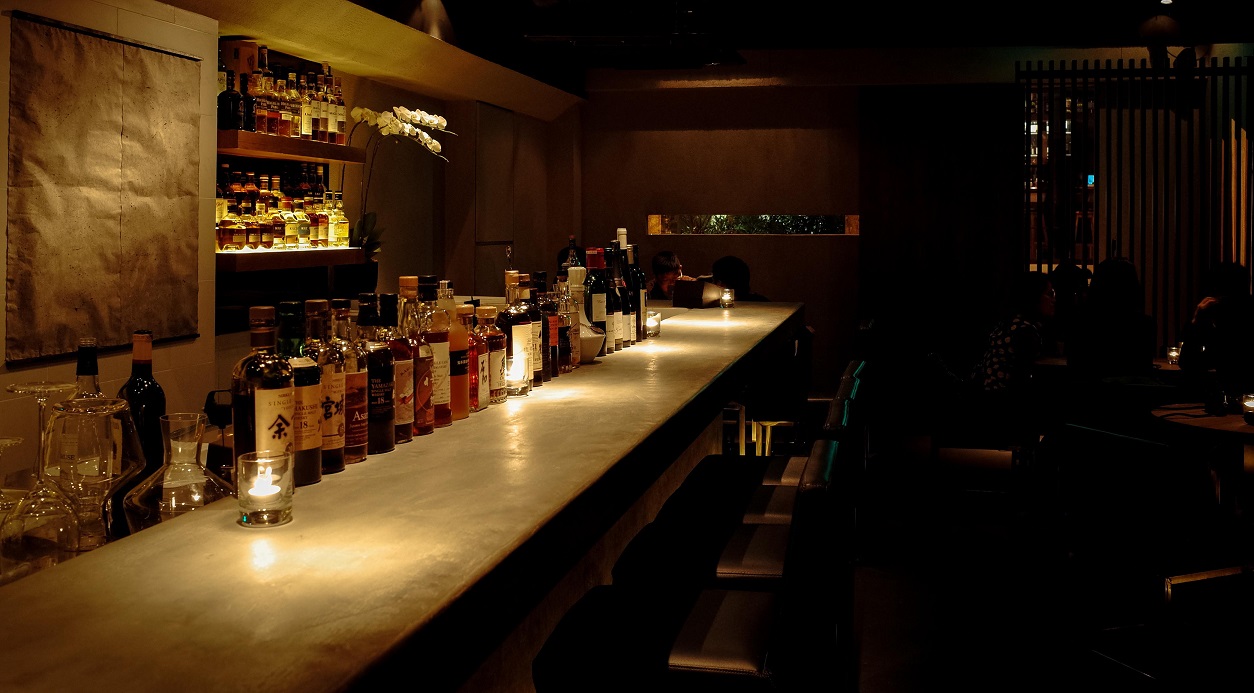 Nocturne is also one of our favourites. The dim-lighting and comfy seating makes this a spot you can stay in all night. It's also great for wine lovers as well as they have their own attic wine cellar and over 250 different varieties of both wine and champagne. Their menu features over 150 Japanese, Scotch, Taiwanese and Bourbon whiskies, making sure there's plenty for everyone.
Nocturne Wine & Whisky Bar, 35 Peel Street, Central, Hong Kong, +852 2884 9566, nocturnehk.com
Flights
The Woods Annex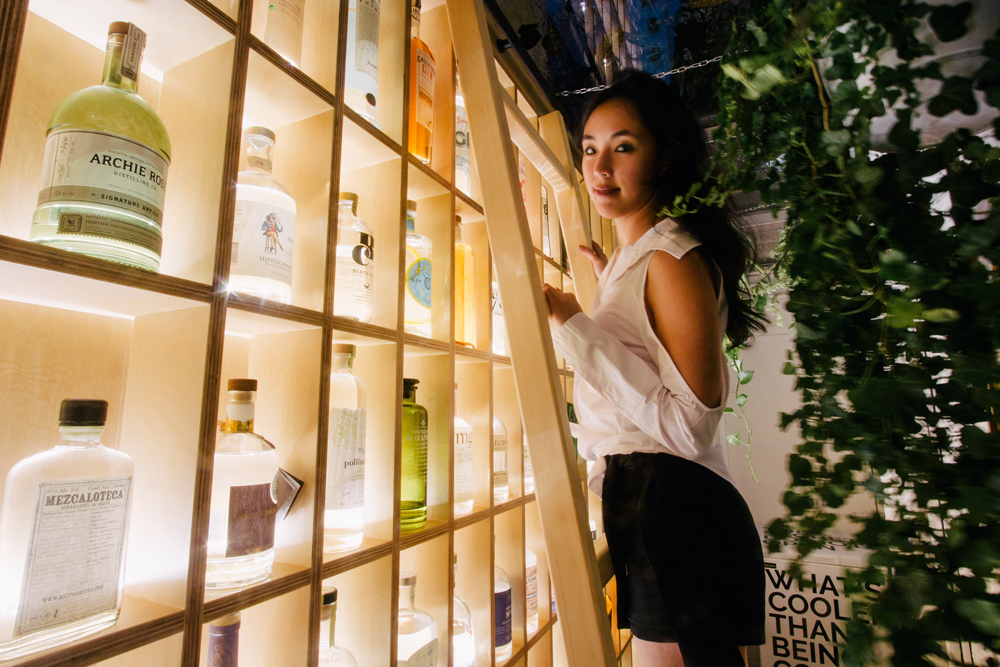 Opened by cocktail and spirits expert Victoria Chow, The Woods Annex is the coolest spot to open in the city. This by appointment only tasting-room-cum-bar features some of the most unique labels of spirits, all hand-picked by Victoria itself. The space seats up to eight guests at a time and allows guests to appreciate and learn more about whiskies or a spirit of their choice through guided tastings and workshops.
The Woods' Annex, 64 Staunton Street, Central, Hong Kong, thewoods.hk