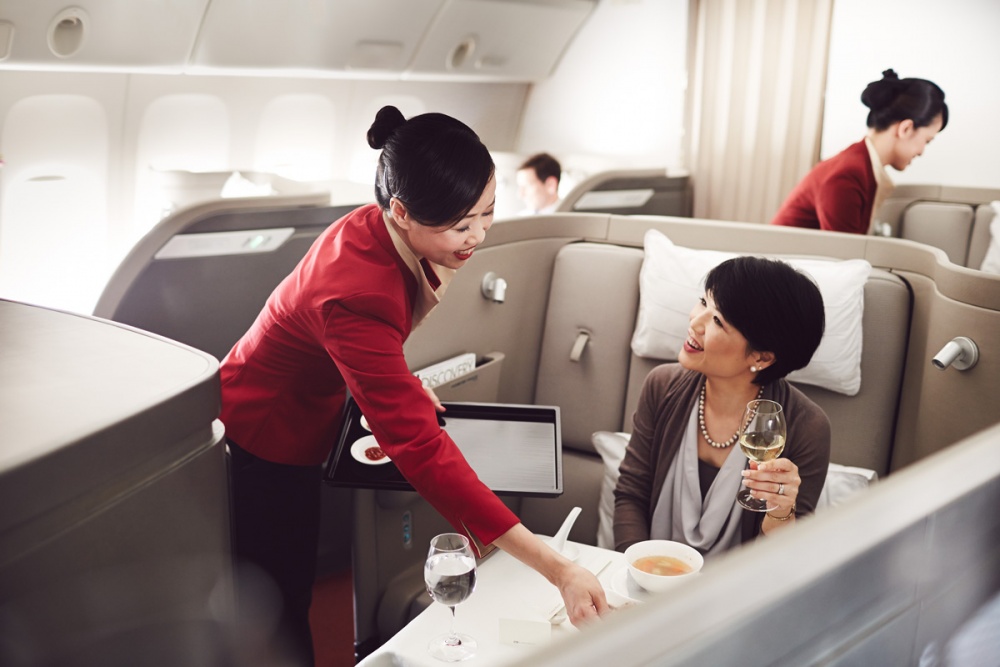 We live in a golden age of travel. From crossing the continent to navigating the globe, it's never been easier to explore. For those with the funds, it's also never been quite as indulgent. With so much competition in the skies, airlines strive to provide First Class passengers with the most lavish and comfortable journeys possible—get a peek behind curtain and see what the world's best First Class cabins have to offer.
Etihad Airways
Etihad Airways has revolutionised First Class travel with the creation of The Residence , the sky's only three-room suite. Relax in the living room (complete with 32-inch flatscreen TV) as your private Savoy-trained butler pours champagne, or steal away to the master bedroom and cocoon yourself in Pratesi linens; a private bathroom and shower completes the over-the-top suite. The entire tailor-made experience provides the ultimate in discretion and luxury, but if it's booked out you can always travel in the sumptuous First Apartments. Each one is a generous 39 square feet, and some can be combined to create double eApartments for couples.
See www.etihad.com for more information and to book tickets.
Singapore Airlines
For the utmost in privacy, book one of Singapore Airlines coveted First Class Suites. Complete with a separate bed, chair, and even a chaise lounge, in case you want to entertain other passengers in your private sky apartment. Slip into a pair of sinfully soft pajamas, freshen up with a Salvatore Ferragamo amenity kit, and relax in a fully adjustable, luxurious leather chair - hand upholstered by the famed Poltrona Frau. When it is finally time for bed, the stewards will make up your full-sized bed, complete with linens and duvet. If you're traveling with a partner, the Middle suites can combine to make a luxurious double bed.
See www.singaporeair.com for more information and to book tickets.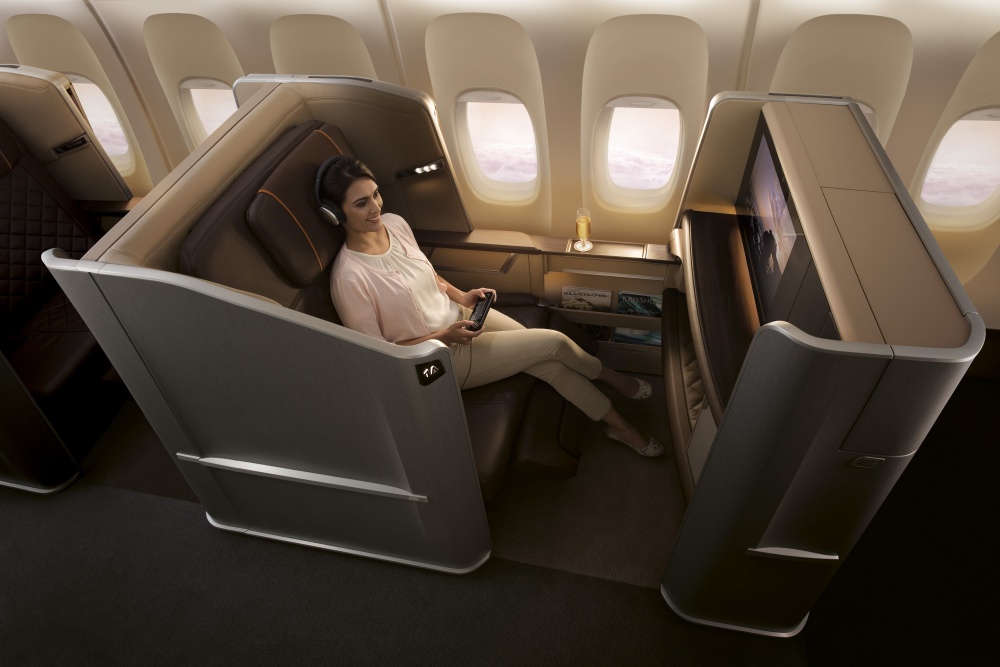 Cathay Pacific
There are no apartments here, just a very well sized, and incredibly comfortable seat. With only six available spaces in the cabin, the size of each seat is far more spacious than usual - and their soft bedding, and 100% cotton lounge wear, make a good night's sleep easy, no matter the turbulence. This First Class experience may not be the most indulgent, but it is faultless- a culmination of many small luxuries, from the wide-angle reading light, to the 500 thread count sheets.
See www.cathaypacific.com for more information and to book tickets.
Emirates
Dom Perignon, caviar, lounges, sky showers and five course meals: just a taste of the Emirates First Class offerings. Book a First Class suite and travel in style, surrounded by a vanity, mini bar, writing set and more. When it's time for bed, the nightly 'turn down' service transforms the lounge chair into a 79 inch, fully flat mattress. Change into Emirates' own pajamas, made with Hydra Active Microcapsule Technology that keeps skin hydrated by releasing nutrient dense kelp as you move, for a restful night's sleep. To arrive at your destination fully refreshed, don't miss the opulent Shower Spa, stocked with a premium selection of Bulgari toiletries and organic VOYA products.
See www.emirates.com for more information and to book tickets.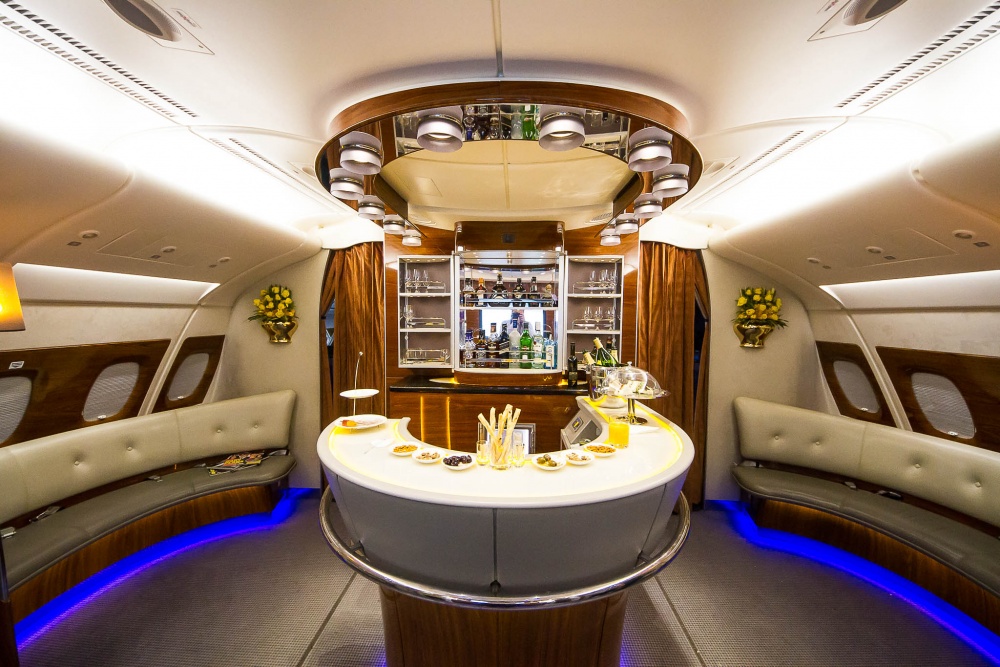 Qatar Airways
Experience the elegance and sophistication that Qatar Airways is known for. The stunning First Class Cabin has only eight seats, which can be modified to allow for privacy or for company, if you'd like to dine on gourmet dishes with a fellow passenger. Have a glass of Krug Champagne at the largest sky bar in the world, or take your pick of over 3,000 options on the in-flight entertainment system. First Class passengers can also enjoy complimentary internet, a rare indulgence even amongst the best airlines. Before landing, open up the Italian leather amenity kit and freshen up with a selection of premium Castello Monte Vibiano Vecchio products from Umbria.
See www.qatarairways.com for more information and to book tickets.
Qantas
If you're traveling between the United States and Australia, First Class on a Qantas A380 is the superior choice. The 14-seat cabin can get crowded, but you won't notice when you're tucked into your extra wide, sheepskin mattress, sipping on champagne, or enjoying an eight course tasting menu designed by famed Australian chef Neil Perry. There are even sommeliers on board to help craft the perfect pairing for each dish. Without a doubt, the the cabin is more austere than its competitors, but its traditional design and small touches make it a very comfortable choice for those long, Australian flights.
See www.qantas.com for more information and to book tickets.