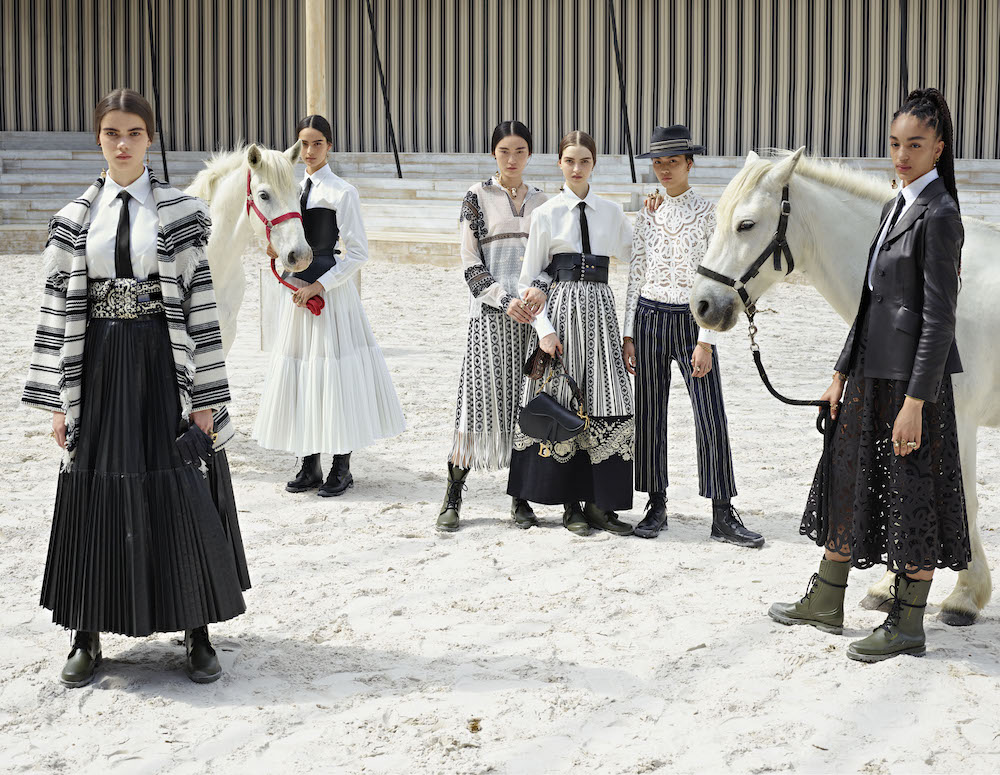 Maria Grazia Chiuri threw it down with a Dior Rodeo for their Cruise 2019 show, held at the Grandes Écuries of the Domaine de Chantilly in Paris. The Chantilly riding course got a Dior facelift with the semi-open set centered around a pole with ribbons strung in a tent like formation. The rain only added that extra bit of drama to the show. It's a good thing the models were all stomping around in boots anyway.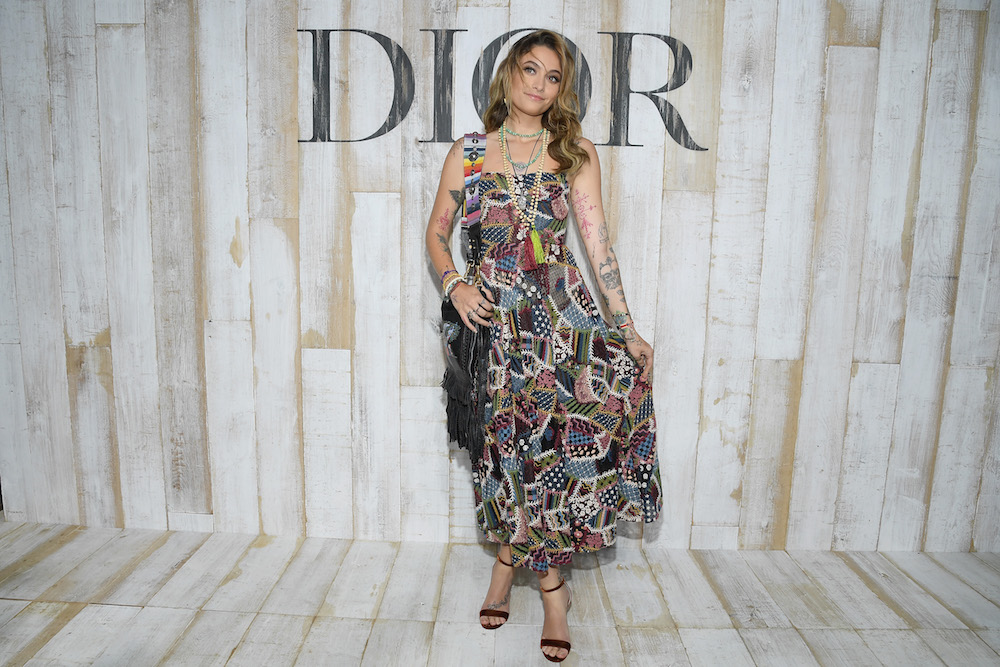 The guests were welcomed by a display of female Mexican horse riders, who represented the ideals of sportsmanship within the collection, as they rode around the white sand arena. Though not everyone was a fan of the performance, Paris Jackson was seen leaving minutes after the show began, possibly for animal welfare conflicts, or maybe the rain just dampened her mood. The riders were dressed accordingly, in custom Dior dresses and hats for the show. As the sport is traditionally a man's game, we see Maria Grazia Chiuri's political undercurrents with this sentiment; a less literal approach than her debut feminist t-shirts.
Related: The t-shirt: fashion's most opinionated garment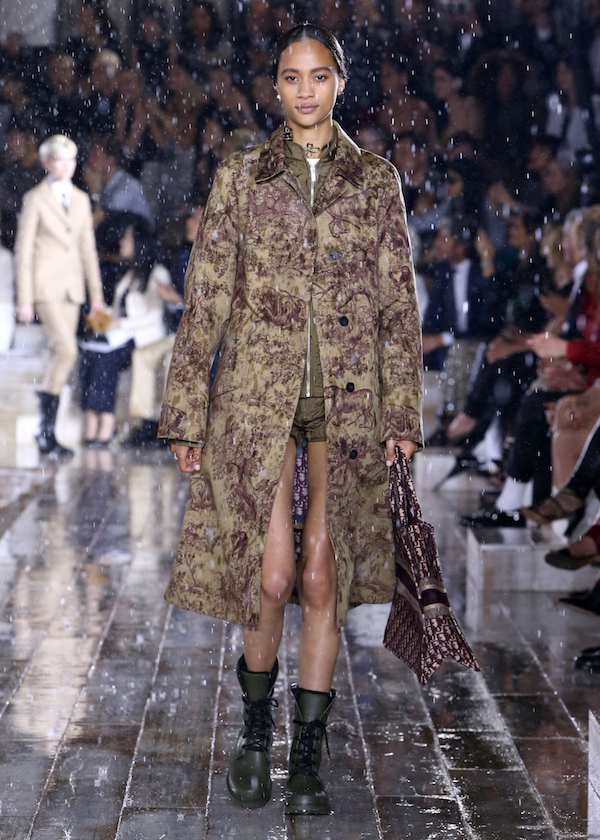 The collection had some old favorites brought back, such as reinterpretations of the classic saddle bag, their large beach totes, and more monogram canvas pieces. Crisp shirts paired with large skirts and a worker's belt was a key silhouette we saw throughout the line-up, done in beautiful renditions of lace embroidery, beadwork and floral applique. Many pieces from the collection took vintage materials and reimagined them for the modern woman. The lace embroidery was a reference to lace fabrics from the house archives, which were redrawn by hand, and put into a technical program to define the thread movements needed to recreate the inked-in design. The opening look features a jacket with printed animals, which was also hand-drawn by an artist for the house. The accessories were our favorite part of the collection, especially their infamous pearl earrings done up with an antique gold monkey.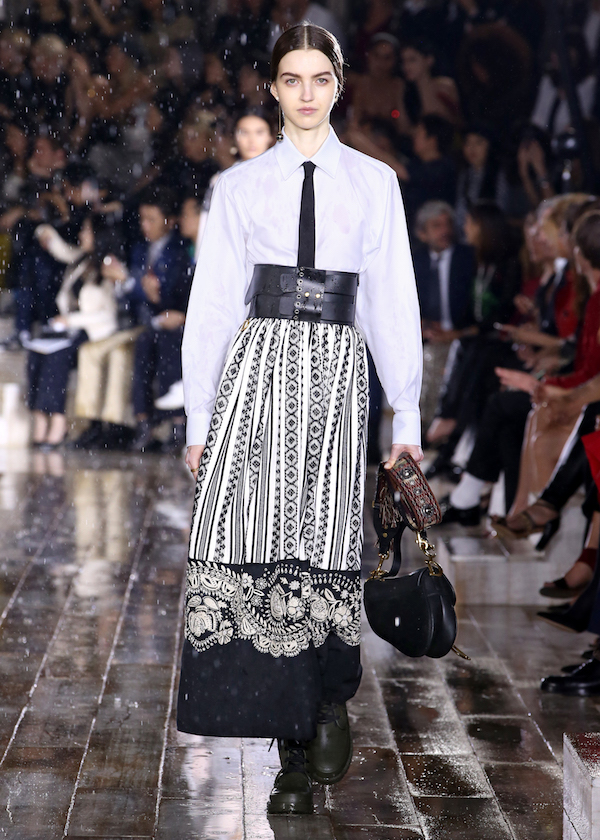 The house has had some major shifts internally, with the introduction of new CEO, Pietro Beccari, whom Maria has already worked with at Fendi way back when. Pietro Beccari reinstilled the importance of between-season collections for the house, which explains the extraordinary set they've created for this cruise collection. Kim Jones has also been introduced as the new artistic director of Dior Homme. The collection showed femininity in a way that wasn't frail but empowering, using a variety of soft yet rustic materials. Though the collection had a lot of volume and flounce, it was strapped in with robust workwear pieces to juxtapose the frills. I think her vision is maturing - shifting from "I'm not feminine, I'm a feminist" to "I am feminine and I am a feminist."