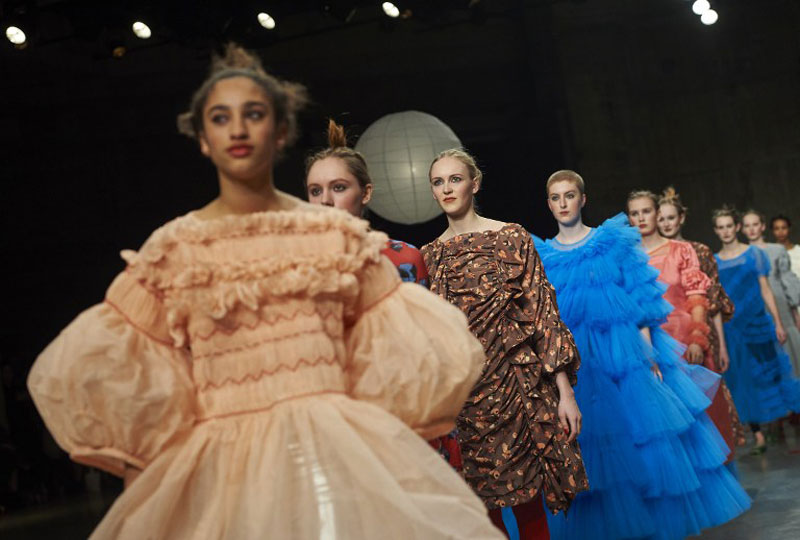 When fashion meets its foes – Brexit anxiety, dystopian tremors, consumer cynicism – it meets them head on. There's an uprising in London as designers battle with a not-so-status quo.

Chalayan
Hussein Chalayan returned to the London schedule and took up his old 'home' with a show at Sadler's Well theatre. There was much to love in his poetic line up of grey wool belted jumpsuits, voluminous cape coats, dolman sleeve jackets and angular kneed trousers in shades of cocoa and charcoal. Models ripped off fake bodices, letting lose an explosion of glitter and tinsel as if to say it might be grey, but there's love and joy inside.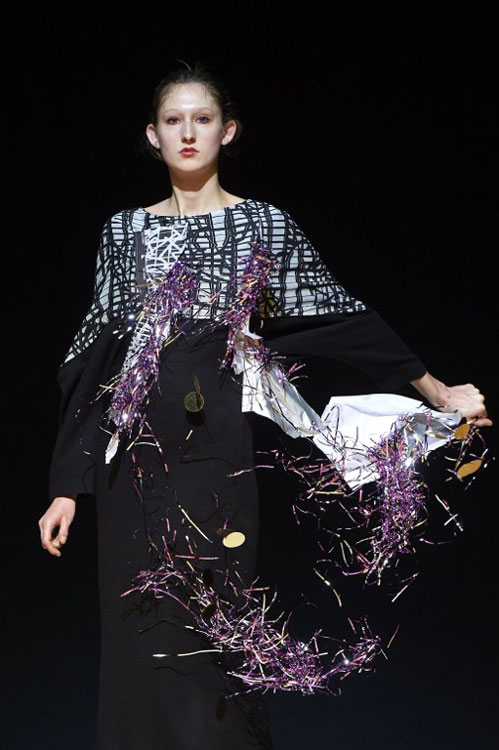 Matty Bovan at Fashion East
"One of the bonuses of being a young designer is that you can make things more special," says Fashion East debutante, Matty Bovan. How special? Consider hand crocheted, torn and punctured knit pieces, medieval inspired doublet-hoodies and fluorescent, synthetic raincoats layered up into crazy 'survivor' looks that heaved with ingenuity and DIY-punk impudence. The stage, a cardboard city of ancient buildings and modern condos, is described as a post-industrial landscape in which only hope and beauty will get you by.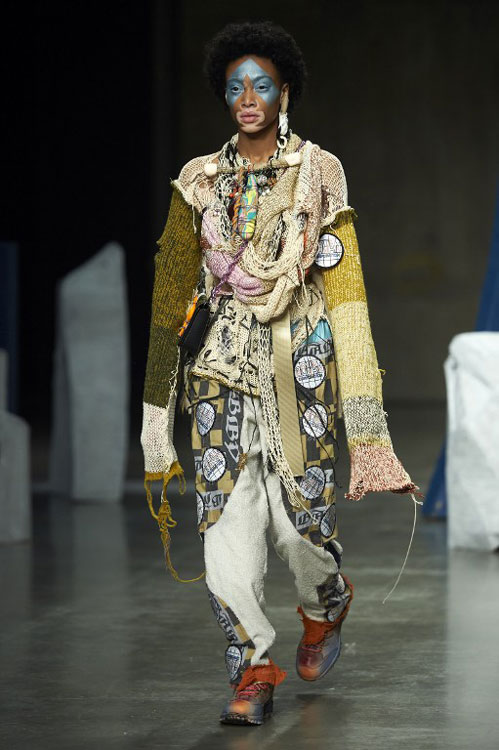 Faustine Steinmetz
Elevating denim into couture-like street-chic wear, Steinmetz digs deep into her subject and casts an anthropological eye over her discoveries. To wit, her research pieces, including a pair of diamante-studded jeans from Colombia, and a pair of bad 'acid' washed jeans from Israel, were on display next to her innovations. Highlights included tie-dyed crumpled denim that made up a men's jean jacket and jeans, and a Swarovski crystal-embellished and marabou-feather trimmed all in one. This is a woman who knows that denim speaks to all, regardless of age or roots.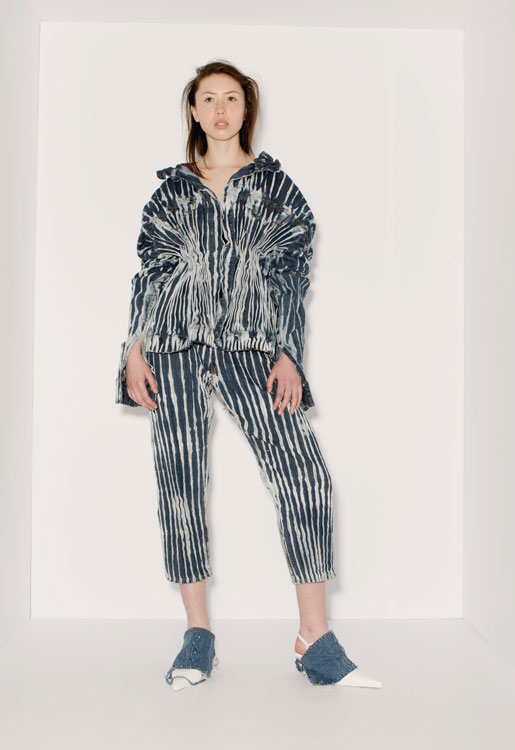 Molly Goddard
Goddard picked up the Fashion Awards Emerging Talent accolade in December and her vision of feminism – beautifully crafted, joyful tulle and silk shantung outsized party dresses with smocking details and voluminous sleeves – suits our times. She staged her show as an all-female get-together, featuring tables laden with chandeliers and fruit while models paraded her playful dresses worn over sequined leggings and ruffle-trimmed jersey pieces, before taking their places at the table. Definitely one party you want to be invited to.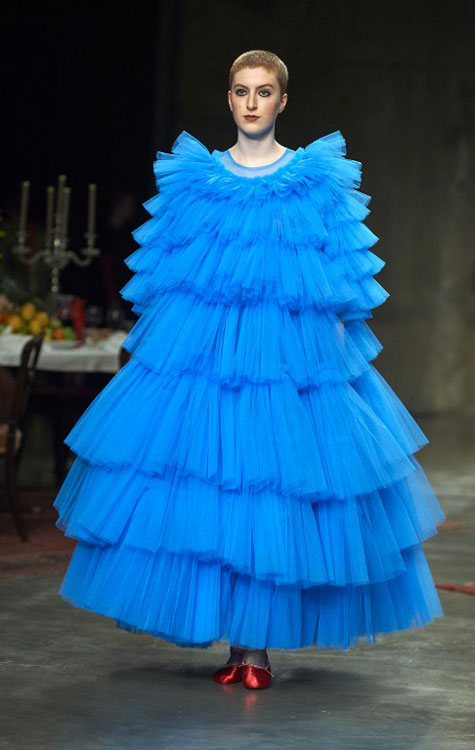 J.W. Anderson
This man of the moment is all about experimentation and innovation; cue bubble hemmed white cotton dresses with wrapped bustier tops spliced with feathers; red brocade dresses; chain mail minis and languid trench coats. It was magpie exercise in things you never knew you would like again, made incredibly desirable in that awkward-chic kind of way.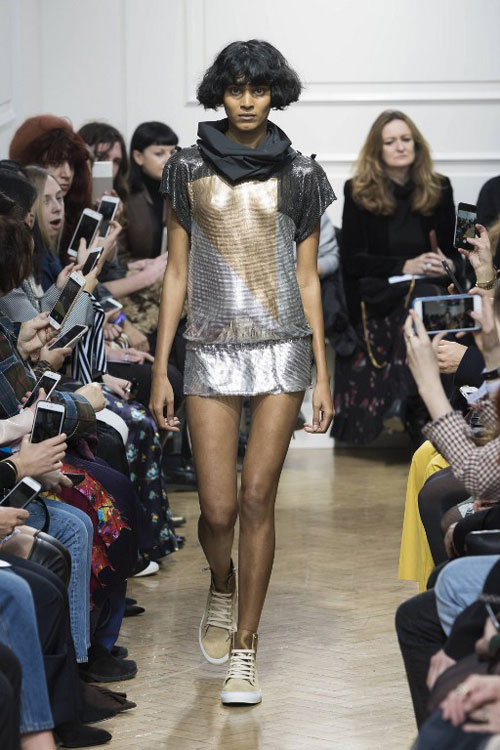 Simone Rocha
Rocha entitled her collection 'Marching Roses' and underlined her commitment to ageless fashion with an inclusive cast featuring an elegant older woman and ethnically diverse models. She upped the ante on the season's new taste for tailoring with voluminous olive green belted velvet military jackets and voluminous skirts; baby pink flowers were embroidered on oversize pocket coats and many of her trademark red blossom were sewn into tulle gowns. This is an army you want to sign up for.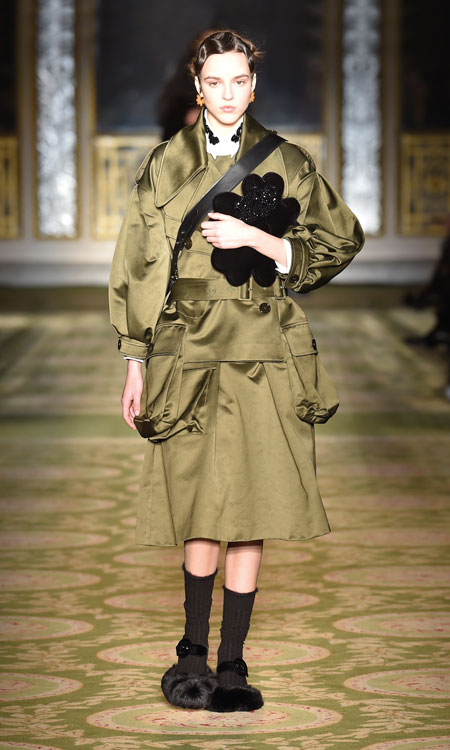 Gareth Pugh
"It's about fight or flight. The cultural pendulum has swung to the right. The veil has been lifted. As designer, how do you deal with that? It's like that moment in Cabaret, 'in here life is beautiful' as outside the world burns." Pugh's serious ponderings made way for a triumphant vision of extreme tailoring in the shape of bolstered shoulder, corset waisted black suits with flaring trousers; parachute silk 'blow' up parkas; draped leather trench coats, and visceral fur chubbies topped off with Night Porter peaked caps and veils. The colour? Black.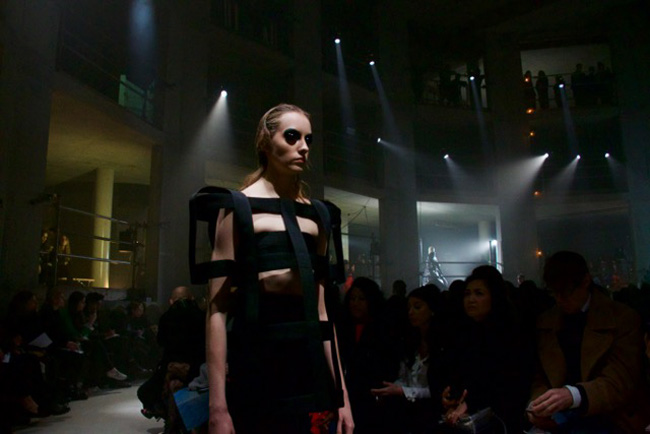 ​Halpern
In his debut, newcomer Halpern had his eye on the giddy, rebellious 'right to disco' years of 1970s New York, and the flamboyant illustrations of Antonio Lopez. Lustrous sequined-flare jumpsuits, boasting a rainbow of colours and a half-and-half play of patterns, were worn under satin corseted tops with ankle grazing swags. Some pieces boasted up to 12,000 hand sewn sequins. It waved the flag for the right to be glamorous and yet somehow, with the off-kilter cuts and raging colours, bypassed all of the glamazon clichés.