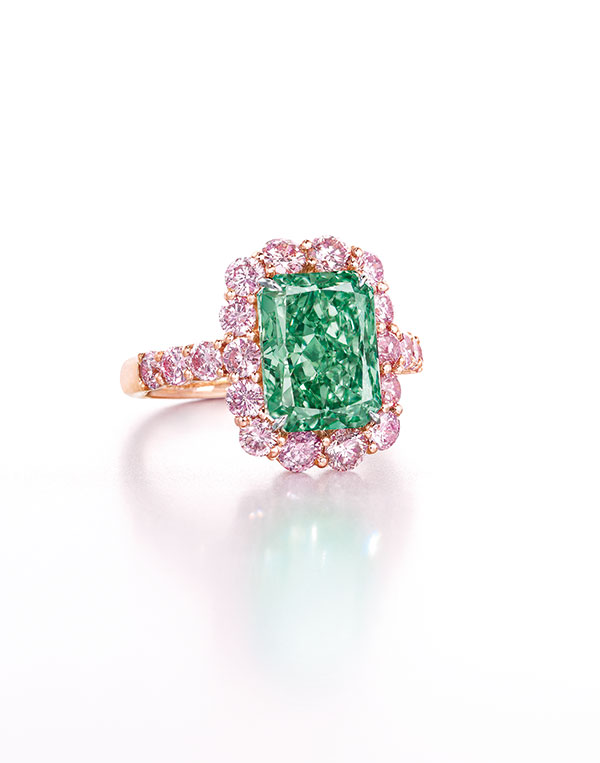 ​A phenomenal, rectangular shaped green diamond will lead Christie's Asia 30th Anniversary sale later this month. 
The rare diamond is the world's largest fancy vivid green diamond, also known as Aurora Borealis. Graded by the GIA, the gem was certified as the largest Fancy Vivid Green Diamond with a VS2 clarity. The green colour appears naturally only when the diamond is exposed to radiation in the ground during its formation. As discovery of green diamond mines are incredibly rare and dangerous, the clarity and lack of florescence only further contributes to the rarity of the jewel.
Christie's estimates the gem's value between US$16 to US$20 million, a remarkable US$3-4 million per carat, far outshining the previous diamonds of the same colour. At 5.03 carats, the diamond's unique green colour is highly coveted among the Asia market, symbolising growth, healing, and patience. Since 2003, only one other fancy vivid green diamond has been sold, setting a record price at US$1.2 million per carat.
Hong Kong Magnificent Jewels auction is part of Christie's Thirty Years: The Sale. The auction brings together a total of 30 lots, commemorating Christie's 30 year's in the Asia market and takes place from May 17 - June 1, 2016. christies.com