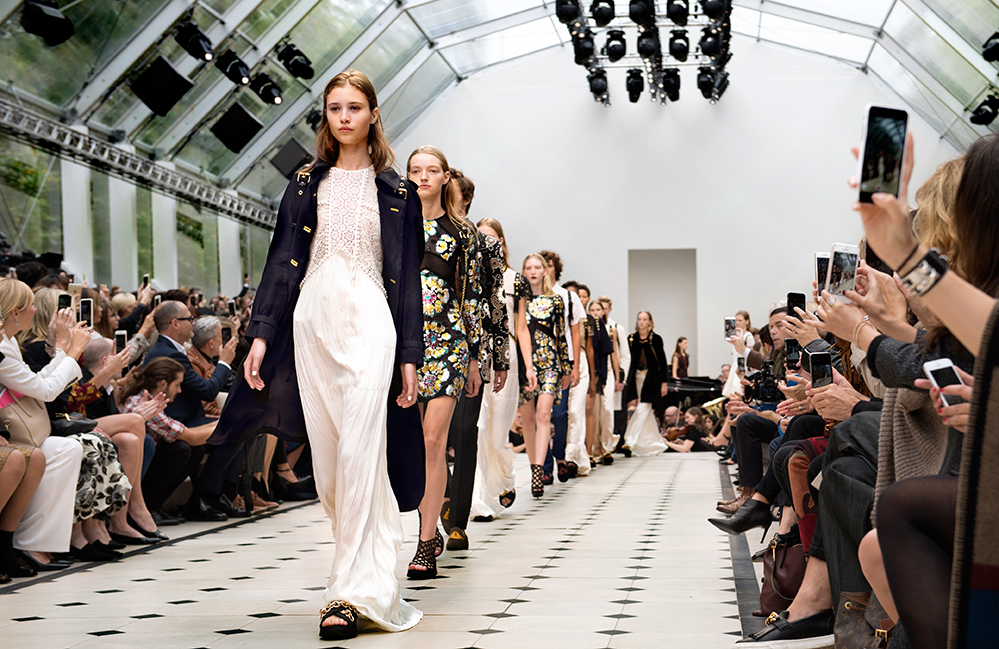 The fashion system is not perfect. For the longest time, the industry has been debating on the future of seasonal fashion and the pros and cons of having buy-now-wear-now collections. In a move that could start a major shakeup in the industry, Burberry has announced that it will completely shift the way it produces, presents and sells its collection.
This coming September, the US$7.54 billion British company will combine its men's and women's collections together, and scale back from four catwalk shows to two seasonless shows, to be shown at major runway events during London Fashion Week. Instead of spring/summer and autumn/winter, the new collections will be branded 'February' and 'September' to take into account global consumers who live in different climatic patterns.
Additionally, the brand will make all the clothes featured in Burberry's runway shows available immediately, in-store and online, with window display in its stores and media campaigns to change the moment the curtain comes down on the catwalk. This is set to be a vast shift from the traditional approach, where clothes typically go on sale four months after its catwalk presentation. 
Speaking to Business of Fashion, Christopher Baily, CEO of Burberry said the changes were done to benefit the end consumer.
"All the things we've been doing (including live-streaming and live social media campaigns) have been steps to get closer to an audience that loves fashion, loves the energy of fashion, the music, the spectacle, the people," Bailey told BOF.
"This show has historically been shown to essentially an industry audience of press, media, buyers and people that we collaborate with. We are opening it up to an audience who just do not, and should not, have to think about our industry's ways and approaches and timings. You can't force a different audience to understand something that is designed as an industry event," he added.
A mere day after Burberry's announcement, Tom Ford has also announced a change to his collections. The designer today said he will showcase his namesake autumn/winter 2016 collection in early September rather than February, to coincide with the delivery of the clothes in store and close the gap between runway and retail. The decision will make the collection available to buy immediately from the runway, online and in-store, the same day as the presentation of the collection. 
Ford has been experimenting with different formats to traditional fashion shows for the past few seasons. For autumn/winter 2015, the brand presented its fashion show before the Oscars in Los Angeles, and the past season, Tom Ford presented a virtual fashion show featuring Lady Gaga and directed by Nick Knight. The autumn/winter 2016 show will mark the first time Ford will show both collections at the same time they are available in-store.​