Mary Katrantzou x Bvlgari: A transformative capsule collection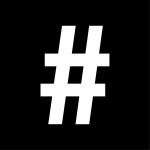 By: Zaneta Cheng
May 25, 2021
What happens when the Queen of Print meets the Italian King of Bling? Mary Katrantzou tells Zaneta Cheng about her transformative capsule collection for the latest chapter of Bulgari's "Serpenti Through the Eyes of" 
Rebirth, transformation, metamorphosis – whatever you call it, the idea of a radical and all-embracing change is just one of many things that have defined the past year. It's also one of the hallmarks of the butterfly and the snake, two icons brought together by Greek fashion designer Mary Katrantzou in her new collaboration with Italian luxury house Bulgari.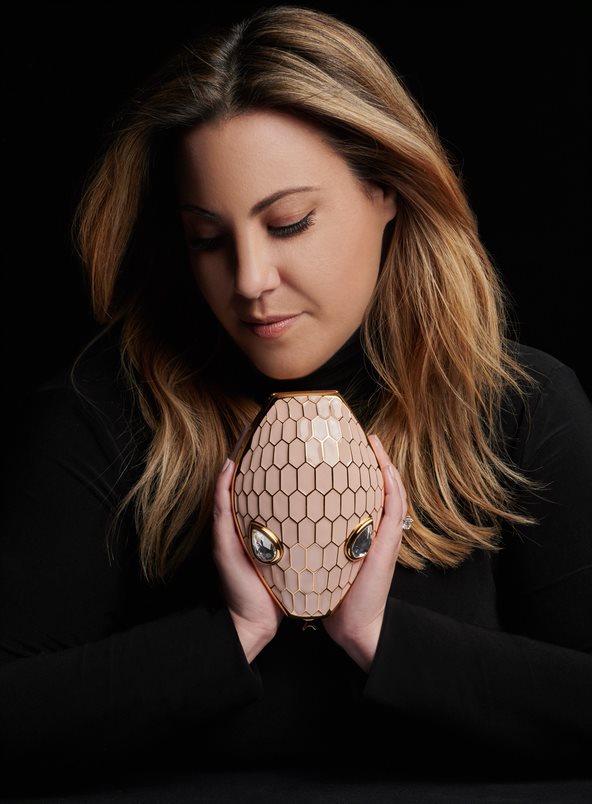 "It all started with thinking about what Serpenti means to me," explains Katrantzou of the exclusive capsule collection for "Serpenti Through the Eyes of". "I wanted to highlight its meaning as a symbol of transformation, rebirth, healing and femininity. Why I love this idea of metamorphosis – and why I think Serpenti is such a strong symbol for it – is because not only do we all go through our own process of growth, this idea of a snake shedding its skin to allow for further growth is so relevant right now. I think the whole world is in this process of transformation, and it's part of our evolution."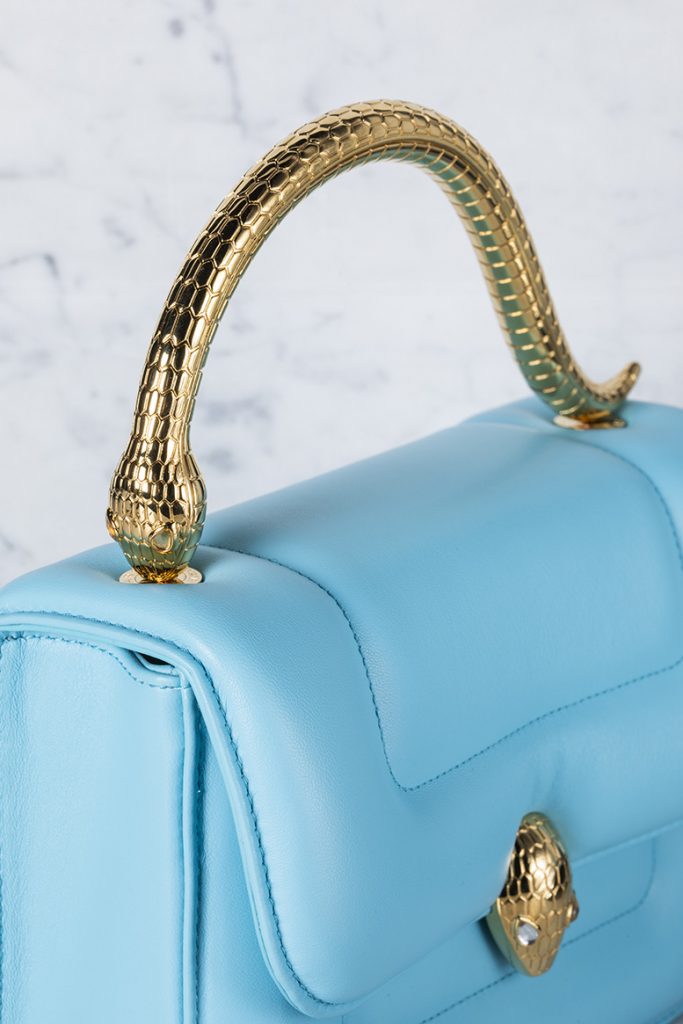 Katrantzou's collection, which includes the Serpenti Metamorphosis bag, Serpenti Metamorphosis Handle bag, Serpenti Metamorphosis minaudière and a selection of textiles, is the culmination of a partnership that began in 2019 when Bulgari provided pieces from its high jewellery and Heritage collections for Katrantzou's first couture show held at Greece's Temple of Poseidon. But the designer's affinity with the brand dates back much further.
"I grew up in Greece and Bulgari is very loved in Greece. So I grew up understanding the brand and understanding its codes," she says. "But I didn't know until later in life that the founder of Bulgari, Sotirios Voulgaris, was a Greek silversmith who moved to Rome and created Bulgari. That made the whole collaboration and story even more special.
"I see a very strong link between the woman I design for and the women that Bulgari designs for. It's hearing them talk about women who are bold or daring, who are powerful and elegant, who have an appreciation for design and who are larger than life. There's definitely a synergy there and I think it's what made this creative marriage feel so natural."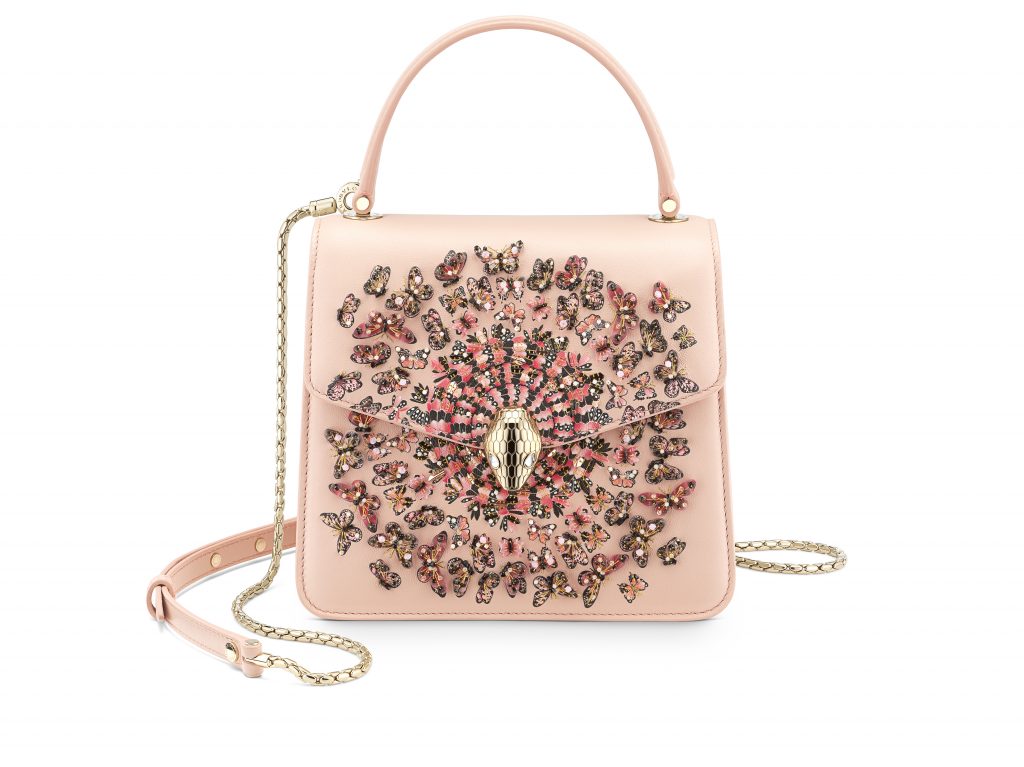 Indeed, Katrantzou's designs are nothing if not bold and daring. Not long after she graduated from Central Saint Martins with a BA in Textile Design and an MA in Fashion, her innovative trompe l'oeil patterns earned her the title Queen of Print. That same vibrant style can be seen in her Serpenti Metamorphosis bag, whose 3D embroidery depicts the transformation of a coiled serpent into a riot of flying butterflies.
"It was about applying the same level of imagination we would in my own collection," she says. "I wanted to kind of create this synergy between strength and vulnerability. There's something in the delicate nature of a butterfly that really counterbalances the powerful nature of the Serpenti. So, to me it was about translating the dual nature of a woman into the metamorphosis of the Serpenti into a butterfly."
"There's something in the delicate nature of a butterfly that really counterbalances the powerful nature of the Serpenti"

Mary Katrantzou
Katrantzou also embraced the idea of duality with the Serpenti Metamorphosis Handle bag, creating a unique top handle – "almost like a piece of jewellery" – in the shape of a snake that can be removed to wear the bag as a cross-body. For the minaudière, meanwhile, she focused on form as much as function by turning the iconic snake head from Bulgari's Serpenti watch into a clutch for the very first time.
"It's about how a woman will carry these pieces, how she will feel when carrying these pieces and also the functionality of them, which is especially important on the bags with the dual function," Katrantzou explains.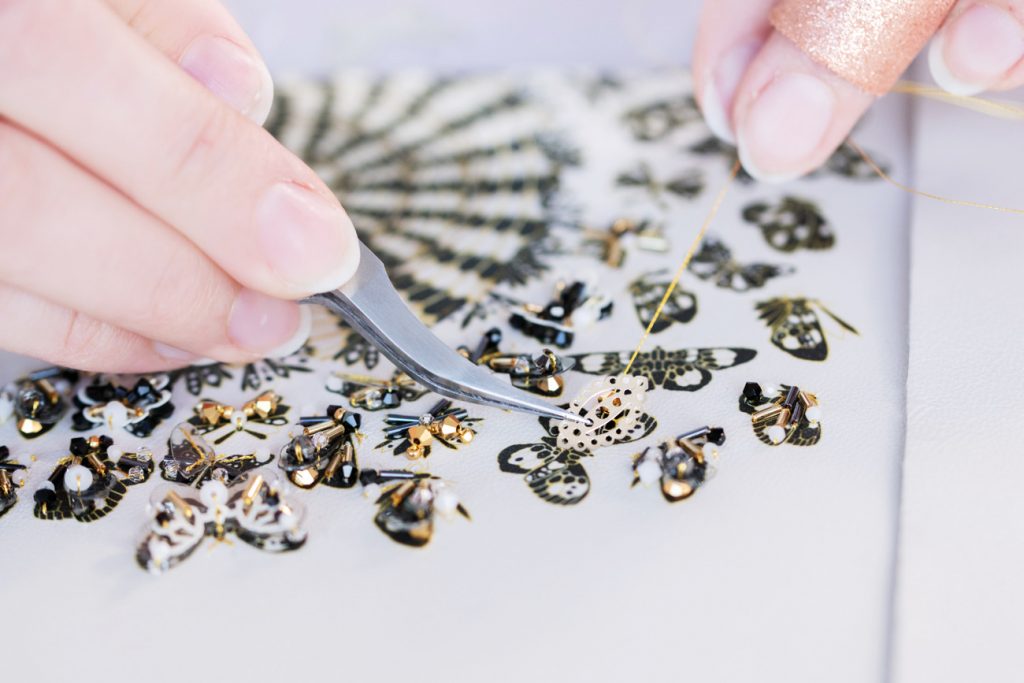 Women are certainly at the forefront of Katrantzou's mind in everything she does, from her creative work to the causes she supports. For this collection, she and Bulgari have partnered with Natalia Vodianova to benefit the Russian model and philanthropist's Naked Heart Foundation. "It's important, especially when it's a collaboration between two brands and creative minds, that what is being communicated is part of every element of the collection," she says. "To me, Natalia is someone who's not only a model. I knew she's gone through her own metamorphoses many, many times in her life."
In the end, it's that sense of evolution and growth that Katrantzou hopes to convey through her designs – particularly as the world grapples with the pandemic. "I want this collaboration to be transformative not only in a design sense, but also in feeling that carrying a bag has meaning and depth. It allows you to feel stronger, more empowered and confident," she says. "We don't really feel it; it's something that happens subconsciously. But the symbolism in the Serpenti is definitely part of the reason that women are drawn to it – there's a connection with that symbol of strength and transformation. I just feel that we live in a time where that's even more relevant."
See also: Dunhill's Lock Bag makes its way around London in new photo series