Dough-Boy on NFT concepts and auctioning collection in honour of Anita Mui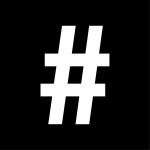 By: Liana Chaplain
March 21, 2022
With the launch of NFT trading platform BlueArk alongside a concept store displaying virtual art in the physical realm, Dough-Boy is diving head-first into the metaverse. He talks to Liana Chaplain about what sets his concept apart from the rest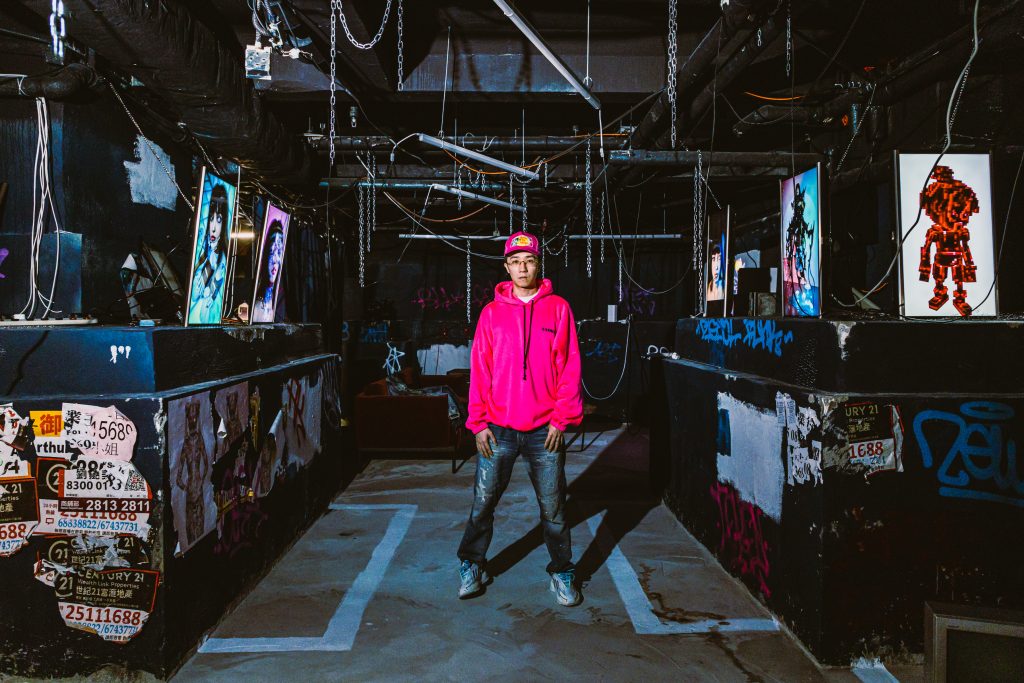 When we last talked to Dough-Boy, he was standing on the brink of a new era in his career. A man of many creative talents, there was no guessing what the award-winning producer, rapper and songwriter might do next. Painting, he proposed, was in the realm of possibility. Now, upon hearing the name of one of Dough-Boy's many new and exciting projects – Gummy Villains – you might believe that the musician has suddenly decided to take his clever moniker literally and open a confectionery. But the candy-inspired antagonists are actually Dough-Boy's first NFT collection, which premiered on BlueArk, the NFT trading platform co-founded by the artist.
"Throughout my music career, I've been looking for different ways to explore in terms of creativity," Dough-Boy says. "We direct music videos or design toys to come out with the albums – we're always trying to do different stuff. Right now, I would say the virtual world is the next step."
He's not just jumping on the NFT trend, however, and BlueArk isn't just another NFT marketplace. Like a real-life gallery, BlueArk is carefully curated to display top-notch digital art – we're talking quality over quantity. "We don't want to be a super open platform where random people can just upload whatever artwork. We want to actually curate the campaign behind every artwork. So we choose who can come in," he explains.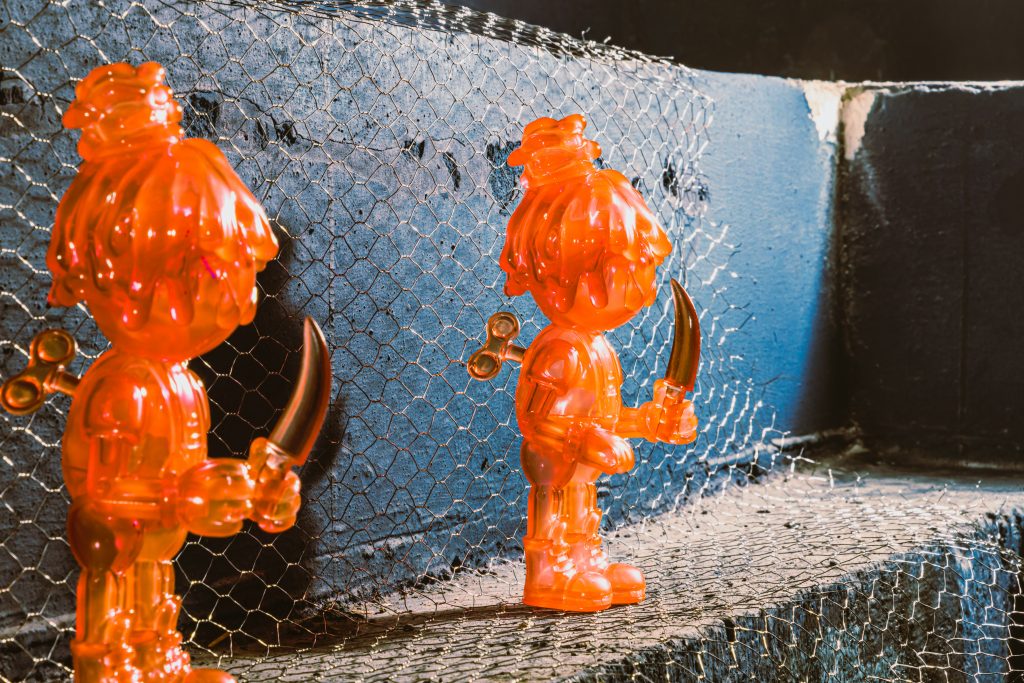 Also see: 6 Korean celebrities who have entered the NFT world
One of their recent projects was a collaboration with City Entertainment auctioning a collection of NFTs in honour of Anita Mui in anticipation of the 2021 biopic Anita. The collection features a reproduced cover, two photographs and previously unseen footage of the Cantopop legend from a 1991 issue of City Entertainment. "That's also what I think is cool about the virtual world," Dough-Boy says – through these pieces, buyers get to own a cherished piece of Hong Kong history.
In addition to its exclusivity, one of the major perks for artists invited to sell on BlueArk is that they don't have to risk a small fortune minting their works. Dough-Boy and his co-founder Peter Lin chose to run BlueArk on the TRON blockchain because of its relatively lower fees. "Our thing is not charging artists with high gas fees," Dough-Boy explains. "Other platforms, I would say, one of their biggest sources of income is really just taking a cut off the artist. For us, our minting gas fee is pretty much free."
Perhaps because he's an artist himself, Dough-Boy is one of the few entrepreneurs taking the time and care to highlight the aesthetic and technical value of crypto art, rather than its hype and price tag alone. This is one of the reasons he decided to open the BlueArk Concept Store at the Peninsula hotel, which opened in February y with a physical exhibition of NFT art.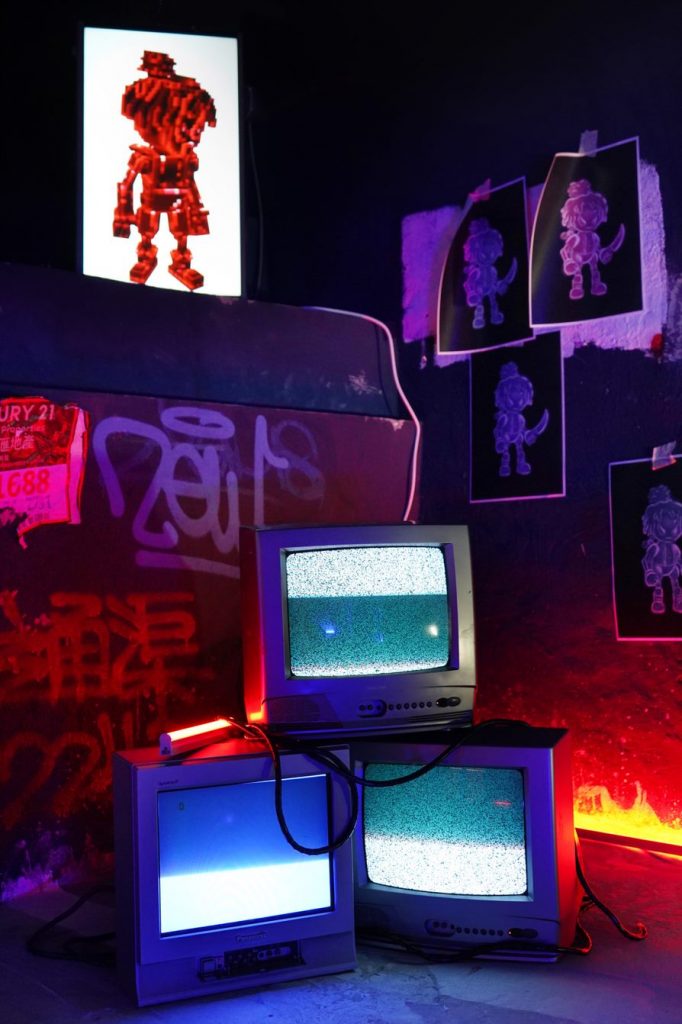 The inside of the exhibition looks like the streets of Hong Kong but set in the dystopian world of Blade Runner. Walls are plastered with distressed local real estate posters and graffiti, chains hang from the exposed ceiling and Nam June Paik-esque television sets and neon lights cast the room in a futuristic red and blue glow. Dough-Boy's Gummy Villains, alongside pieces by artists and brands like Ruby9100m, Mizuki Nishiyama, Kwai Bun, Sankuanz and The Sandbox are displayed on high-resolution screens. The first 200 visitors even get to bring home their very own Gummy Villain NFT – free of charge.
The space is an important step for digital projects that we don't typically get to stand in front of to appreciate. "A lot of the virtual art that we're talking about, we just see it on our phones. They're so small, how do we interact with them?" Dough-Boy asks. "Your phone screen is just in the palm of your hands, but if you see it in real life it's a totally different thing. We just wanted that interaction between you and the artwork."
The physical store also serves to put a friendly face to the BlueArk name. "It shows the people that it's not fake, this is for real. We have a shop, you can find us. If anything goes wrong, we're actually here. We're not some anonymous person that's going to run away with all your Ethereum. It's impossible because you can find us." Trust is something cryptocurrency cannot buy, and it is becoming increasingly precious as NFT scams rise. Investors infamously lost millions in the Evolved Apes rug pull on OpenSea when anonymous developer Evil Ape vanished a week after the launch date.
Also see: #legendasks: How to Buy NFT on OpenSea, a step-by-step guide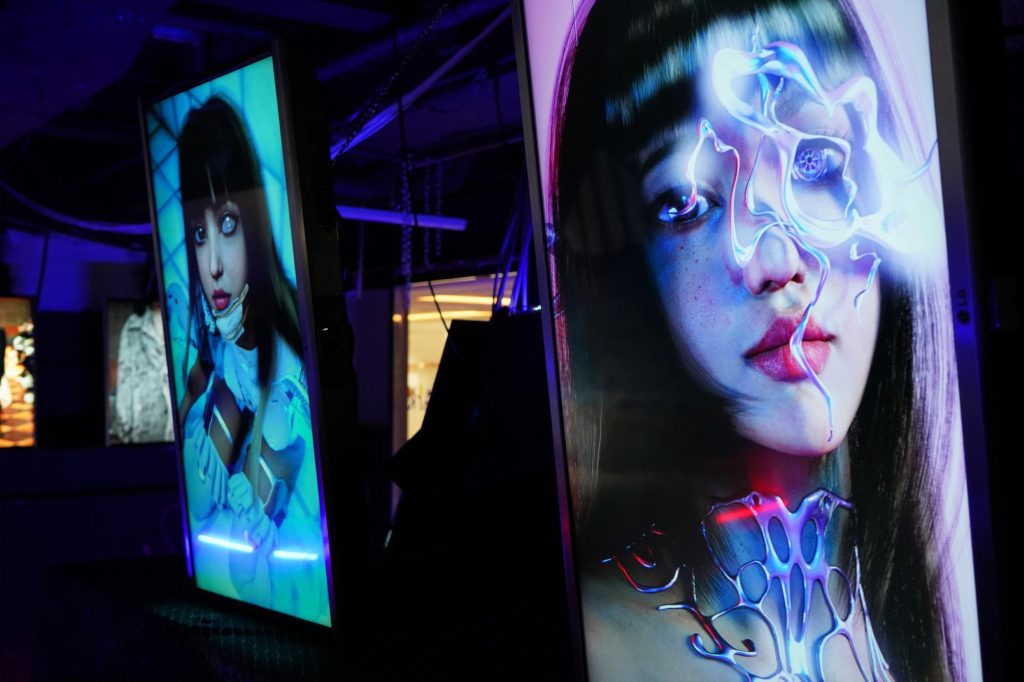 The exhibition shows that Dough-Boy and his team are serious about this NFT thing. "Honestly, a lot of these so-called NFT projects in Hong Kong come and go. This whole past year we've seen a lot of them but they disappear within two, three months. There's no follow-up. It's almost like a cash grab. No one's really, really trying to do it. Everyone's just trying to draw a random avatar, sell it and get the cash out. People are thinking that doing this is a quick way to earn money. It can be, but it also could also be longer-term."
To make things even more meta, you will soon be able to visit the exhibition…virtually. Partnering with The Sandbox, a blockchain-based gaming virtual world, Dough-Boy is building BlueArk Land, Asia's first clubbing metaverse hub. "It's not exactly a club," Dough-Boy says. "It's an art gallery with music in the background so you can hang out." Featuring a gallery, a wrestling room, a live concert stage and a shop, BlueArk Land intends to centre the social experience.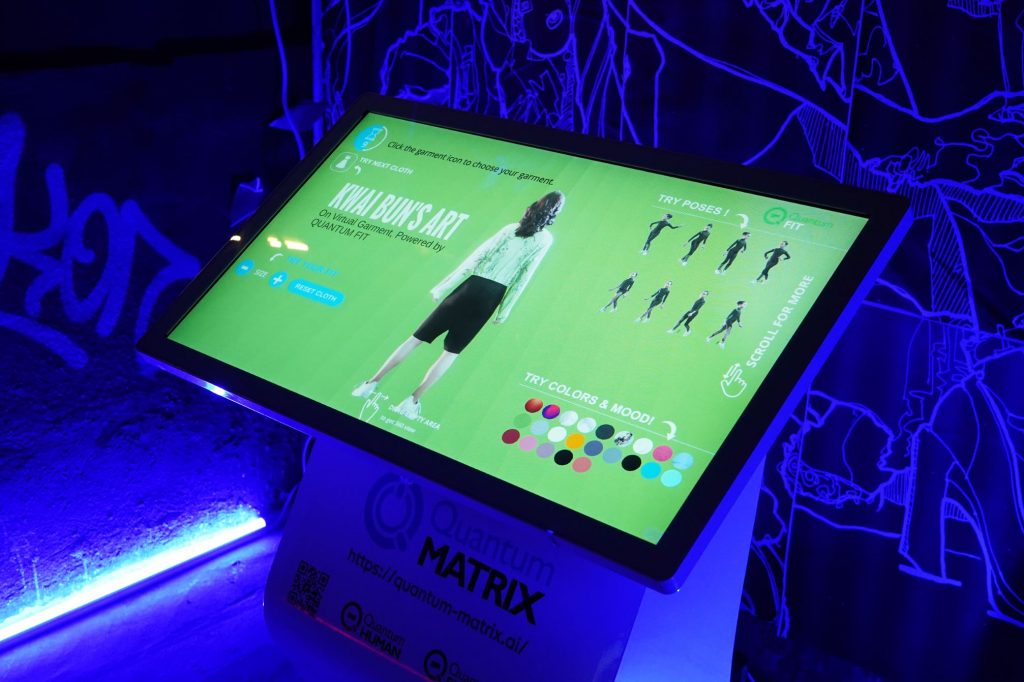 "I kind of looked at metaverses as an extension of real life. In the entire human experience, people just want interaction or validation, we just want to be part of a community. That's why we're on social media, that's why we're posting pictures trying to get likes, because we just want to be part of something, right? So I thought, if you're in the metaverse, it has to be like a social hub. You have to go in and meet people and talk to people. I don't want it to be like a game where you just walk around and don't meet people. You gotta meet people. That's the biggest thing about being human."
When asked if there are plans for a virtual Dough-Boy concert in BlueArk Land, the musician responds, "Nah." Dough-Boy isn't abandoning music for the metaverse, nor is he just using his crypto projects to promote his music. He would just rather get his friends and other artists into the platform to perform. "I just want to be the platform creator instead of the music creator. In real life, I'm still doing music and producing music for other people. In this whole virtual thing, I don't want to be that guy." Dough-Boy is undoubtedly becoming an expert at juggling different worlds, real and virtual.
Also see: A 101 understanding of NFT