#legendchats: Jewellery designer Nadine Ghosn on glorifying everyday objects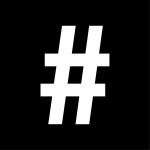 By: Zaneta Cheng
June 23, 2021
Her Shut Up ear cuffs have been seen on Beyoncé and her headphone necklace on Karl Lagerfeld. From paper-clip necklaces and pencil bracelets to the iconic hamburger ring, NADINE GHOSN has redefined fine jewellery for the millennial generation. She tells ZANETA CHENG why she chose to upgrade such humble objects and the hurdles she's jumped to get here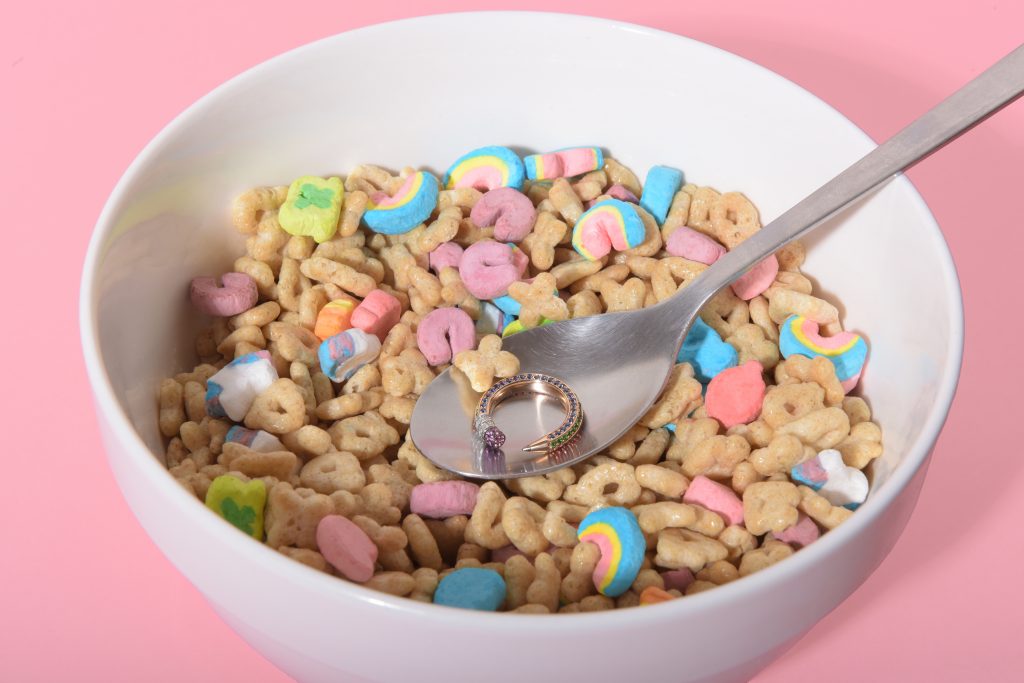 Try to call to mind some standout icons of the world's best known jewellery brands. There's the clover, the serpent and the panther – jewellery houses love to draw inspiration from flora and fauna. When it comes to individual pieces, stories typically revolve around clarity, carat size or tales of love and devotion. Most evoke the past.
None of the above apply to Nadine Ghosn (pronounced "phone" with a G in the front) whose eponymous fine jewellery label has staked a claim in the space with hamburgers (both with meat and vegetarian), headphones, batteries, pencils and, most recently, Lego. Born in the US and of Lebanese and Brazilian descent, Ghosn, who graduated from Stanford with a double degree in economics and art history, was a consultant at Boston Consulting Group and worked at Hermès as part of its Management Rotation Programme before launching her label to fill a gap in the market.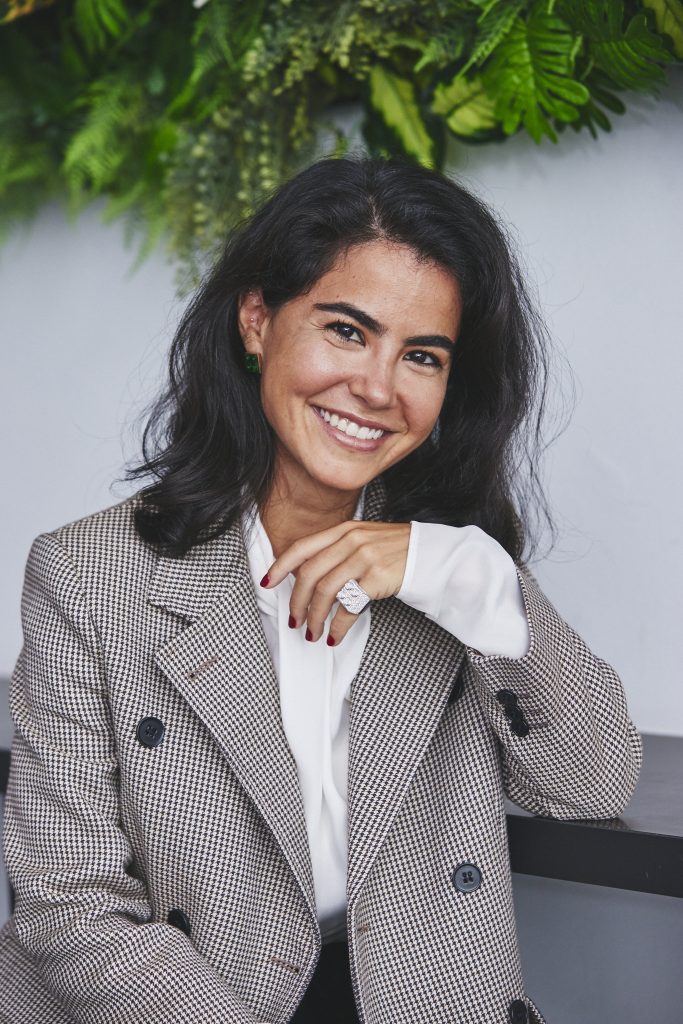 "I think the point of view is kind of the rebel child in the fine jewellery space," Ghosn says over Zoom on a Thursday morning. She's squeezed our interview between waking up and heading out to get her second jab. The designer has spent most of the year in Singapore where she's completed her business degree with French university INSEAD and has been designing and running the label entirely on her own.
Her unique take on luxury jewellery (Ghosn made the decision early on that regardless of price fluctuation, the brand would maintain the use of 18-carat gold) has seen her pieces on Karl Lagerfeld, Beyoncé and fashion influencer Leandra Medine – some of the earliest supporters of the label. When asked why, Ghosn says, "I want to design things that go through generations."
How that has transpired is the creation of pieces that are firmly rooted in the present – a departure from the myth creation and legacy stories pursued by many jewellery brands. "I think jewellery represents a moment in time. A lot of what we learn from culture or from the past comes from jewellery that was of its time and I feel like that's a little bit lost, right?" Ghosn says. "Because the battery today means energy to us and there's this concept of battery, but I think if [Apple] changes the battery emoji tomorrow then maybe the battery will mean something completely different.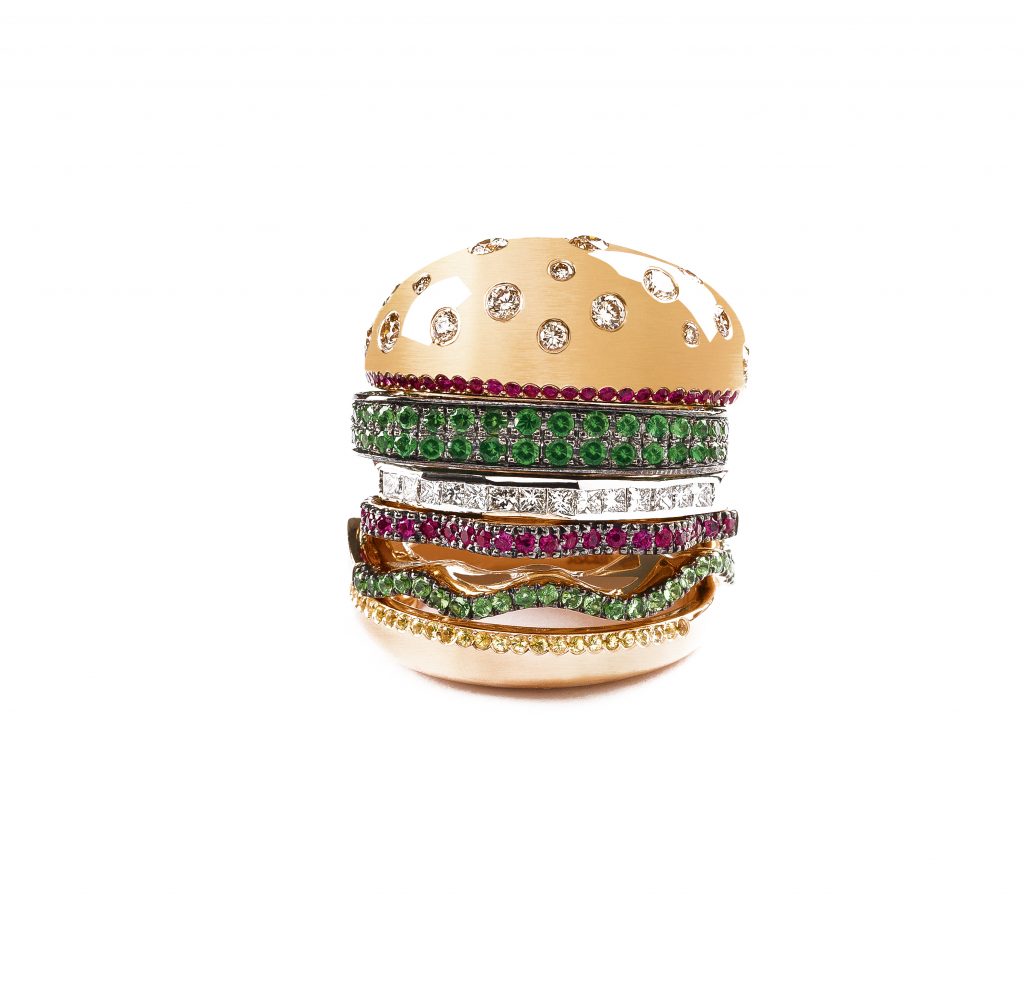 "All of these things – the hamburger, the headphones – were everyday objects I had come across and just felt like, wow, everyone can relate to them but let's play with it. Let's use gold to glorify them and have people observe them in different ways."
Ghosn's newest collection is based on the Lego brick, carved out of precious stones. Building Blocks reinforces the brand's tongue-in-cheek take on quotidian objects. "You always have to create something new but you have to have a true DNA, a true perspective. It's the same thing as a designer," says Ghosn.
"If you're a successful designer, someone sees your piece without the brand name and knows that it's probably coming from you. That's something I really strive for in each collection and it's a risk, because it would have been very easy to launch the hamburger and continue having, like, the sandwich and the hot dog and just keep it hamburger-oriented. But every single collection is a completely new design, a new concept."
See also: #legendloves: The Lego Technic Lamborghini Sián FKP 37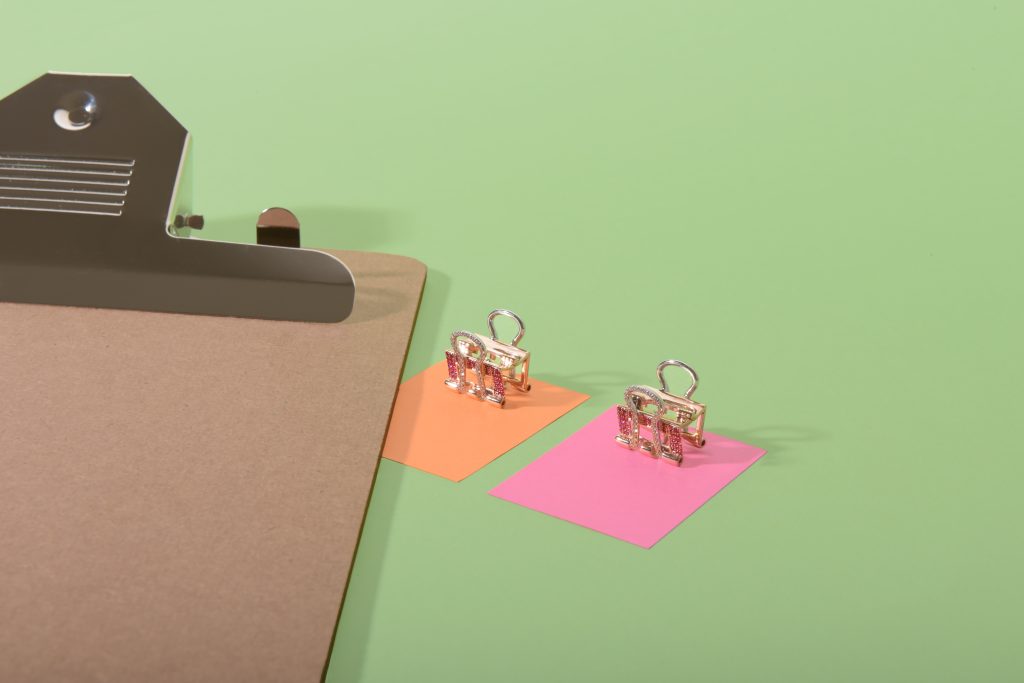 Risk has been at the core of the Nadine Ghosn brand. After turning down a job offer from Hermès after a two-year rotation, Ghosn decided to learn the basics from Lebanese jewellers on a trip back to Lebanon, when she found out that the jeweller she frequented was unable to hold on to his craftsmen. Starting with a meagre US$25,000, she spent her time at trade shows, meeting other jewellers to learn about the space and "from 6am to 5pm every day, I was with [my jewellers] to understand how we go from design to creation. Because up to that point, I didn't even understand the processes from wax to mould to perfecting to silver. I just had no idea.
"You always have to create something new but you have to have a true DNA. If you're a successful designer, someone sees your piece and knows that it's probably coming from you"

Nadine Ghosn
"But I do think that having a background that's not in that industry can be a potential advantage. And I think that was taught to me when I was at Hermès because the head designer for their high jewellery is Pierre Hardy, who never had a background in jewellery. But he's been designing things that are completely out of the box, mostly because he wasn't trying to conform to a specific square way of operating. And I think that was an advantage in the end and fortunately came at a time when I think the jewellery industry was ready for change."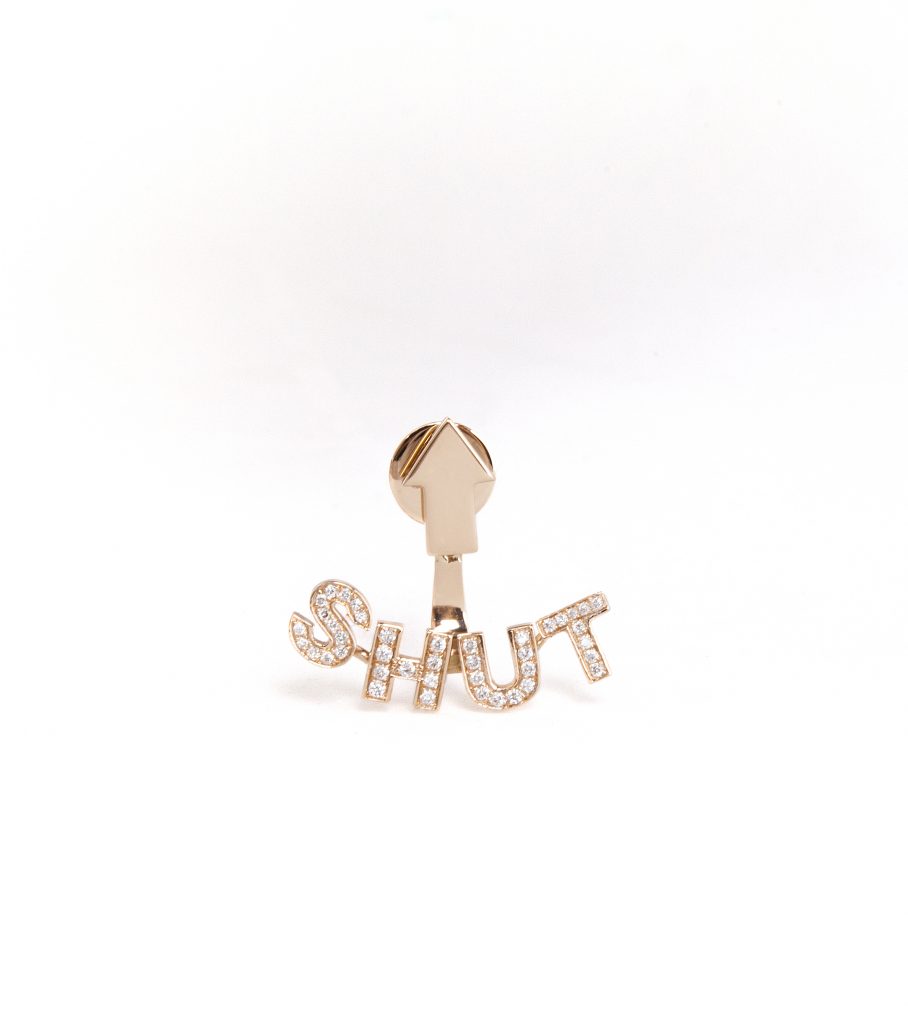 Ghosn took a risk when she approached Leandra Medine at a New York park, resulting in the influencer reaching out a while later to borrow pieces to shoot. Ghosn then asked her friend to wear her headphone necklace to a dinner she knew Colette founder Sarah Andelman was going to attend. Ghosn took another risk when she replied to a vague and nearly anonymous e-mail requesting "a customised piece for our client" that ended up being the McDonald's PR team reaching out for an exclusive collaboration now known as the "Bling Mac".
Ghosn continues to take risks and launched the Building Blocks collection last December in the midst of the pandemic without the ability to meet with editors or host a showroom. "I was obviously scared but I also couldn't sit on it any longer. I just knew that I had to let it out and at least have it be available," Ghosn says.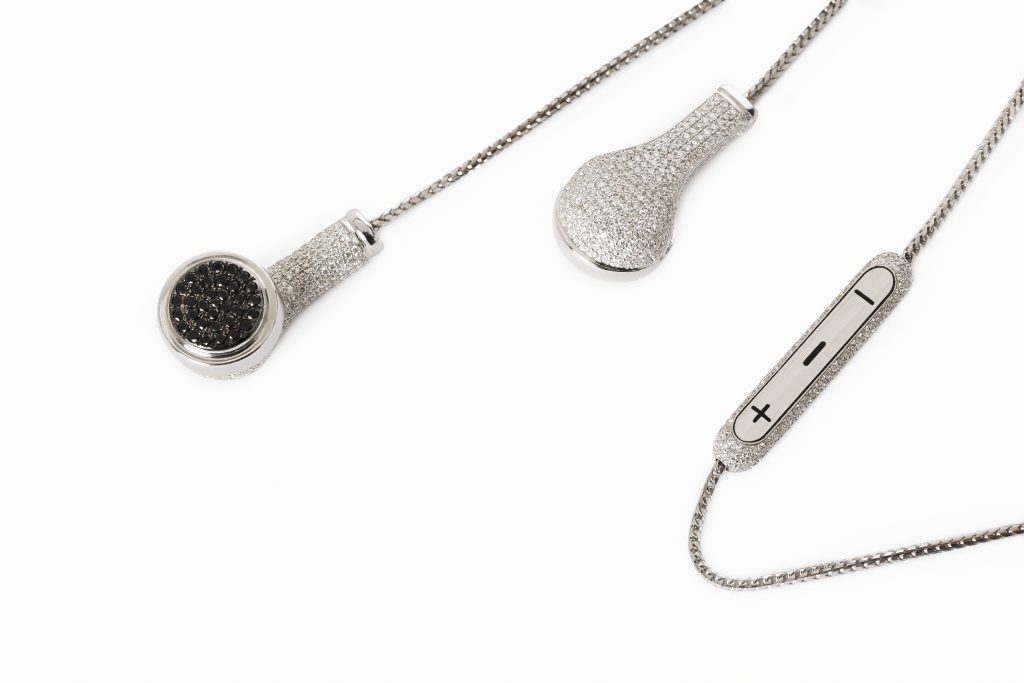 "Fortunately it picked up and people were buying so I think there's just no recipe. Every time I've launched at different times and I kind of launched differently. Initially I launched specifically with Colette. They were my main platform because I don't have a showroom, I don't have a PR team. I don't have any of this so all the ingredients that I think most jewellery designers have, I don't follow. It's hard to know if this is the right approach or the wrong approach. It's just my approach."
Learn more at nadineghosn.com