Cover story: Kiko Mizuhara can do it all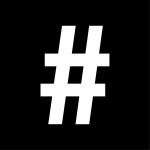 By: Stephen Short
May 2, 2017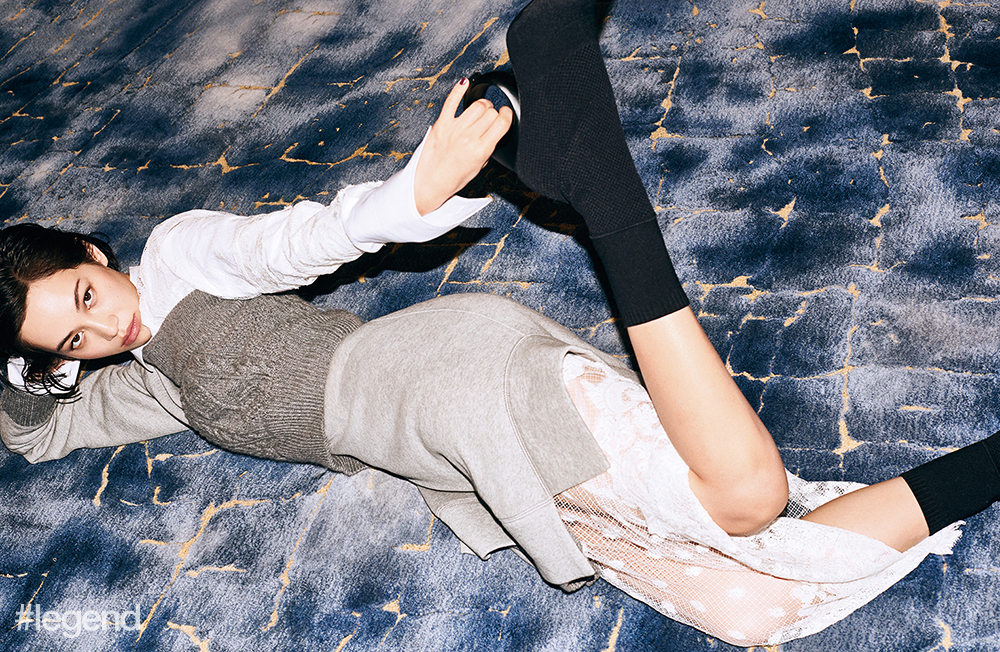 Read the Chinese version of this article here.
按這裡閱讀本文的中文版本。
Kiko Mizuhara is the kind of 26-year- old that every teenager and twenty- something woman in East Asia wants to be. Mizuhara is an actress, model, photographer, designer, singer and street-style sister. Her first big film role was playing Midori in Tran Anh Hung's Norwegian Wood, based on the Haruki Murakami novel. The film premiered at the 2010 Venice Film Festival to stellar reviews that established Mizuhara as one of Asia's rising young talents.
The accolades for her performance zipped around the world and cyberspace making Mizuhara one of the first digital darlings. She has 4.4 million Instagram followers and moves through music, art and fashion worlds with ease. She worked with labels like Opening Ceremony and there are near-continuous film and television credits. She frequently shoots with renowned photographer Nobuyoshi Araki, serving as his muse.
Mizuhara's American-Korean-Japanese heritage makes for an interesting life at home in Tokyo. She is best friends with precocious Japanese photographer Monika Mogi and Chinese singer Leah Dou, the daughter of Faye Wong. If it sounds like there's a lot going on, you're right. Mizuhara's interview with #legend is the most wide-ranging she has given.
Go behind-the-scenes of our shoot with Kiko Mizuhara:

<span id="selection-marker-1″ class="redactor-selection-marker" data-verified="redactor">​</span>
How important are social media to your success?
When I first started, I didn't think it would be such a big deal but it's getting bigger and bigger. I really appreciate Instagram. I have made a lot of friends through it and it has made me more confident. If I didn't have this format, nobody would see my art or my work. It makes me think a lot. I talk about social media with Monika and she says there's no true art with Instagram, that the real art is outside of that. You have to have both, I think. Obviously, it helps my work. This thing makes me connect around the world. I need to keep using it and to think more positively about Instagram.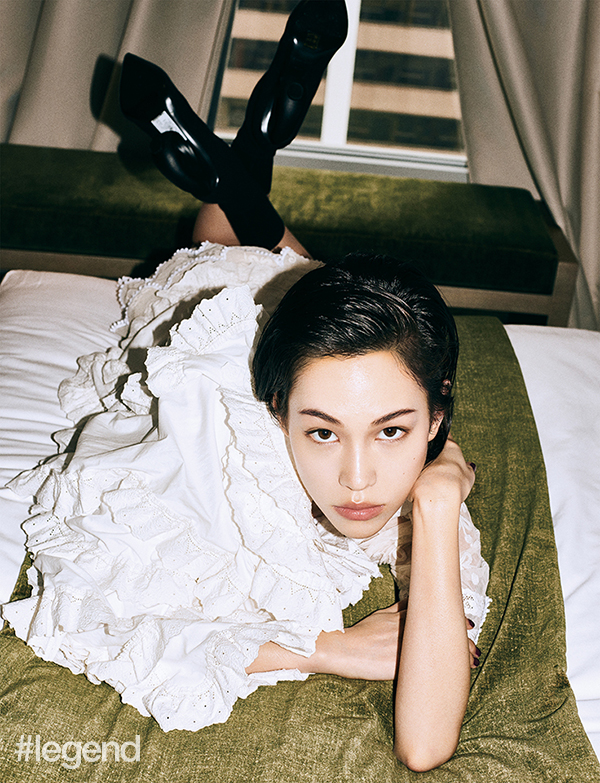 You've designed clothes before and I hear you may be doing more.
I am thinking to make something casual, like a T-shirt, sweaters and caps, so – just, like, something everybody can wear. That's what's in my mind. I'm just starting to do the project and thinking about the designs. I hope I can really produce something for winter. But it's out of my hands.
Will you design the clothes?
I have lots of friends who are artists and will ask them to do some designs for me. What I don't want is to do complicated clothes. Sometimes high fashion can be too hard to wear. I want to make something simple and easy.
What you're wearing now is exactly that.
Yes. The jacket I'm wearing is vintage and Hysteric Glamour is a traditional Harajuku brand. The designer's a good friend of mine. I often consult him about design and I hope he will help me out with what I do.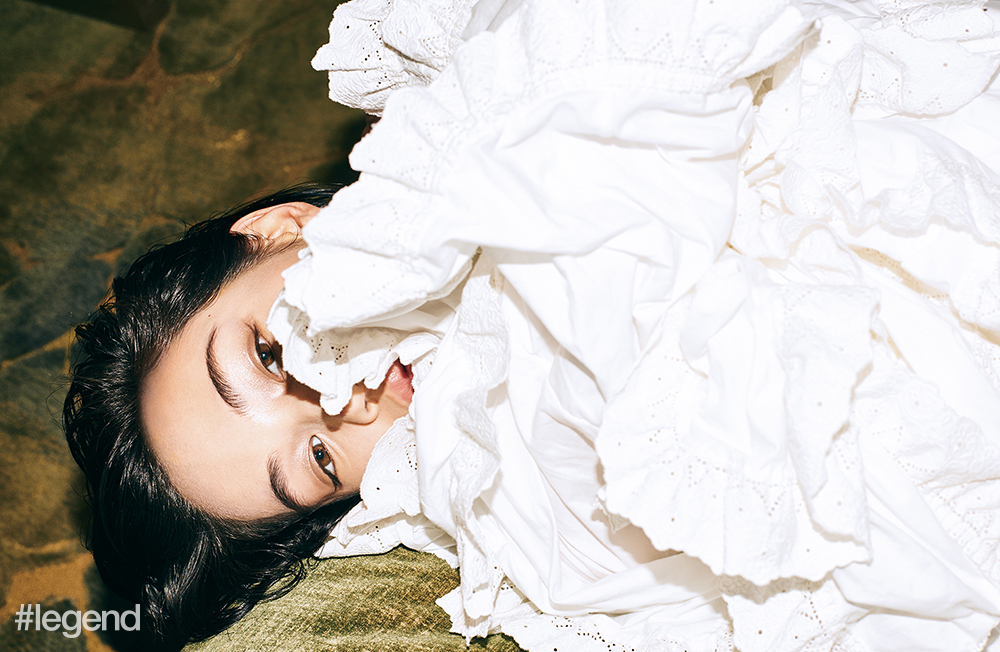 You have a distinct style, fashionable and artistic, and you appear to maintain control of your brand. How do you do that?
I just do what I want to do. I always try to be honest. I don't want to show off too much, it doesn't really look good. Being cool is amazing but I'm not a professional model. When I was modelling in Japan, around 2007, all the girls had almost blonde, super-light hair and black skin. It was really popular. I had to figure out how to make myself stand out. I tried to keep my skin super-white and make my hair black. I was inspired by 1950s culture and Audrey Hepburn. My middle name is Audrey. Dad named me Audrey because he liked Audrey Hepburn and he wanted me to become an actress. I always have her portrait in my room.
One moment you're dancing, singing, speaking Mandarin, the next you're braiding your hair a purple colour.
I'm so into hip-hop, or I was so into hip hop when I was a teenager. I was listening to Beyoncé and all these black artists were blowing up and it was really inspiring. I was always listening to their music. I would say that music is 80 per cent of what I listen to. But you have to be careful. People are sensitive when they or I post a braid picture. They say culture is not an accessory, and I totally get that sentiment, but I have respect and I try to learn about the culture. I feel my culture is to be open. It's 2017. The world is made of multilayered cultures. You can pick some parts up and there's always more beyond that. Frankly, I love braids.
So what's the other 20 per cent?
The first music I listened to was Al Green, the soul singer. [Sings Let's Stay Together] "I'm so in love with you, whatever you want to do." Dad made me listen to that song. There is some classical music too. My mother loves classical music and she does opera, but I don't listen to it much. I listen to house music. Music can help you build the mood.
What's your all-time favourite pop song?
I love the Spice Girls but they're not my favourite. Michael Jackson, maybe.
You're about to release a record, right?
Actually, I already have. It was about six years ago.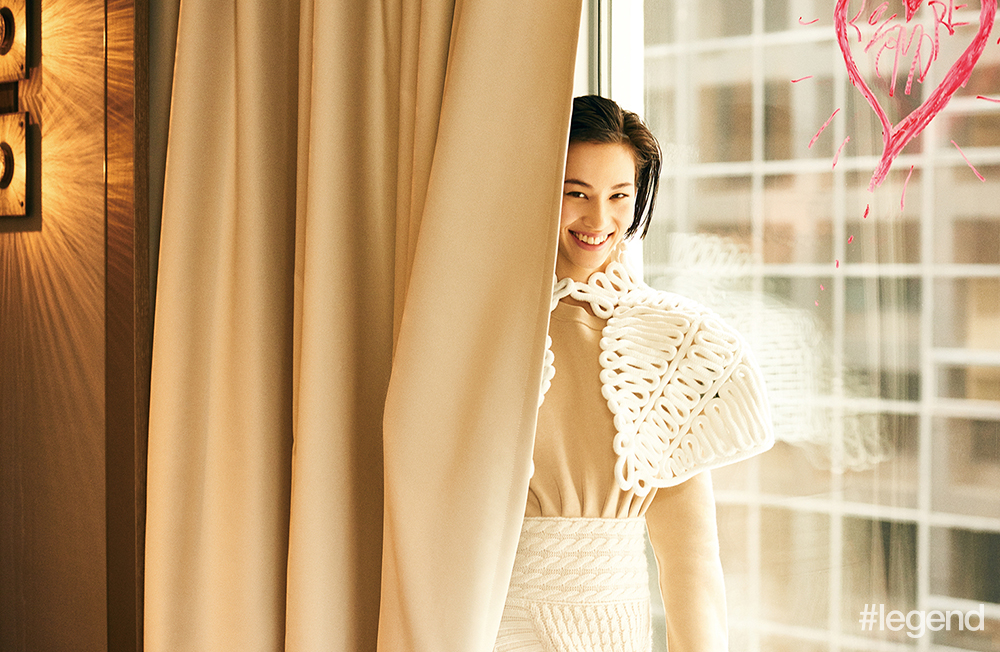 How many people know that?
I think it's pretty rare. I think almost nobody knows about that. It was a collaboration with Towa Tei from Deee-Lite. That is one of my favourite bands. They are such an iconic band, how they look. I did an audition, went to the studio and he wanted to hear my voice. I sang a little, he recorded it, and that became a song. I've also done a collaboration with Metafive, a five-member band. They are music legends in Japan. Kawate is a member and my sister, Yuka, she DJs. The video will come out soon. I always wanted to be a singer but I'm not good. I'd love to go to Fuji Rock Festival. That's my dream. Fuji Rock is one of my favourite music festivals.
Yuka is also a street-style fashionista in Tokyo. Do you trade styling tips with her?
She steals from me. I know she doesn't mean to but sometimes she takes my stuff and she doesn't return it. We do trade. When I go shopping, most of the clothes I want are too big because I'm very skinny and so I just buy for her. I do the styling.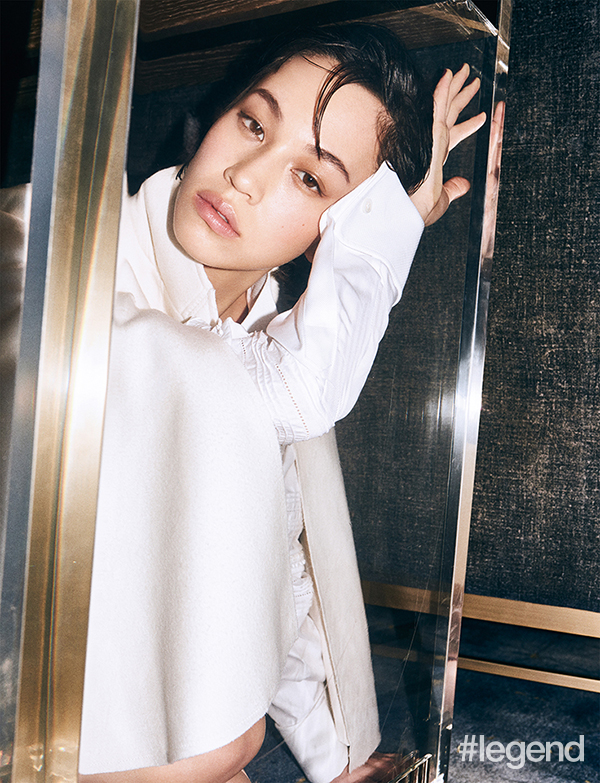 How would you compare your styles?
She has the pink hair. She uses a lot of colour which I find interesting. I'm inspired by that. I used to wear lots of black, I still do, but I think colour really shows your feelings inside. She's a super-happy girl and she's really sweet. She's like a natural fairy. She looks like she just came out from a cartoon. She uses glitter, colours. She wears a lot of menswear. It's really interesting watching her changing her style and her inspirations.
You wear menswear well. Do you feel different wearing it?
Yes and no. I don't really feel different because these days, if you see, he [the photographer] is wearing a Chanel jacket that is meant to be for a woman. It doesn't really matter anymore. Girls wear boy's stuff, guys wear girl's stuff. I think men should wear more skirts. If they like it, they should wear it. There's this brand called Palomo Spain. It looks like it's womenswear but it's for guys. I really like that idea. I've seen the clothes. They are big. Girls can wear them. I think he's going to start doing couture which is going to be expensive. It's going to be hard work to buy.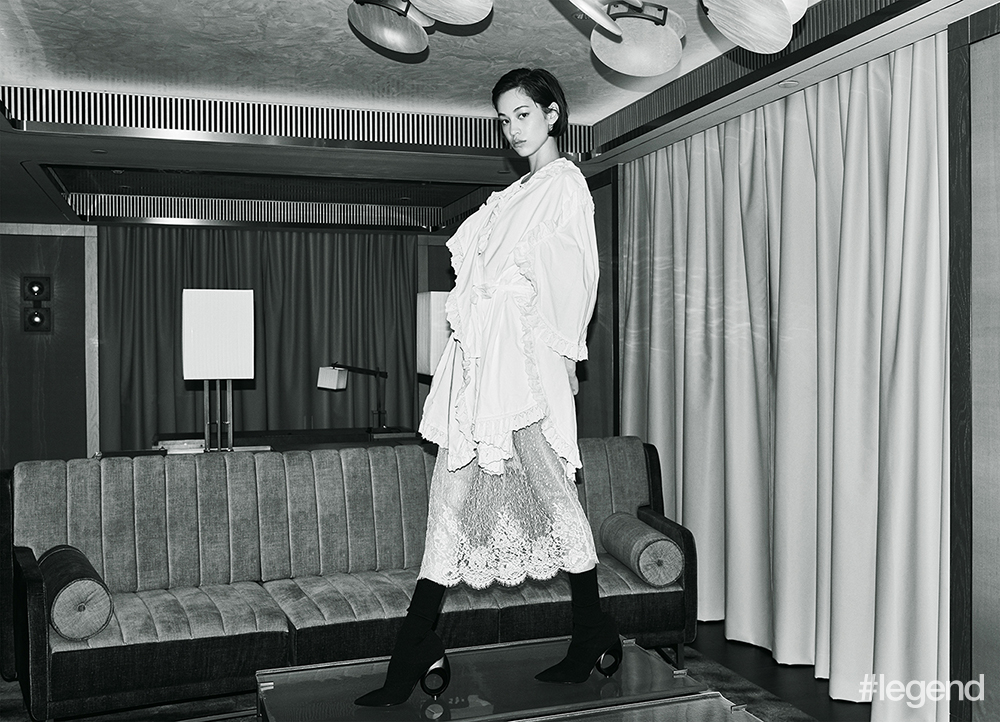 Do you think it's tough for Japanese designers to transcend the influence of Yohji Yamamoto, Issey Miyake and Rei Kawakubo?
They are the legends. We are full of respect for Rei Kawakubo. She changed fashion history. She's iconic. I have some vintage Comme des Garçons. While I have full respect, I think you can't wear her things casually and easily. That's why I want to make easier clothes. It's too hard for normal people to wear. My fanbase is all young kids and they can't afford it, either.
When you look back at Norwegian Wood, how do you feel?
I'm kind of traumatised because the director was hard on me. Ultimately, he was doing it all for me but I feel I'm still in that traumatised state. He would scold me every day, saying mean things. He did it on purpose because my character was the only brightness. My personality wasn't dark enough. When he was shooting that movie, he would say, "You're so bad". It affects me now. It's annoying, to be honest. When I meet people, they tell me they think Norwegian Wood was beautiful. I appreciate it and because of that movie I'm here. When I think about what it was like, shooting the movie, I wasn't in the best condition. I was crying and depressed every day. That was also my character, going through tough times, bad vibes, taking care of everything by herself. Sometimes I feel like I'm still in that trauma.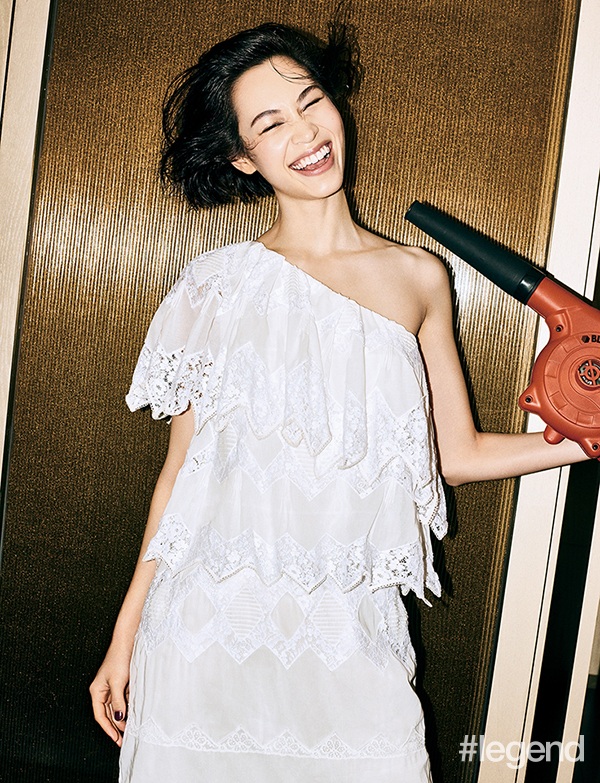 Zhang Ziyi said the same thing about Crouching Tiger, Hidden Dragon. She talks about being traumatised by Ang Lee.
Really? In Japan there are lots of young actresses who are treated like superstars from the beginning. They, kind of, misunderstand and they think that they're super-talented and good actresses, which is not always the case. From that experience, I always question myself on the set or when I'm acting. In Japan, people are so overly kind – exaggeratedly kind – and sometimes they think giving a judgment is impolite and say something nice instead. I question, question, question myself, always.
Any upcoming film projects?
I shot a Japanese movie last year. It comes out in August. It's a comedy. It's horrible, I mean my character is horrible. The film is funny, super- Japanese style, about this girl who everybody falls in love with. Secretly I'm dating every guy around this boy, the main character, and I become his girlfriend. But I also date his boss, his best friend. I was playing a bitch.
Does comedy come naturally?
I like watching comedy. I like laughing, I like having fun. I like comedy but it's not easy to act. You have to talk fast, have the tempo. Timing is really important. You also have to be funny, and making people laugh is not easy. You have to really calculate every single act and effect. It's not easy.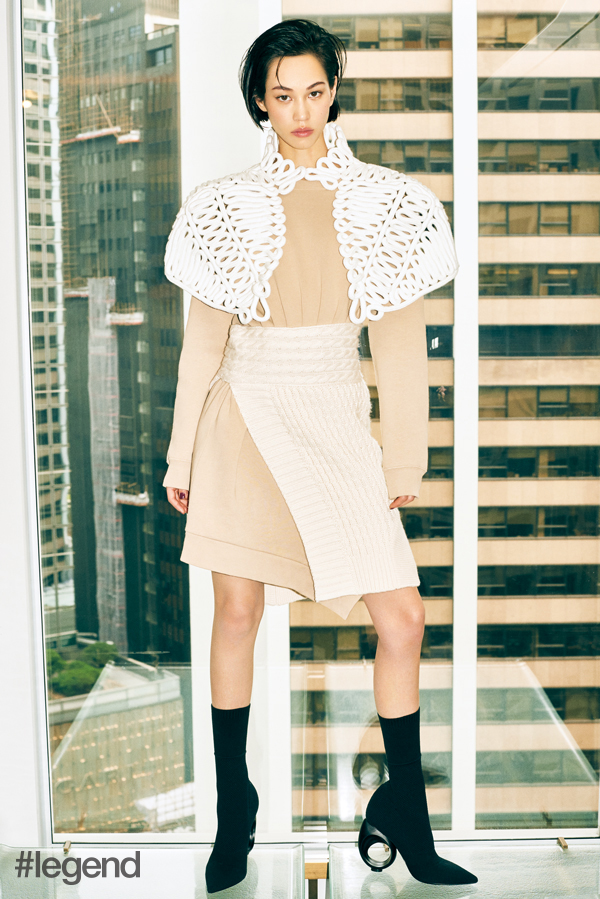 How do you compare working with Tran Anh Hung and Araki?
It's different. Araki is so different to any other photographer I have ever worked with. He has his world, really sexual, and he will let me be his girlfriend at that moment. One time, I got really nervous, and, kind of like, high. It's a complicated emotion. How to describe it, the feeling? It's just really nervous and high, and when I finish, it feels like an orgasm. I actually cried when it was finished. I felt very, very happy, and a kind of full love. This is so rare. You never have this kind of experience. It's like I'm living in the moment but in another world, like I live on another planet with him and I'm his girlfriend, but only in that moment. He's not really doing anything but he just manages to give me this orgasm. When I finish shooting with him, I think about it for four, five hours after. I was in a fake orgasm for four hours. He's really unwell and therefore, every time I shoot with him, I appreciate how lucky I am and I want to do my best for him.
You strike me as being as much an artist as a model or singer or actress. Are you artistic?
I love art but I don't really know any artists. I'm bad at memorising their names. I know Damien Hirst. I have lots of art at home. I have two photos of Larry Clark's film Kids, one of Chloë Sevigny kissing this girl and they're having, like, a threesome, and one girl is skateboarding naked. I'm not really a super-art-person. I do search for art. I do collect. I have lots of artistic friends. Monika, used to shoot American Apparel campaigns. She's super- young and talented. We hang out and make art and shoot stuff.
Since your Instagram is so artistic, can you do a photography exhibition?
I adore my sister, she's my angel, and I've been thinking of doing an exhibition with her or of her. In Japanese, for girls we say -chan and for guys we say -kun. I'd like an exhibition called Yuka-chan. When I talked to her about it, she instantly said, "OK, in that case I will do Kiko-chan." We'll do Kiko-chan and Yuka-chan and do it this year. Anyone can be an artist. People have their own tastes. I have my own taste and my art is taking pictures of my sister. That's my art.
Photography / Yu Cong
Styling / Kieran Ho
Editorial assistant / Philson Choi
Producer / Gordon Lam
All Outfits / Burberry February 2017 collection
Make-up and hair / Yusuke Saeki
Location / The Landmark Mandarin Oriental, Hong Kong