Common thread: 10 Asian Designers to Watch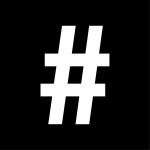 By: Gillian Chu
December 3, 2021
On masculinity meets femininity, minimalist meets experimental and more, #legend speaks to Hong Kong influencers about what Asia's thriving fashion scene means to them
Whether it's the style-savvy big spenders at the forefront of the latest fashion trends or the innovative creatives who are fearless in their experimenting with new ideas, fashion in Asia has seen an incredible transformation and exponential growth in the past decade. So too has Fashion Asia Hong Kong, which launched in 2016 to unite stakeholders in the fashion industry through a series of programmes. Its "Fashion Challenges Forum", for one, creates space for designers, entrepreneurs, academics and leaders to delve into current affairs in the world of fashion and share unorthodox ideas and actionable strategies for fashion businesses to better adapt to an ever-changing landscape. Another noteworthy programme is "10 Asian Designers to Watch", which celebrates the creativity, innovation and craft of emerging talents in Asia and their pioneering capsule collections.
As part of the latter initiative, Fashion Asia spotlighted Asian designers including Gia Studios, Goomheo and Karmuel Young to name a few, earlier this year. While the rising stars' breakthroughs and the emergence of incubation programmes have paved the way for designers of this and generations to come, the rising pioneers mentioned stereotypes that needed rectifying, such as the commercialised appeal of Asian heritage.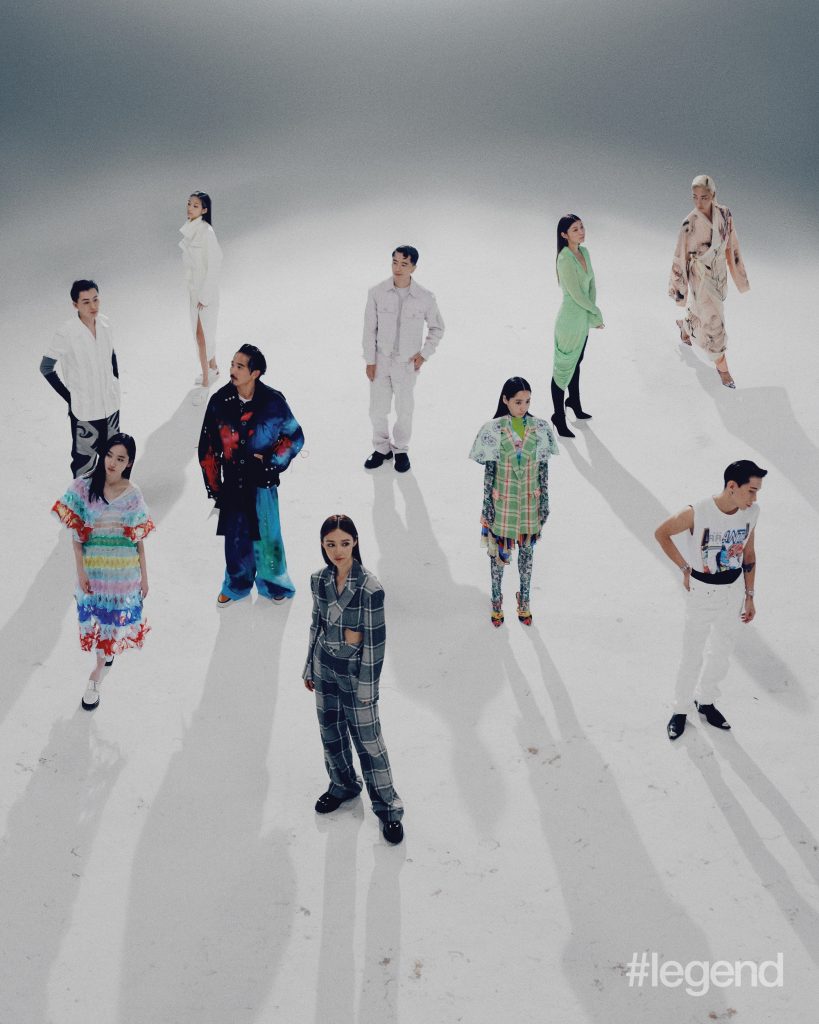 In the latest series of "10 Asian Designers to Watch 2021", local talents at the forefront of style and trends wear the 10 cutting-edge collections as they talk about what Hong Kong fashion design means to them, from appreciation for genderless clothing to anticipation for local designers' futures and more.
Keh Forme x Elva Ni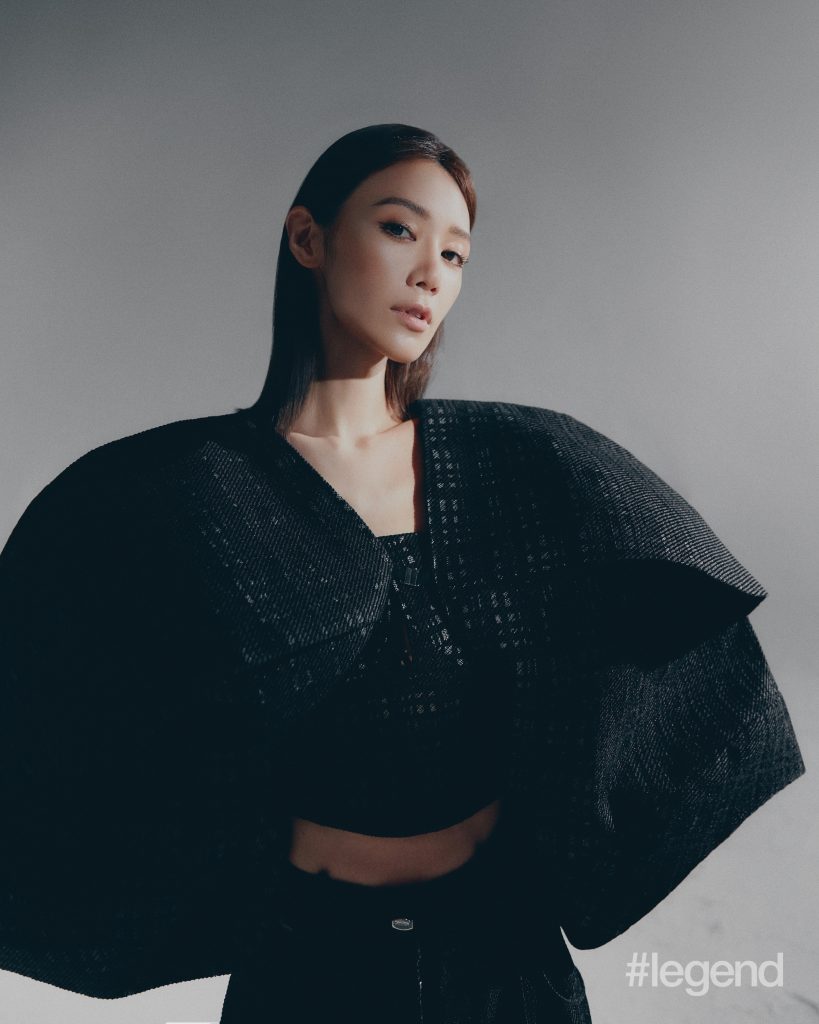 Despite having an effortless everyday style, Elva Ni isn't opposed to the layered structured designs of Keh Forme, which are made all the better for their comfort. "It's very chic," the actress and yoga instructor says. "I find it the perfect balance between femininity and masculinity." Such is the objective of Wei Ge and Aoyu Zhang, the masterminds behind the deconstructivist style that plays around with masculine and feminine elements within menswear and womenswear. "I hope to see more Hong Kong designers on stage, and hopefully one day, I can see them at Fashion Week."
Wilsonkaki x Alex Lam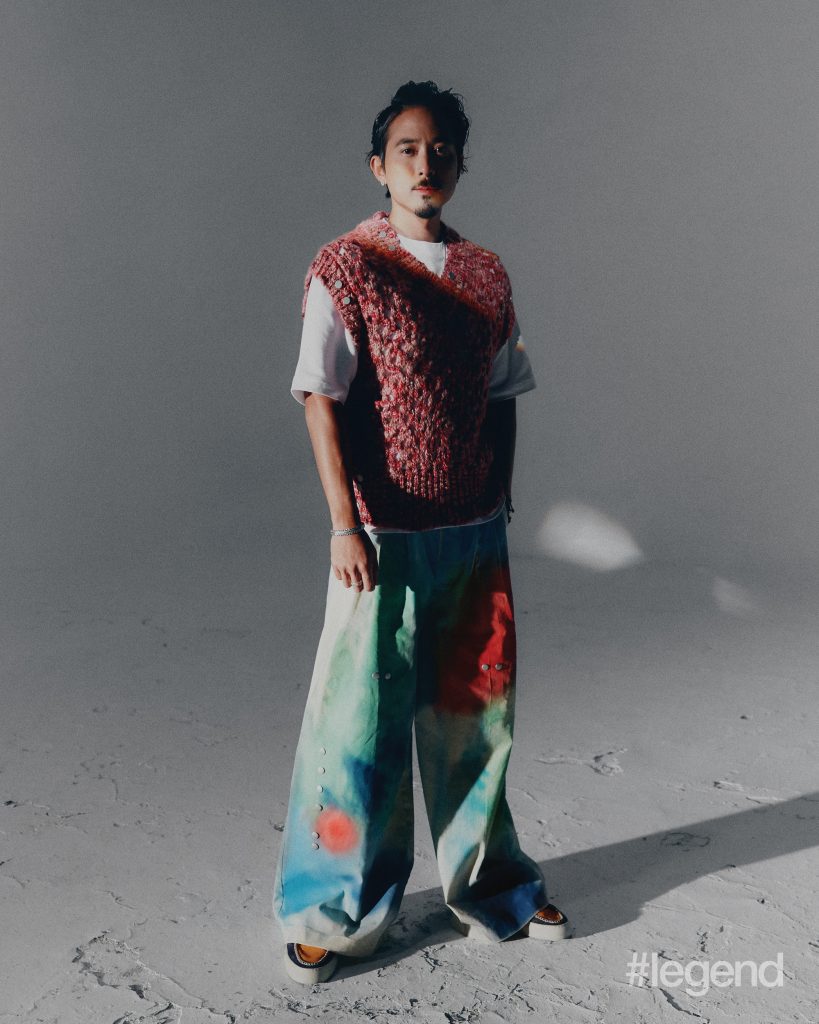 Having grown up listening to the Rolling Stones and The Beatles, the "original rebels in the '60s", Alex Lam
is inspired by the originality of cutting-edge artists not just in music but also in his sense of fashion. "I think Wilsonkaki is good for work occasions when you have to dress a little fancier…maybe fancy clothes can be comfortable, and I think that's cool," Lam says of Wilson Yip's thoughtful designs that reinvent everyday closet staples. In partnership with Fashion Asia, the singer did a digital series where he met industry professionals and learned their personal stories, which ironically was an opportunity that the pandemic enabled. "I realised they're in the same boat as I am and doing something they like," he says. This close interaction also made him realise the need to create a positive culture to support local designers.
Susan Fang x Ashley Lin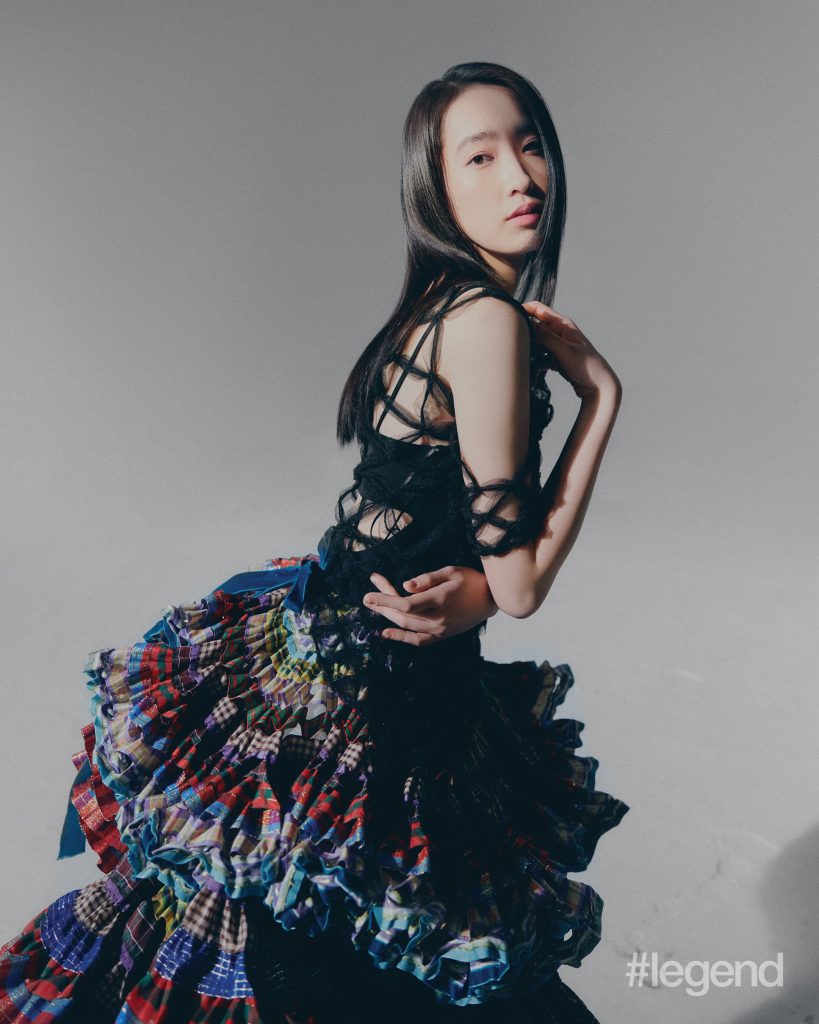 To Ashley Lin's delight, Susan Fang dresses fulfil her desire for comfort: "Their dresses are light, ethereal and flowy…I think that sort of freedom in my everyday style translates to what I'm wearing today, even though it's more explosive." Speaking of the otherworldly designs, Lin says, "I think wearing clothes that draw attention to me as a person brings this excitement because on one hand I'm struggling with being seen, but on the other hand as someone who designs and creates things, I do want to be seen." With unique attention to detail that owes partly to her studies in architecture, Lin says, "I think Susan Fang's clothes are really emotional, so when you look at her designs, you immediately feel something."
Shuting Qui x Sabrina Cheung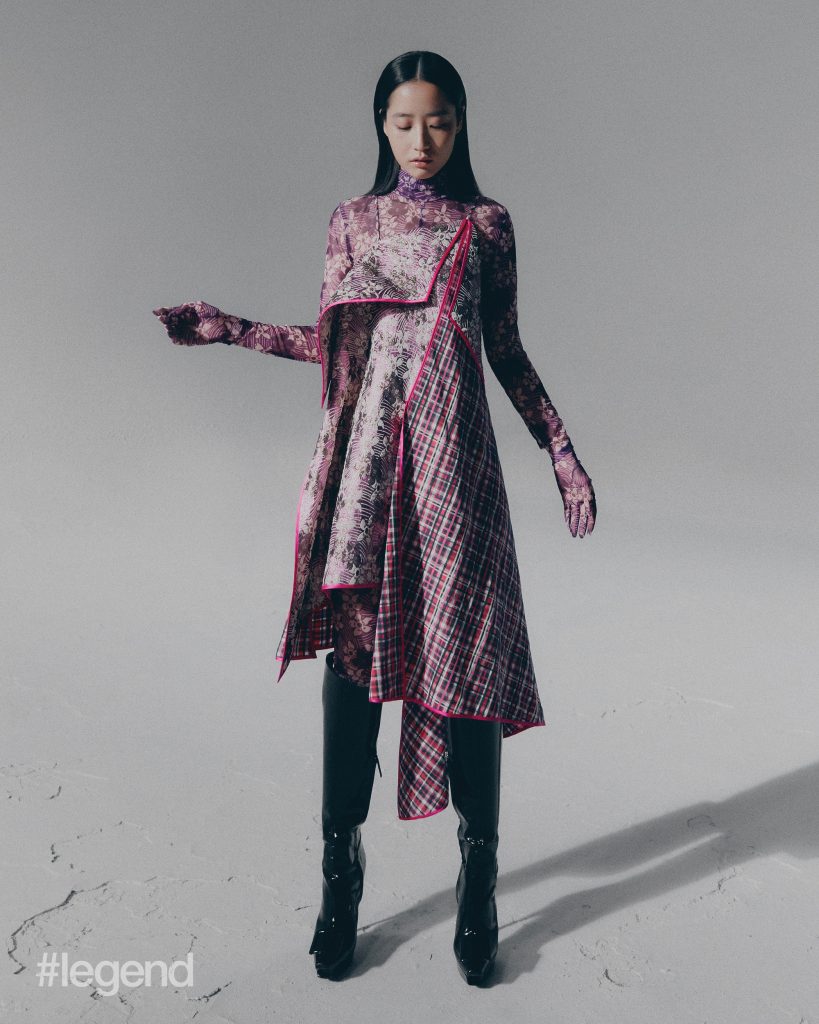 While Sabrina Cheung can undoubtedly pull off the girl-next-door look, she embraces a simple yet chic style with boyish touches. "The pieces remind me of fairies that would appear in the deserts or jungles but in cool style, not just girly fairies," she says fondly of the modern yet romantic Shuting Qiu designs. Other than appreciating Shuting Qiu's innovative silhouettes and intricate embroideries, Cheung admires the addition of themes such as music or sustainability across other brands. "I think there could be clothing that stimulates your sight and those that are meaningful," she explains.
Speaking of what she hopes to see more of, the model- actress recalls Undercover's 2004 show which featured the coordination of an everyday piece and a distorted piece, something she and her sister could have a play around with.
Karmuel Young x Mayao Ma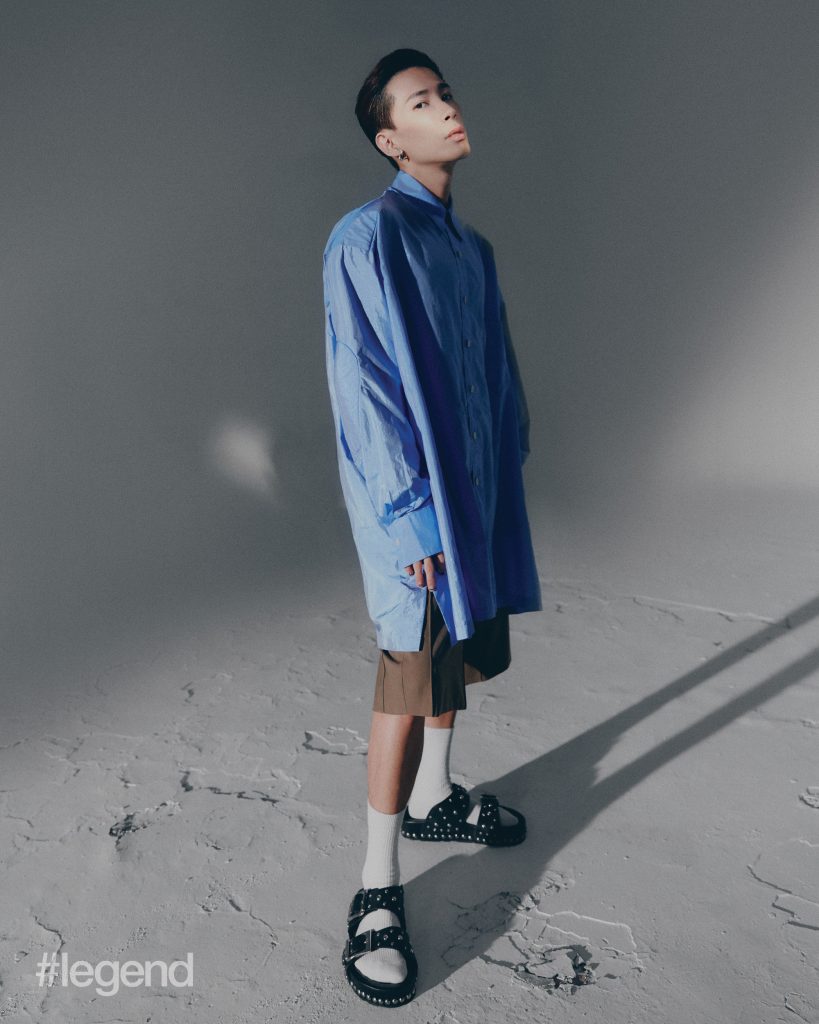 The epitome of duality, Mayao Ma describes himself as a chameleon with an ever-changing style. "I can be really genderless. I can be really masculine, I can be really feminine," he says. Speaking of his Karmuel Young looks, Ma reveals he's known the finalist of Lane Crawford's 2019 Creative Call Out for over 10 years and has always loved his designs, so much so that he purchased the ready-to-wear pieces. Ma also reveals ongoing initiatives to expose Hong Kong designers to Paris and Shanghai Fashion Week. "I think Hong Kong designers need more exposure to a bigger audience so that more people can know about their collections, and I think we're on the right track."
Supriya Lele x Kayla Wong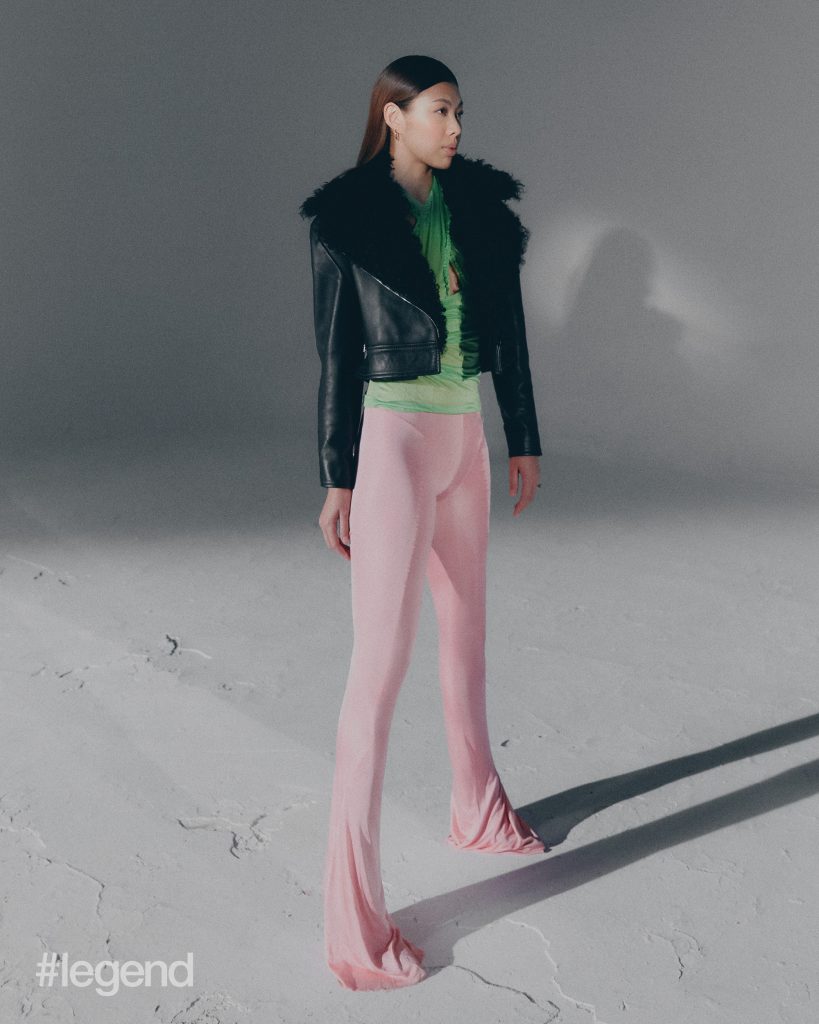 Kayla Wong and Supriya Lele may not be acquainted in person, but the two connect in staying true to their identities and unwavering in the face of external expectations. Wong's first impressions of Lele's designs are that "they look very fresh, very '90s-inspired". The founder of fashion brand Basics for Basics says, "I think they're very easy to mix and match with different things in my own wardrobe. They're pieces that go from day to night, which is very versatile in my opinion." An LGBTQ activist and advocate for female empowerment, Wong also credits the inclusivity that is evident within the casting of models in unisex styles and hopes to see more of the same in Hong Kong.
Goomheo x Charles Lam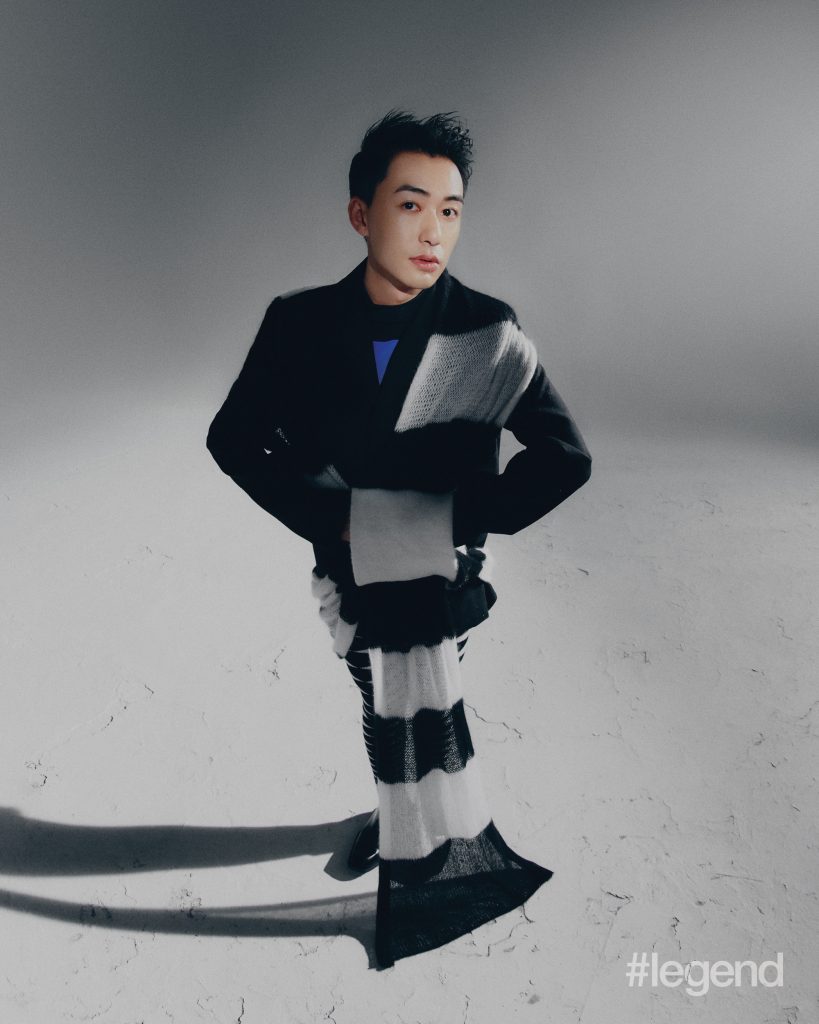 Citing Sex and the City as his all-time inspiration, Charles Lam shares how he explores avant-garde
outfits that are "not very everyday wear but an inspiration for people to express themselves." Such advocacy for self-expression is echoed in Goom Heo's individualistic designs, of which the style blogger says, "I love the structure, the layering…I love the contrast and experimentalness of it." Heo's designs, which unapologetically challenge gender norms, reflect a movement that Lam hopes to see more of. "The outfit I'm wearing today is very manly but a new interpretation of masculinity. I think it's the twist I'm looking for that makes men's style more special and not so ordinary."
Samuel Guì Yang x Utah Lee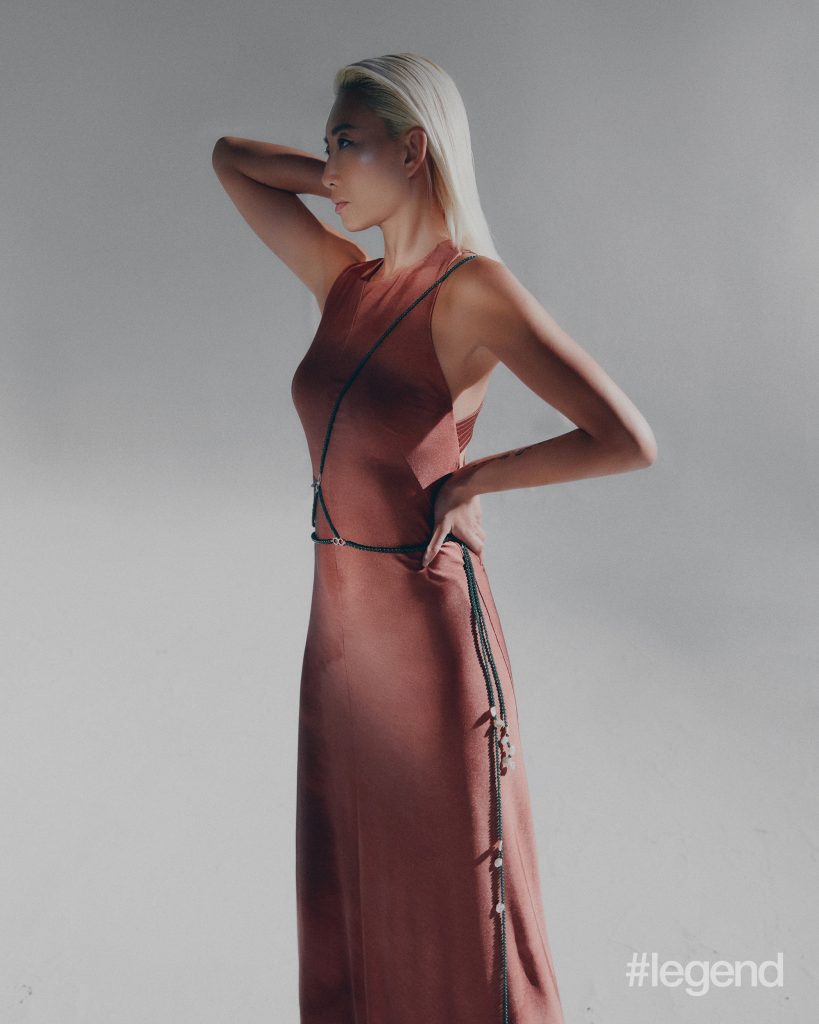 Fitness trainer Utah Lee points to Hong Kong's characteristic grit and grind as the driving force behind the city's growing fashion scene over the years. "Our determination is so strong that you can see that in the design of the clothing we're all wearing today – we're always trying and trying to do the best we can," she says. Wearing Samuel Guì Yang's collection, Lee's enigmatic aura parallels the strong character and sense of mystery in Samuel Yang and Erik Litzén's hybrid designs. "I really like the solid colours, just nice and clean, thin cuts, loose fit," she says. "They're classy pieces, which I like as well. Timeless – because I can wear them all the time for many years."
Private Policy x Terrence Ma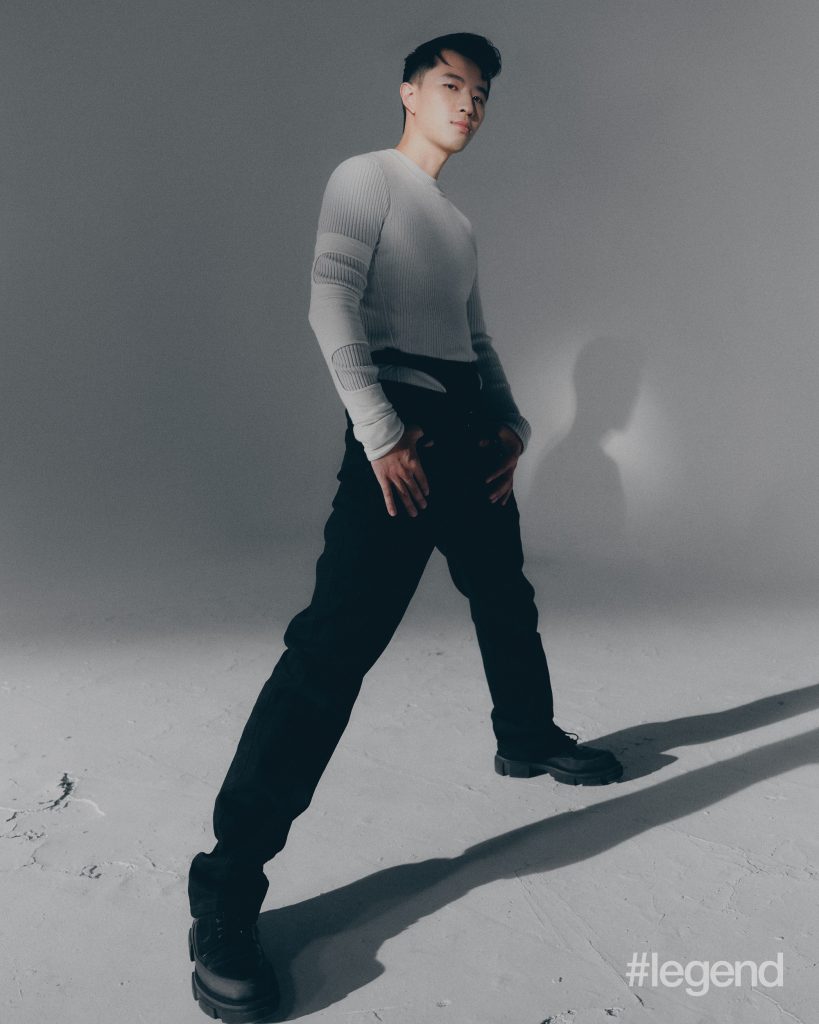 Music producer and songwriter Terrence Ma partly owes his sense of style to the music industry. "Artists are very well put together, and that makes me want to explore fashion a bit more and try to show my character through what I wear," he says. Despite being new to fashion design, Ma makes it a point to support local brands when he shops. When discussing Private Policy's unconventional genderless pieces he has on, Ma acknowledges the feminine elements to Haoran Li and Siying Qu's designs and says, "They are very chic, very modern… I find the material pretty unique; it has a distinct character to it."
Gia Studios x Carmina Lo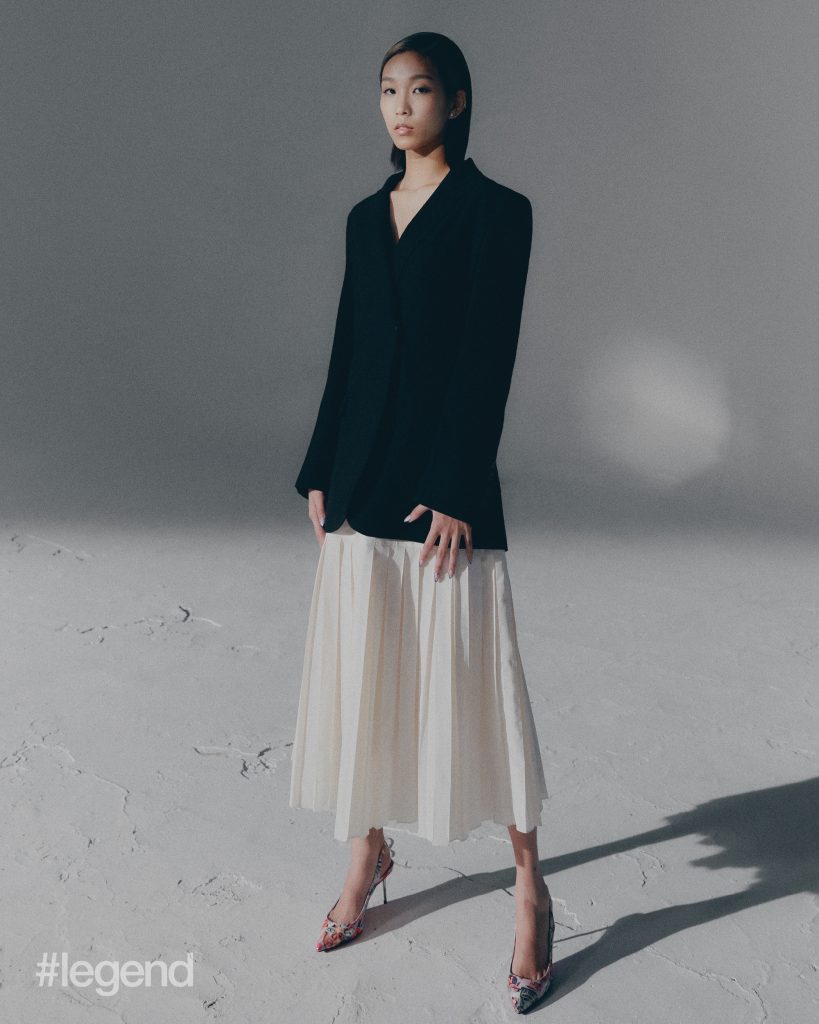 With an effortless athleisure style and a signature carefree bob, Carmina Lo embodies the definition
of contemporary women, which just so happens to be the clientele that Vietnamese designer Lâm Gia Khang wants to address. "My personal style, I would say, is quite a monotone kind of colour scheme. It's pretty simple and it has a baggier fit too," Lo says, while dressed from head to toe in Gia Studio's FW21 collection. "What I'm wearing today fits my colour scheme and it's something I would wear if I want to look a bit more formal. It's a very clean look, nothing too crazy." This simplicity is in harmony with the ready-to-wear line's minimalist yet elegant designs, exemplifying the brand's timeless look.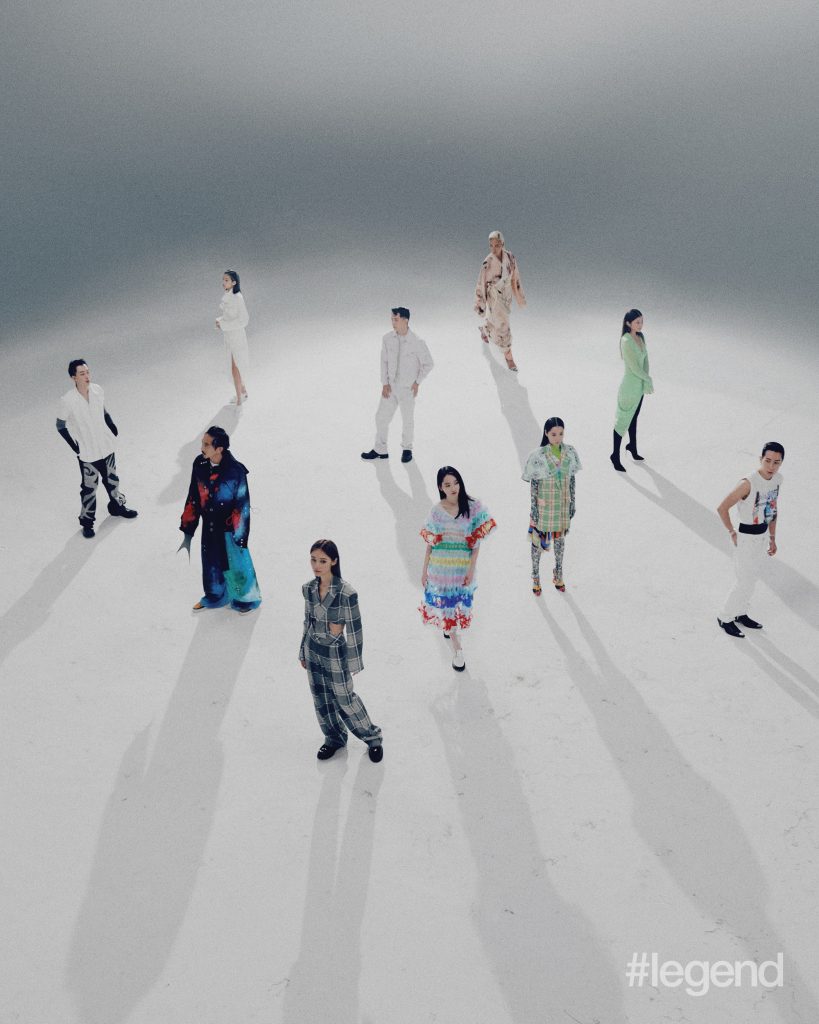 CREDITS
Photography / The Buffacow
Videography / Louis
Styling / Daniel Cheung
Photography Assistants / Sing, Mike, Siu and Fei Lung
Gaffer / Hsiao
Hair / Kolen But and Nick
Make Up / Ricky Lau
Also see: Digital cover: Grace Chan x Kenzo