Where to go for the best chocolate cakes in Hong Kong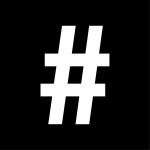 By: Ilana Jacobs
July 7, 2021
There is no such thing as too much chocolate – at least, that's what we've heard, though it has yet to actually be proven true. In honour of World Chocolate Day (7 July), we've compiled the ultimate list of chocolate cakes to try in Hong Kong.
So, why not fill your plate with as much creamy, melt-in-your-mouth chocolatey goodness as you can get your hands on and start the experiment. Try out one slice from each of these shops in the sweetest pub-crawl possible or hunker down with a full cake to bring back home all for yourself. Whatever you choose, just remember to bring milk, because it's about to get real rich in here.
Chocolate Crunch Passion Fruit Noir at The Mira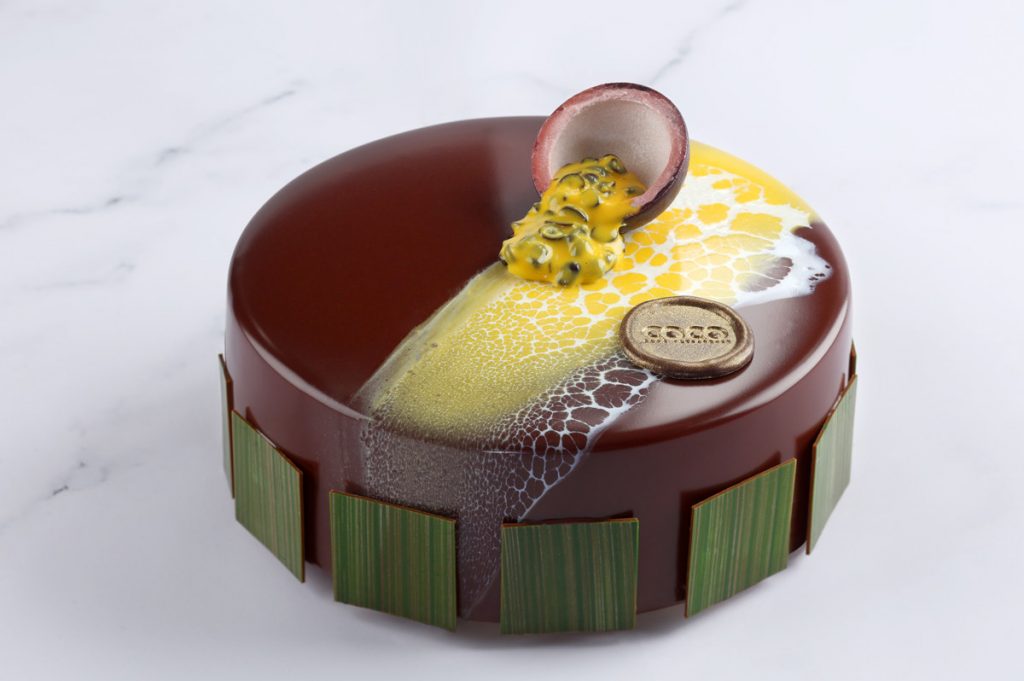 Starting us off strong is the Chocolate Crunch Passionfruit Noir from Coco. We expect nothing less than chocolate perfection from The Mira's resident restaurant and patisserie. Looking more like a jewelry store than a cake shop, Coco's display cases are filled with intricately designed couture cupcakes and artisanal chocolates that even outshine diamonds.
And the Chocolate Crunch cake is the crowning jewel of their collection, shining with a delicately poured chocolate mirror glaze framed by shards of green-stroked chocolate and topped off a chocolate fruit shell overflowing with vibrant yellow passion fruit cream. The inside hides thick Valrhona Manjari 64% dark chocolate mousse layered between smooth ganache and passion fruit cream. The complex flavours of the tart fruit and the dark chocolate intermingle to create a dynamic story dancing across your tastebuds.
Pick up a slice for HK$58 or a full cake for HK$380
Coco at The Mira, G/F, The Mira Hong Kong, Mira Place, 118-130 Nathan Road, Tsim Sha Tsui, HK, +852 2315 5566
Okinawa Sea Salt Caramel Chocolate and Hazelnut Cake at Four Seasons Cake Shop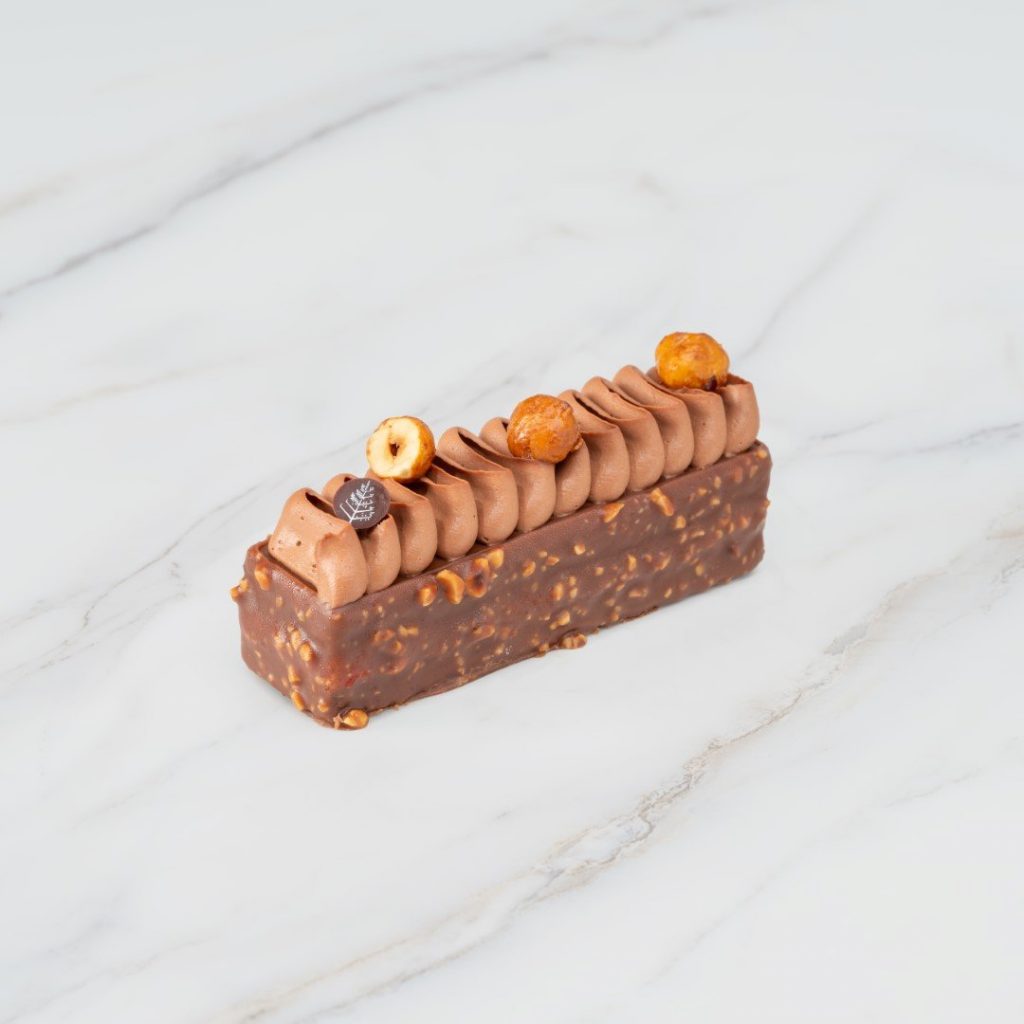 Once you've woken up with the mix of bitter and tart, head over to the Four Seasons Hotel for a delicious combination of sweet and salty from their online cake shop. Order a few days in advance and pick up your dessert or get it delivered if you would rather let the food come to you. Though, don't lose sight of the chocolate goal while you scroll through their menu. Led by illustrious executive pastry chef Ringo Chan, the cake shop offers a veritable cornucopia of stunning cakes and confections.
But you can get those other offerings on another day. We are celebrating World Chocolate Day with the Okinawa Sea Salt Caramel Chocolate and Hazelnut Cake. The name alone induces a chocolate-loving haze. Luckily, the chocolate sponge cake stacked between layers of chocolate ganache and pure hazelnut paste lives up to its title. Add to that a crunchy hazelnut dulcey chocolate ganache coating with real hazelnuts carefully placed on top and a small chocolate coin emblazoned with the Four Seasons' logo for decoration. Not that you'll need a reminder of where it came from when you start ordering it every day.
A petite cake is offered for HK$58 and whole cakes cost HK$420
Four Seasons Hotel, 8 Finance Street, Central, Hong Kong, +852 3196 8888
Triple Chocolate Cake at Butter Cake Shop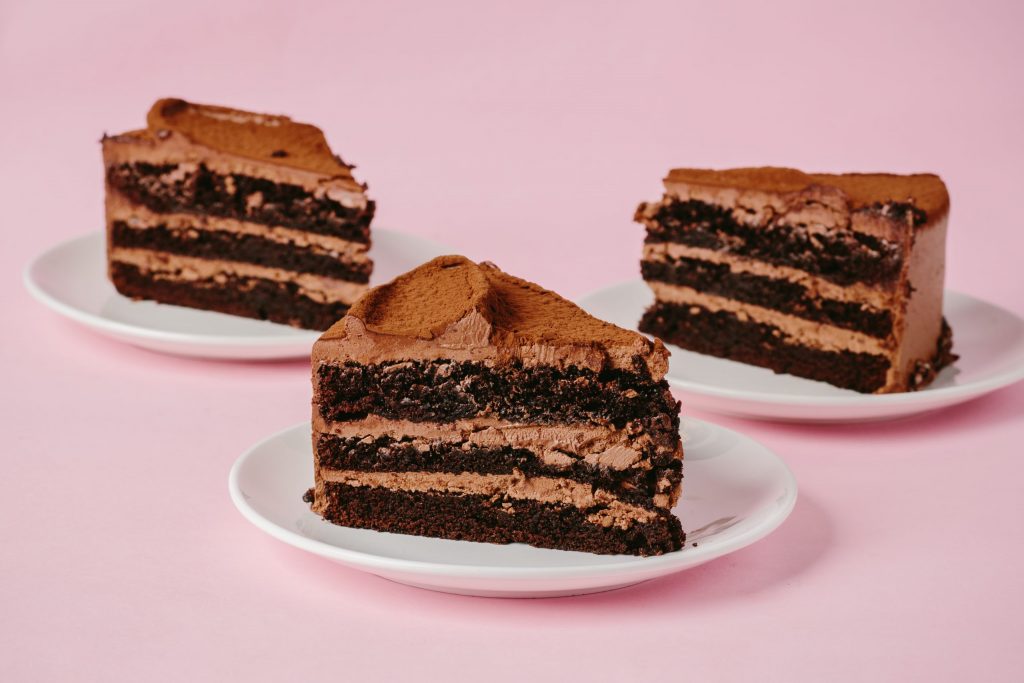 Butter lives by a pretty basic rule: "a party without cake is just a meeting". Inspired by Julia Child's quote and her favourite ingredient, Butter makes every gathering a celebration with their mouth-watering cakes. Now, with a pop-up shop at Landmark offering all of their most popular desserts, your trip for chocolate treats will have to take you into Central.
Their signature Triple Chocolate Cake serves up a triple-threat of devil's food cake, dark chocolate buttercream, and cocoa nibs. The classic cake will send you back to every birthday party, graduation, or other celebration where you managed to find that one perfect bite. Butter's Triple Chocolate nostalgia ensures that World Chocolate Day isn't just another day, it's a party.
Buy a slice for HK$80, and add a scoop of vanilla ice cream on top for HK$20
Butter, Shop 239, 2/F, LANDMARK ATRIUM, 15 Queen's Road, Central, Hong Kong, +852 2670 2670
See also: Black Sheep's Butter cakes are coming to Landmark
Holger Deh Or Noir 71.5% Tartelette at Butterfly Patisserie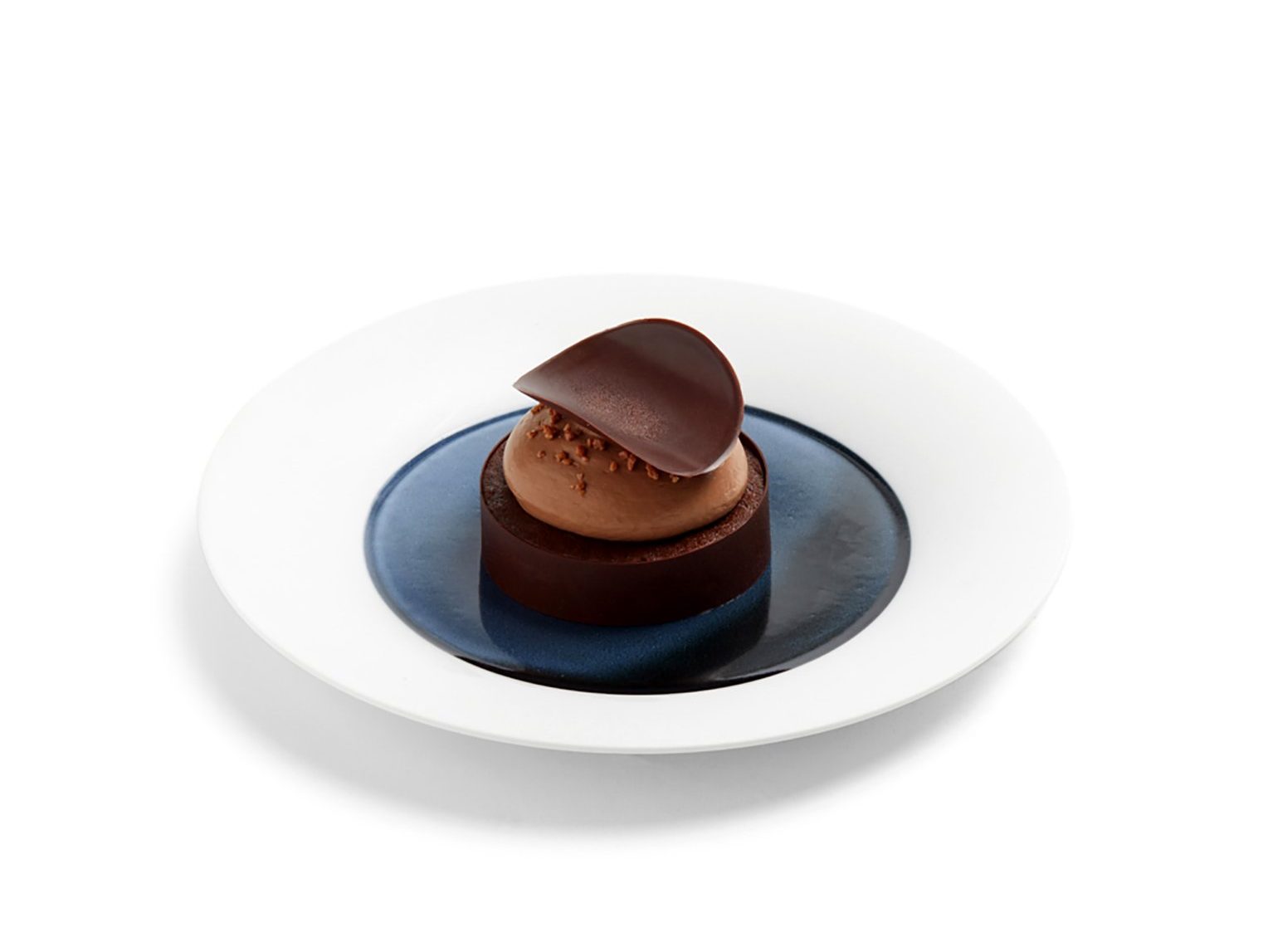 While not technically a cake, we couldn't resist including this love-letter to chocolate fanatics. Named after area executive pastry chef, Holger Deh, the Tartelette is a one-of-a-kind creation that will satisfy any chocolate-lover's latest craving. Crafted using the Butterfly Patisserie's signature customized Or Noir 71.5% chocolate, the tart consists of four different chocolate consistencies, starting at the base with an Or Noir chocolate brownie, then adding on Or Noir chocolate cream sprinkled with praline crunch, and finally atop it all, balances a curved dark chocolate disk.
Serving up premium desserts, the Rosewood Hong Kong's Butterfly Patisserie also offers other cakes, confections, and artisanal gelatos designed to make you question if you have ever had a good dessert before theirs. Hidden among the boutique's other offerings is the Black Forest Cake, made with chocolate sponge, cherry compote, cherry liqueur cream, and covered with a velvety red mirror glaze. Whether you go for the tart or the full cake, you will definitely remember World Chocolate Day this year.
The tartelette is HK$78, while the Black Forest Cake costs HK$640
Butterfly Patisserie, Rosewood Hong Kong, Victoria Dockside, 18 Salisbury Rd, Tsim Sha Tsui, Hong Kong, +852 3891 8732
Linda's Fudge Cake at The Cheesecake Factory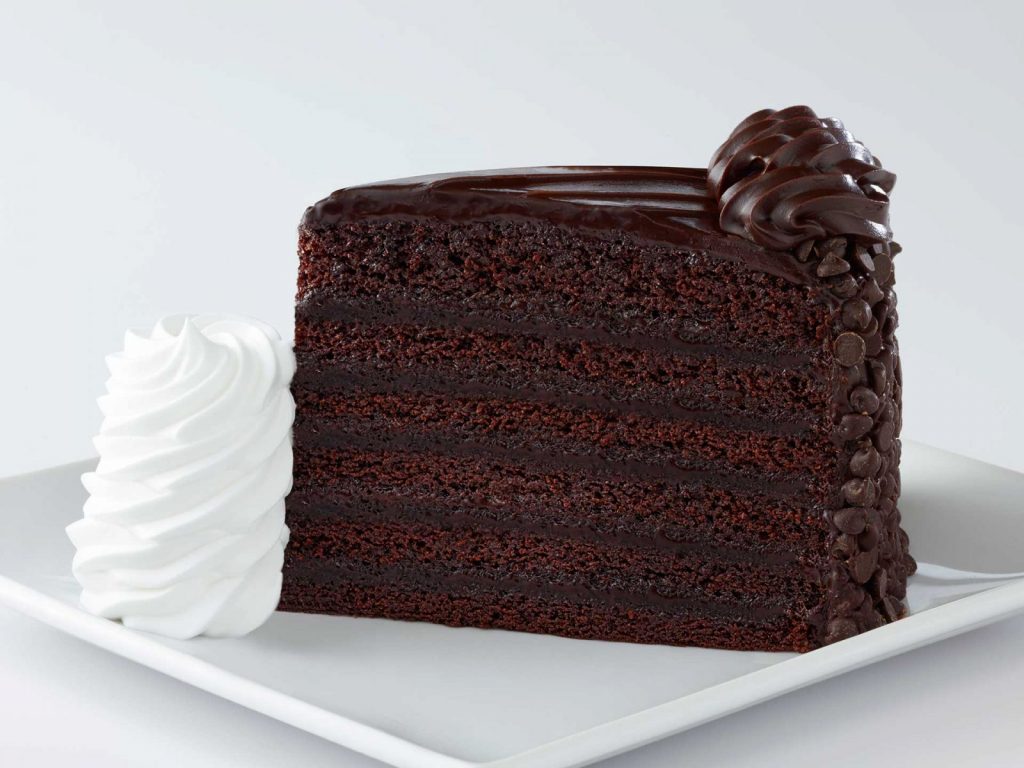 Going for a classic, the Cheesecake Factory isn't just just known for their incredible array of cheesy delights. Along with a menu covered with ricotta and cream cheese, the Cheesecake Factory also keeps up a line of other cake creations that are too popular to give up.
Linda's Fudge Cake stands out as the frontrunner of chocolate desserts giving the Factory's cheesecakes a run for their money. Packed with layers of 12 layers of rich chocolate cake and fudge frosting, you may need to set aside the whole night to finish this masterpiece. At least the dollop of whipped cream will give you a break before tackling this chocolate challenge. Or maybe the whole plate will be empty in a matter of minutes. Either way, you'll definitely be needing that milk.
Single slices are HK$57.95 or you can order a full cake ahead for HK$698
The Cheesecake Factory, Shop G102, G/F, Harbour City, Gateway Arcade, 25 Canton Rd, Tsim Sha Tsui, Hong Kong, +852 2791 6628
See also: 15 unique coffee shops in Hong Kong