David Ho tries out and rounds up some of the best places to eat with green options aplenty for vegetarians, but also enough to keep the carnivores happy. Read on for the recommendations
Nissa la Bella bistro and wine bar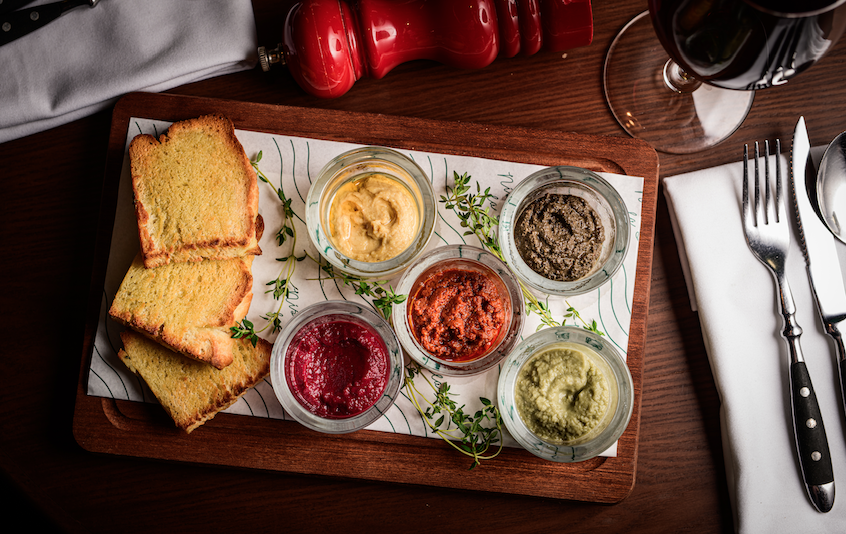 This charming and surprisingly spacious bistro in Sheung Wan has undergone a revamp, both in terms of its aesthetics and offerings. Our meal here started off with some warm bread, which is always a good sign. The planche mezze (HK$128) is a great one for sharing, with several dips options (beetroot, chickpeas, eggplant caviar, dried tomato caviar, and olive tapenade) to go with the fluffy focaccia. We also loved the foccacia-based pissaladière (HK$128) made with caramelized onions, olives, mixed herbs, though we opted to go without the usual anchovies it comes with.
We dig the Parisian homemade gnocchi in cream sauce, available through their set lunch menu (HK$208 for two courses). For the meat option, we went with the joue de boeuf confite au vin rouge (HK$258) dish of slow cooked beef cheek. It was lovely, coming with baby carrots and the fluffiest mashed potato we've had in awhile. Dessert classics like profiteroles (HK$118) and mousse au chocolat ($98) end the meal on a memorable note. Nissa la Bella is worth a visit day or night, and whether for a full meal or a drink from their extensive wine and spirits menu.
Where: 10-14 Upper Station Street, Sheung Wan
Melody – House of Food and Music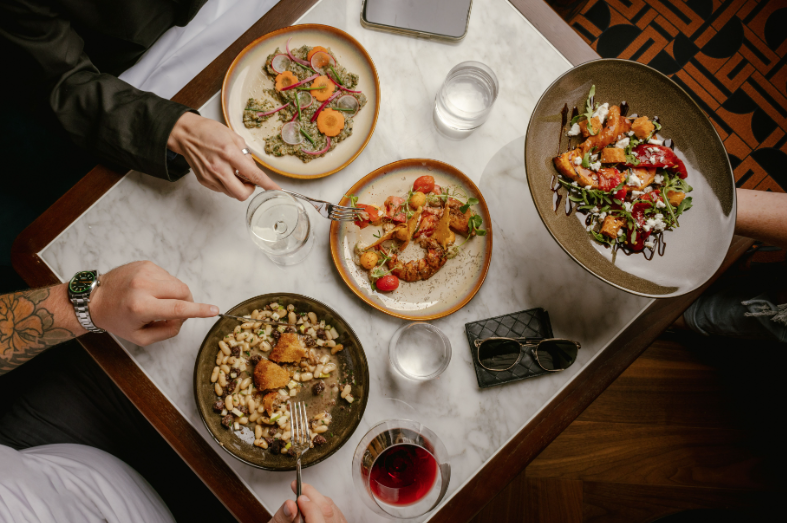 Taking over the space where Potato Head used to be, Melody is bound to be be the latest must-visit in Sai Ying Pun. It is divided into five rooms – a kitchen, dining room, music room, bar lounge and garden room. The venue had the vibes of a private club and promises guests a feast for the senses, be it via their culinary options, drinks, or music programme.
There are quite a few green options here that delight the table, such as: the honey roast pumpkin and rocket salad with charred peppers and goat's cheese (HK$148); the maple glazed butternut squash with macadamia nuts, chilli and crème fraiche (HK$128); and even simple dishes like the seriously buttery mash (HK$88) and Koffman fries (HK$88). The truffle mushroom lasagna with cauliflower cream (HK$168) was a big hit at our table in particular. Carnivores will be more than sated with Melody's prime cut selections, like the 2kg tomahawk steak (HK$1,308), that come with sauce choices like béarnaise, cafe de Paris, green peppercorn, and our personal favourite chimmichurri.
Where: 100 Third Street, Sai Ying Pun
Rustico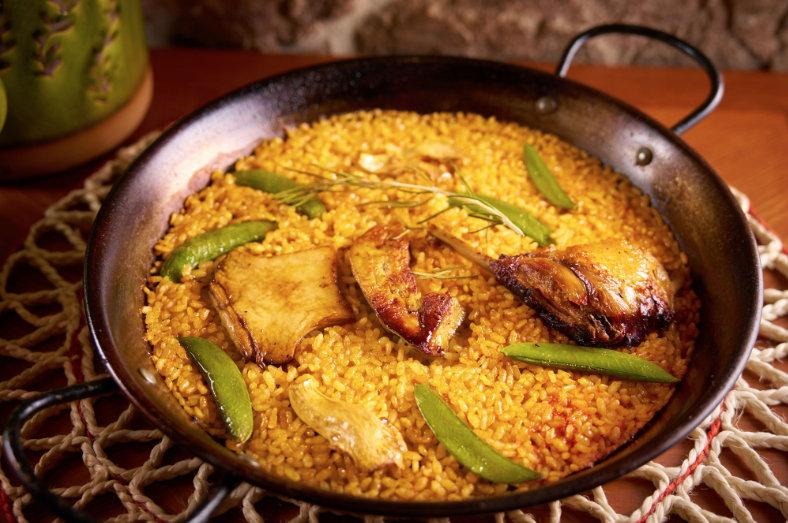 With Valencia native Javier Gomez Barajas as its new chef, this Spanish taverna in Lai Chi Kok is bound to impress with its Mediterranean offerings. We kicked things off with the deep fried Spanish Padron peppers (HK$85), which are pretty mild where peppers are concerned and its easy to see why they are a popular bar snack in Spain. The tortilla de patatas (HK$65), a traditional potato omelette with confit onion, goes particularly well with it. The pan con tomate (HK$58) is essentially a DIY bruschetta, and I followed in my Mediterranean dining companion's method of grating the garlic against the bread before topping it off with tomatoes for a simple but tasty appetiser.
For mains, Barajas' duckfoie gras, wild mushroom and chicken paella (HK$328) comes highly recommended. It uses the prized bomba rice from the Ebro delta in the northeast Spanish port of Tarragona that is best for absorbing rich flavours during cooking. A serving of paella at Rustico is more than enough for two so keep that in mind when ordering. Luckily, we were able to finish ours and still have just enough room for the churros (HK$75) with double layers of vanilla ice-cream and chocolate mousse.
Where: G01, D2 Place One, 9 Cheung Yee Street, Lai Chi Kok, Kowloon
Also see: Where to eat with a group with mixed dietary preferences
Zou Qing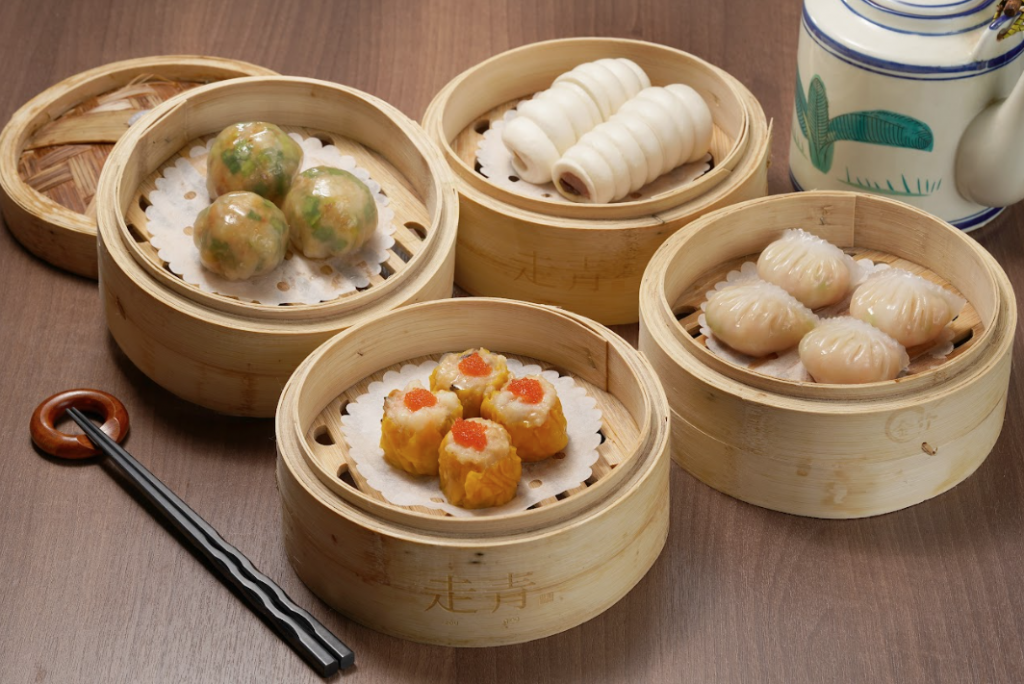 With a name that translates to "do away with the greens" in Cantonese, Zou Qing may not sound like the most vegetarian friendly place. But we are happy to report that this dim sum place in Taikoo does offer enough to keep the non-meat eaters happy. We devoured the black truffle & mushroom dumplings (HK$42), steamed rice roll with spring onions and dough fritters (HK$42), scallion and ginger mixed noodles ($68) and whole egg noodles in supreme broth (HK$38) with great gusto. For things packing a bit of meat, we were impressed with the shumai with crab roe (HK$55). Semi-hidden by an entrance to Kornhill Plaza, this dim sum spot is one to visit for a more zen dining experience.
Where: Shop G11, G/F, Kornhill Plaza, 1 Hongshan Road, Quarry Bay
Airside Café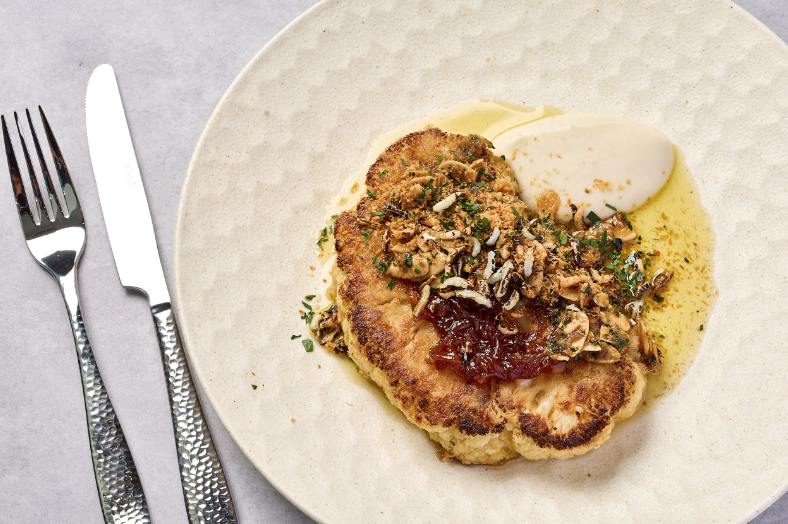 A visit to Airside, the newest mall in Hong Kong, wouldn't be complete without trying some of the dining options there. Taking up over 2,900 sq. ft on the Airside atrium, Airside Café was our pick. Its open kitchen serves as a culinary attraction within the mall, as one can see the kitchen staff hard at work. Standout vegetarian options here include the burrata (HK$178) served with a refreshing accompaniment of seasonal fruit, pickled beetroot and shiso; cauliflower 'steak' (HK$158), with coconut and cauliflower purée, onion jam and rice puffs; as well as the black garlic linguine (HK$168). Seafood options are plentiful here and the scallop crudo (HK$175) with horseradish, orange yuzu kosho and kombu oil makes for an eye catching and tasty choice.
With a patisserie attached, it's little wonder that Airside Café also does desserts well. Our pick is the citrus crème fraiche (HK$78), which turns the Chinese delicacy of chen pi (dried orange peel) into a sweet signature with its orange compote and chen pi topping.
Where: Shop 322-323, Airside, 2 Concorde Road, Kai Tak, Kowloon
Salisterra at The Upper House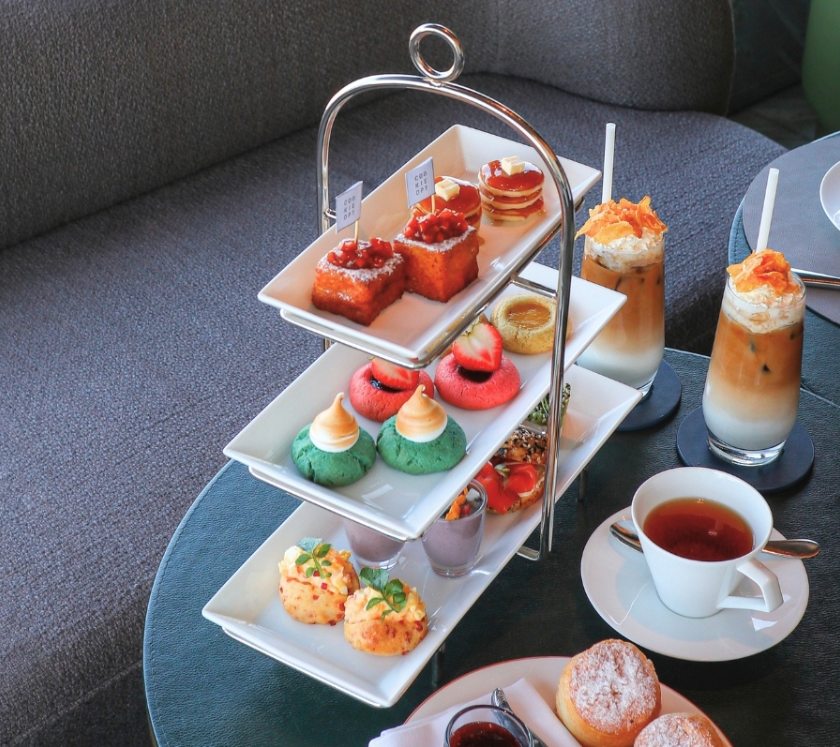 We've always been big fans of a good afternoon tea, and an even bigger fan when it's at The Upper House. This time, their pastry team have reunited with the Cookie Department for a new afternoon tea at Salisterra featuring Cookie Department's famous baked goods, alongside a deli-style pop-up. Inspired by classic breakfast favourites, the tea set puts a decadent, creative spin on best-loved pastries and savouries.
One can expect savoury bites such as chicken avocado toast, cream cheese and lox on everything bagel, as well as cheddar buttermilk biscuit & egg salad. It will be balanced out by sweet treats in the form of bite-sized Cookie Department favourites in minis, including the thumbprint cookie (a strawberry, lemon, and rosemary meringue), textured acai bowl, mini buttermilk pancakes, and salted caramel French toast. Salisterra's iconic fluffy scones are accompanied by Cookie Department's cereal milk iced latte.
Where: Level 49, The Upper House, Pacific Place, 88 Queensway, Admiralty
Also see: Accommodating dining hot spots