Have a vegetarian in your midst but want to chow down as a group with options for all? David Ho rounds up some of the best places to eat at that can accommodate everyone
Bengal Brothers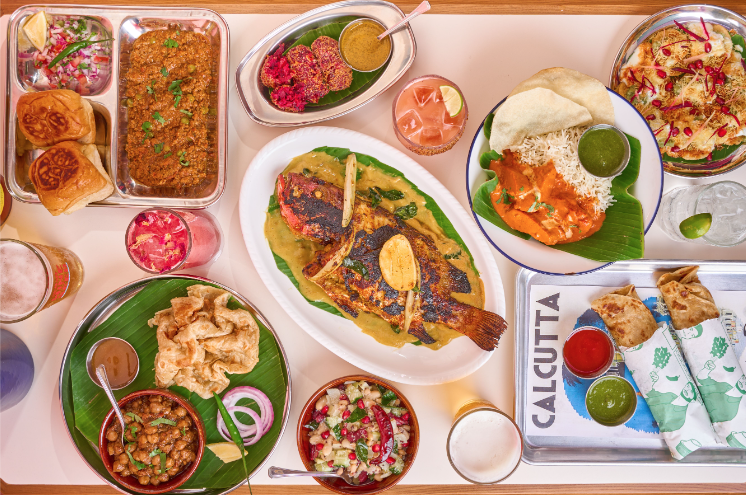 Bengal Brothers has reopened on Johnston Road in Wan Chai as a "boozy canteen". So obviously drink options are wonderful and aplenty, both alcoholic (like the Sugarcane Smash made with vodka or rum, sugarcane juice, lime, ginger beer and mint, or Pallonji's Fizz that consists of gin, raspberry-rose shrub, and soda found in the Irani cafes of Mumbai) and non-alcoholic (the milk tea here is seriously silky). Then there is the greatly expanded menu of delectable street food favourites like chaats, beer bites, small plates, curries, roasts and sweets, all made for sharing. You can also order their signature kati rolls, basically rolls with a variety of fillings wrapped in flaky paratha and drizzled with tangy chutney and house-made pickles. We recommend adding an egg for extra oomph. This is the perfect spot for an after-work drink and munch.
Where: 6 Johnston Road, Wan Chai
Penna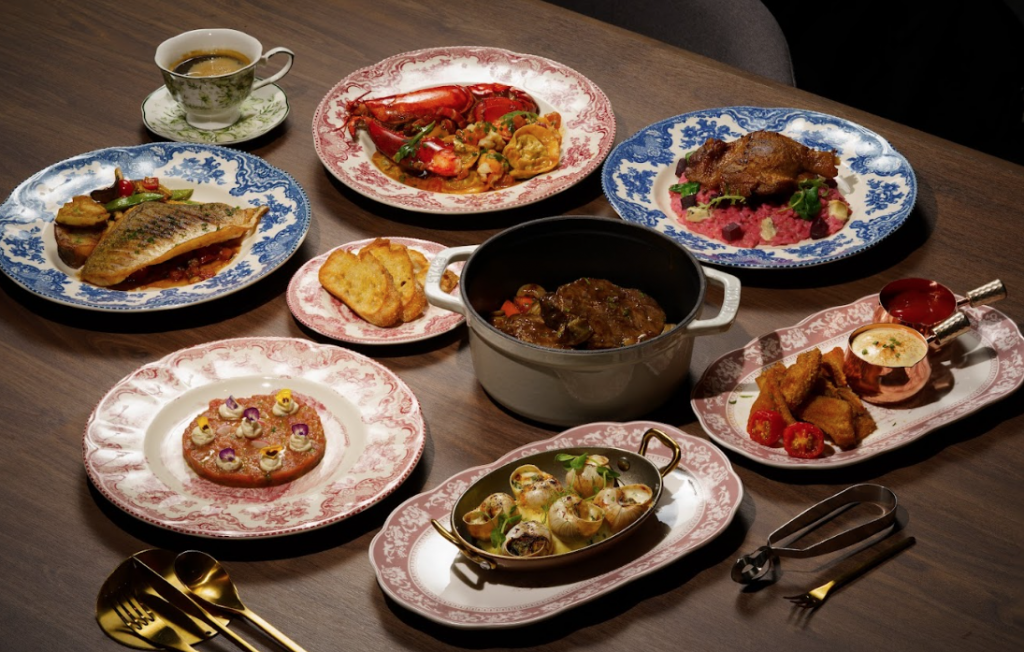 Tucked away in Taikoo, Penna is a great spot for an intimate dinner. This modern Italian restaurant is the latest addition to local celebrity chef Ken Lau's series of restaurants under the Lubud F&B Group. It's always a good sign when the meal starts with warm bread. The dishes here consist of traditional Italian dishes with a sprinkle of cross-cuisine flair in taste and execution. Simple starters like the burrata cheese and rocket salad and mushroom soup were a delight, while the mains like the confit duck leg risotto and vegetarian pasta also left quite an impression.
Where: Shop 314, 3/F, Cityplaza, 18 Taikoo Shing Road, Tai Koo
Alice Pizza
Alice Pizza is the new kid on the pizza block. Hailing from Rome, the Wan Chai store is its debut Asian branch. The pizza here is sliced to order and sold by weight, based on the Roman pizza 'by the cut' concept and a nod to the legacy of its street-food origins. A standard slice of freshly baked pizza will weigh from 100g-160g depending on the ingredients on top, with prices between the 24 daily choices ranging from HK$25 for 100g of Margherita to HK$45 for 100g of Parma. Beyond the classic flavours, some of the more unique offerings here are the potato chips pizza (potatoes, rosemary, extra virgin olive oil), the eggplant (eggplant, chili extra virgin olive oil), and the carbonara (egg, Italian pork cheek, pecorino cheese, black pepper). There is also a Nutella filled pizza for those with a sweet tooth. We also dig the long window frontage with tables here, which makes for great seating.
Where: G/F, 92 Queen's Road East, Wan Chai
Dan Ryan's Chicago Grill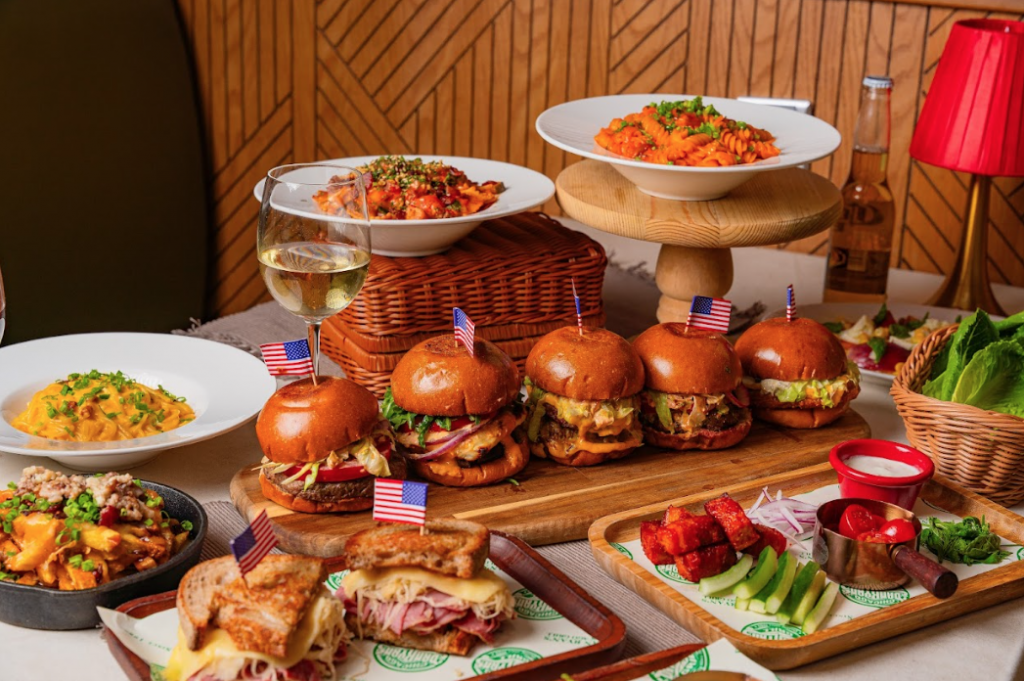 Dan Ryan's Chicago Grill might not immediately pop into mind when thinking about places that cater to diversified dietary preferences. But a revamp of their menu sees an extensive array of 17 vegetarian offerings that cater to contemporary tastes. New dishes including the upgraded wagyu beef burger; keto-friendly option roasted halibut; portobello halloumi sandwich; aglio olio and many more. The spicy and cheesy gochujang fusilli (HK$138/HK$238) is a Korean-inspired addition that is surprising and memorable. It's not just the food though, there are also new beverages to look forward to such as the vodka-based Born a Star martini, Martin & Lewis milkshake and kombucha.
Where: Shop G40, G/F, Lee Tung Avenue, 200 Queen's Road East, Wan Chai
Treehouse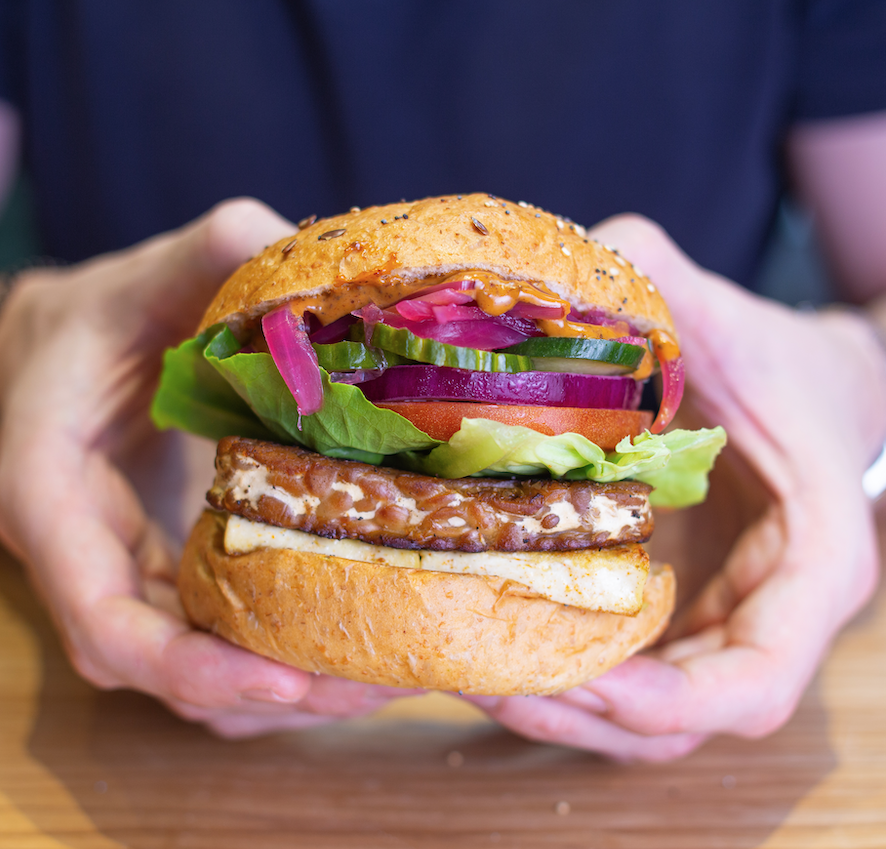 Treehouse is the latest brainchild of F&B entrepreneur, Christian Mongendre, who has long been an advocate for clean eating. This plant-based fast-casual restaurant chain offers customisable sourdough flatbread wraps and salad bowls. We are big fans of its burger offerings (HK$98 each) in particular. The forest burger features a beetroot and roasted mushrooms patty gives you all the red deliciousness of a typical burger patty, with the extra bonus of being a healthy choice.
Where: 7 Sharp Street East, Causeway Bay
The Terrace at The Hari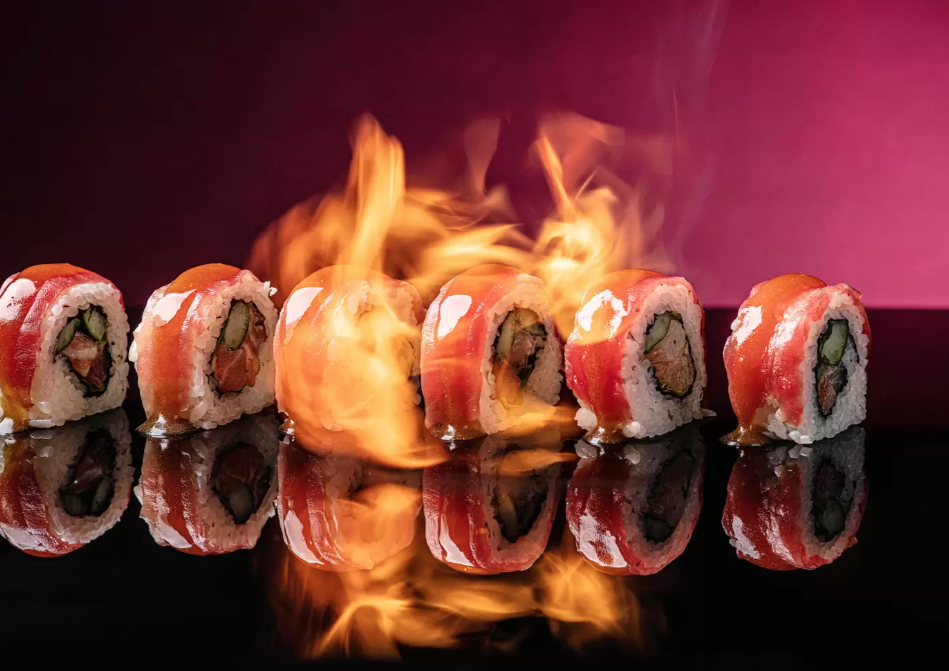 The Hari is one of the best-hidden secrets in Wan Chai. We previously tried out Lucciola restaurant and bar at the hotel and now we've discovered The Terrace, its al-fresco bar that is the perfect hangout now that the cooler months have begun. They have rolled out 'This Is How We Roll' – a weekly promotion every Wednesday for HK$368. For this, guests can indulge in 120 minutes of endless Martinis and more while enjoying all-you-can-eat maki rolls. We simply cannot stop raving about the vegetarian-friendly zoku roll, which consists of a genius mix of cucumber, avocado, cream cheese, chimichurri and tare.
Where: 2/F, 330 Lockhart Rd, Wan Chai
Yuan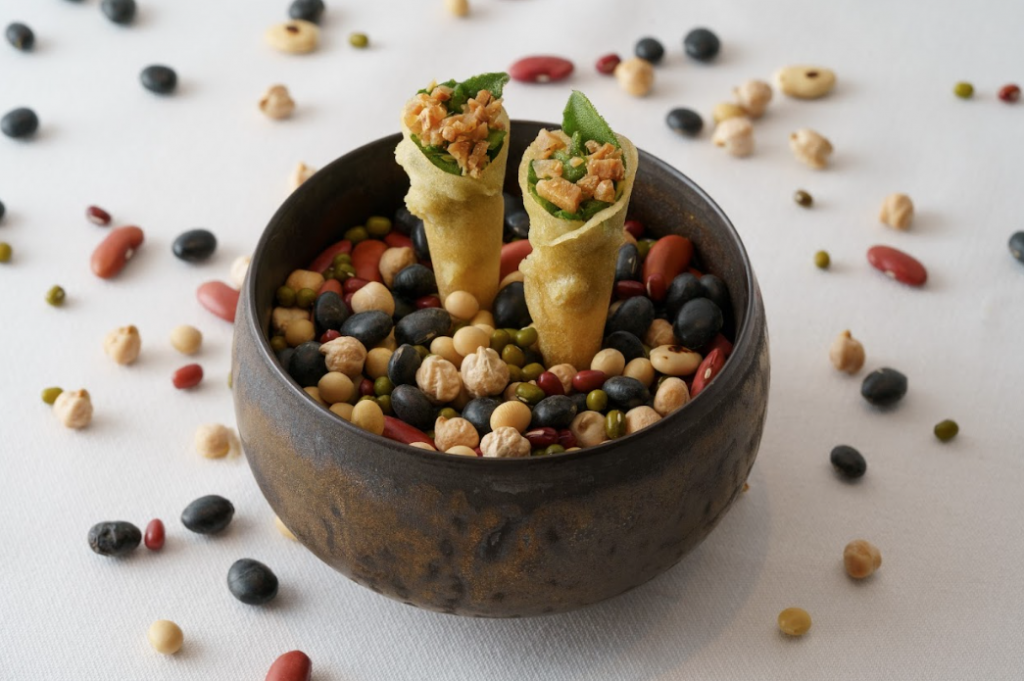 Another on this list from Lubud F&B Group is Yuan, Hong Kong's first re-imagined Chinese vegetarian fine dining restaurant. It promises a "wholesome, nature-centric vegetarian dining experience made entirely allium-free", which means its suitable for Buddhist vegetarians looking to avoid onions and garlic. Helmed by Chinese Executive Chef Ronald Shao and Head Chef Law Chak Kei, the restaurant offers a plant-based Lunch Tasting Menu (HK$680 per person) and an exceptional 12-course All-Day Tasting Menu (HK$1280 per person) that focus on seasonal ingredients, aiming to reconnect diners with the natural harmony between heaven and earth. The atmosphere here is serene too, with private rooms available for a truly intimate dining experience.
Where: Shop 2, G/F, Chinachem Hollywood Centre, 1-13 Hollywood Road, Central
Anju Restaurant and Bar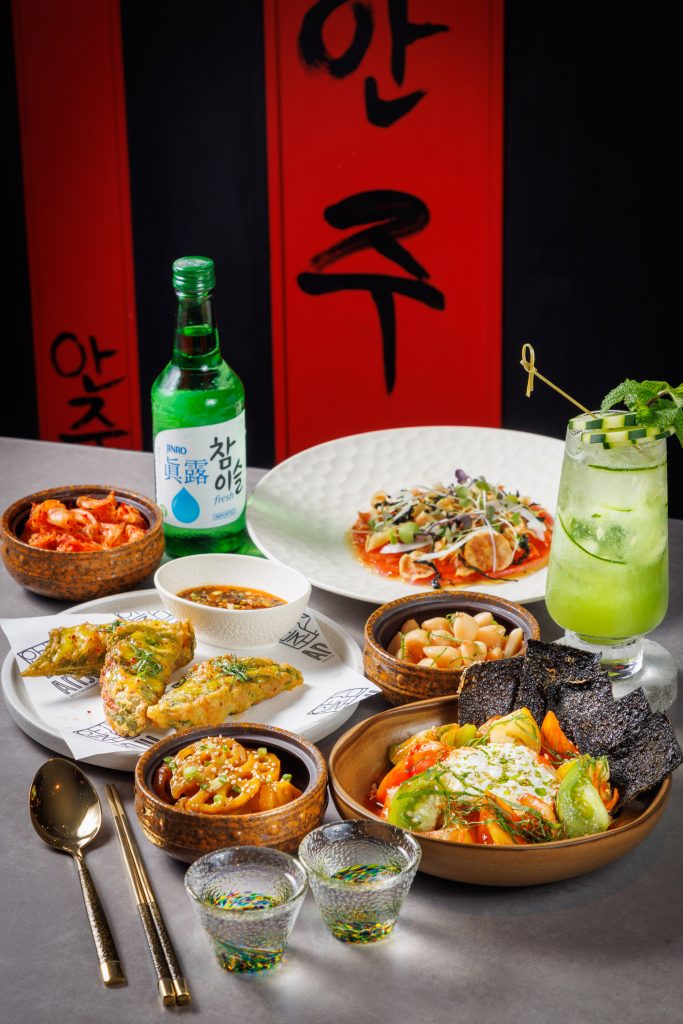 Anju Restaurant and Bar is the latest F&B addition to Elements Mall at Kowloon station. The team here blends "traditional ingredients and Korean knowhow with Western cooking techniques and seasonal produce" for its take on Korean comfort food. Though fall has arrived, items like the the Anju Bibim Gugsu cold-noodle (HK$108) dish with soba noodles from Jeju Island, plums, cherry tomatoes, seasonal vegetables, perilla and sesame still tickles our fancy. All your other usual Korean favourites like Saeu Tteokbokki (HK$268) and Yangnyeom Chicken (HK$198) are available, but desserts are decidedly more Western with choices like oatmilk panna cotta, poached pear, and affogato cream and expresso (all HK$78 each).
Where: Shop R004, Civic Square, Elements, Kowloon Station, 1 Austin Road West, Tsim Sha Tsui
Also see: Where to eat with a group with mixed dietary preferences