#legendeats: 14 new menus in town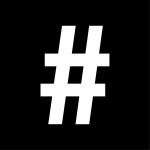 By: Stephenie Gee
September 16, 2022
Autumn is here, and fresh produce and rich flavours come with the new season. From seasonal menus to limited-time collaborations, here's what's to check out this month in the food scene
Osteria Marzia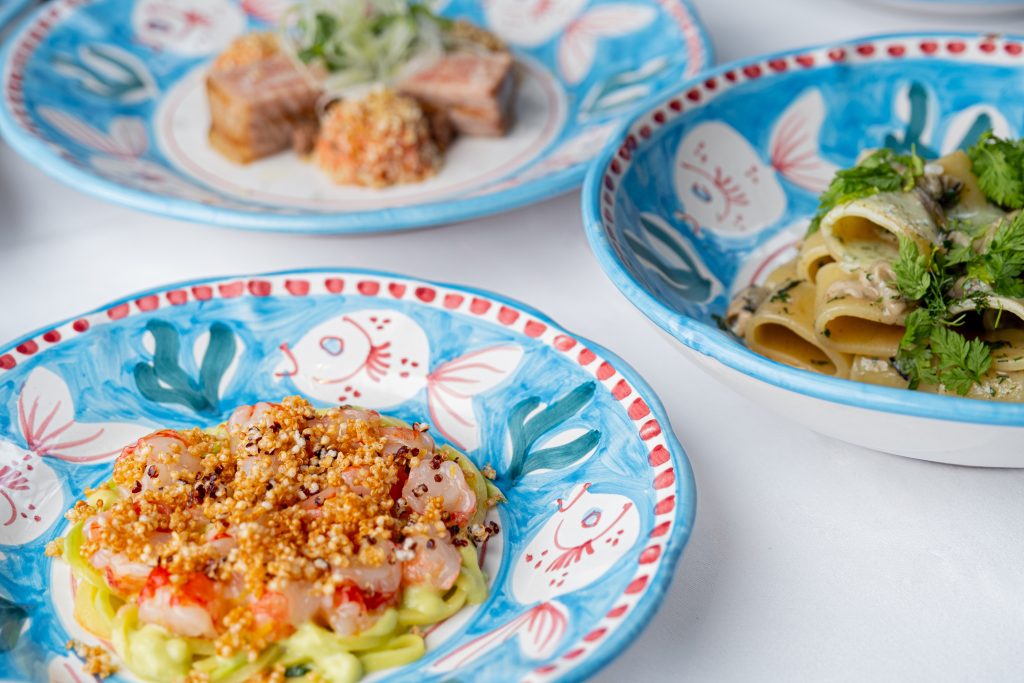 Located on the ground floor of The Fleming hotel in Wan Chai, Osteria Marzia led by executive chef Luca Marinelli celebrates the ocean's bounty with a new six-course seasonal tasting menu. Guests are treated to a culinary journey through the blooming months in Italy's seaside towns. Dishes include gambero rosso, Sicilian red prawn with trumpet zucchini and quinoa; calamarata, thick-ringed pasta which bares resemblance to calamari hence its name served with brown butter, smoked oyster ragu and sweet garlic; and the pièce-de-la-resistance: pescato del giorno all'acqua pazza, market fish fillet prepared with herbed broth of Hokkaido clams and date tomatoes.
Looking for a quick getaway to the Italian seaside, then the new lunch menu featuring chef Marinelli's signature dishes like fruitti di mare with market shellfish, tomato and basil; oysters by the half-dozen with tangy lambrusco mignonette; chitarra with juicy Boston lobster and cherry tomatoes; is the perfect choice for you.
As part of Black Sheep Restaurant's 10th Anniversary Summer Festival celebrations, Osteria Positano is returning on September 15, 22 and 29 to offer guests an instant escape to the sun-drenched coast of Italy with a special four-course menu of family-style dishes that will be served exclusively.
Where: The Fleming, 41 Fleming Road, Wan Chai
The Legacy House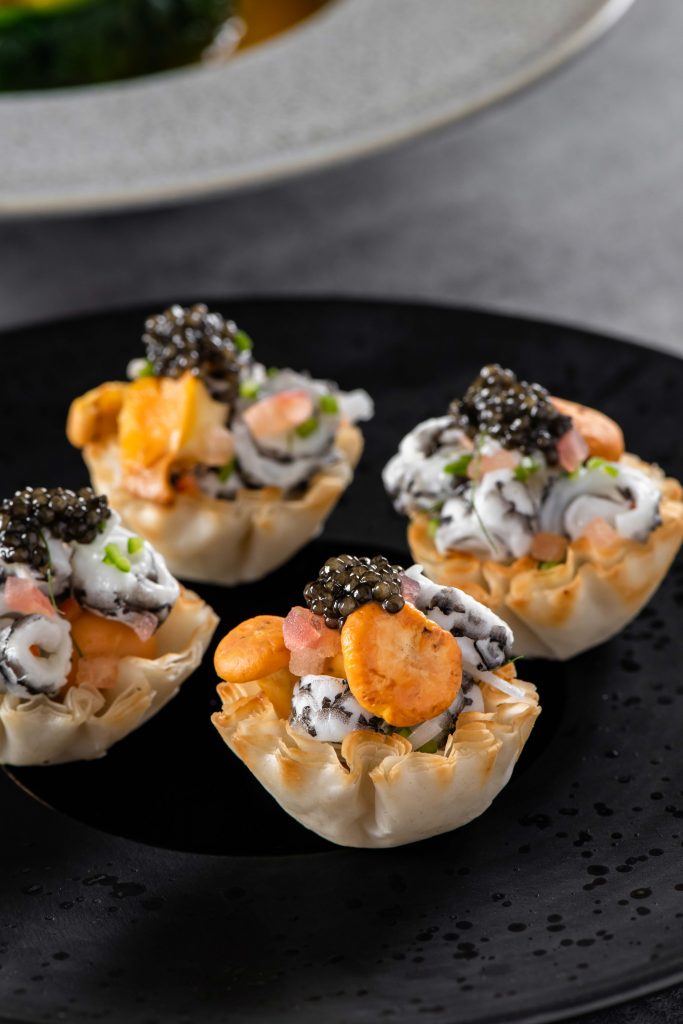 Celebrate the season's bountiful harvest of fresh, earthy wild mushrooms from China's southwesternmost province of Yunnan. They are brought to you by Chinese executive chef Li Chi-Wai's new seasonal menu at Rosewood's The Legacy House from now till the end of September. The menu features freshly foraged mushrooms revered for their health and medicinal properties, such as high in protein and low in fat. These are delivered directly twice a week from Yunnan. The eight dishes showcase the unique flavours and versatility of wild mushrooms.
Highlights include the poached geoduck with luffa and jicong or termite mushrooms, wagyu beef stir-fry with swollen stalked cat mushroom and pan-fried fresh wild mushroom combination. The dish incorporates three varieties of mushrooms: swollen stalked mushrooms, termite and matsutake.
Where: 5/F, Rosewood Hong Kong, Victoria Dockside, 18 Salisbury Road, Tsim Sha Tsui
Duddell's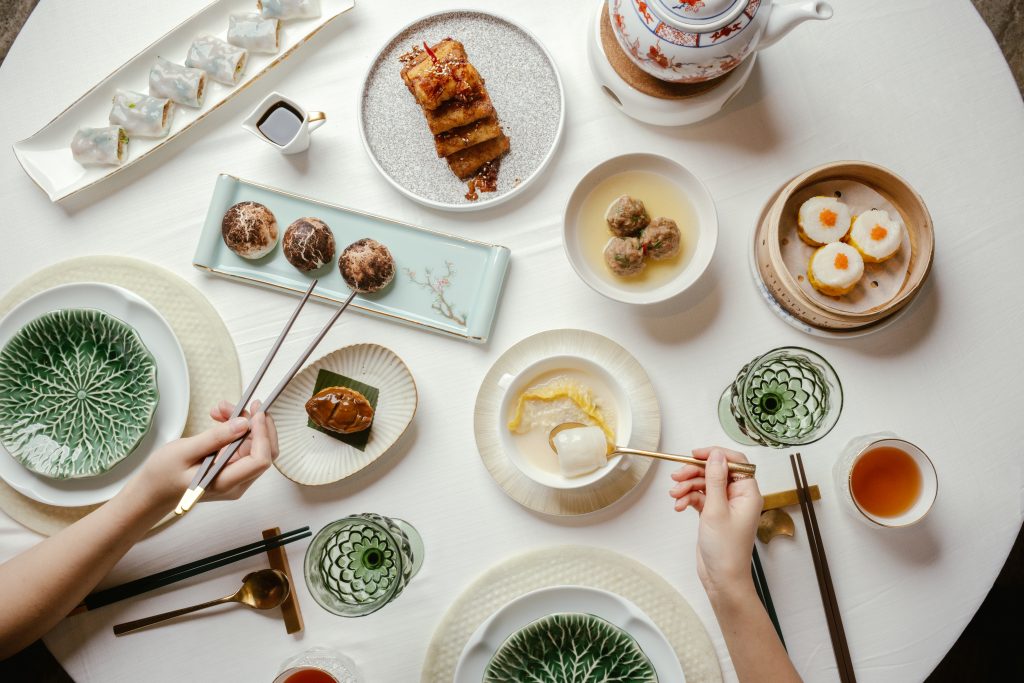 One Michelin-starred Duddell's, under the direction of executive chef Yip Kar On, continues its elevation with a new signature dim-sum and set lunch menu. Both menus draw inspiration from a variety of regional cuisines and utilise a blend of both old and new techniques.
Signatures of the new lunch menus – comprising of an Executive (from HK$428+10%), Business (from HK$698+10%) and Premier (from HK$998+10%) – include the sauteed sliced chicken with cuttlefish and XO sauce, braised tientsin pakchoi with mushroom, Chinese ham and abalone sauce and fish maw and seafood broth with conpoy. Guests can also choose to pair the seasonal Cantonese delights with a glass of red, white, or rosé wine for HK$100.
As for the new menu of dim-sum classics with a modern twist, chef Yip combines graceful craftsmanship with his decades of expertise to offer delicacies from goldfish-shaped pork and shrimp dumplings with termite mushroom and spices to add complexity, fish soup dumpling with grouper and fish maw slices to favourites such as the deep-fried abalone puff and spicy shrimp roll, a twist on the classic dish with Sichuan peppercorn to satisfy spicy cravings.
Where: 1 Duddell Street, Central
Tate Dining Room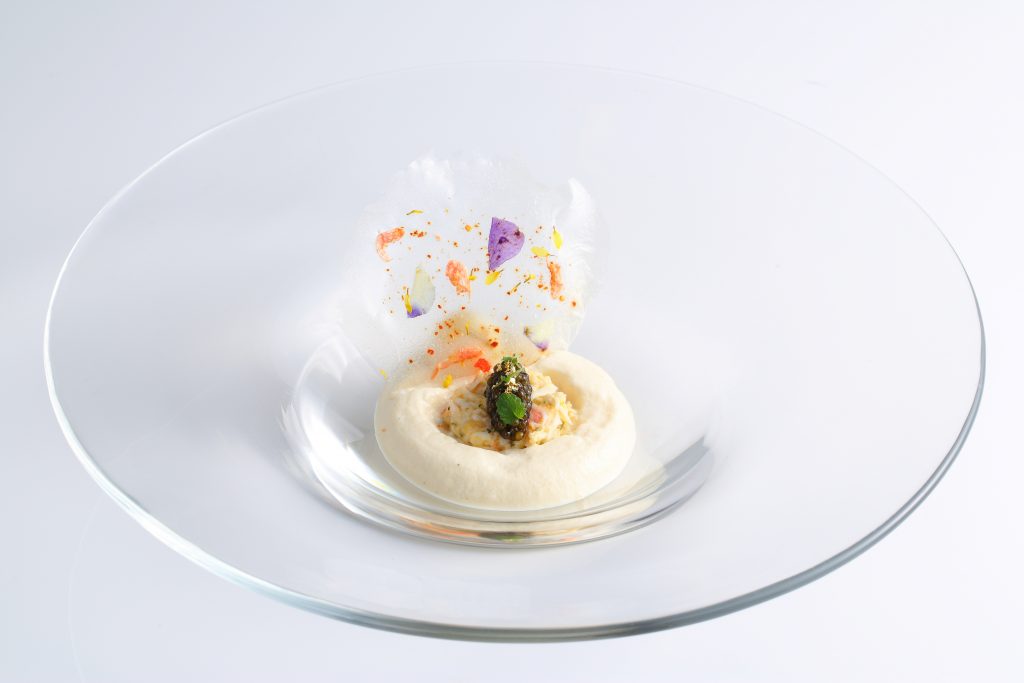 To celebrate a decade of milestones, Tate Dining Room presents a special Then & Now anniversary menu for lunch (HK$1,480+10%) and dinner (HK$2,480+10%), showcasing the restaurant's most popular and formative dishes over the years that have reinvented Hong Kong flavours with refined French techniques.
Available for lunch on Fridays and Saturdays and dinner on Tuesdays and Saturdays, the menu begins with a selection of amuse-bouche before taking diners through the chapters of Ode to Crab, Ode to Seaweed, Ode to Fish, Ode to Kumquat, Ode to Noodle, Ode to Tofu, Ode to Scallion Ginger, Ode to Pigeon, Ode to Sun and Zen Garden. To complete your gastronomic experience, thoughtfully curated three-glass, six-glass, and eight-glass wine pairings are also available for HK$780+10%, HK$1,080+10% and HK$1,480+10%, respectively.
Where: 210 Hollywood Road, Sheung Wan, Central
Special collab: China Tang x Zest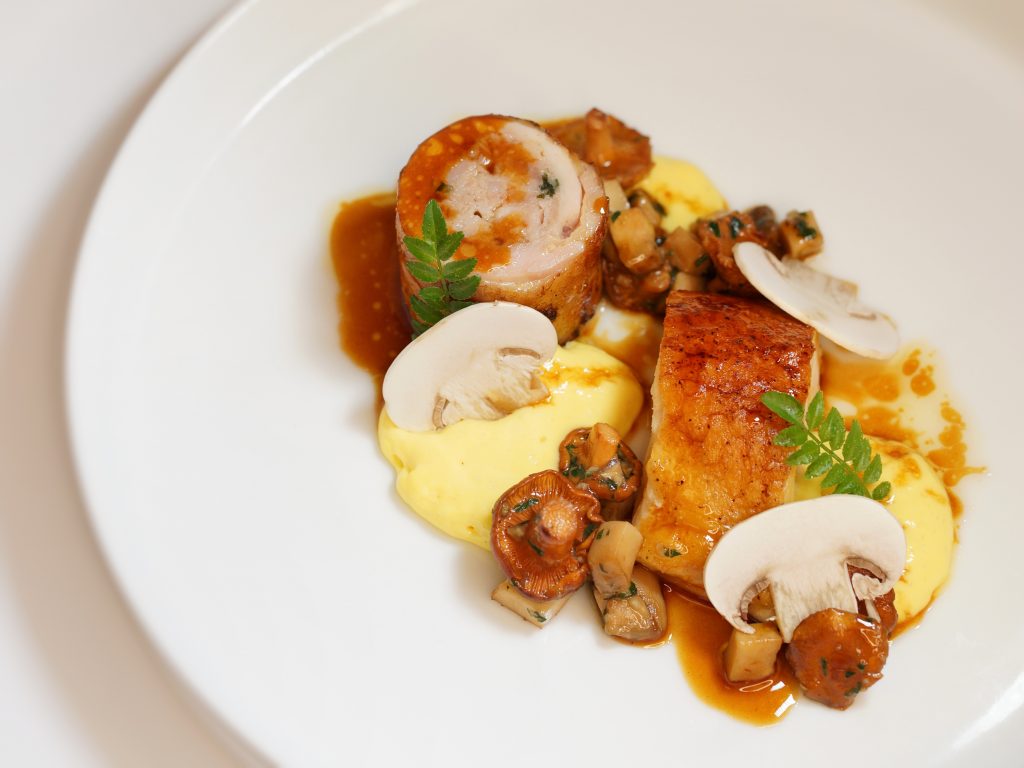 Priced at HK$5,888+10% per person, executive chef of the iconic China Tang Landmark Menex Cheung and one Michelin-starred chef Mitsuru Konishi from Zest, are coming together to create one lavish 10-course dinner for three nights only between September 26 to 28. This menu fuses the best of Chinese fine dining and French-Japanese cuisine.
Highlights of the night will include crispy roll with hairy crab roe, fish maw, sea urchin and Imperial Ossetra caviar; Hokkaido kegani crab with sea urchin steamed custard, deep fried scallop and ginko; slow-cook ox tail and barbecued bovine bone marrow stuffed with Yamagata-ken rice; a never-seen-before version of chef Konishi's signature Ping Yuen Chicken; and chef Menex's unique take on the classic Cantonese dish: barbecued honey 25-head dried abalone.
Where: Shops 411-413 4/F Landmark Atrium, 15 Queen's Road Central
Special collab: Estro x Mono x Andō
For one day only, executive chef Antimo Maria Merone of Estro will join forces with chefs and friends Ricardo Chaneton and Agustin Balbi of one-Michelin-starred Mono and Andō in celebration of their one-year anniversary to present a special Italian-inspired collaboration menu on Sunday, September 18.
Priced at HK$2,080+10% per guest with an optional six-glass wine pairing available at an additional HK$1,080+10%, the six-course lunch menu presents dishes designed exclusively for this special occasion. These include blue lobster alla pizzaiola, corn fettuccine with spiced roasted chicken essence, riso di semola caldoso and more.
Where: 2/F, 1 Duddell Street, Central
Roganic Hong Kong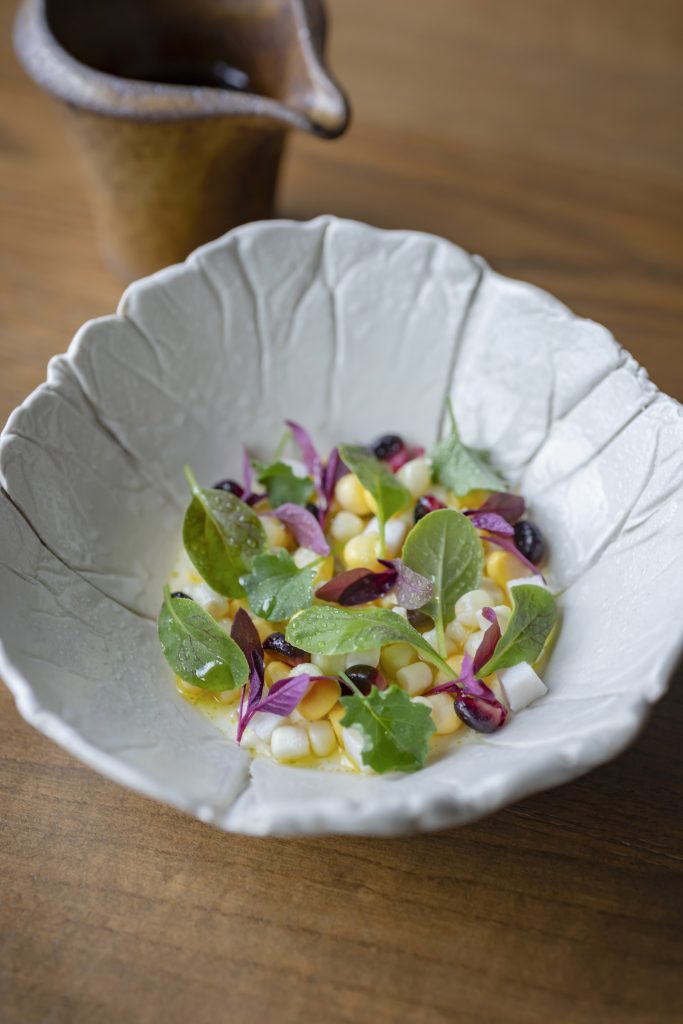 Standing at the forefront of the city's farm-to-table fine dining movement is One Michelin Star and Michelin Green Star recipient Roganic Hong Kong by Simon Rogan and Ashley Salmon. The chefs are introducing a new seasonal lunch and dinner tasting menu that continues to break boundaries within contemporary British cuisine, elevated with sustainably sourced ingredients. Japanese-style chawanmushi with mushroom XO sauce and beef tendons with bone marrow fat, in-house lardo and elderflower-picked turnips; butter-poached grouper featuring a base garnish of white asparagus, cabbage stem cooked in seaweed butter and oyster leaf; and Hong Kong figs topped with rapeseed oil crumble and whipped leaf cream are among the offerings.
Where: UG/F 08, Sino Plaza, 255 Gloucester Road, Causeway Bay
Aulis Hong Kong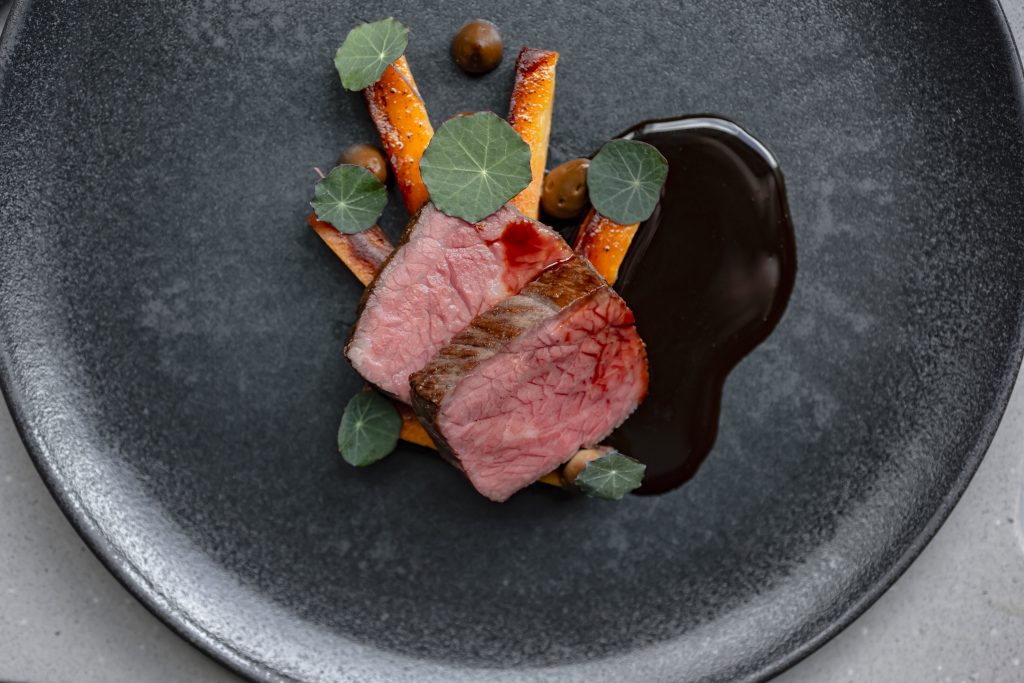 Aulis Hong Kong – a sister restaurant to Roganic Hong Kong – has launched a new seasonal tasting menu priced at HK$1,380+10% per guest. The restaurant is the city's first chef's table and development kitchen by renowned British chef Simon Rogan.
Taking on that same farm-to-fork concept with a focus on local produce unique to the city and Asia, the menu showcases the creativity of an award-winning kitchen team led by chef Oli Marlow and local chef Fai Choi. Highlights include thinly-sliced watermelon radish filled with smoked cod roe emulsion, crispy chicken skin and green apple; a herbaceous dish of raw local peas dressed in pineapple mint oil; 21-day dry-aged wagyu striploin with black garlic emulsion and sherry caramel sauce glazed sweet potato; and plum sorbet with local honey, buttermilk sauce and parsley oil.
This October, Aulis Hong Kong will collaborate with Farmacy HK, a local urban farm that utilises hydroponic farming systems. Together, they bring a gift of microgreens presented in biodegradable plant pots and easy-to-follow instructions for guests to bring that sustainability experience home.
Where: Shop 8, UG/F, Sino Plaza, 255 Gloucester Road, Causeway Bay
Forum Restaurant x Martell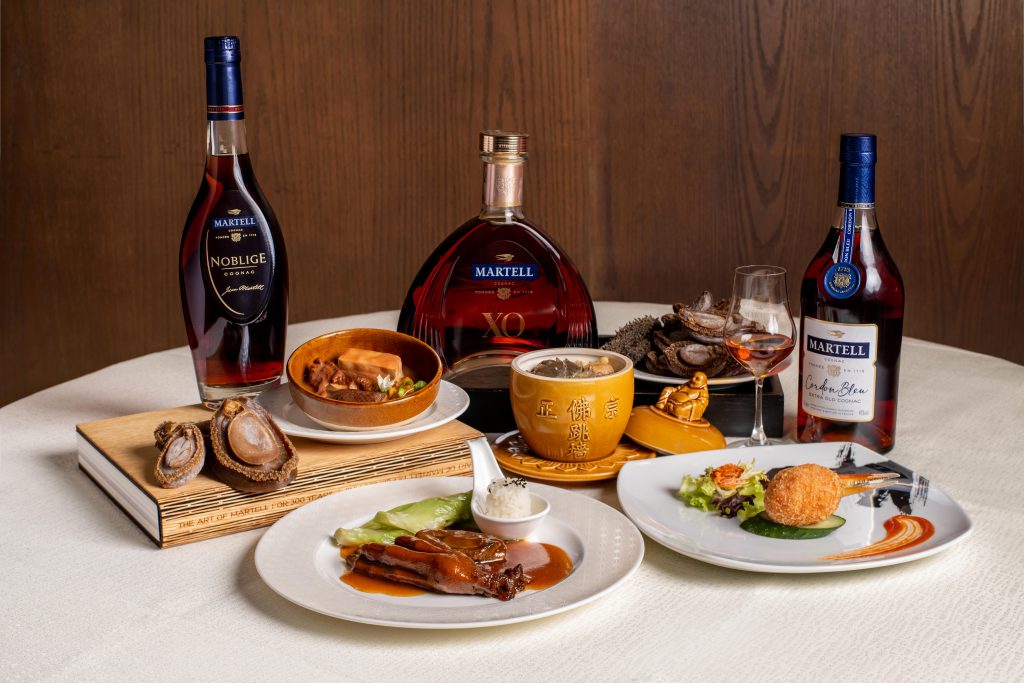 Until 30th September, three-Michelin-starred Forum Restaurant collaborates with one of the world's biggest cognac houses, Martell, to present a special eight-course pairing menu. Priced at HK$2380 per person, it highlights three Martell cognacs, including Martell Noblige, Martell Cordon Bleu and Martell XO.
Absolute standouts of the menu are the deep-fried crab claw coated with minced shrimp, and double-boiled Buddha jumps paired with Martell Noblige; braised Ah Yat abalone with goose web and vegetable paired with Martell Cordon Bleu; and braised duck with taro paired with Martell XO.
Where: 1/F, Sino Plaza, 255-257 Gloucester Road, Causeway Bay,
181 Fortnum & Mason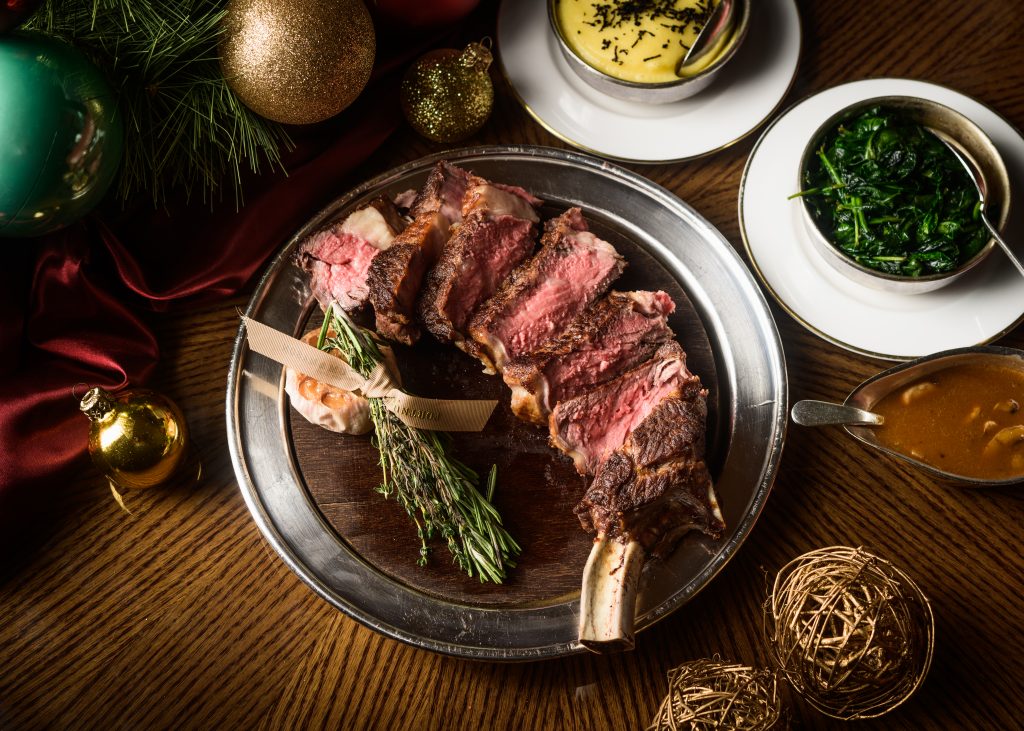 Because it's never too early for Christmas, Fortnum & Mason's has already unveiled their "Christmas in September" menu that promises a festive firework of sensations on your tastebuds. Delectable as usual, the menu features Christmas must-haves of the confit Kelly Bronze turkey leg with cranberry stuffing, pigs in blankets, beef fat potatoes and sautéed Brussel sprouts and roasted chestnuts; 30-day dry-aged rib of beef with truffle mash potato and baby spinach served with Diane sauce; and mushroom wellington with dauphinoise potato and sherry sauce.
Of course, no Christmas is complete with sweets, and Fortnum & Mason understands this, presenting a selection of delights like their signature F&M King George Christmas pudding with brandy cream, chocolate and orange torte with crème fraiche and homemade mince pies to conclude the meal.
Where: Shop 022, G/F, K11 Atelier, Victoria Dockside, 18 Salisbury Road, Tsim Sha Tsui, Kowloon
Table by Sandy Keung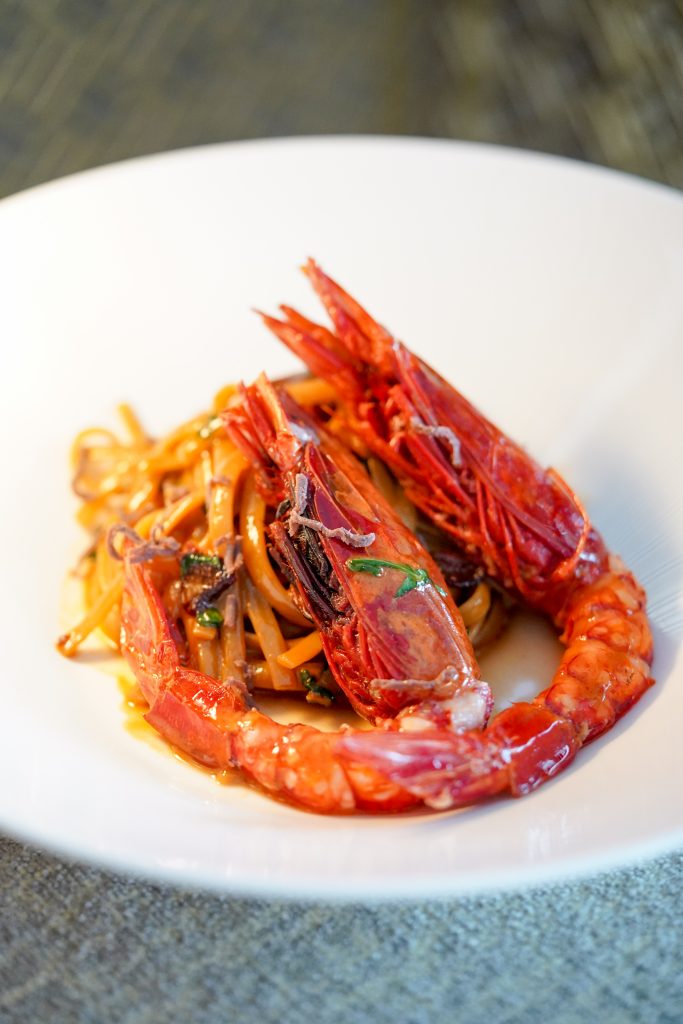 As we step into the colder and dryer months, Table by Sandy Keung takes cues from traditional Chinese medicine principles to curate an autumn menu that nourishes and restores the body. Reinterpreting classic flavours with a combination of Chinese and Western cooking techniques and seasonally sourced ingredients, the menu, priced at HK$1,500 per person, includes delicacies such as the New Zealand langoustine and Chinese almond Iberico jamon soup; handmade tagliolini with French bouchot mussel, Hokkaido uni and bottarga; and French lamb neck with preserved lemon and lotus seeds.
Where: 8/F, The Pemberton, 22-26 Bonham Strand, Sheung Wan
Hong Kong Cuisine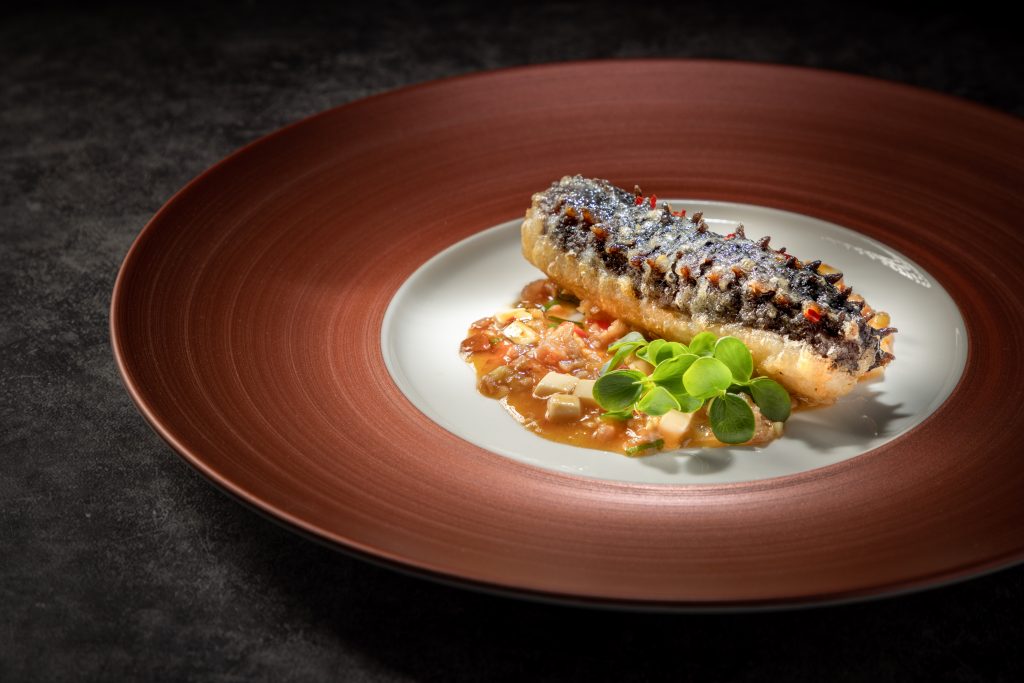 Happy Valley's beloved Hong Kong Cuisine has undergone a complete revamp under the hands of new chef Silas Li. Previously private chef to members of Hong Kong's upper echelon, the new contemporary Chinese concept is on a mission to bring guests unique dishes that pay homage to traditional flavours and Hong Kong's East meets West heritage. Dishes include the signature braised boneless duck web stuffed in chicken wings, crispy sea cucumber stuffed in tofu fish mousse served with mapo minced pork sauce, and crispy skin chicken.
Where: 1/F, Elegance Court, 2-4 Tsoi Tak Street, Happy Valley
1111 Ones Restaurant & Lounge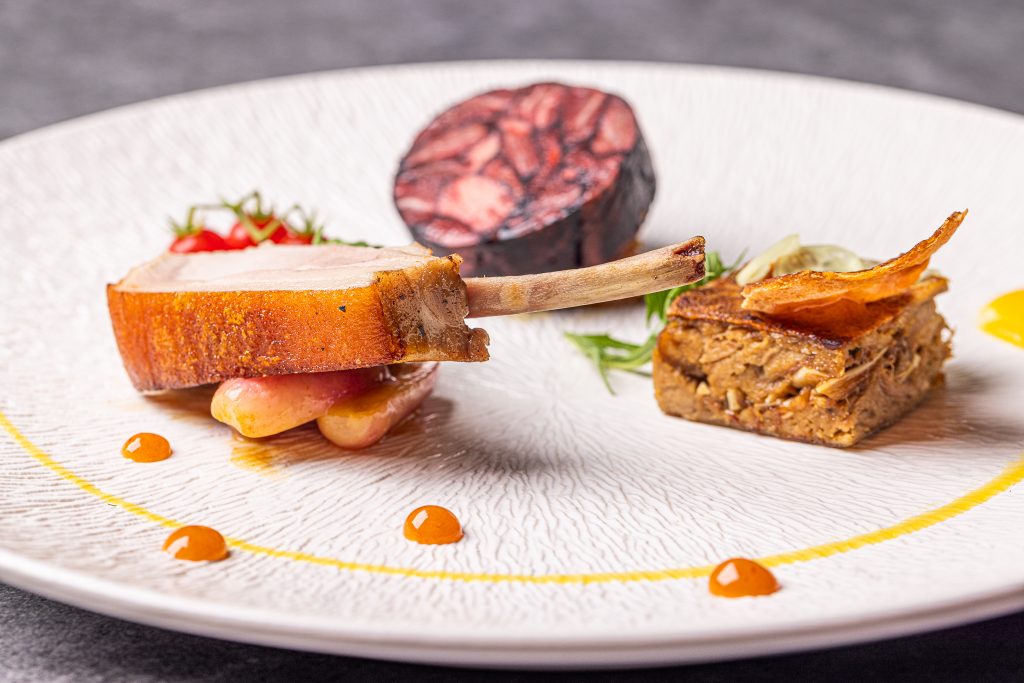 Modern-Cantonese fine-dining restaurant, 1111 Ones Restaurant & Lounge, is collaborating with local cartoonist and multimedia creator Jerry Cho to curate a new menu of reinterpreted authentic Hong Kong cuisine that takes diners on a trip down memory lane. With a 6-course (HK$1288) and 8-course (HK$1588) dinner tasting menu on offer, and an additional wine pairing available at HK$588 per person, diners can indulge in dishes including a snack of egg waffle rolls with three different fillings: curry cauliflower, garlic leek crème fraiche and milk tea custard; suckling pig trio inspired by the traditional wedding banquets; and a twist on the classic bean curd dessert with lotus seed paste and osmanthus syrup.
Whisk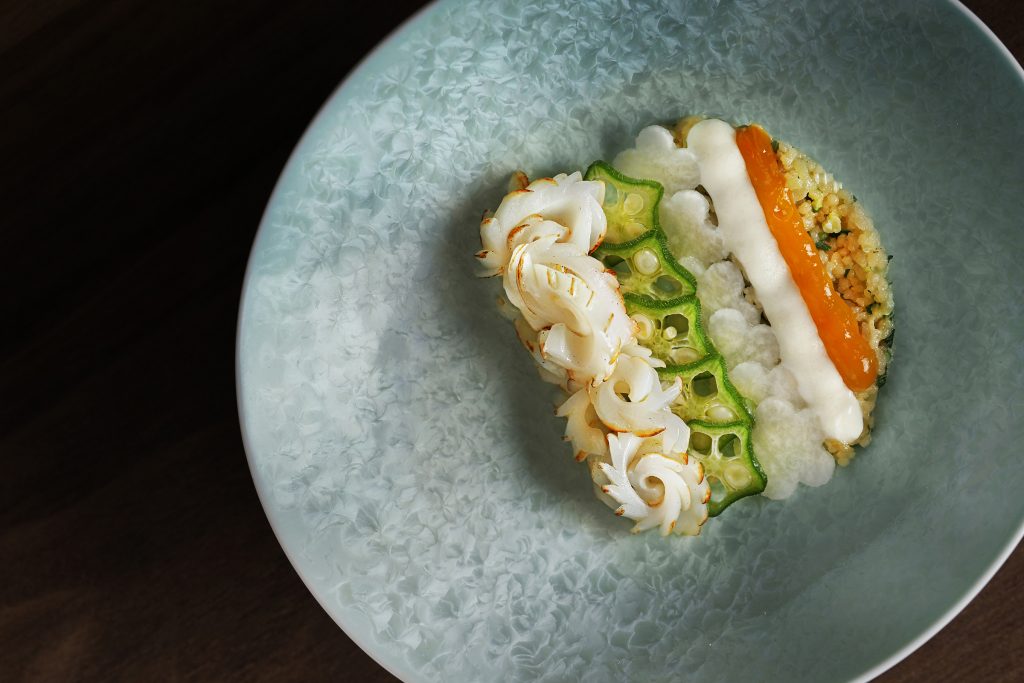 Whisk's new chef de cuisine William Lau is whipping up a mid-summer feast using innovative, ingredient-led French and Japanese methods. Intricate plating and complex flavours are at the centre of the Finesse dinner menu, which offers six or ten courses. They include dishes such as charcoal-grilled eel over a pan-seared buckwheat blini, a decorative tart with petals of Japanese yam, hiding milk-poached codfish topped with sturgeon caviar as well as a delicate Hirame served with shishito pesto and a gentle Yari-ika with smoky passionfruit and Okinawan okra.
The Taste of Craft lunch menu starts off with two takes on cauliflower – a delicate crisp paired with a potent chilled cauliflower dashi consommé. The starter is followed by an opulent lobster set in rich lobster bisque and blanketed in uni. Diners are then offered a choice of A4 Saga Wagyu presented with an okonomiyaki twist or succulent guinea fowl barbecued with baby carrots and spicy harissa. Presentation is clearly chef Lau's forte, with plate after plate resembling works of art and examples of exceptional culinary craftsmanship.
Where: 5/F, The Mira Hong Kong, Mira Place, 118 Nathan Road, Tsim Sha Tsui, Hong Kong