#legendeats – 12 new F&B happenings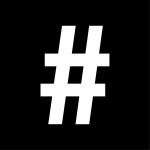 By: Stephenie Gee
November 8, 2023
We round up the latest eats and drinks, from openings to seasonal menus and limited-time collabs
Nobu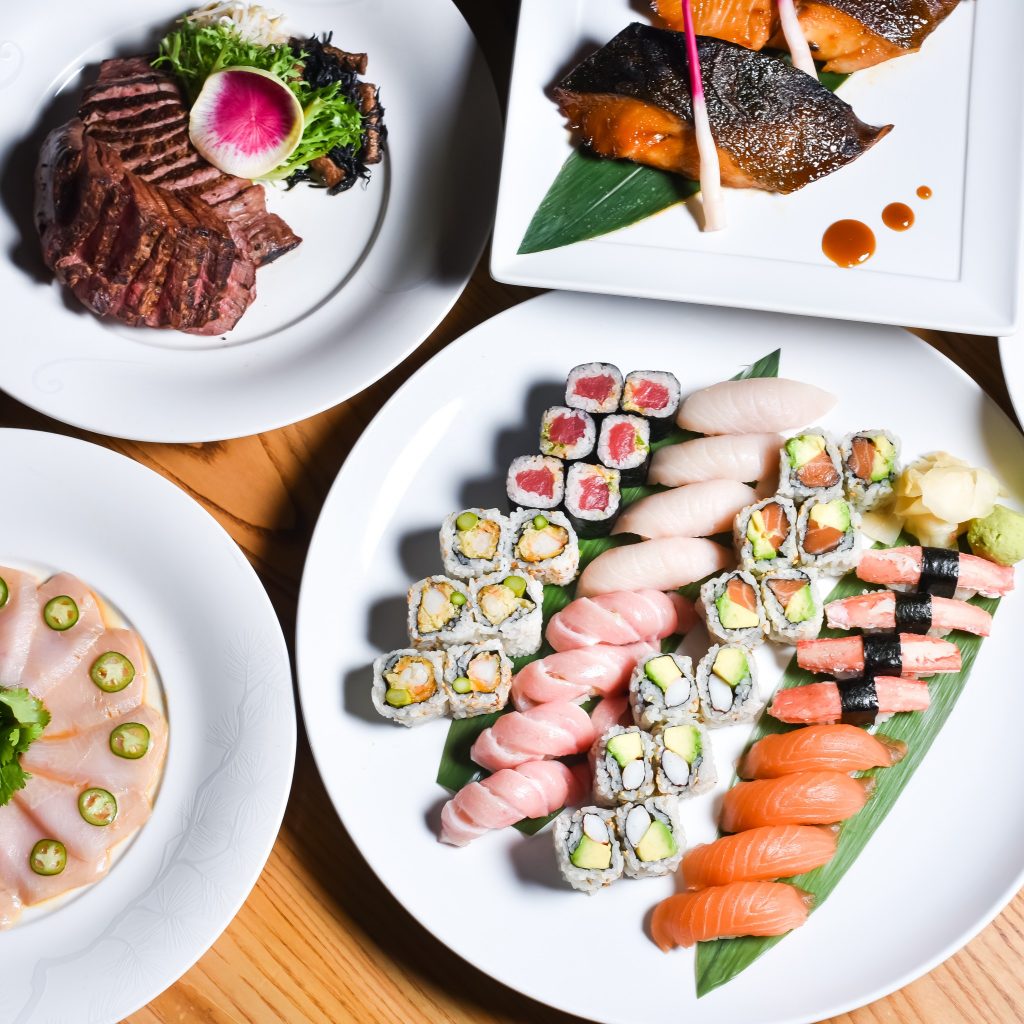 The globally revered Nobu makes its highly anticipated return to Hong Kong's Regent hotel. Headed by executive chef Jason Au – formerly of Nobu 57 in New York – diners can look forward to signatures like the famous Black Cod with Miso, Yellowtail Jalapeño and Toro Tartare with Caviar, alongside New-style Sashimi and South American-inspired dishes like Tirodito and Nobu Ceviche that nod to chef Nobu Matsuhisa's time in Peru. Opt for the Omakase menu for a handpicked variety of Nobu classics. To complement is an enticing drinks programme showcasing Nobu-style cocktails and world-class Nobu sake brewed exclusively by Hokusetsu brewery for Nobu restaurants worldwide.
Where: 2/F, Regent Hong Kong, 18 Salisbury Road, Kowloon
Andō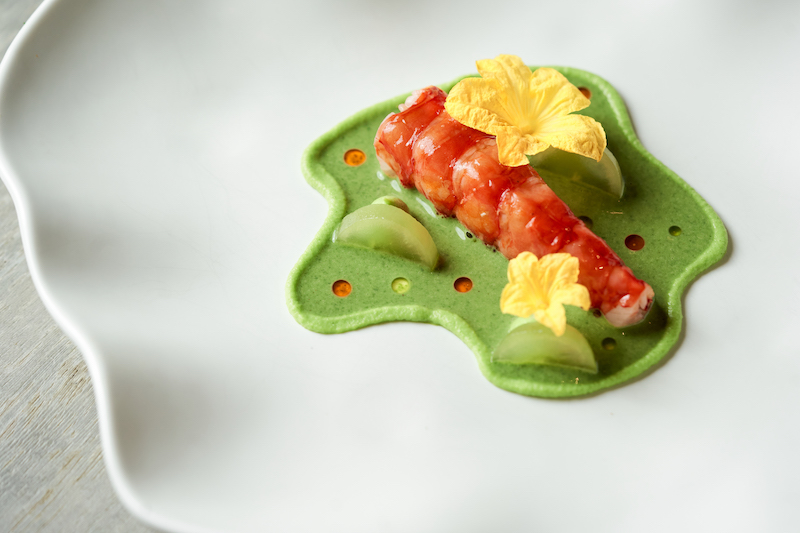 Under the guidance of acclaimed chef Agustin Ferrando Balbi, Andō unveils a new dinner experience menu that seamlessly blends the essence of Spanish and Japanese cuisine to create a symphony of harmonious flavours and textures. The Experience menu features an exclusive steamed blue crab with aonori cream lemon, olive oil, chives and a topping of Kristal caviar. And as you savour the homemade shallot bread with katsuobushi butter, complemented by Carmen del Poiag olive oil, you'll be transported to Chef Agustin's cherished memories of his own grandmother.
Where: 1/F, Somptueux Central, 52 Wellington St, Central
Grand Majestic Sichuan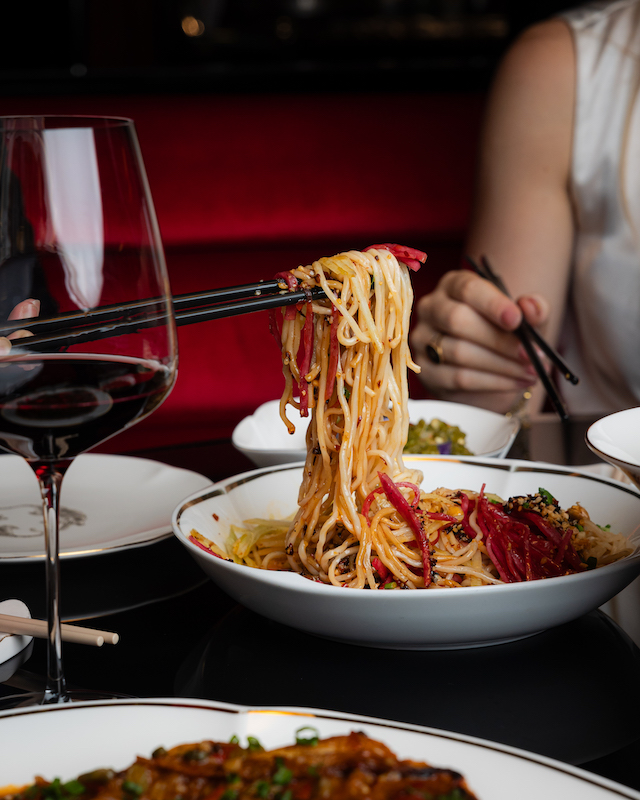 Grand Majestic Sichuan invites diners to transport back in time to the heyday of the 1970s supper club, where guests can dive into the flame-fired depths of Sichuan cuisine. Inspired by their journey through Sichuan, Head Chef Theign Phan collaborates with the renowned Sichuan food expert Fuchsia Dunlop to create a new menu which captures the region's diverse culinary heritage. With a focus on traditional Sichuan dishes elevated by bold flavours like chilli bean paste, chilli oil, and peppercorns, the new menu introduces 10 captivating dishes. Top highlights include "Jiao Ma Xian Sun" featuring tender bamboo shoots dressed in a tangy sauce; "Shao Jiao Qie Zi", which incorporates steamed Ping Ying heirloom aubergine with a scorched green chilli sauce; and "Jie Mo Hei Tun", slow-cooked Kurobuta pork jowl with Chinese leeks, celery, mung bean noodles and mustard sauce.
Where: Shop 301, 3/F, Alexandra House, 16-18 Charter Road, Central
BluHouse and The Dining Room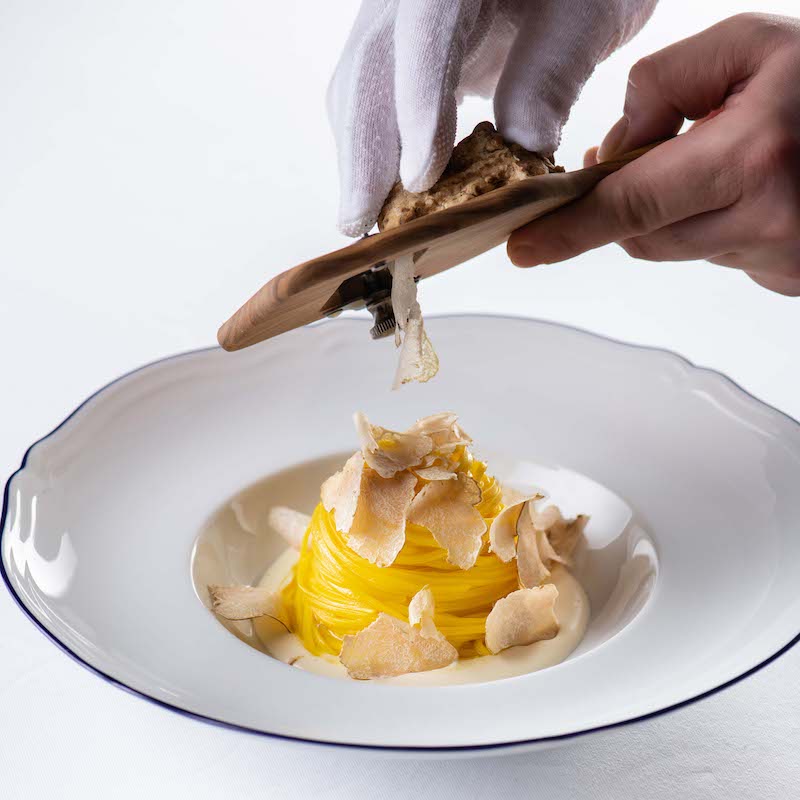 Rosewood Hong Kong's Italian restaurants BluHouse and The Dining Room led by chef de cuisine Giovanni Galeota are celebrating the prized white truffles from Tuscany.
At the former, white truffle specials include the creamy Burrata d'Andria finished with generous shavings of white truffle; Beef Carpaccio, delicately topped with Parmesan cheese and exquisite white truffle; and Tagliolini al Tartufo, a homemade tagliolini pasta paired with rich Vacche Rosse Parmesan cheese, mountain butter and white truffle.
At the latter, the five-course white truffle tasting menu begins with the Uovo Soffice, a poached organic egg accompanied by spinach, velvety potato foam and topped with luscious white truffle; and Passatelli in Brodo, featuring handmade passatelli "pasta" served alongside a double-boiled capon consommé, adorned with generous shavings of white truffle. Moving on, indulge in the rich Tagliolini all'Uovo and fragrant Poached Organic Yellow Chicken wrapped in Italian cabbage ballotine and perfected with shavings of white truffle. To conclude is the Castagne Cilentane, a "Cilento" chestnut mousse paired with a pecan biscuit and white truffle.
Where: G/F, Rosewood Hong Kong, No. 18, Salisbury Road, Tsim Sha Tsui
Sushi Fujimoto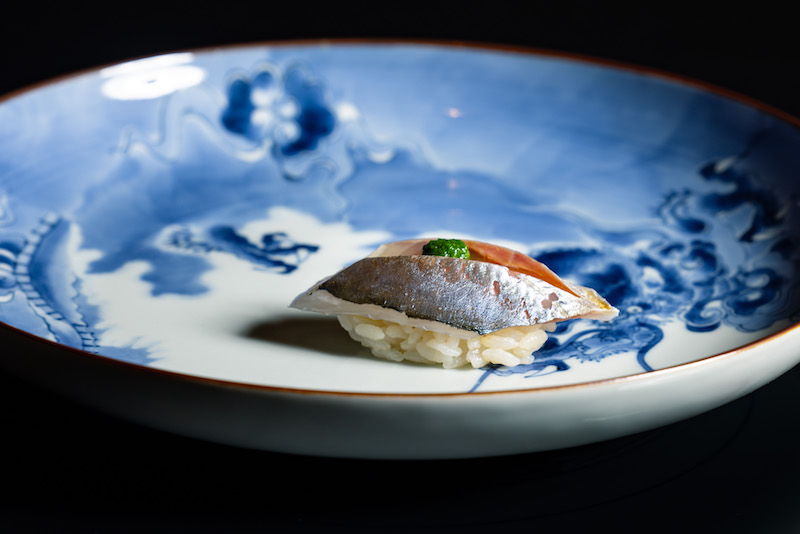 New sushi lunch and seasonal omakase menus at Sushi Fujimoto by head chef-owner Kenichi Fujimoto continue to showcase the artistry and excellence of traditional Edomae sushi.
Priced at HKD$1580+10% per guest, the new Sushi Lunch Menu is a true celebration of exceptional flavours with up to 12 pieces of sushi, small maki roll, Japanese tamago, miso soup and Japanese fruit. While the Seasonal Omakase Menu showcases the best of this season's seafood, including ankimo (monkfish liver), shirako (cod milt), female snow crab, nodoguro (blackthroat seaperch), tuna cheek and yellow tail, for HKD%2980+10% per guest.
Where: 6/F 48 Cochrane Street, Central
Mora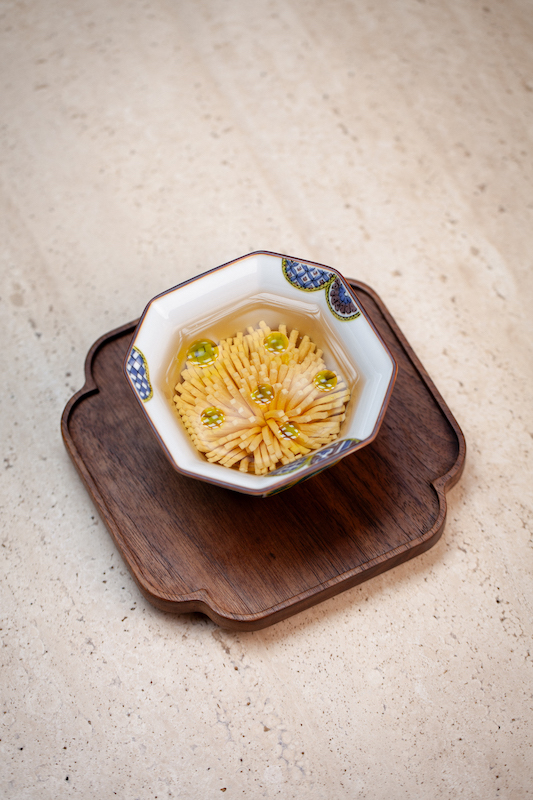 Mora, the Michelin green-starred soy-centric restaurant by Vicky Lau, unveils its latest soy innovations with their new Characters of Soy lunch and dinner tasting menus. Featuring house-made soy milk and tofu, the new menu spotlights the versatility and intricate flavors of soy-based dishes, all consciously crafted with sustainable ingredients to reduce food wastage and minimise carbon footprint. Highlights include the luxurious Udon Noodle in Soy Milk Lobster Bouillon; Crispy Tofu, seasoned with Sichuan pepper, coriander and cumin seeds, soy-braised mushroom and pickled wood ear; dinner-exclusive Chrysanthemum Tofu in supreme both, along with fermented winter melon, chicken fat and parsley oil; and Duet of Local Duck Breast marinated in bean paste.
Where: 40 Upper Lascar Row, Sheung Wan
Holt's Cafe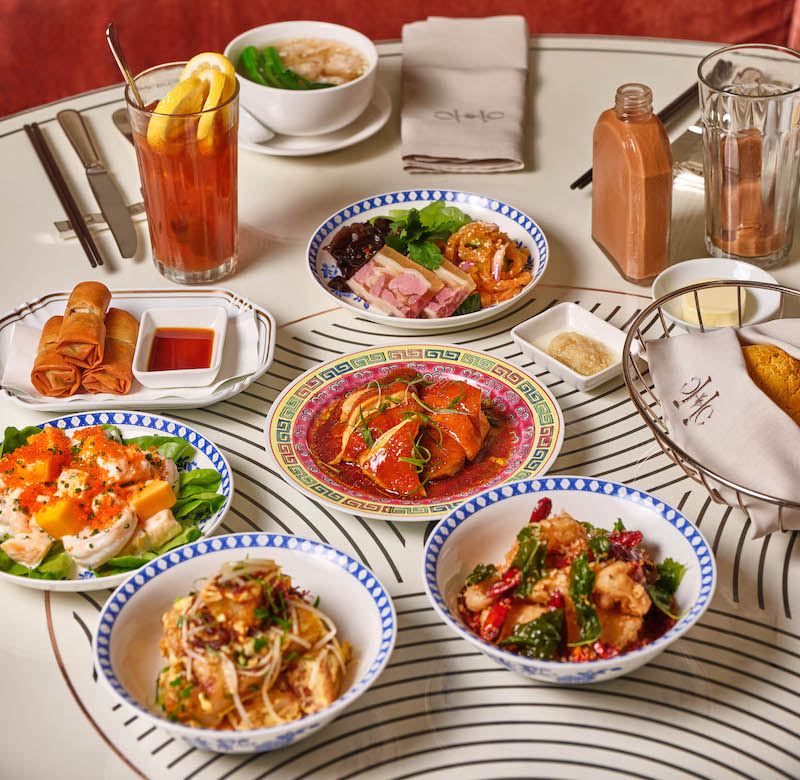 Rosewood Hong Kong presents a new Sunday brunch menu that pays tribute to the city's iconic cha chaan teng culture. Guests can indulge in the nostalgic flavours of Hong Kong, beginning with six small plates including Hong Kong-style Prawn Cocktail, Stir-Fried XO Turnip Cake and Soya Chicken. For the main course, guests can choose from a selection of dishes such as Premium Barbecue Pork Rice, Wok-Fried Flat Noodle or Baked Portuguese Chicken. To finish off the meal, choose between the Hong Kong-style French Toast, Mango Pomelo Sago Soup, Egg waffle or Egg Tart.
Where: 2/F, Rosewood Hong Kong, 18 Salisbury Road, Tsim Sha Tsui
Plaa x Khaan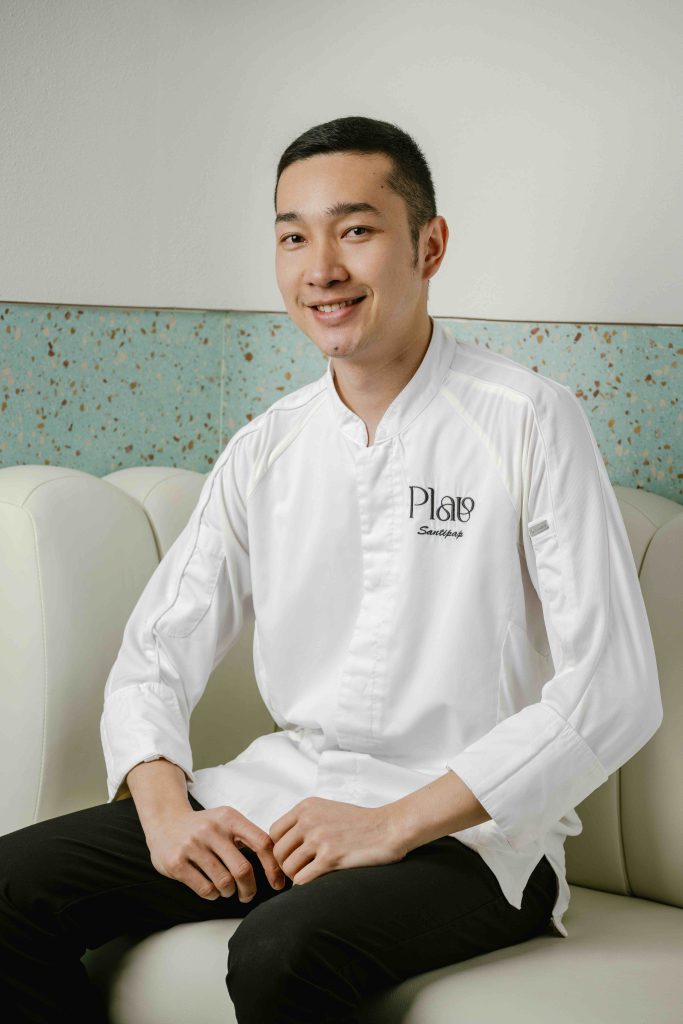 This two-day event, taking place on November 9th and 10th, will showcase the first-ever collaboration between Plaa, a contemporary Thai seafood-centric restaurant MICHELIN GUIDE Young Chef Award Winner Chef Aom. Guests will experience the exquisite tasting menu, combining Chef Aom's modern Thai style with Chef Tor's Westernised approach. Highlights include the "Plaa – threadfin/kale/crispy fish" and "Nok Pi Rap – pigeon/five spices/shallot marmalade", both jointly created by chef Tor and chef Aom to showcase the diversity of Thailand's culinary landscape.
Where: 2/F, 8 Lyndhurst Terrace, Central
Jade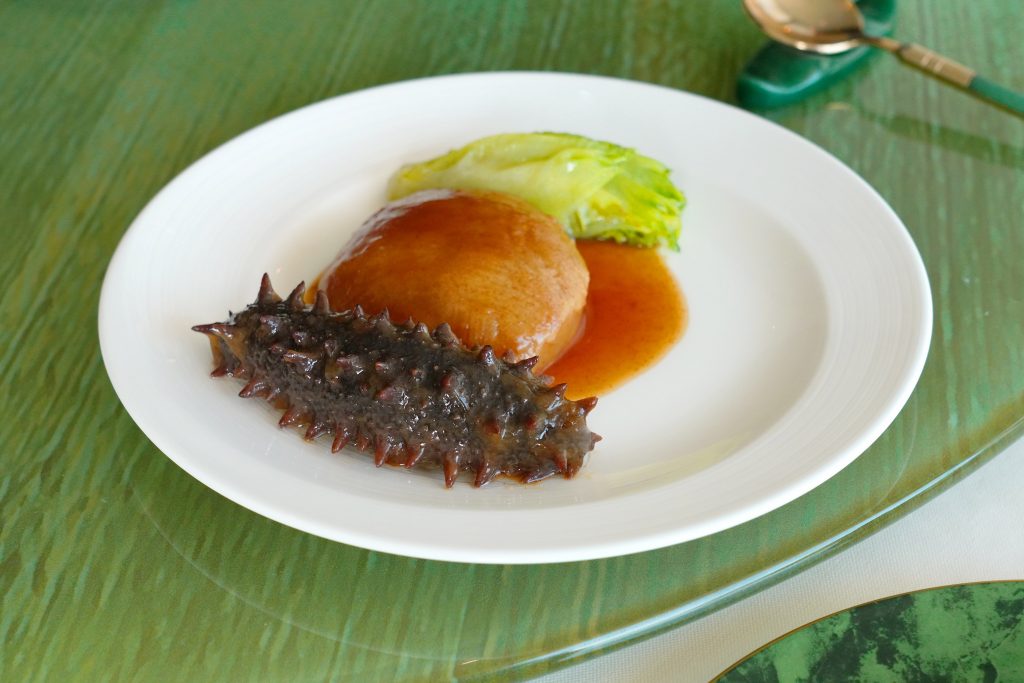 Jade welcomes the arrival of autumn with a heartwarming Autumn Feast Menu. Marked by the same boundary-breaking flavours and buzzing energy Ho Lee Fook is known for, the menu begins with a Crispy Scallop with Fresh Pear, Shrimp Paste, and Yunnan Ham; Braised Bird's Nest Soup with Fresh Blue Crabmeat and Winter Melon; and Braised Japanese Sea Cucumber and Pomelo Pith and Shrimp Roe in Oyster Sauce. A classic Cantonese feast is never quite complete without steamed fish. Executive chef Lai Ching Shing elevates this classic with a pomelo soy sauce to enliven the spotted garoupa fillet.
Where: 2/F, The Fullerton Ocean Park Hotel Hong Kong, 3 Ocean Drive, Wong Chuk Hang
Smoke & Barrel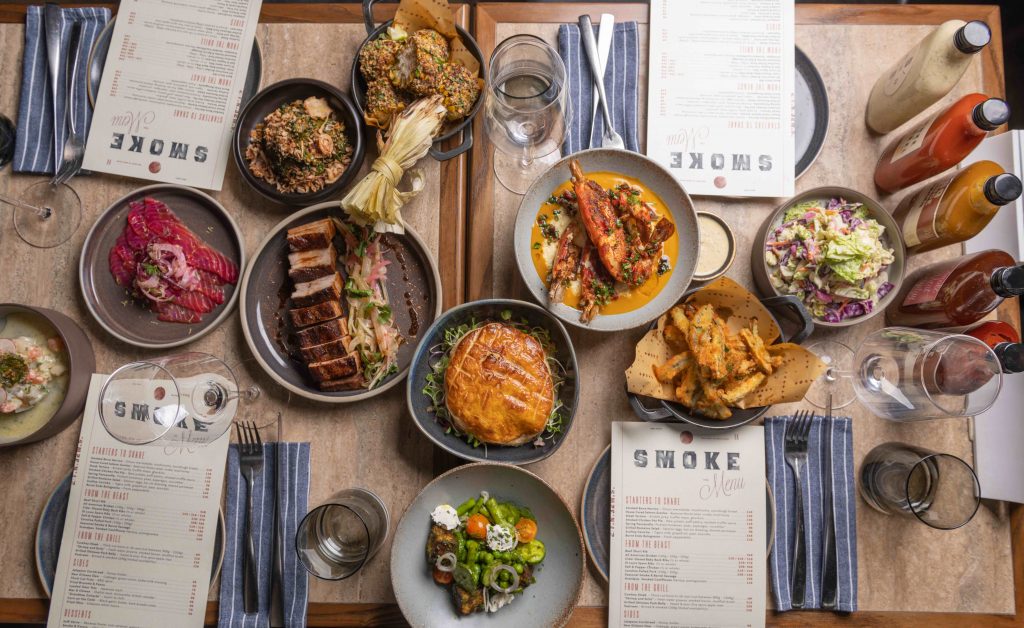 Smoke & Barrel is introducing an exciting new dining experience showcasing their authentic Texas-style "low and slow" American BBQ. Their lineup includes the "Smokehouse Masters Unleashed" chef collaboration series, where renowned guest chefs present their signature creations or put a unique twist on the menu. Additionally, they offer two thrilling food challenges: "The Beast Tandem Challenge" for two partners to conquer a feast in 20 minutes, and "Who Wants the Smoke?", a chicken wing challenge testing spice tolerance.
Thanksgiving is a quintessential American tradition so count on Smoke & Barrel to offer mouthwatering Thanksgiving offerings, including a Takeaway Festive Turkey Package and Thanksgiving Dinner Set Menu, featuring starters like 12-Hour Smoked Brisket Carpaccio and BBQ Chicken Drumsticks, alongside mains of Turkey Plate and Smoked Meat Platter accompanied by sides of Mashed Potatoes with gravy, Fried Brussels & Cabbage and Jalepeño Cornbread. End on a high note with desserts such as Pumpkin and Pecan Pudding and the All-American Cheesecake.
Where: 1/F-2/F, Wyndham Mansion, 32 Wyndham St, Central
Argo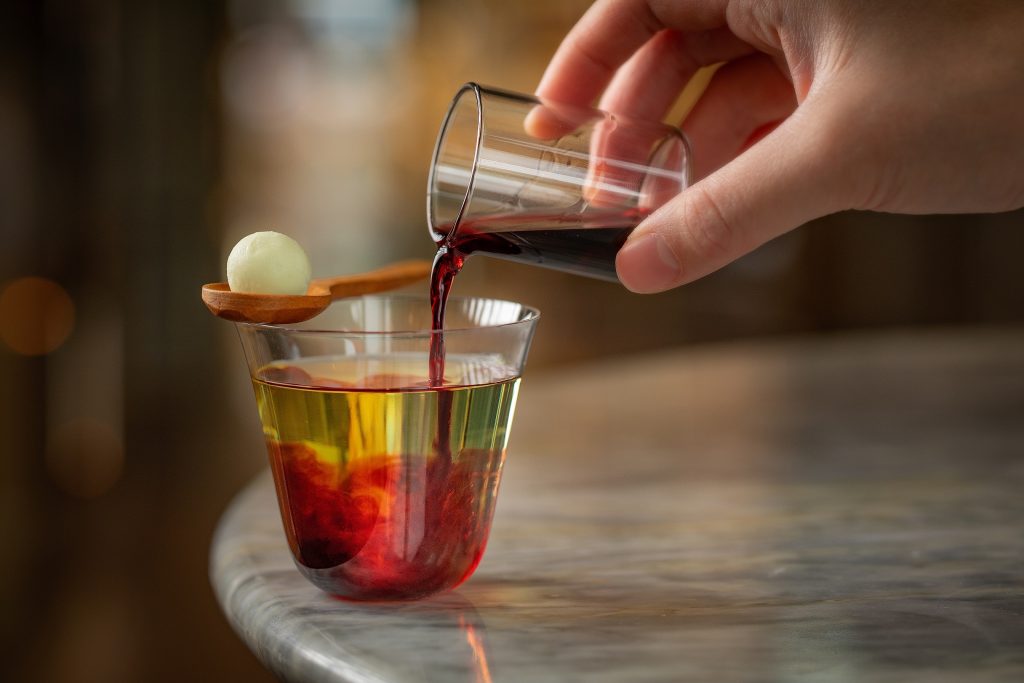 Led by the dynamic trio of Four Seasons Beverage Manager Federico Balzarini, Assistant Director of F&B Summer Lo and Head Bartender Yvonne Chan, the multi-award-winning Argo continues to break ground with its new "Argo Forestry" menu. Themed on the concept of agroforestry, a land management approach that combines trees and shrubs with crop and livestock farming systems, the menu translates into six key ingredients sourced from Hong Kong, each with two interpretations – one expected and another unexpected.
Standouts include the "Igneous Gibson", which spotlights granite – the most common rock formation in Hong Kong soil – with a granite-infused Grey Goose, Argo botanical spirit and charred pickle vermouth; "To The Valley Below", a cognac-based Irish coffee topped with a purple sweet potato foam; and "Thief!", a number of Havana Club 7 rum, melon, hazelnut, goat yoghurt and Ratafia Rossi.
Where: Lobby, Four Seasons Hotel Hong Kong, 8 Finance Street, Central
Venchi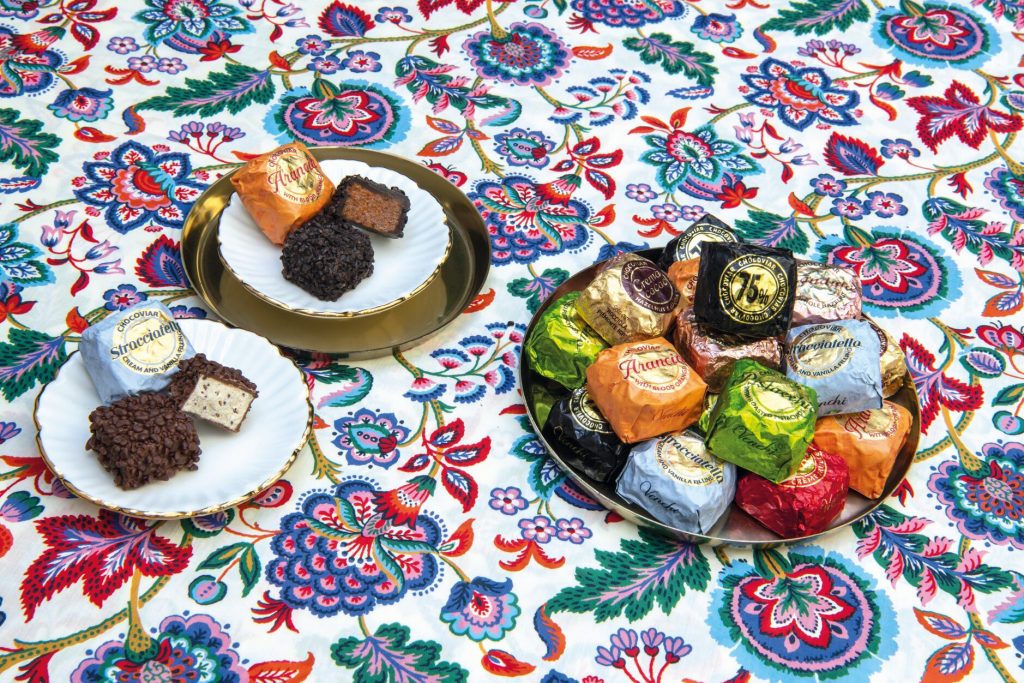 Venchi, the renowned Italian Chocogelateria, invites you to embark on a journey of self-expression with their new campaign "Chocoviar Whoyouare". This campaign celebrates diversity by offering a variety of flavours that speak to individual personalities. Two new irresistible additions to the Chocoviar family are the Chocoviar Arancia and Chocoviar Stracciatella. The former tantalises fruit and chocolate enthusiasts with its blend of Sicilian Blood Orange and 60% dark chocolate, adorned with 75% Chocoviar grains. While the latter presents a creamy vanilla chocolate filling enriched with crunchy cocoa nibs, topped with milk chocolate and milk Chocoviar grains.