Estro's chef on his gastro inspirations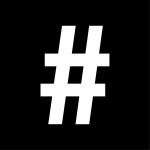 By: Stephenie Gee
July 27, 2023
Fresh off its first Michelin star, Estro, meaning "inspiration" in Italian, is an exciting ensemble of contemporary Italian dishes tuned to the Neapolitan approach. Chef-founder Antimo Maria Merone talks to Stephenie Gee about refining his native cuisine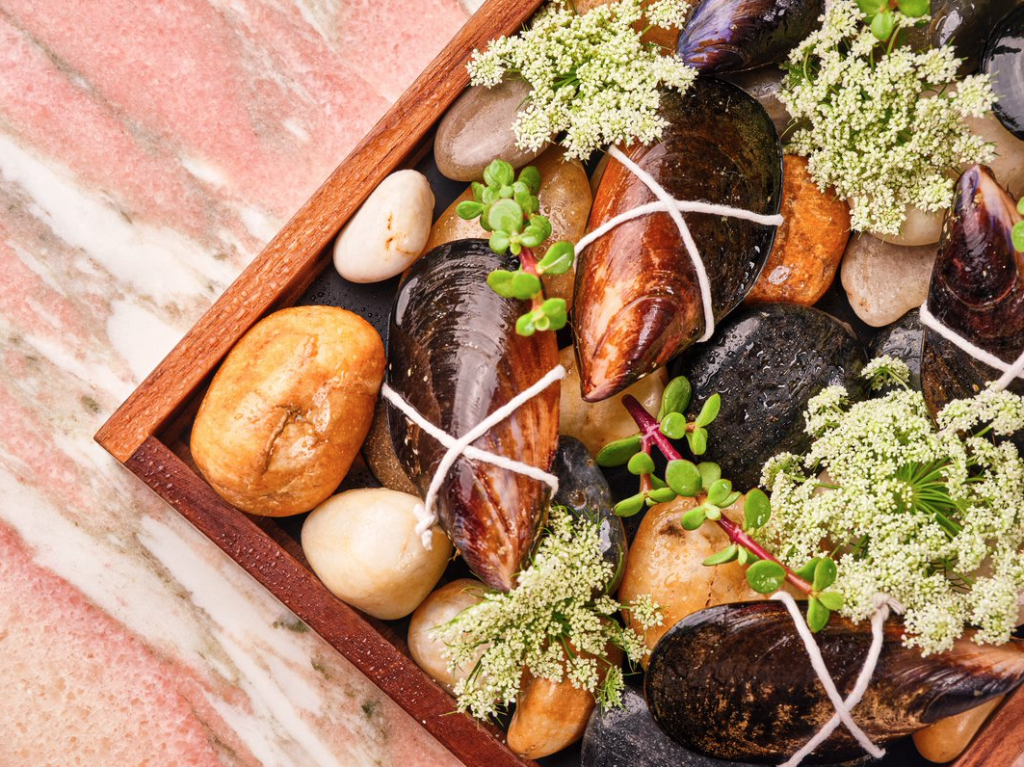 Really, the only place to eat Neapolitan food is at your Neapolitan nonna's house. But let's say you don't have a Neapolitan nonna, nor any Neapolitan relatives or Neapolitan friends. Let's say you're just a hungry stranger in a strange land who is looking for the next best thing to an Italian nonna's home cooking. Then the newly Michelin-starred Estro – by Antimo Maria Merone in partnership with Hong Kong- based, award-winning hospitality group JIA Group – is where you will find it.
"Italy has many, many micro-cuisines. And it's not just with the different regions; sometimes it's just city to city or even small village to small village," the chef-founder tells me after lunch service from the KEF Music Room, a tucked-away alcove hidden behind grey velvet curtains. "There is a very radical difference between Italian cuisine and French cuisine: French cuisine was codified. The biggest book about French cuisine is [Georges Auguste] Escoffier's, which codified all the recipes one by one.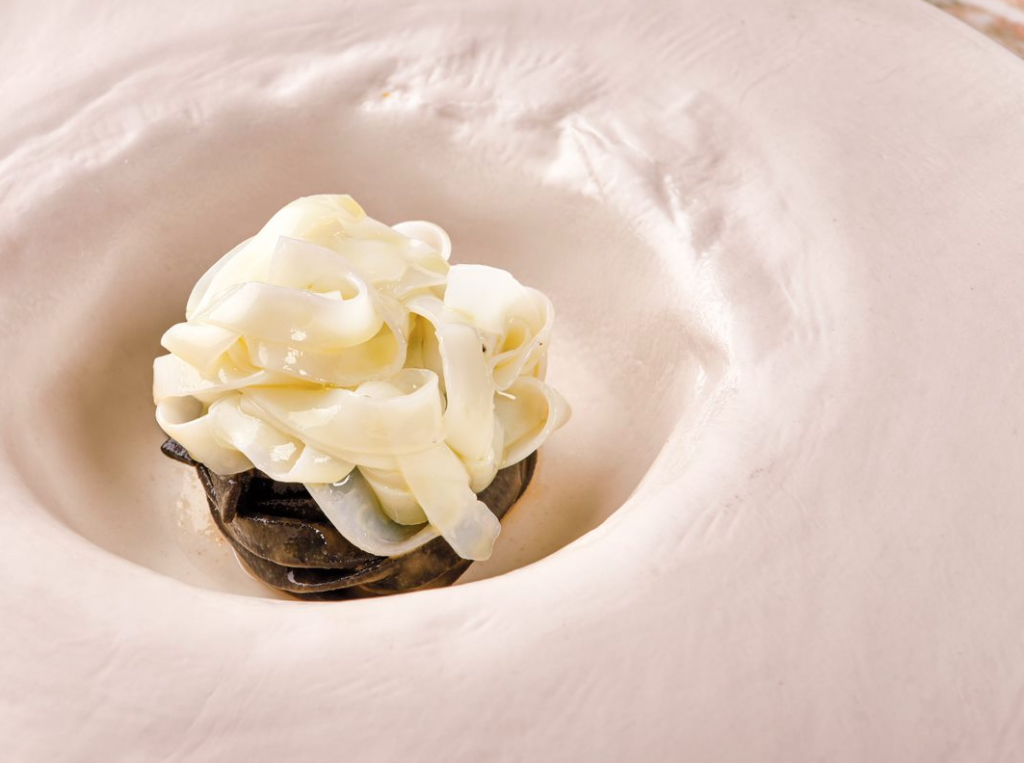 So a bouillabaisse is a bouillabaisse. It may have some twists, but it's still a bouillabaisse. But in Italian cuisine, even a lasagne has a million different versions because Italian cuisine was never codified. There may be a few books, but they didn't codify it for the whole country, meaning town by town will have its own recipe, and house by house has its own version."
A spotlight on seafood; a straightforward "express" cooking approach; olive oil over butter unlike the North; tomato-based sauces; and touches of influence from Napoli's colourful history of domination by the French and Spanish are the constants that run through the many micro-cooking styles of Neapolitan cuisine, elaborated at Estro with the refinement of Merone's years of experience, most notably as the executive chef of the "King of White Truffles" Umberto Bombana's 8 1/2 Otto e Mezzo Bombana in Macau, to redefine the boundaries of his culinary heritage.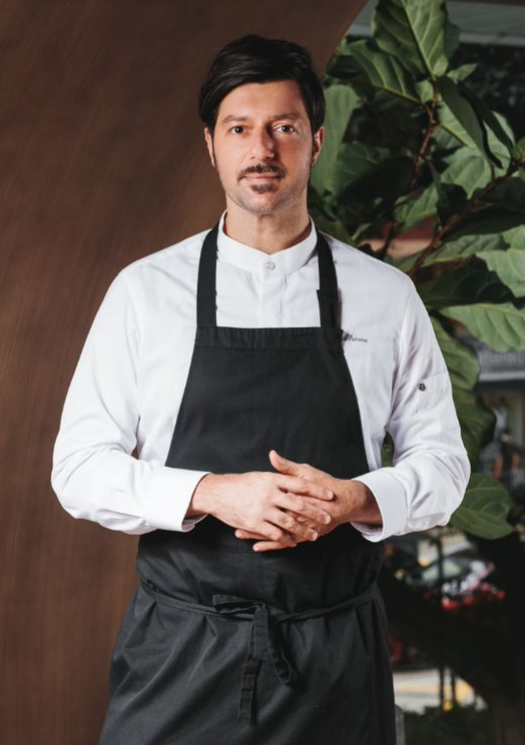 "There's a very specific dish that really connects to my upbringing and that's the mussels 'Gemmina'," says Merone, who was born and raised in the coastal town of Pozzuoli that borders Napoli. "This dish is a traditional dish not from Napoli, but from my hometown, actually. We have an abundance of mussels and one of the dishes my grandmother used to make was mussels stuffed with egg, pork, bread and a lot of different things, boiled in tomato sauce for a long time so the mussels close up on the stuffing. I took this recipe and worked a lot on the different techniques to make it more suitable, more refined and technically better executed – because in the end, if you do it the way my grandmother used to do it, the mussels will be completely overcooked. It's still super tasty, but completely overcooked because you boil it for a long time."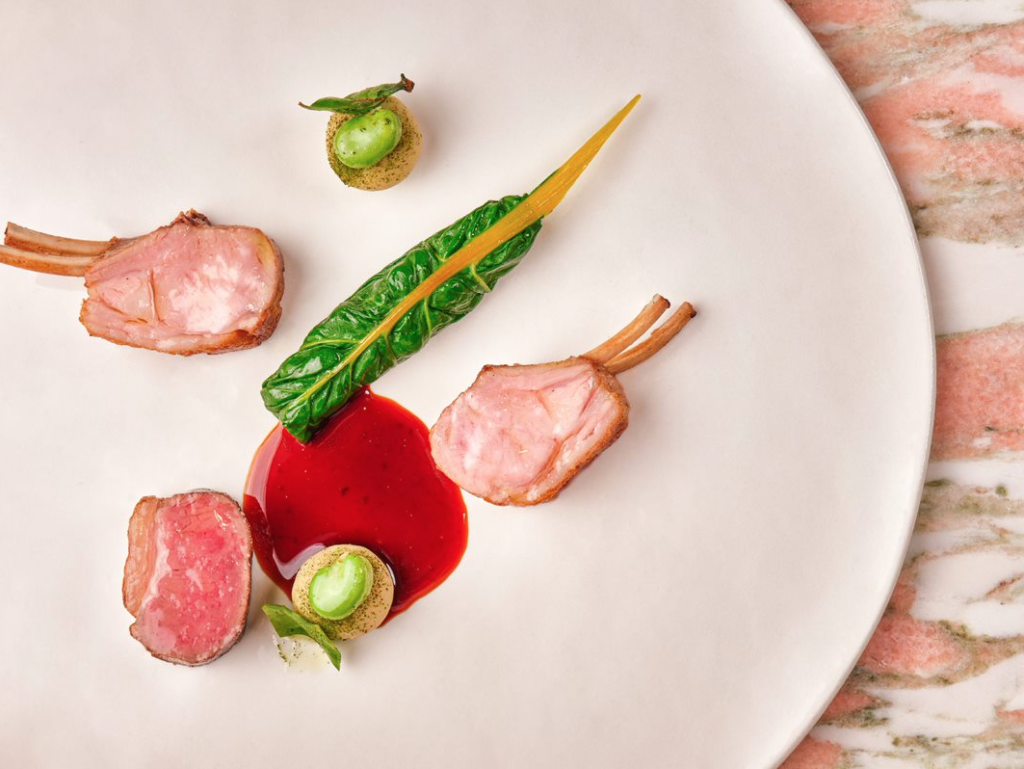 Instead, at Estro, the umami-rich Hokkaido mussels, stuffed with prawns, a little sourdough, garlic and parsley measured down to the gram, are tightened up with a cotton string and steamed at a set temperature for an exact two minutes and 15 seconds for the stuffing to be just cooked through but the mussels still tender and juicy. Finishing touches come in the form of an aglio e olio purée, parsley oil, yellow tomato sauce and Lardo di Colonnato.
Another case in point: the Spanish baby lamb rack and loin served with a Swiss chard roll of fava beans and honey peas, fava beans compote and fennel pollen jus. "During the spring, we always eat lamb and fava beans. But traditionally, the lamb is baked for a day and totally grey, and the fava beans, we just eat them raw with pork or something like that," Merone says. "So, I took this 'stereotype' of Neapolitan food and created a dish that is special and unique. I rarely make dishes that are just recreations of a traditional dish; I extract from the context of the traditional cuisine – say, what locals like to eat during a particular period or the different in-season ingredients – and use that to inspire more refined dishes because we only have a tasting menu. The dishes have to be very different to the large traditional stews and we have to consider things like elegance, the right cooking times, right cooking methods, balancing how much protein and carbohydrates you have in the meal so that you don't over-stuff your guests and they can enjoy the dining experience right through to the end."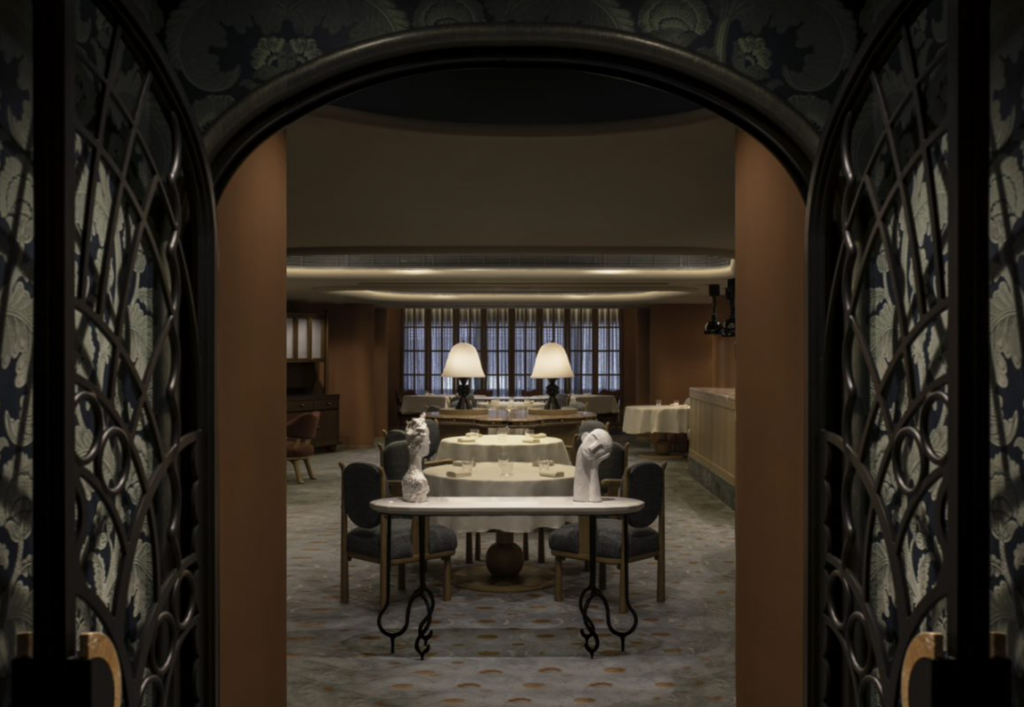 In stark contrast to the nuanced flavours that make up each dish – courtesy of quality ingredients and Merone's
meticulous approach to cooking – is the presentation: minimalistic – elemental, even – but compelling. "It's been a long ride and I would say that throughout the years, I really simplified what you see on the plate and instead, save all the complexity for inside the kitchen where guests cannot see it," he says. "I want the final results to never be something that looks overcomplicated, but rather straightforward and for it to catch your attention for what it is. So if I serve you mussels, it's just mussels. If I serve you lamb, it's lamb. I don't want to hyper-complicate what you see and what you get. All the techniques, all the work, all the research is carried out at the back end from our side, but what you see and what you have is something that looks pretty simple and straightforward."
A clear example of this is Merone's squid-ink scialatielli dish. In appearance, it's white semi-translucent Japanese aori-ika on black squid-ink scialatielli with flecks of green from dry oregano. In taste, however, there's a contrasting texture between the springy squid and al dente pasta. There's umami, there's a mild sweetness
and so much more.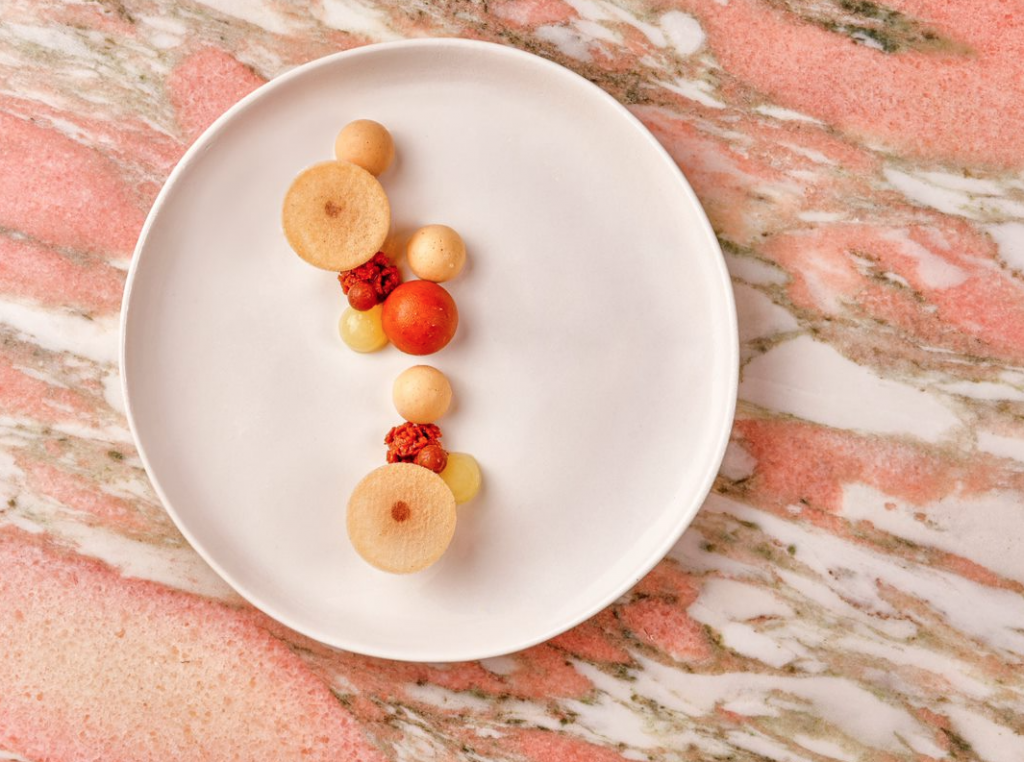 "When it's served, all you see is just pasta with a sauce and squid on top. But there are so many steps to it. First, we have to make the pasta. Then, we have to clean the squid – we use the Japanese aori-ika, which are over a kilo in size so they take a long time to clean. And then we have to freeze it so we can slice it thinly. After, we take cuts of the squid and make it into a stock. Then we have the tomato, which we pass down a filter to make a consommé. Then we take leeks, roast them and make another consommé. Then we balance different percentages of each ingredient in order to create a stock that is the exact flavour I want for the pasta to be cooked in. So while the outcome is something very simple, the process requires a lot of steps."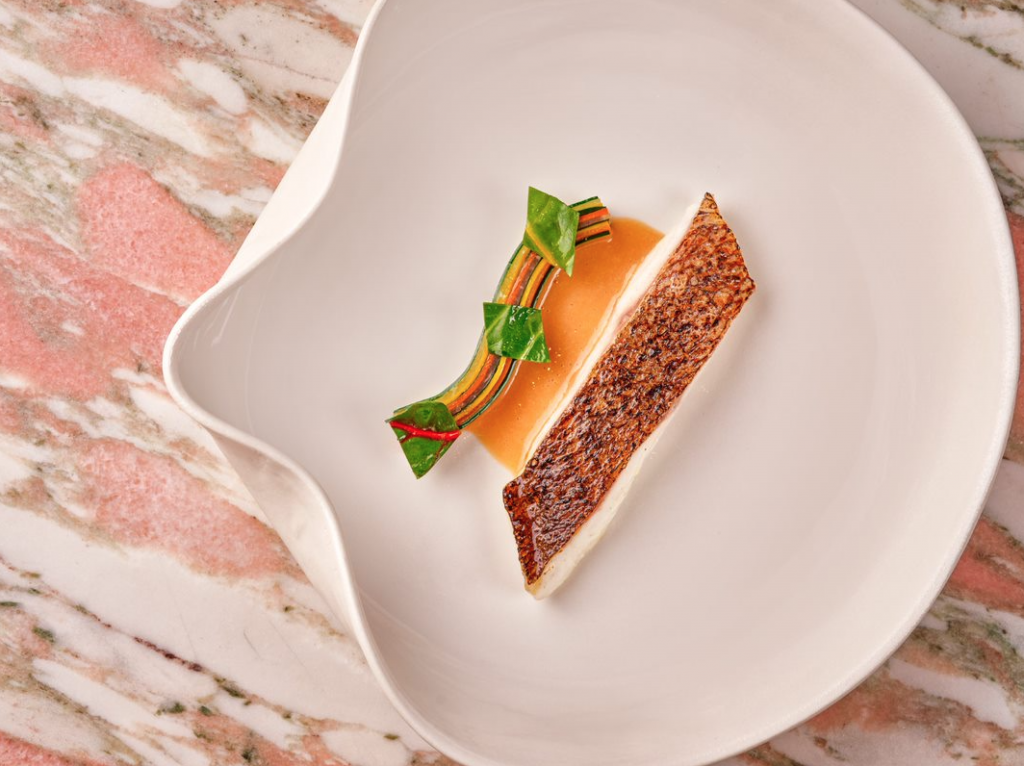 Then again, Merone – who after a short stint in finance decided to return to his passion for cooking, working his way up in the professional kitchens of Berlin before, prompted by his mother, enrolling in Italy's leading culinary school, ALMA, at the comparatively mature age of 28 – has never been one to shy away from hard work. "I'm not satisfied with what we're doing. I'm happy with where we are and what we're doing, but I'm not satisfied because if I am, it means I'm settling and I don't want to; I want to push and improve myself," the 41-year-old says.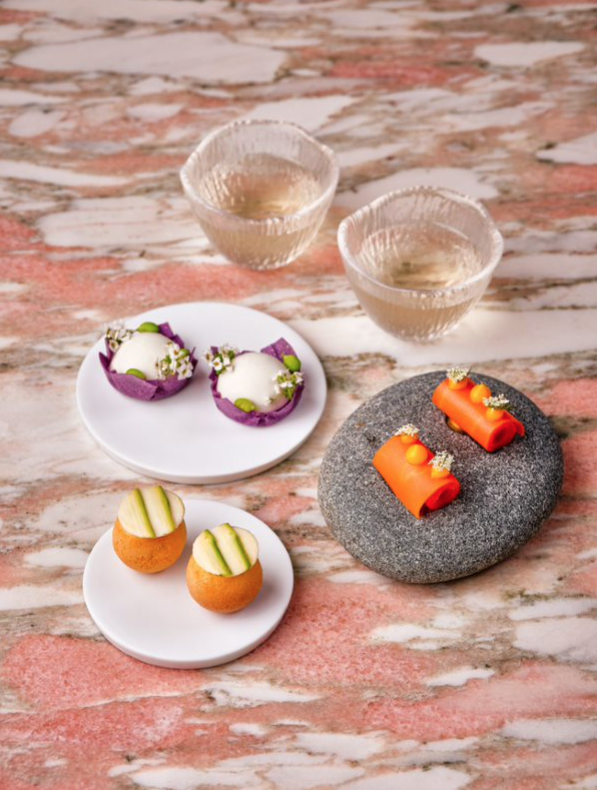 "I've changed so much of my menu already in the last year and a half because I have a lot of returning customers who want to try new things and because we cook for the guests. We're very happy that after a year of operation we got a [Michelin] star and I think this is a reward for doing a good job for your customers. If you don't serve your customers, the guide will not award you. You serve your guests, you make your guests happy, you make your name out of it and then the guide will recognise your work. But you can't work for the awards, otherwise you will lose focus of what a restaurant is. A restaurant is a business that provides a service to its customers. That's what it is."
Also see: André Chiang brings culture to Sichuan Moon's cuisine