Cosy up with these luxury hotel takeaway meals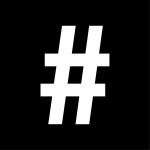 By: Ha Rin Choi
February 25, 2022
Something to celebrate or simply missing your favourite dishes from your preferred luxury hotel restaurants? Fret not. Some of the city's most celebrated hotel kitchens are whipping up a feast for you to take home. Take a look at our list of takeaway offerings crafted by seasoned chefs to nourish you through a chilly lockdown
Mandarin Oriental
Mandarin Oriental's Japanese izakaya, The Aubrey, is now offering a selection of their signature dishes and classic cocktails for takeaway and delivery on Hong Kong island. With this service, guests can now enjoy fine izakaya fare within the comfort of their own homes. The menu includes delicacies such as charcoal chicken karaage, charcoal cauliflower karaage, chicken katsu sando and an A4 Kagoshima Wagyu sando.
The experience of The Aubrey at home would not be complete without beautifully crafted cocktails. Guests can choose from a selection of classic bottled cocktails such as Negroni, Old Fashioned or even Dirty Martini to accompany their izakaya meal.
Rosewood Hong Kong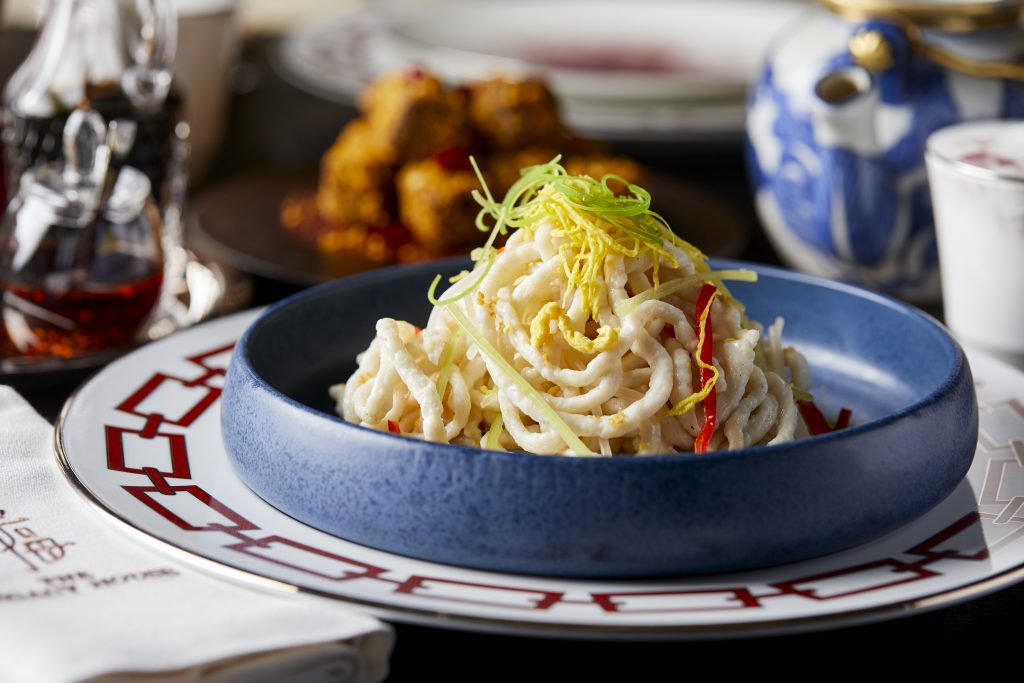 Rosewood also shares the good news of offering takeaway menus from its renowned restaurants. Guest can now enjoy takeaway or delivery from Bayfare Social, Butterfly Patisserie, Chaat, Henry, Holt's Café and The Legacy House. This is the perfect chance to enjoy The legacy House's signature wok-fried crab meat for those Cantonese cuisine lovers and Henry's BBQ Plate for meat eaters.
Same-day delivery is also available to Tsim Sha Tsui guests, who can place orders via Deliveroo.
Also see: 3 traditional Chinese dishes with unique origin stories
The Peninsula Hong Kong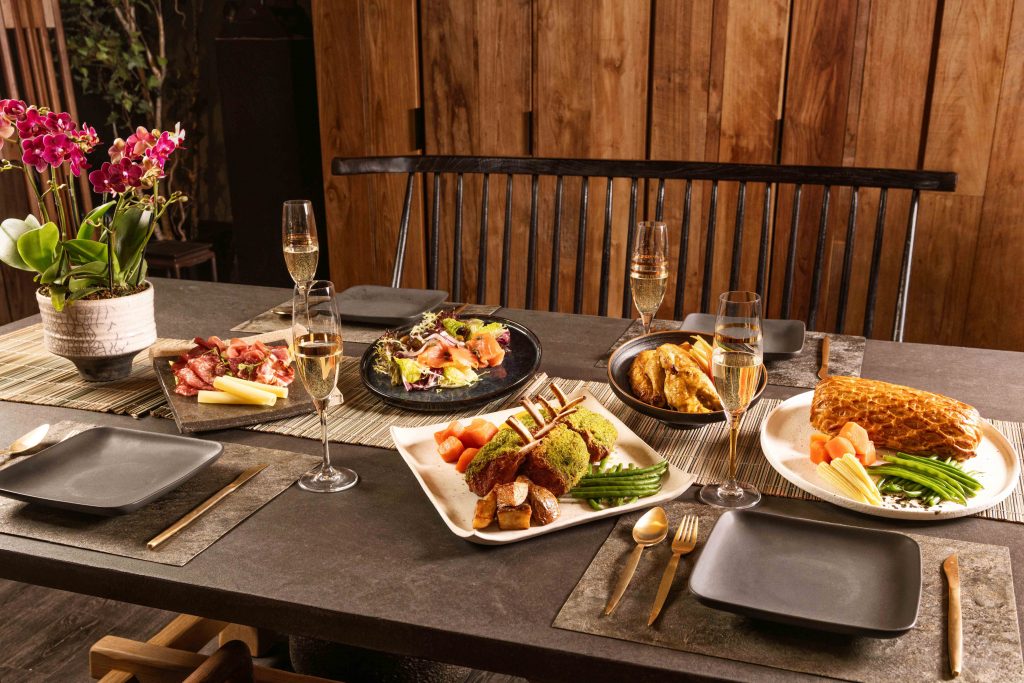 Elevate your home dining experience and add a touch of luxury to your heart-warming feast with The Peninsula Hong Kong's "PenFare at Home" menu. Crafted by the hotel's Michelin-starred chefs, highlights include Western and Chinese dishes, as well as the Grande Dame's legendary Afternoon Tea set. You can also pair meals with exclusive Peninsula-branded wines and receive a souvenir for orders of two bottles or more.
The "PenFare at Home" menu is available for ordering from 10:00 am to 9:00 pm. In addition, sushi platters are available from 10:00 am to 6:00 pm, and Classic Afternoon Tea sets are available from 12:00 pm to 6:00 pm.
As part of the hotel's sustainability initiatives, the hotel's takeaway packaging is made of biodegradable materials. Protect the environment by bringing your bag to pick up your meals, and receive a HK$20 discount.
Island Shangri-La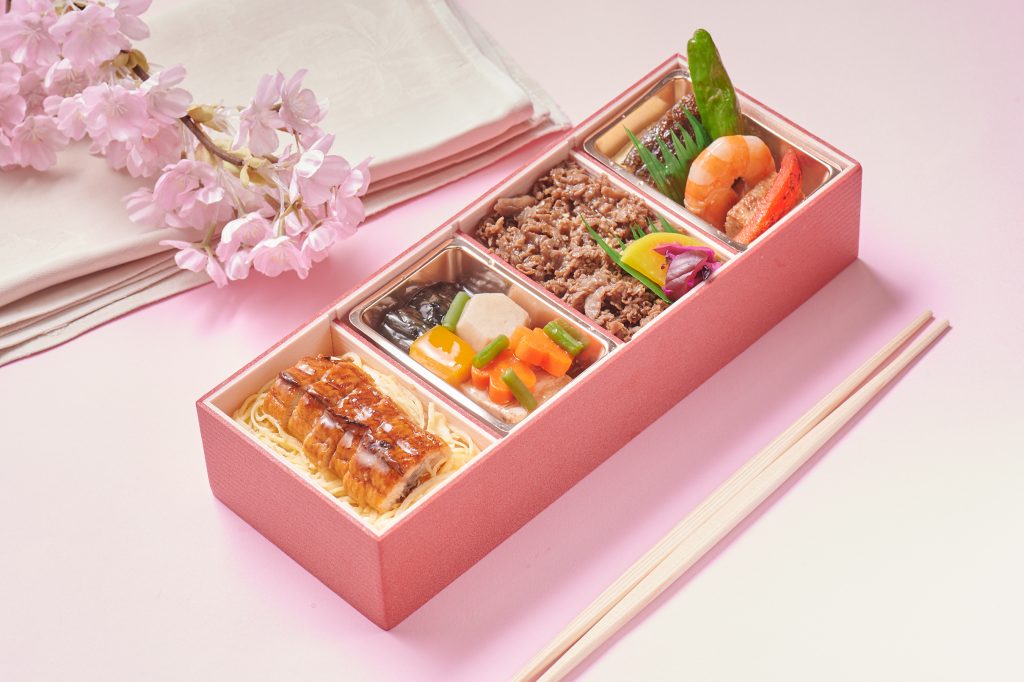 Nadaman from Island Shangri-La brings warmth and comforts to your home by introducing its signature bento and curry in their menu. Varied from seafood to meat, you can select which bento to eat depending on your daily wants. Enjoy Signature Nadaman curry rice with Kumamoto pork cutlet at HK$480 and Wagyu beef Sukiyaki bento at HK$320.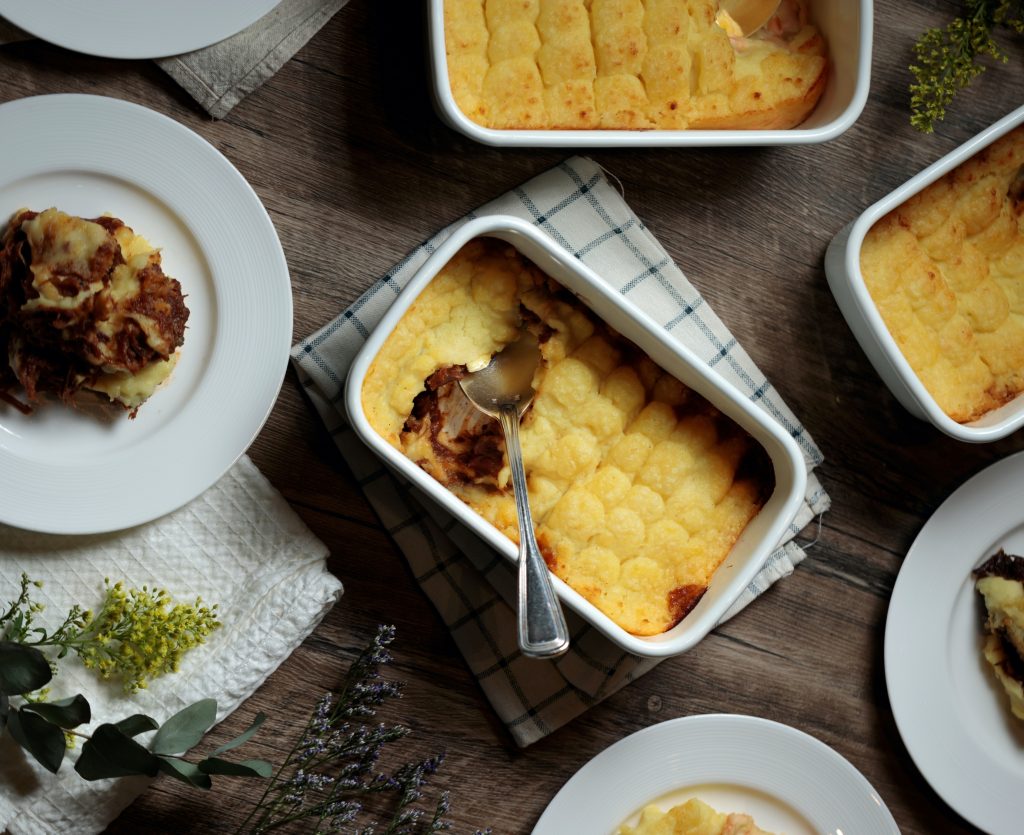 Their Lobster Bar and Grill is another takeaway option from Island Shangri-La. It introduces Scrumptious À La Carte and Weekdays Set Meals, including seafood and meats. Made-to-order, you can enjoy its signature grilled seafood or meat cuisine from HK$198 and 3 courses set meals from HK$588. A three-courses set meal includes lobster bisque, beef Wellington and lobster thermidor. You can also check out the restaurant's new signature dessert – the banoffee pie – and other savoury pies.
Don't miss out on the chance to get free delivery to Hong Kong Island for a purchase of HK$1,500 or above.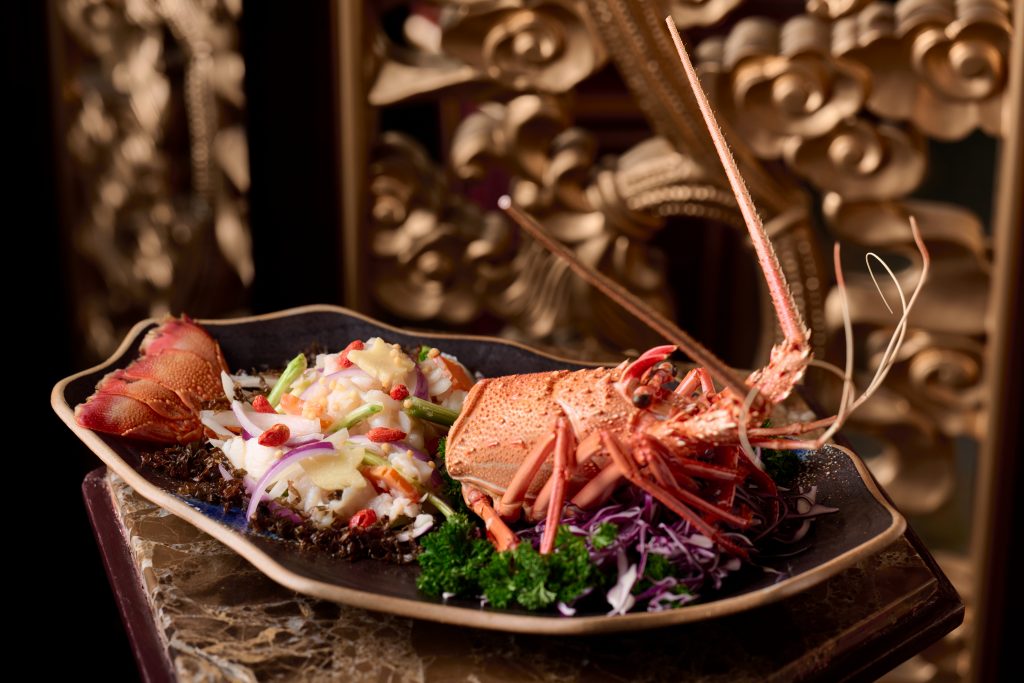 Explore Michelin-starred Cantonese flavours from a fancy restaurant? Not a problem at all even during a lockdown. Your home can be a renowned Cantonese restaurant with these takeaway dishes from Summer Palace at Island Shangri-La. At the price of HK$1,980, you can enjoy stir-fried fresh lobster with crispy preserved vegetables, goji berries, crispy rice, spring onions, red onions and shallots.
Summer Palace also introduces refined meal boxes for those who can't give up well-deserved dishes even during busy times. At the price of HK$388, you can relish a Summer Palace Michelin-Starred meal box, and you can always upgrade your meal to a Michelin-Starred Chef Recommended Meal Box by adding HK$200 more.
Also see: Confectionary that combines seasonality and creativity
Kerry Hotel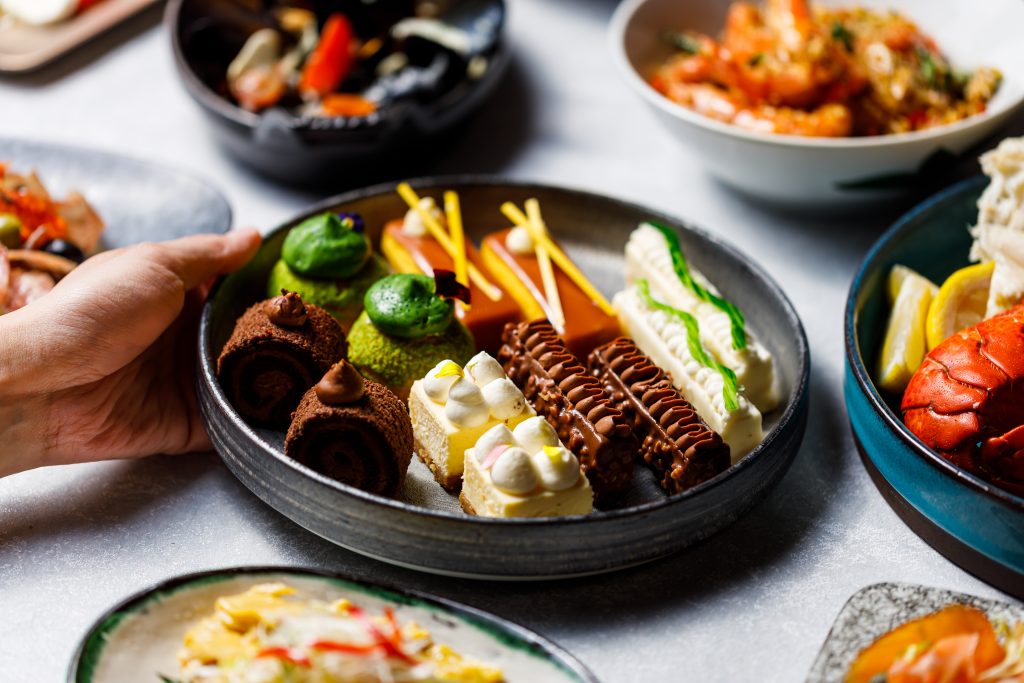 Bring home an international buffet spread with Big Bay Café's takeaway Buffet Box. By mindfully curated new dishes, their offering includes guests' selection of two starters, two Western delicacies, two Asian main courses and six pieces of desserts – priced at HK$418 for two persons. You can also add a seafood and sashimi platter, starting from HK$180. Dishes highlights include tom yum goong soup with prawns, thyme and honey roasted spring chicken, slow-braised beef cheek with Paris mash, mussels with white wine and garlic and typhoon-shelter garlic shrimp.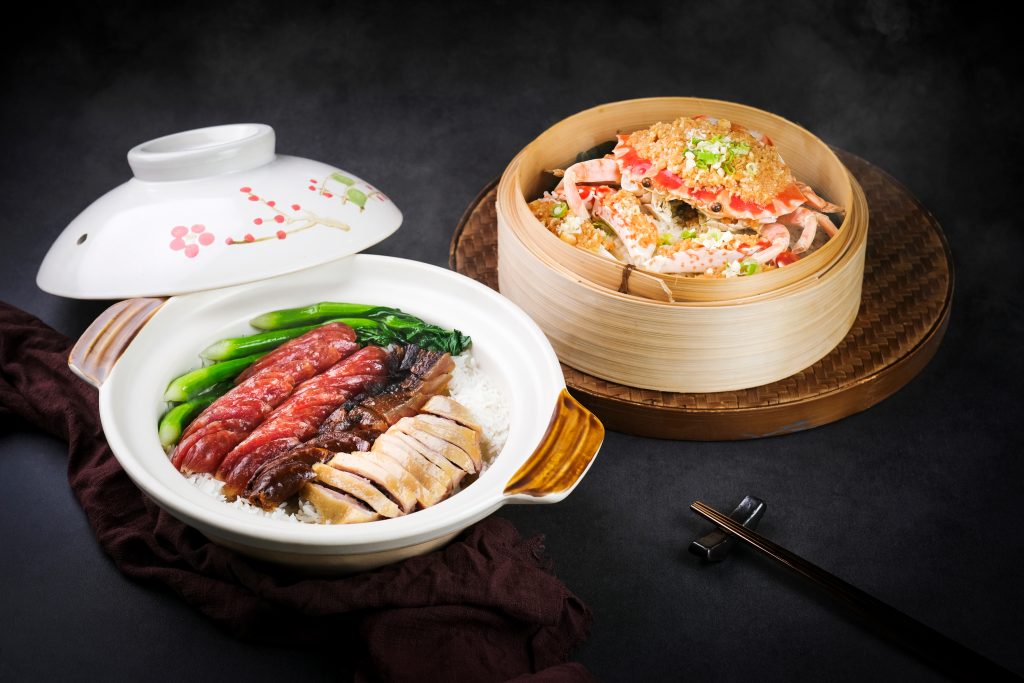 Kerry Hotel's contemporary Chinese diner Hung Tong in turn introduces Winter Warmers Takeaway. This is perfect for a family meal. You can enjoy steamed glutinous rice with crab wrapped in lotus leaves at HK$688 and boiled rice with Chinese preserved meat in a clay pot at HK$438.
Also see: Self-taught private chefs adds flavour to HK dining scene
Kowloon Shangri-La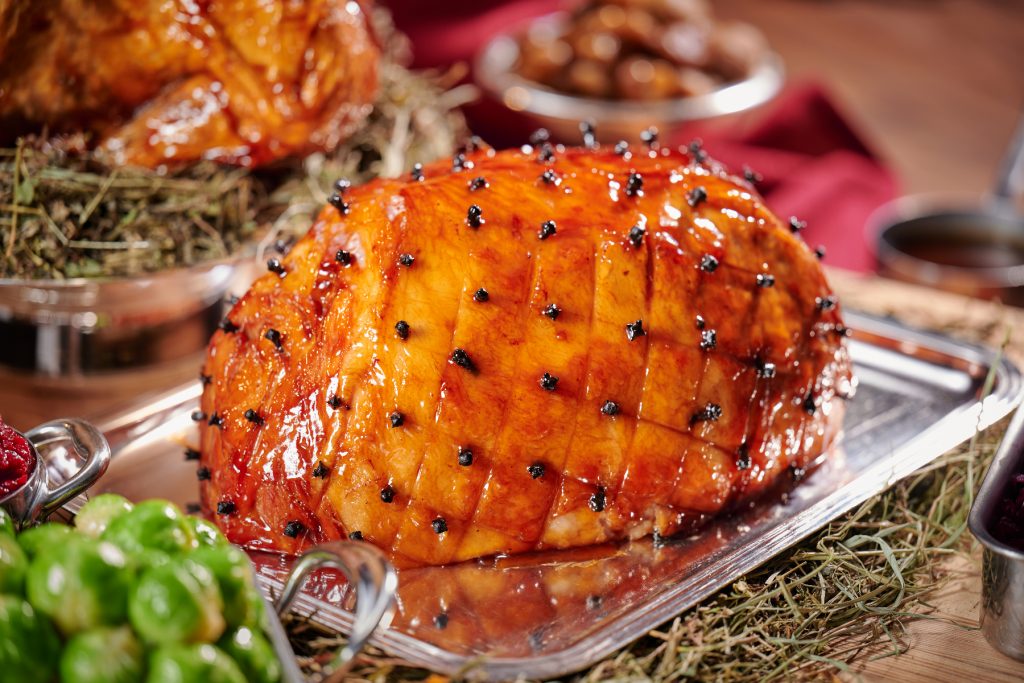 Are you looking for a fancy and delicious dish to share with your friends or family during the lockdown? Here is a perfect option from Café Kool. The menu offers the Roast Meats for sharing – a combination of premium meats and classic dishes, which you can enjoy in the comfort of your home.
Roasted beef ribeye prices at HK$1,680, salted crust salmon fillet costs HK$980, and Café Kool's signature slow-cooked pork loin is offered at HK$980. Don't forget to order them in 72 hours advance.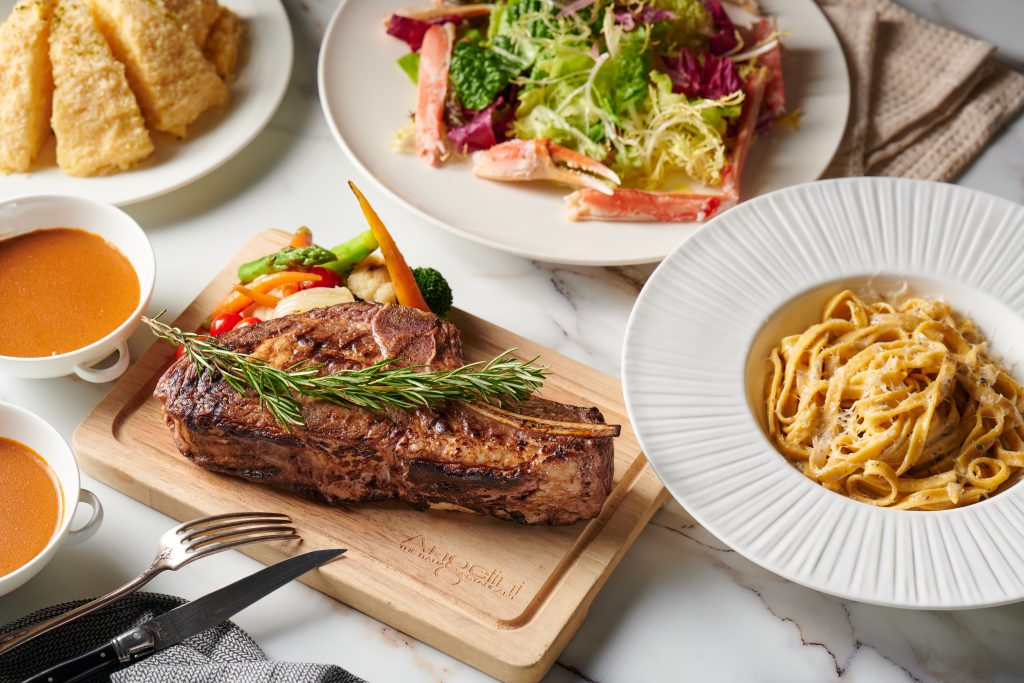 If you think semi-permanently locked in at home means you can't enjoy a sumptuous multi-course meal, think again. Kowloon Shangri-La delivers the promise of an excellent 5-course Italian set meal, courtesy of Angelini. Be pleasantly pampered with the taste of authentic flavours through an assortment of dishes prepared with ingredients imported from Italy.
The takeaway set includes Mesclun salad with snow crab, lobster bisque, black truffle tagliatelle, Fiorentina steak with grilled vegetables and traditional lemon custard mimosa cake. The set is priced at HK$2,800 for four people.
Also see: Flavourful origins of the world's most exquisite aged hams
Also see: Truffles: The pursuit of white gold