15 Sumptuous dining offerings to try this November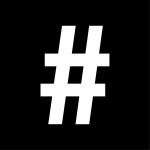 By: Stephenie Gee
November 7, 2022
From fresh openings to new menus to seasonal offers, here's what to look out for in the dining scene
New opening: Danji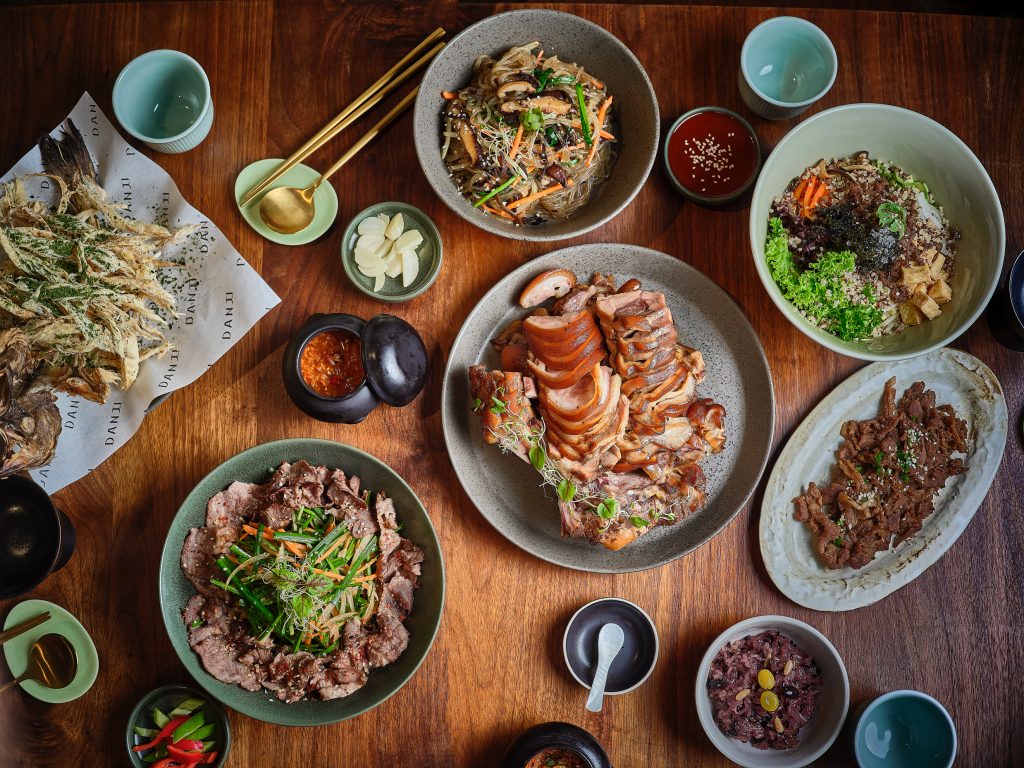 Founder of beloved Korean food concept Seoul Recipe, Jennifer Kim, has ventured into the restaurant business with modern Korean bistro Danji. Named after the traditional earthenware pot used to store sauces and ferment kimchi, the new eatery located in Wan Chai's trendy Starstreet precinct brings a piece of the pop culture powerhouse to Hong Kong with traditional, home-style Korean cuisine executed with a modern flair, including kimchi pancake fried to perfection, marinated tender galbi ribs and juicy fried chicken.
Where: 7 Sun Street, Starstreet Precinct, Wan Chai
New menu: Chaat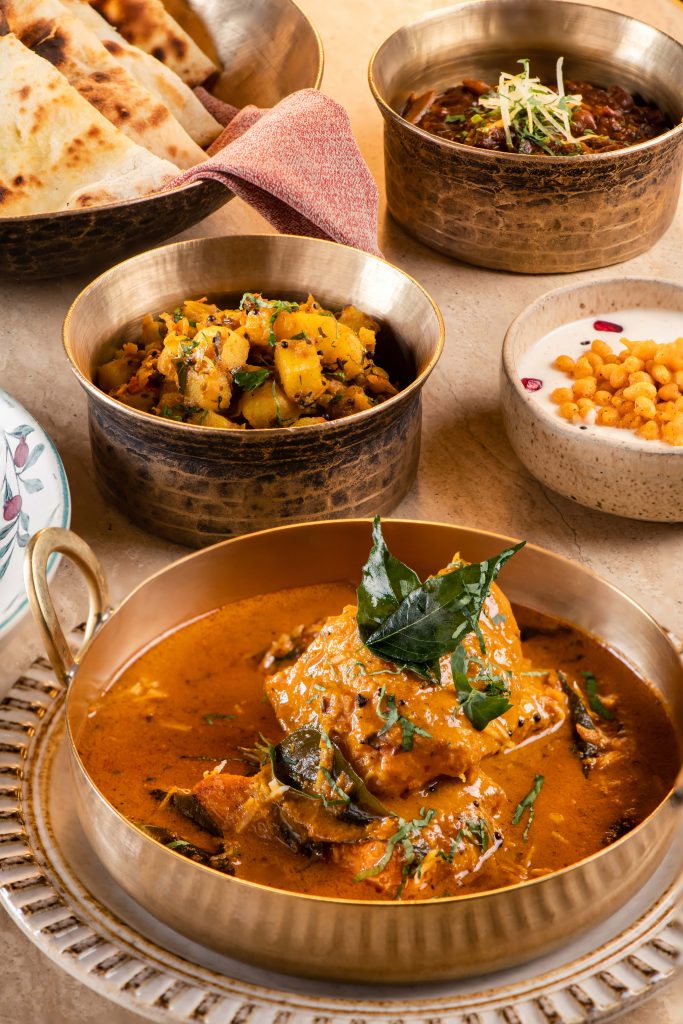 Those who still have not been able to book a table for dinner at the city's pioneering modern Indian restaurant are in for some good news. Helmed by Chef de Cuisine Manav Tuli, one-Michelin-starred Chaat is now serving a weekday (Tuesdays to Sundays) set lunch menu priced at HK$488+10% per guest with an optional sommelier-led wine pairing at HK$90+10% for one glass and HK$175+10% for two glasses. The three-course lunch includes crowd-favourites from starters to mains such as the Mini Raj Kachori with crispy lentil and sweet, tangy chutney; Delhi Butter Chicken with tomato sauce and fenugreek; and Prawn Pulao with aged basmati rice and saffron.
In addition to the new wallet-friendly lunch service, the à la carte menu also welcomes new dishes that are sure to delight your senses. Highlights include Scallop Behl, chef Tuli's reinterpretation of a long-popular Indian street delicacy by featuring puffed rice and Japanese Hokkaido scallops; Tandoori Sarson Prawns with mint chutney straight from Chaat's trio of authentic Tandoor ovens; Himachali Mahani, a vegetable dish hailing from the state of Himachal Pradesh that was known to be cooked only by specialised chefs for vegetarian buffets; and Malabar Fish Curry made with Chilean seabass, coconut, tamarind and curry leaf that is reminiscent of a regional rendition.
Where: 5/F Rosewood Hong Kong, Victoria Dockside, 18 Salisbury Road, Tsim Sha Tsui
New menu: The Baker & The Bottleman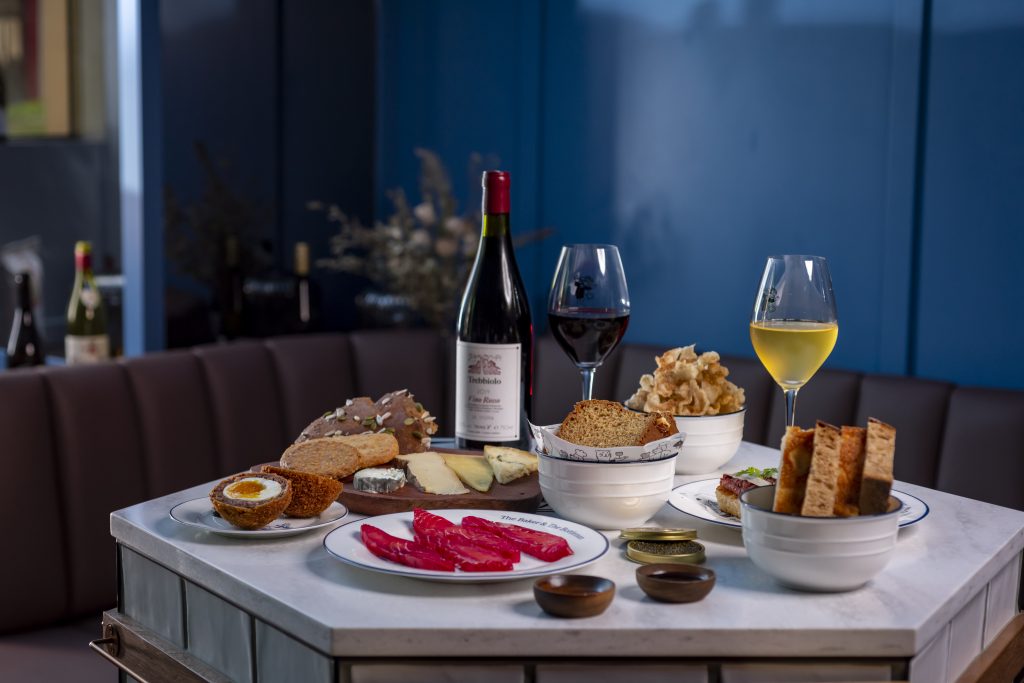 The modern sustainable bakery tucked away in Wan Chai's Lee Tung Avenue has now transformed into a casual and relaxed wine bar in the evenings of every Thursday to Monday for guests to unwind after a hard day at work, with an array of natural wines, cold cuts, cheese and snacks including truffle pudding, scotch egg, anchovies on toast and beef crackers to choose from. And, as part of its commitment to supporting and appreciating small and sustainable wineries around the world, the bakery by day and wine bar by night will also be launching a series of wine nights. The first of the line-up, themed "Champagne Growers Night" and priced at HK$880+10% per guest, will take place on 29th October, followed by "France vs New World" on 12th November.
Where: Shop Nos. G14-15, G/F, F15A, 1/F, Lee Tung Avenue, 200 Queen's Road East, Wan Chai
New menu: Henry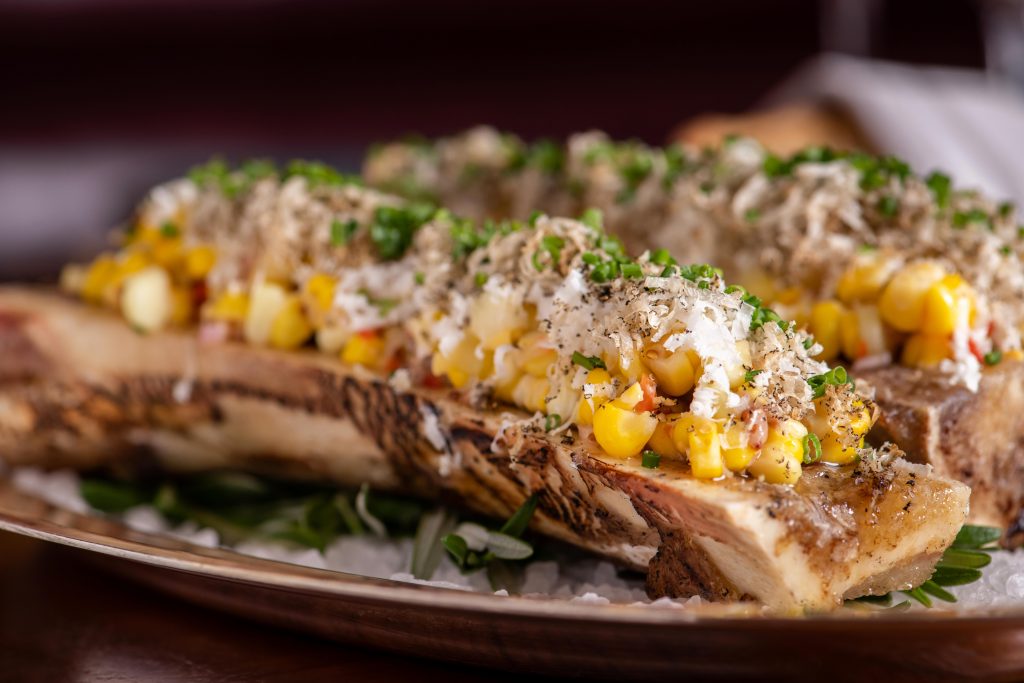 Rosewood Hong Kong's resident steakhouse has returned with a weekend feast crafted by Chef de Cuisine Mario Tolentino available on weekends from 12 pm to 3 pm. The new lunch menu, priced at HK$798+10% per guest, begins with unlimited servings of appetisers such as Market Oysters with dirty martini granita and champagne mignonette; Henry Wedge Salad with pork belly, blue cheese, cherry tomato, pickled red onion, avocado, and buttermilk dressing; and Roasted Bone Marrow with sweet corn relish, fresh horseradish and sourdough bread. This is followed by a choice of main courses of barbecued meats including the Smoked BBQ Beer Can Half Chicken, 6oz Tenderloin and Holy Trinity Dirty Rice with Boston lobster, jumbo lump crab, fried oysters and foie gras, and dessert.
Where: Level Five, Rosewood Hong Kong, 18 Salisbury Road, Tsim Sha Tsui
New menu: Bayfare Social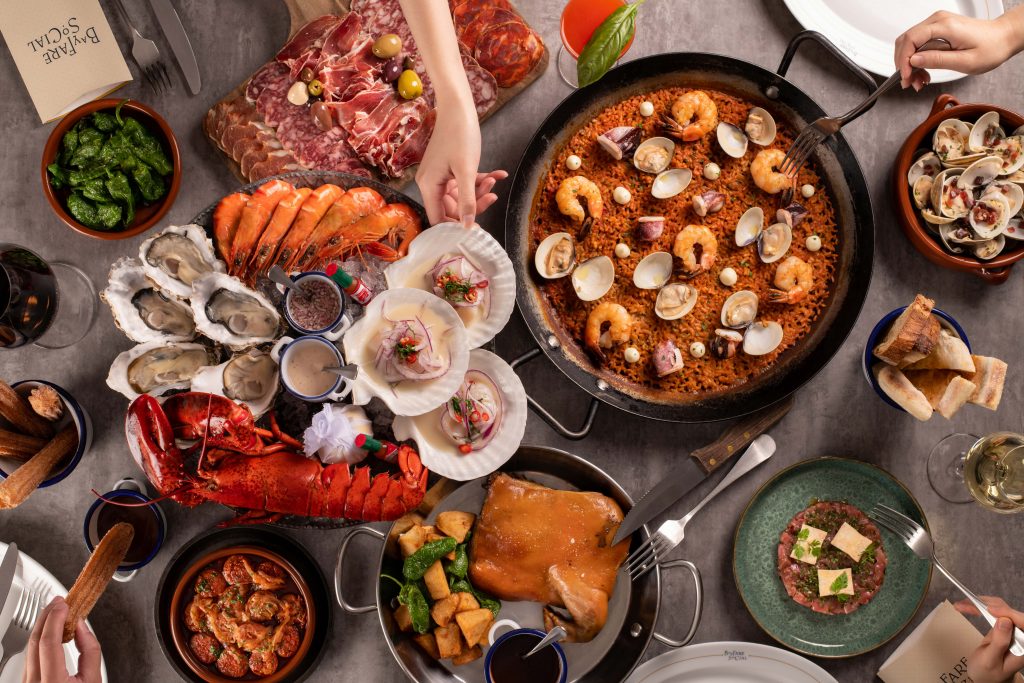 Looking for somewhere to relax over a leisurely lunch? Rosewood Hong Kong's tapas-inspired restaurant and bar is now serving a new weekend lunch menu cooked up by Chef de Cuisine Jorge Vera Gutierrez. Perfect for sharing with friends and family, the menu of delectable Spanish fare begins with a refreshing seafood platter on ice and scallop tiraditio, before moving on to a variety of traditional tapas, hearty mains that include the chef's signature crispy-skinned roasted suckling pig and seafood paella, and an indulgent dessert of either churros with hot chocolate dip or tart of the day.
Where: 5/F Rosewood Hong Kong, Victoria Dockside, 18 Salisbury Rd, Tsim Sha Tsui
New menu: Ramato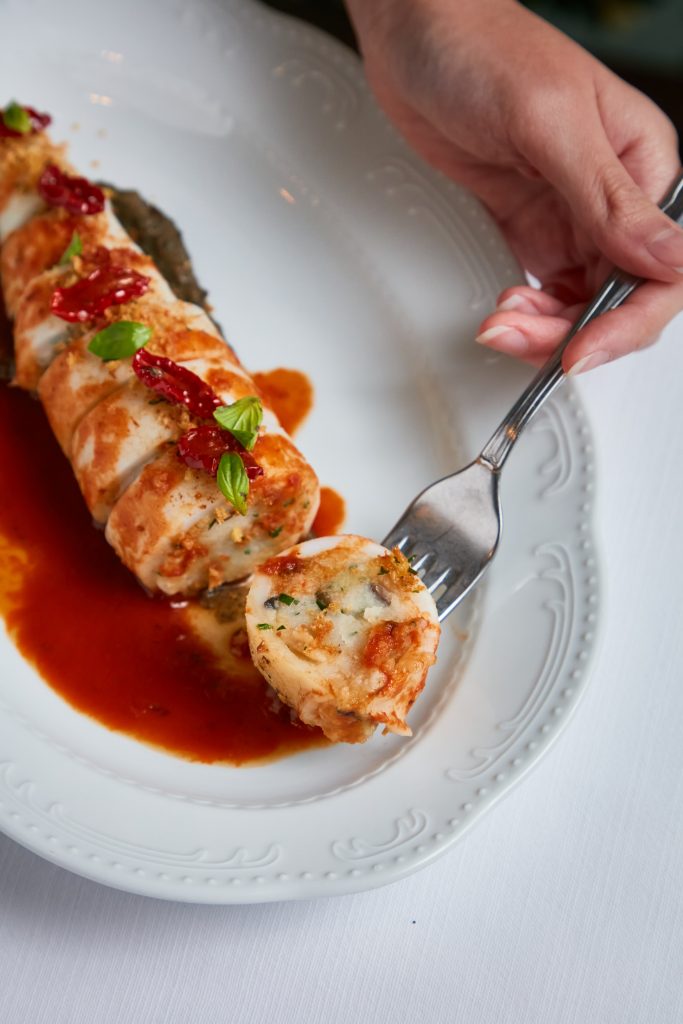 Your friendly neighbourhood Italian restaurant and bar, Ramato, has launched a series of new à la carte dishes. True to their mission of serving traditional southern Italian fare with family-style charm, the six new dishes take from his childhood and Chef Matteo's Sicilian grandmother, such as Calamaro Ripieno, potato stuffed calamari with smoked eggplant puree and tomato sauce; Cavatelli alla Pescator, homemade cavatelli and assorted seafood ragu; and his "one-layer lasagne" inspired by his love for the dish as a child.
Alongside, Ramato also has on offer a new Fridays-only set lunch menu priced at HK$288+10% for three courses or HK$298+10% for four courses of fan-favourites and dinner-only Chef's Signature Menu. Entitled "Chef's Choice 'A Taste of Italy' Menu," the six to seven-course dinner that can be served both individually or family-style takes guests on a gastronomic journey to Italy with Chef Matteo's finest signatures as well as seasonal off-menu specials.
Where: 208 Hollywood Road, Central
New menu: Somm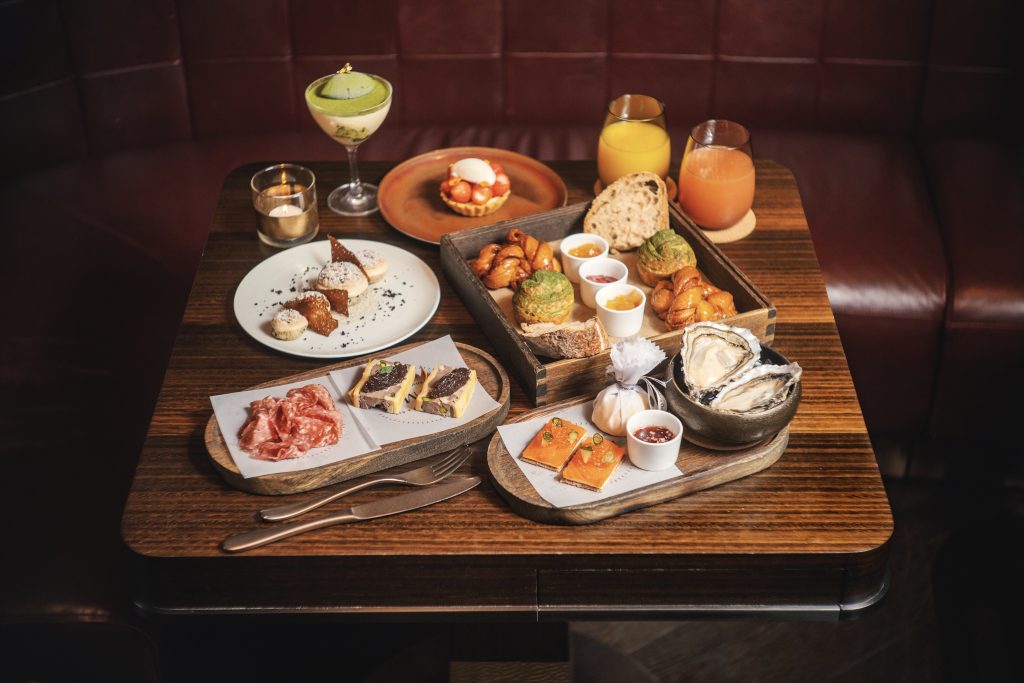 The Landmark Mandarin Oriental's French neo-bistro concept has revamped its signature "SOMMkind of Brunch" for the autumn season. Crafted with time-honed artistry and the finest seasonal produce, the delectable weekend brunch at HK$768+10% per diner offers a 90-minute free flow on a selection of alcoholic and non-alcoholic drinks and a spread of sharing starters from homemade sourdough bread, cinnamon roll and nori brioche to their signature home cured and smoked ocean trout with crème fraiche jelly, dill, pickled Kyuri cucumber and trout roe on crispy rye crackers; choice of main course including the line-caught medai, roasted Ping Yuen chicken with sweet garden pea tartelette and a limited-edition rendition of their Bress pigeon and foie gras pithivier; and desserts.
Where: 7F, The Landmark Mandarin Oriental Hotel, 15 Queen's Road Central, Central
New menu: Glasshouse by Asaya Kitchen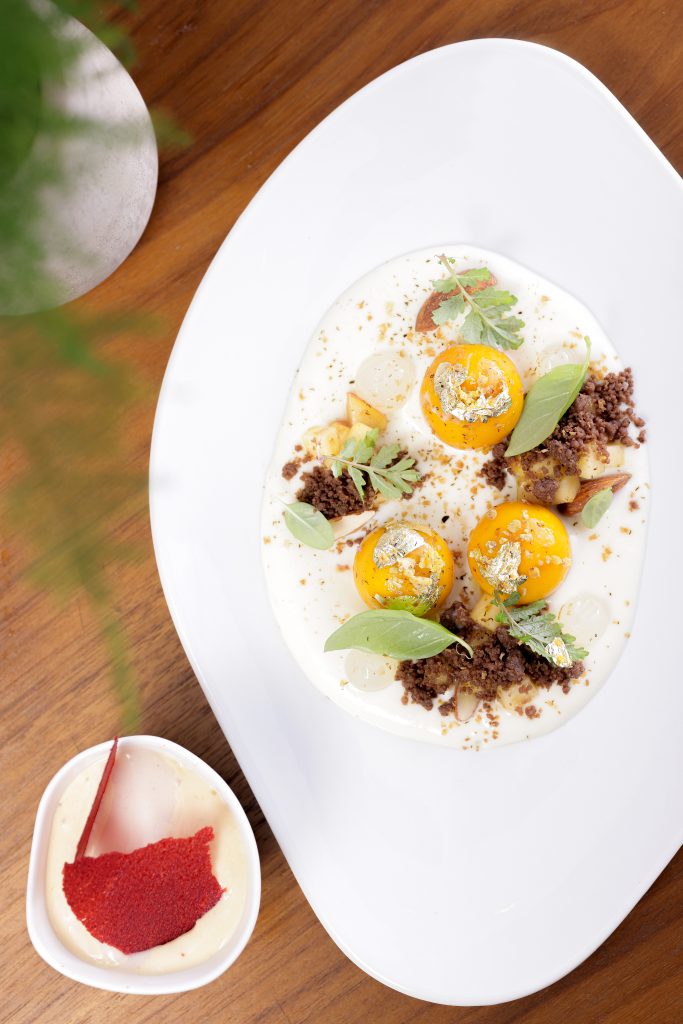 To celebrate the change in season, Chef Fabio Nompleggio has unveiled a new 7-course autumn tasting menu for Glasshouse by Asaya Kitchen. Priced at HK$1288+10% per person, guests will be able to enjoy the impressive views of the Hong Kong skyline whilst sampling a menu of refreshing Mediterranean-style dishes. Highlights include the bluefin tuna "tartare"; king crab cone served with caviar and celeriac remoulade; pumpkin de provence, a unique rendition of the pumpkin soup with pumpkin, parsnip, zucchini and squash garnished with coffee beans milk foam and lapsang souchong powder; and orange-glazed peaches with tonka bean, liquorice crumble, peach sorbet and strawberry milk.
Where: 6/F Rosewood Hong Kong, Victoria Dockside, 18 Salisbury Road, Tsim Sha Tsui
New menu: House of Orient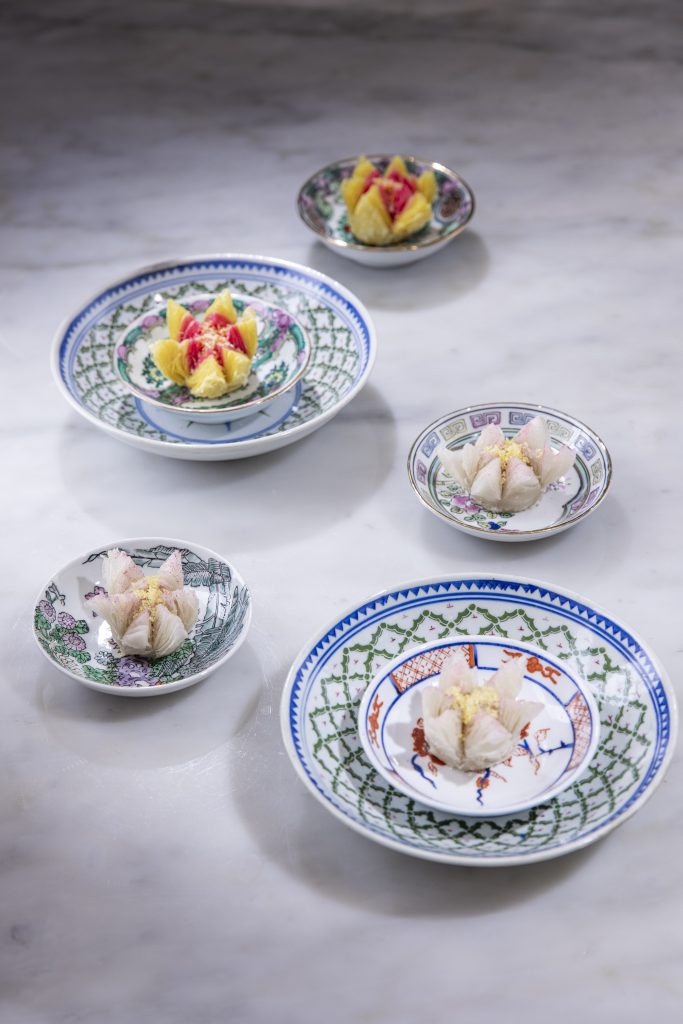 Located in the heart of Central, House of Orient has launched two all-new afternoon tea experiences dubbed the "Classic Flavours" and "Touch of Surprise," that showcase our city's culinary highlights – presented in vintage tableware procured from antique stores – in line with their commitment to celebrate and revive old Cantonese culture.
For those with a sweet tooth, the "Classic Flavours tea set" includes a selection of beloved sweets from a bygone era, including the elegant white peony pastry hailing from Luoyang in Henan province, red bean pudding and walnut pastry. While the "Touch of Surprise tea set" highlights the diversity of Cantonese dim sum, from classic steamed to fried and baked with standouts including the deep-fried stuffed crab shell with Chinese chives, seafood pie in Portuguese sauce and shredded turnip puffs. A comprehensive collection of premium teas, including lesser-seen varieties such as Xiang Liu An, which has gone out of production for several decades, are also available for guests to choose from.
Where: Shop C&D, 2/F, Entertainment Building, 30 Queen's Road Central, Central
New menu: Felix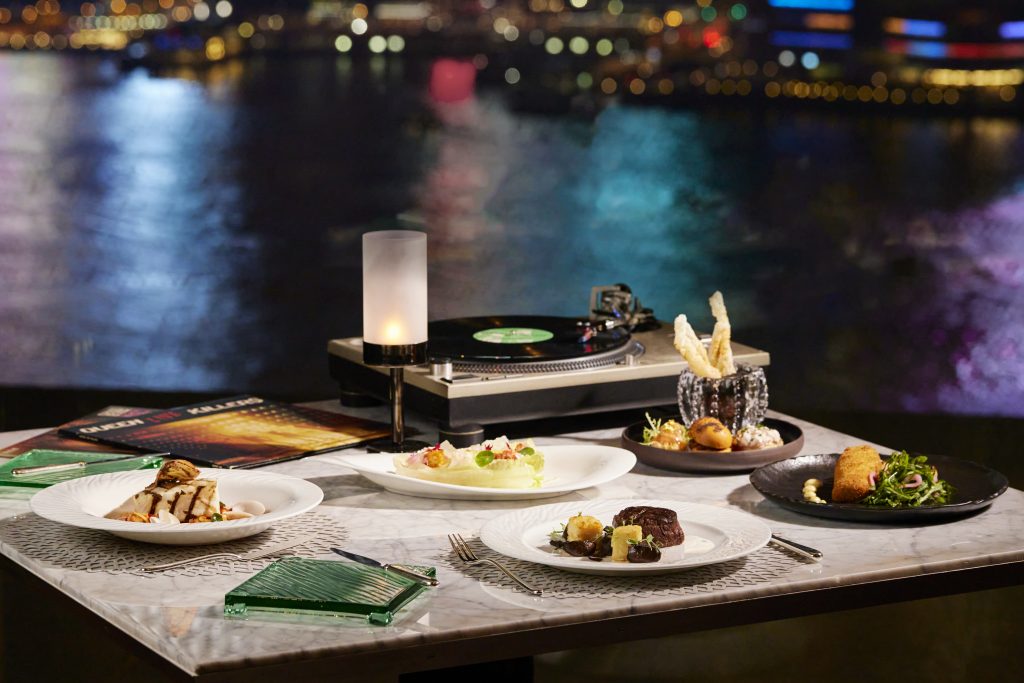 With flights booked to Tokyo booked full into next year, any of us wanting a taste of Japan without the wait can head to Felix. The Peninsula Hong Kong has brought the incredible gastronomy talents of Chef Masuteru Kiriyama, Chef de Cuisine at The Peninsula Tokyo's fine dining restaurant Peter, to the Hong Kong hotel's 28th-floor bar. With dishes like a scallop ceviche with fig, prosciutto and min chimichurri, a melt-in-your-mouth A5 Kagoshima sirloin with black sugar spice and sea urchin mashed potato, Chef Kiriyama brings the Japanese practise of freshest ingredients and a unique light touch with sauces to each dish.
Pair this with any of the new sustainably created drinks brought to you by the newly launched Felix Lab, spearheaded by the Peninsula Hong Kong's Head Mixologist Francois Cavelier. Spirits and liquors are made in-house – some from the fresh orange rinds of juices made for the hotel's morning breakfast spread.
In addition, taking the stage every Thursday to Sunday from now till 10 December is Nights at Studio 54. Co-presented by Felix and Secret Theatre, the immersive dining experience that consists of a welcome champagne and three-course dinner transports guests back to the heyday of the iconic Manhattan club Studio 54.
Where: 28/F, The Peninsula, Salisbury Road, Tsim Sha Tsui
New menu: DarkSide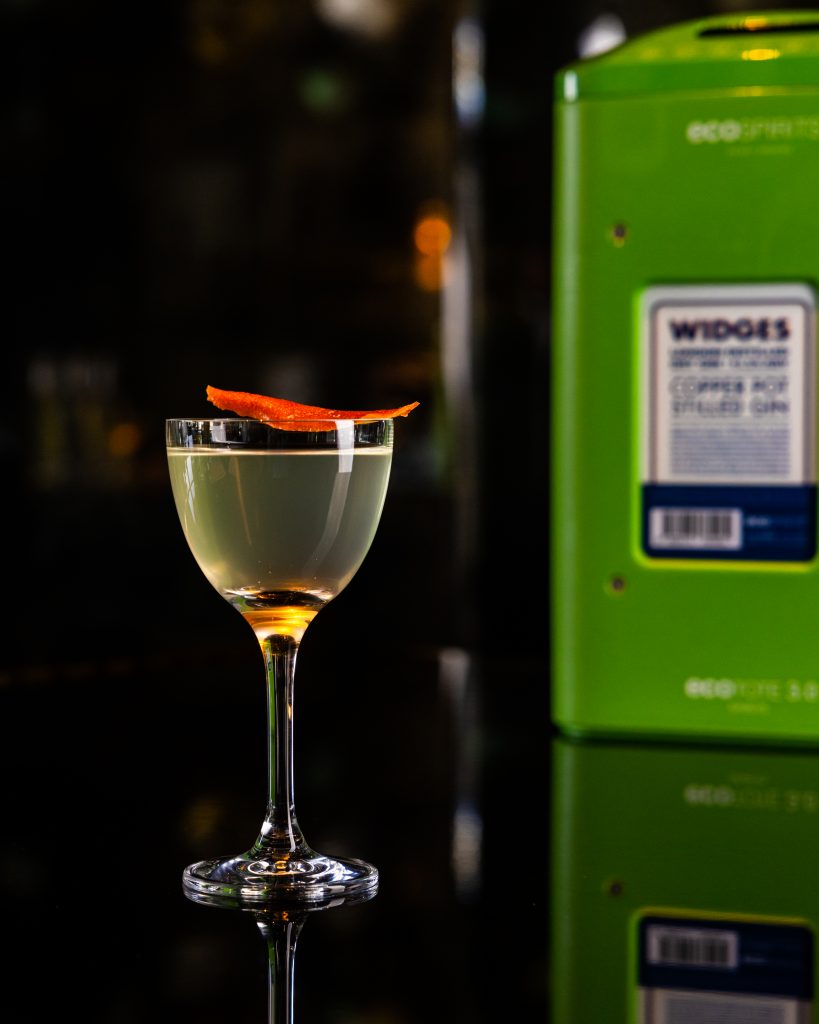 Sustainability has made its way onto the DarkSide menu at Rosewood Hong Kong through their second-edition collaboration with "ecoSPIRITS". Crafted with locally sourced ingredients and paired with ecoSPIRITS' low-waste technology, the new "ecoCOCKTAILS II" menu reinvents classic favourites such as "The ecoLADA," a floral and refreshing interpretation of the Piña Colada; and "The ecoFFEE," which takes reused coffee grounds and clarified whole-leftover orange stock and homemade banana-skin oleo saccharum to give it a lighter and fruitier character.
Drivers or non-drinkers don't need to feel left out when it's time to toast either. Made in partnership with local producer Taboocha, "The eco Salty Citrus Cooler" upcycled from citrus remnants from Rosewood's kitchens and bars is a delightfully sweet and tangy drink that is super sippable.
Where: Rosewood Hong Kong, Victoria Dockside, 18 Salisbury Road, Tsim Sha Tsui
Seasonal offer: Duddell's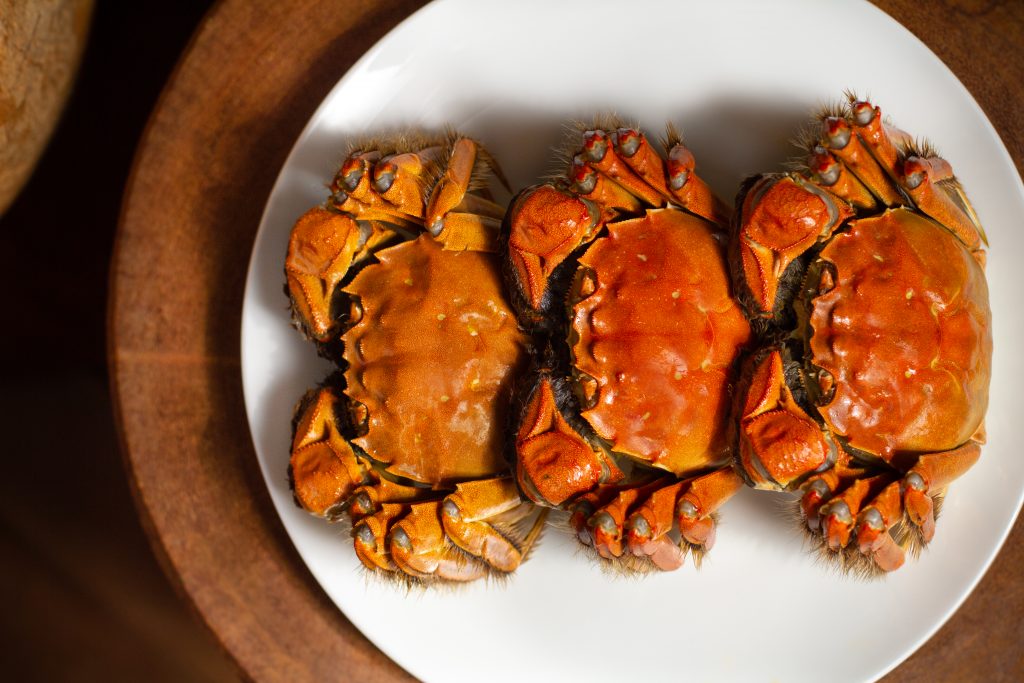 One-Michelin-starred Duddell's celebrates the coveted autumn crustacean with a new HK$1,488+10% per person six-course Hokkaido hairy crab tasting menu consisting of surprises with dishes such as steamed whole Hokkaido hairy crab; double-boiled chicken soup with sea cucumber, ginkgo nuts and pepper; and braised noodles with hairy crab roe; as well as Chef Yip Kar On's limited edition specials. Both on offer until November 24, Chef Yip's eight delectable renditions of the hairy crab include the all-time favourite xiaolongbao with hairy crab coral, crispy rice with hairy crab coral and pan-fried scallop stuffed with shrimp paste and hairy crab roe.
To balance the "coldness" of the crab, according to traditional Chinese beliefs, a yellow wine pairing inclusive of four flights for an additional HK$588+10% per person can be added.
Where: 3/F, Shanghai Tang Mansion, 1 Duddell Street, Central
Seasonal offer: The Legacy House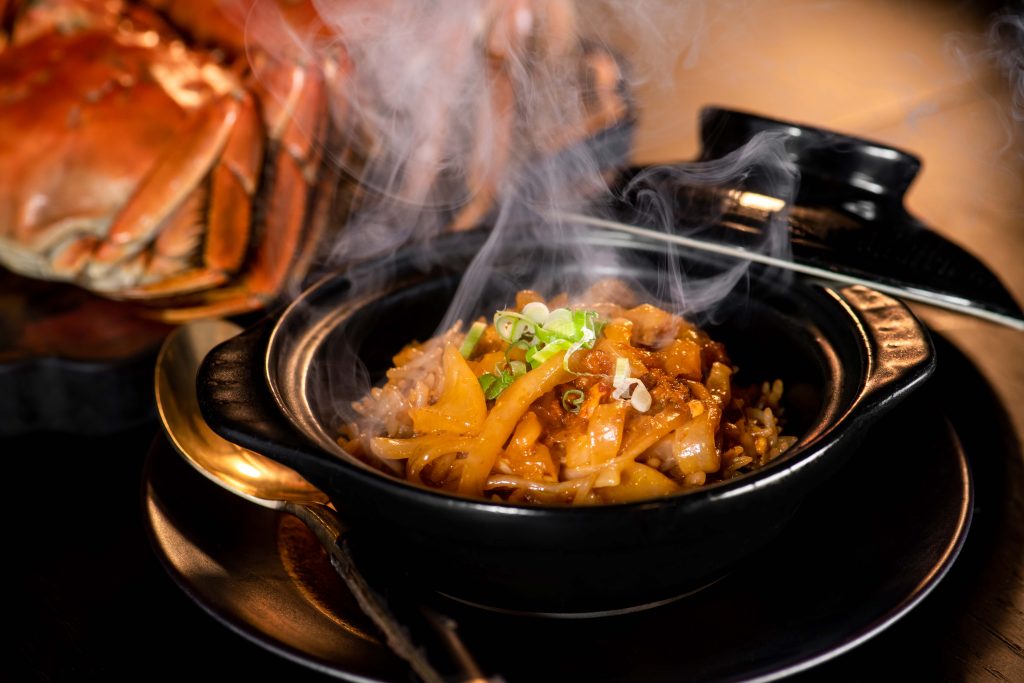 The hairy crab menus at The Legacy House have made their annual return. Featuring premium hairy crabs sourced from Lake Tai (Taihu) in Mainland China, diners can choose to enjoy the crustacean in a myriad of Cantonese à la carte dishes from traditionally steamed to stewed with fish maw, minced shrimp, pork and mushroom in the form of hairy crab cream. Or, a special 6-course set menu priced at HK$2680+10%. This year, guests can even upgrade their dining experience with luxurious Alba white truffles, a glass, or a bottle, of Guyuelongshan, Long Wen 15-Year or Vin Jaune – Chateau d'Arlay 2009.
Where: 5/F, Rosewood Hong Kong, 18 Salisbury Road, Tsim Sha Tsui
Seasonal offer: Sushi Ikkon
Helmed by Chef Wataru Inoue, Sushi Ikkon has rolled out some seasonal offerings for its omakase menus, including kinmeida (splendid alfonsino) from Chida, and saba (makerel) from Oita. Freshly flown in from Japan daily, the former is a white-fleshed fish mild in taste but delicate in texture, served with a secret sauce, young onion shoots and spicy radish puree for enhanced umami. And the latter is a silver-skinned fish that is cured and marinated in salt and vinegar for a rich and balanced flavour. Other highlights are the crunchy Hokkaido ishigakigai drizzled with lime juice, melt-in-your-mouth uni that is savoured by placing it on the back of your hand, and the traditional Japanese tamagoyaki dessert with a soufflé-like texture.
Where: 1/F, Crowne Plaza Hong Kong Causeway Bay, 8 Leighton Road, Causeway Bay
Collaboration: Ān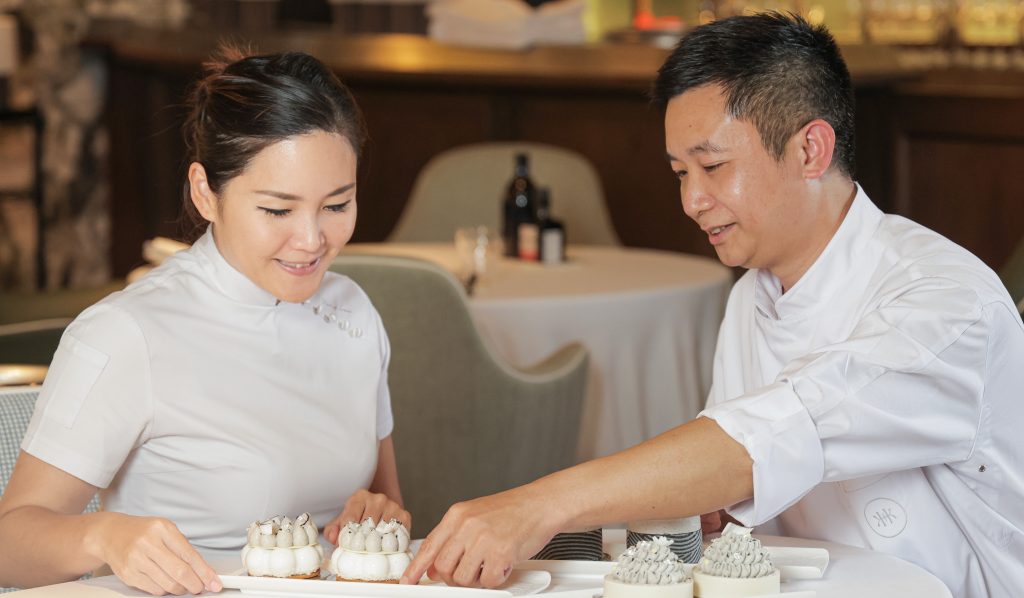 Soybeans have been a staple in the oriental diet for centuries. And on a mission to lift this humble ingredient to something of status, is Chef Vicky Lau of two-Michelin-starred Tate Dining Room and Mora Hong Kong. From now until a limited time only, Lau, together with Butterfly Patisserie at Rosewood Hong Kong, will be collaborating to launch an exclusive black sesame and coconut soy milk cake. Coming in two sizes of 8cm and 18cm, the sweet delicacy infused with Lau's Ān soy milk that features a base of shortbread topped with black sesame and coconut milk soy milk cream, milk jelly and vegan white chocolate is a celebration of local produce and homegrown talent.
True to both Lau and Rosewood Hong Kong's passion for sustainability, 5 per cent of the proceeds will go to Feeding Hong Kong, a local food bank and NGO committed to fighting hunger and reducing food waste.
Where: 2/F, Rosewood Hong Kong, 18 Salisbury Road, Tsim Sha Tsui or order via their website.
See also: #legendeats: The essence of seasonal dining according to three chefs