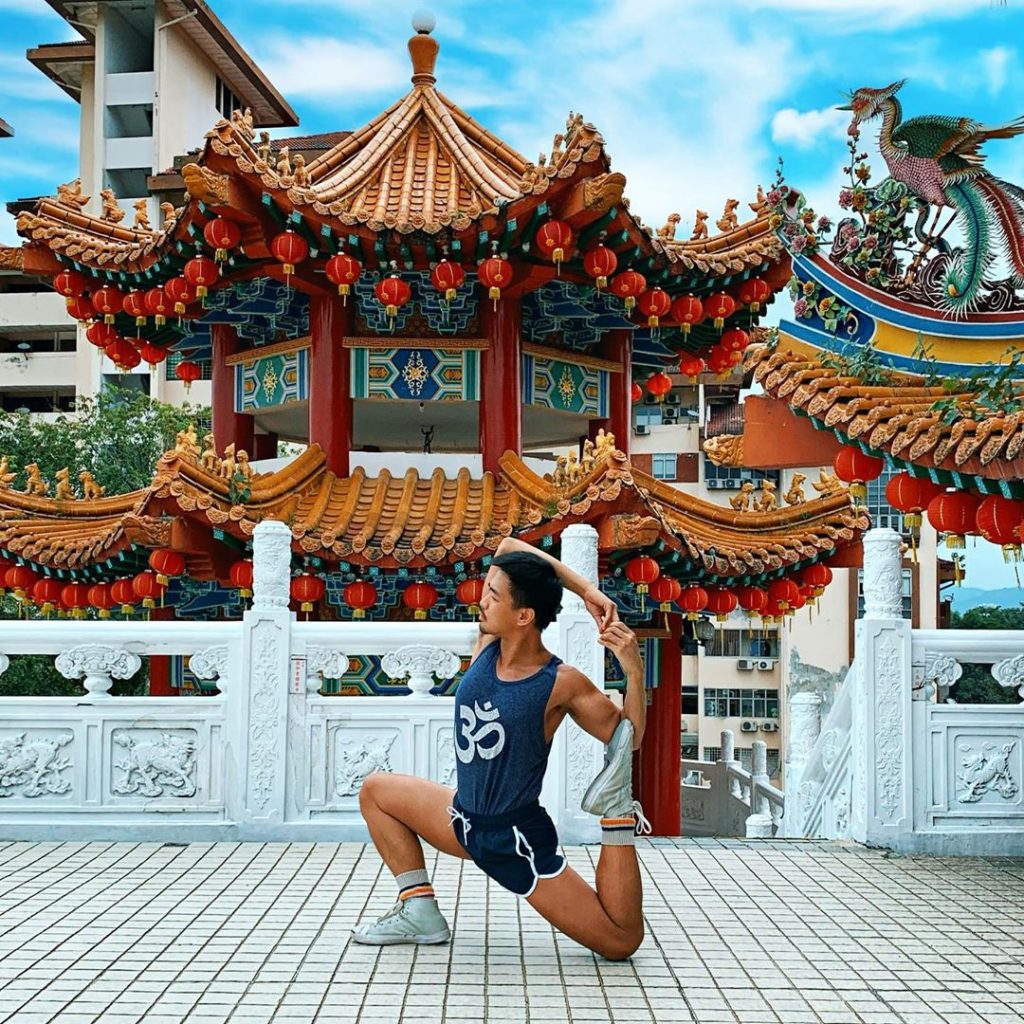 Breathtaking backdrops. Exquisite poses. Promo codes for fancy leggings, handstand canes and trendy CBD products thrown in for good measure, #ad… all while being enlightened. It's so impressive, you stop scrolling for a hot second as your chakras align and inspiration hits you like a giant gong.
You want to be an Instagram Yogi.
With over 82 million #yoga hashtags on Instagram, it's the fitness movement of our time. This influencer-induced hysteria – let's call it that, because even yoga's dubious lover, #athleisure, only has 1.4 million hashtags – has us, overstressed city dwellers, flocking to the closest "urban retreat" to experience a slice of yogic serenity.
Every yoga class begins with setting an intention – a journey inward. And so while Instagram yoga is a glossy, outward expression of an internal practice, let's pause to first ask ourselves, "Why?"
As yoga becomes hipper, the pressure is on to look cool while doing it.
There's the rub, and that's social media's very nature. It's judged. If someone didn't double-tap, does your post even count? The answer is – yes, it does, if it counts to you.
And that's all that matters. It's your practice, your Instagram, and your expression. What other people think or say is purely their perception and is none of your business. That's what's truly cool: Self-acceptance. Once you've internalised this, you're ready to be an Instagram yogi.

If you're itching to go out into the world, pop out a few asanas and take some cools Instas, here are five things to remember:
Plan
Instagram yoga is a photoshoot and not real yoga practice. Know your location, bring everything you need, be ready with a list of poses, and know your timing.
"Find perfect, natural light before 10am and after 4pm," suggests Victor Chau, program director of IRIS: Your Escape. "If you're gonna shoot during sunset, shoot with the light behind you. You get the golden glow without being disingenuous" with filters and light effects.
See also: Sweat it out at Flowga – Hong Kong's newest infrared hot yoga studio
Stay safe
It's easy to succumb to the "performance" aspect of Instagram, that almost irresistible one-up-manship. Resist at all costs. "Avoid cliffs, rocks, rooftops, and roads with vehicular traffic," Chau continues. Yoga is a lifelong practice. Don't risk your life or others' for an Instagram moment.
Keep it real
Accept what you can and can't do in that moment. You owe it to yourself to share an accurate reflection of your practice. Injury is a real risk. Warm-up properly before taking pics, and don't attempt advanced poses you're not yet ready for.
YOGAthletica and Mini Yogis founder, Shana Meyerson, remarks, "There are (poses) that will come in a minute. Others in days, weeks, months, years…or never. Why do we practice anyway? To look good on Instagram? Or to feel good inside?" Put your ego aside and respect the one and only body you'll ever get in this lifetime.
Be kind to yourself
What you envisioned will not always match what you see when you're reviewing your pics. Yoga poses bend and twist the body in unusual shapes. There may be folds of skin or flesh under a bra or over a waistband, that might make you recoil. Yoga is a practice of kindness, and it starts from within.
See also: Naked Yoga, the Newest Trend?
Caption well
You're finally ready to post your sickening yoga Insta and you're so excited. Now's the time to ask: "So what?" What's the point of this post? Is it useful, insightful, helpful, entertaining, truthful? Is it purposeful? How does it relate to what's happening right now? What am I contributing? Is it not just "social spam"?
These questions are meant to challenge your creative expression as a newly-minted Instagram Yogi. Remember: Don't be a cliche. Don't be someone who posts quotes from Mother Teresa or Lao Tzu, that are unrelated to the photo.
It doesn't matter whether you're a beginner or further along on the journey. Instagram yoga, in the end, is a mirror of your personal practice. If you're all about the physicality and aesthetics only, it will show. If you've done the more subtle, internal work and have gone through the rabbit hole of soul searching, it will also show.

Now, get out there and celebrate everything that your beautiful body can do.
James Gannaban is a bonafide Instagram Yogi and RYT-200 yoga teacher who teaches at Pure Yoga.
Follow him on Instagram @jamesgannaban
See also: The best outdoor yoga classes to try in Hong Kong this summer