Immerse yourself in the 'Heart of Cyberpunk' in Sham Shui Po this October
October 16, 2020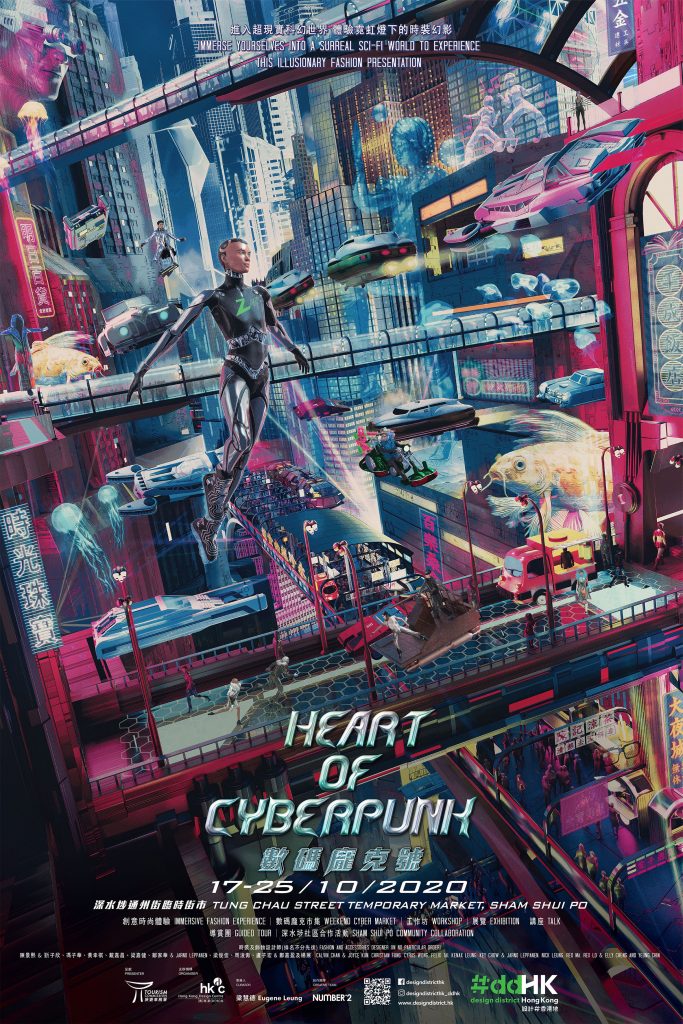 From 17 to 25 October 2020, prepare to see Sham Shui Po (SSP) in a whole new light as #ddhk aka. Design District Hong Kong launches their latest initiative with "Heart of Cyberpunk" – a cross-disciplinary immersive fashion experience.
Located at Tung Chau Street Temporary Market in the heart of SSP – an area known for its quirky fabric, accessories and electronic markets – "Heart of Cyberpunk" has transformed the district into a futuristic sci-fi-inspired dystopia.
Heart of Cyberpunk
The "Immersive Fashion Experience" of "Heart of Cyberpunk" will engage 10 local Hong Kong fashion and accessory designers and their work depicting their unique interpretations of "cyberpunk". These designs will then be exhibited on real-life sci-fi characters that will interact face-to-face with the event's participants for a truly immersive experience.
To fully transform Sham Shui Po into a surreal cyber-city, 10 local businesses will also be involved by housing fantastical installations, alongside an array of other activities such as exhibitions and scavenger hunts. For those who want to look at the district through a historical lens, physical tours will show off the district's hidden alleys and tell the stories of those who grew up in the area.
Meet Calvin Tsoi, set designer
Although fashion was the starting point of "Heart of Cyberpunk", the event also engages a host of cross-disciplinary designers including illustrators, performing artists, action figure designers and set designers. One of them is Calvin Tsoi, the man behind the one-of-a-kind set installations that bring "Heart of Cyberpunk" to life.
A 2008 graduate from Hong Kong Polytechnic University in multimedia design, Calvin Tsoi has made a name for himself in the media industry as a film art director and set designer. Not only has he participated in the art and set design of local films such as "Floating City", as well as Hollywood movies including "Mulan", "Transformers: Age of Extinction", "Ghost in the Shell", and "The MEG", he's also worked on TV commercials for brands such as Nike, Mercedes-Benz, and Samsung.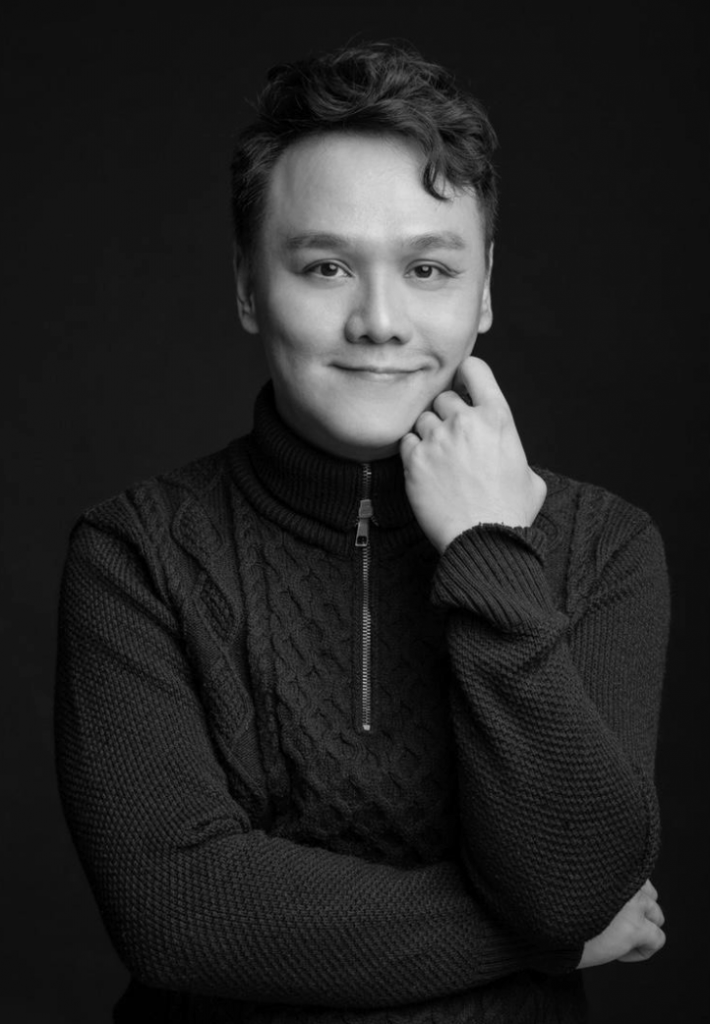 "Dense, low-life and holographic" are three words that encapsulate cyberpunk for Tsoi, whose vision of cyberpunk is inspired by sci-fi films including "Ghost in the Shell" and "Akira".
"I imagined the future of the cyberpunk world's economy being in depression, and people needing to re-use old materials combined with new technologies," he said. "The population would have become so high that buildings must be high-rises with high densities. The world would be a mix between 'the old and the new', as a combination of new technologies mixed together."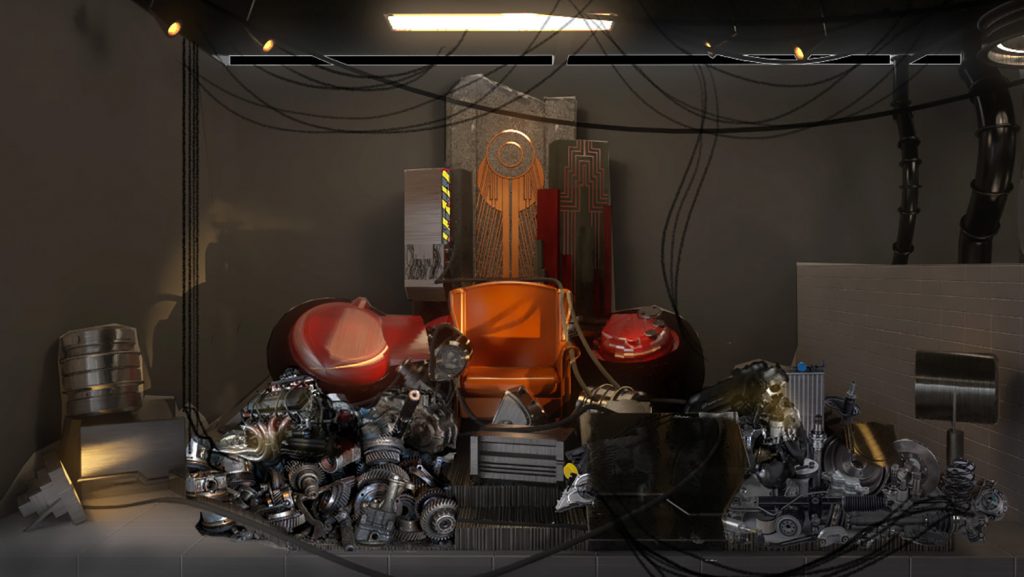 When visiting the "Heart of Cyberpunk" exhibition, you might notice the abundance of Hong Kong neon signs. "The signs were sponsored by Streetsign HK and all of them are real, historical signs that have their own stories," said Tsoi. "They were the signatures of Hong Kong, and Streetsign HK has really helped us conserve the culture of Hong Kong."
His personal favourite installation is "the robot sitting on the ground in SHED 02," which was completed in collaboration with fellow creative Alex Yiu, a cyber body painting artist who helped him touch up the robot.
Credit: Design District Hong Kong
Adapting to challenges
Designing and setting up the event in the middle of a pandemic has had its fair share of challenges for Tsoi, who was bound by the limits on physical interactions from creating his ideal immersive dining experience as part of the event.
"From the initial design, we were planning on serving cyber snacks and drinks at the 'noodle bar'," said Tsoi. "The original idea was to provide VR glasses for the audience to visualise more of the set, however, we had to refrain our visitors from any sort of physical contact, which is why we had to cancel some of our many interactive ideas. It's such a shame."
Nevertheless, he is excited for the performance of Missy, the show director of "Heart of Cyberpunk", who will be directing the performance of the event's models and dancers. "She planned the entire experience virtually as she is based in Australia," Tsoi reveals.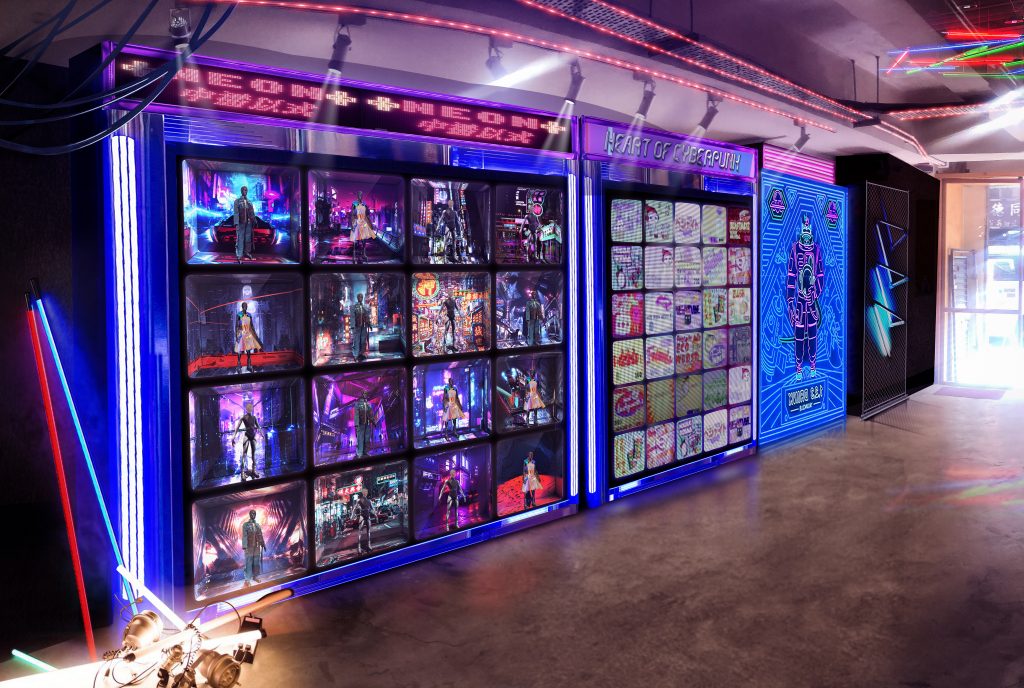 A veteran in the world of art and set design, Tsoi has witnessed quite a big change in his career with the development of new technology.
"Ten years ago, when I first experienced VR technology, it was limited to just one still image bound by the speed of the computer," he said. "I would imagine in the next couple of years, we will probably be wearing AR glasses to browse another Cyberpunk exhibition."
As for his future, Tsoi plans to continue pursuing his love for set design and installations and going beyond the film set: "I'd like to crossover to more platforms, and I'm looking forward to working with Design District Hong Kong more in the future."
#ddhk "Heart of Cyberpunk" will take place from October 17 to 25. Due to the current pandemic, the event organiser has the right to cancel or postpone the event to a later date with no prior notice. For more information and the latest news, visit the Design District Hong Kong official website.
See also: YDC 2020 winners unveiled in first-ever CG online show