Halloween 2020: How Hong Kong influencers are celebrating this year
October 26, 2020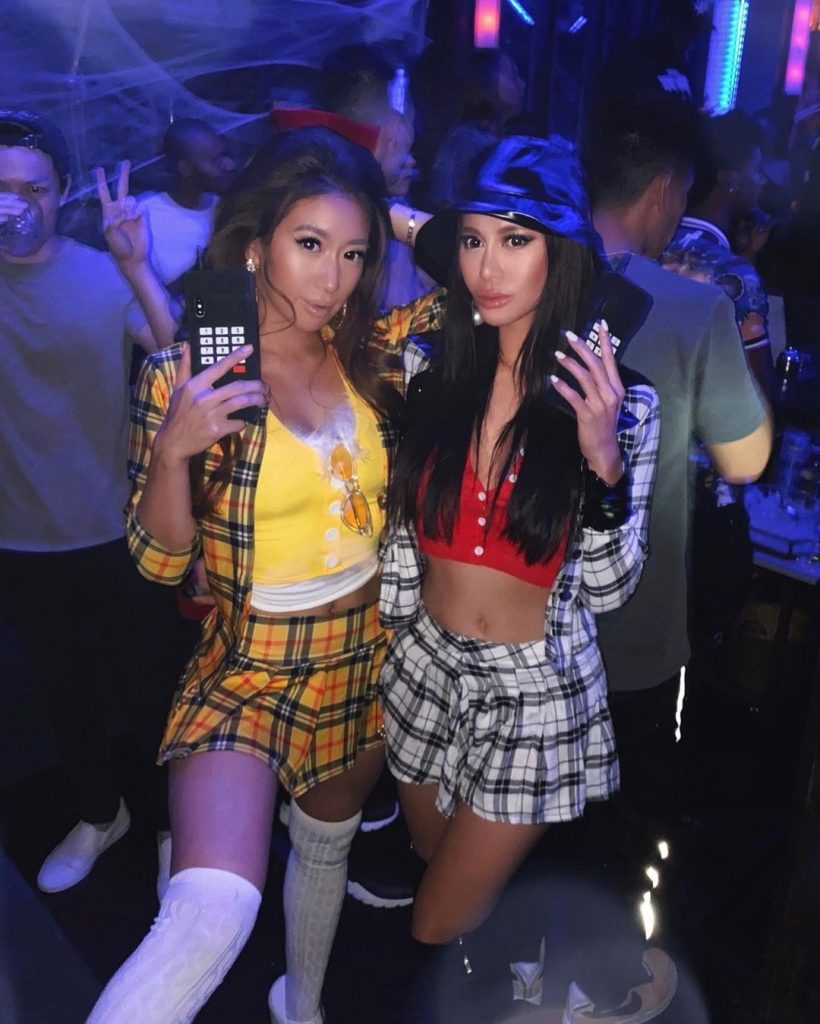 Looking for some Halloween costume and party inspo? Not ones to let COVID cramp their style – here's how Hong Kong's trendiest influencers are marking the occasion this year:
Elly Lam
"My plans for Halloween this year includes a '90s girl pop group/boy band throwback night and an (all girls) Disney-themed dinner party I'm hosting, where I'll be going as Alice in Wonderland. I have the fondest memories of spending Halloween in LA – from visiting the infamous West Hollywood Halloween Carnaval and Knotts Scary Farm to LA's Haunted Hayride and Universal Studio's Horror nights. Needless to say, I'm a big fan!
I dressed up as Beetlejuice's Red Bride last year and as a La Catrina to a 'Day of the Dead' Halloween party a few years ago. Getting dressed up is half the fun – I also love getting matching costumes with my friends. But most of all, I love getting to be whoever I want to be for a night – there are no limits to my imagination."
Follow Elly on Instagram @elly
---
Victoria Tang-Owen
"Every year, I try to organise an adventure with a group of friends to Ocean Park's popular Halloween Fest – I've been going for the last six years! Unfortunately, this year's celebrations have been cancelled due to the pandemic. This Halloween, I might have to play along with my son, Rocco, to be his favourite Dim Sum lady (complete with the wheel cart). He loves his har gow, siu mai and lai wong bao's. I plan to take him to the Hong Kong Golf and Tennis Academy with a few other families for a full day of Halloween activities.
Halloween has always been big in my family, and my brother Ed and I would even enter Halloween costume contests when we were little. Later during our university days in London, we graduated to nightclubs! My favourite Halloween party would probably be 15 years ago at The Cuckoo Club in London, where my costume was inspired by Gwen Stefani's outfit in her 'Hollaback Girl' music video."
Follow Victoria Tang-Owen on Instagram @victoriaxtang
---
Declan Chan
"I haven't planned anything for Halloween this year yet, but I've spent the last four Halloween's in Tokyo where they have the best parties and vibe for dressing up. Japanese people really get into it, and my favourite party there is called Fancy Him. Last year, a few of my friends and I dressed up as the Japanese influencer twins, Ami and Aya." 
Follow Declan Chan on Instagram @declanchan
---
Kayla Wong
"This year, I'll be going to Disneyland with my fiancé, sister and a couple of friends. We haven't decided on costumes yet, but Elaine and I were thinking of going as Beyoncé and Jay-Z from their 'ApeShit' video. One of my favourite Halloween nights was a few years ago when my friends and I hung out outside Three Monkeys on Hollywood Road. I dressed up as a pin-up army girl that year, and it's one of my favourite costumes to date. The best part of Halloween is when kids come around to my apartment to trick or treat – I just love seeing them in their little costumes!"
Follow Kayla Wong on Instagram @kaylaiw
---
Nadia Harilela
"It's hard to say what we'll be doing this year with all the restrictions in place, but in all honesty, my favourite Halloween is spent with my family. When I was growing up, our house would be completely decked out and the entire family would come together for a BBQ, trick or treating, costume contests, apple bobbing and all the Halloween games you could think of.
The Harilelas LOVE Halloween (especially my sister), so we will be dressing up the entire month! For my mum's birthday on the 18th, we are dressing up as the Addams family for fun, and for actual Halloween, I'm thinking to go as a chicken nugget and my sister as a sweet-and-sour sauce. We're feeling terribly goofy this year, so why not?"
Follow Nadia Harilela on Instagram @nadiaharilela
---
Jessi Chloe Chen
"This Halloween, we'll be heading to Lantau Island for a full moon party. It'll be interesting, as it's a blue and full moon this time. I'm not sure what I'll be dressing up as yet, but last year, I went as Gogo Yubari from Kill Bill. I look forward to being somebody else for the night and watching horror films on the nights leading up to Halloween. Oh, and spending the day after Halloween hungover in bed, usually ordering Deliveroo."
Follow Jessi Chloe Chen on Instagram @jessichloe
See also: Christmas countdown: 10 best beauty advent calendars in Hong Kong
Featured Influencers