Cracking Miz Cracker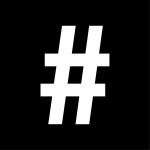 By: David Ho
October 9, 2023
RuPaul's Drag Race star Miz Cracker kikis with David Ho backstage, right before her recent one-woman show in Hong Kong. She spills the tea on drag, comedy, and life on the road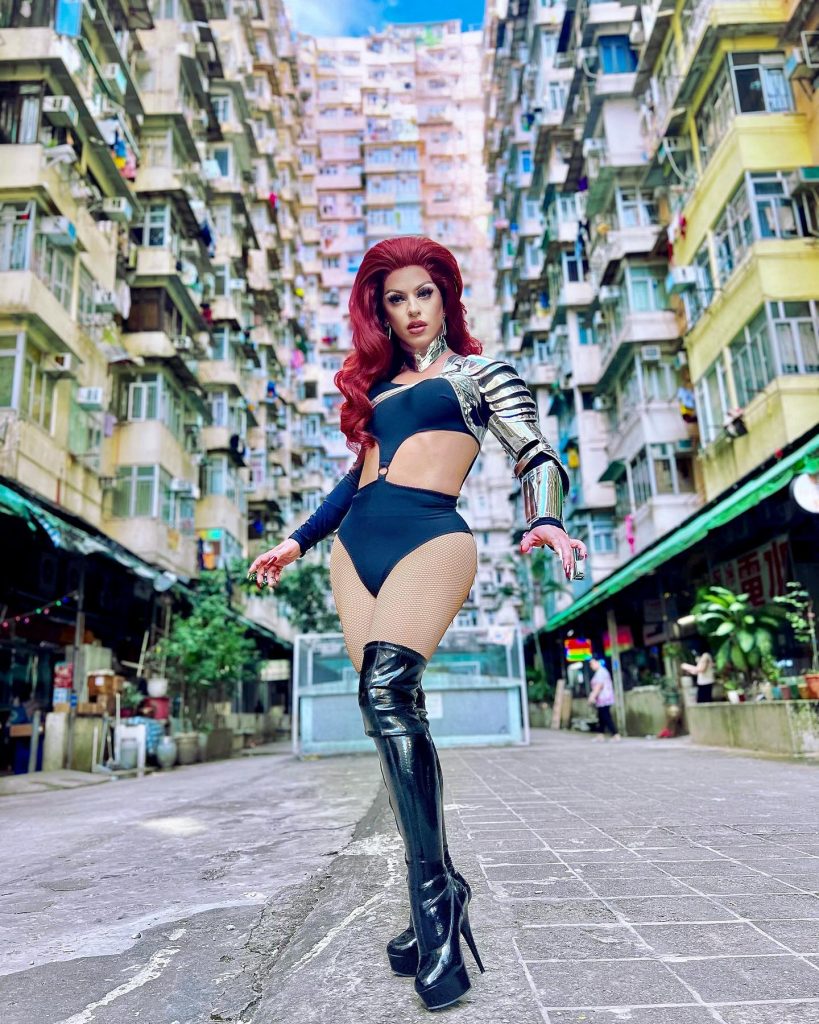 It's Miz Cracker's first time in Asia and she fully intends to enjoy it. During a quick weekend stopover in Hong Kong, the Rupaul's Drag Race star made sure to hit up "the Ladies Market, the Aqua Luna cruise, the Big Buddha, the cable cars, Tai O fishing village, and the tram up to the Peak." A pretty packed itinerary for the drag performer and her best friend/assistant/"emotional support animal" Katelyn Groettum.
But Miz Cracker, the stage persona of Maxwell Elias Heller, isn't just here for pleasure. She's in town for a more serious matter – to make people laugh with her one-woman stand-up comedy show, A Brief History of the Entire World… And Also Me! The show is a zany mix of physical comedy, video interludes and stand-up comedy that weaves history, politics and personal anecdotes together. The material is filtered and delivered through the 'Cracker brand' of humour, which she aptly describes as "comedy and a cry for help with a twist of terror".
The Fragrant Harbour marks the third stop for her brand new tour, which had played in Provincetown and Singapore prior. "The Singapore audience was very loud. They were great. In the Q&A section, they were very shady!" says Miz Cracker, during our chat backstage while getting ready for her Hong Kong show.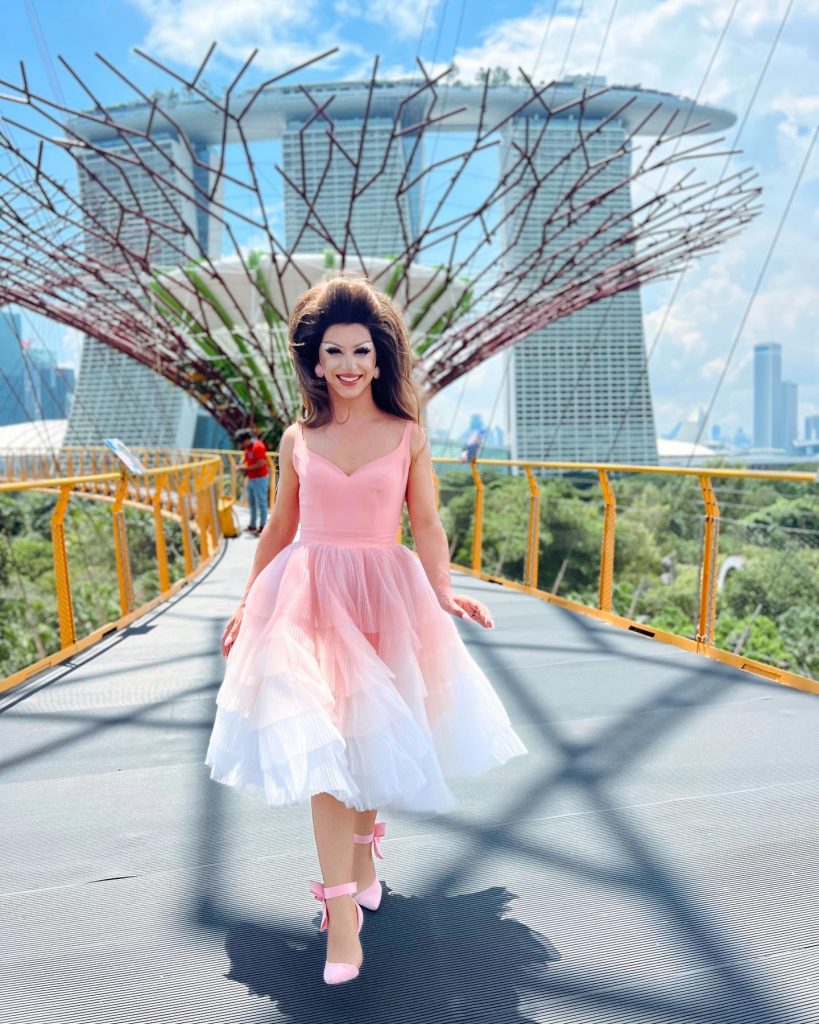 The 39-year-old performer expected the crowd in the 852 to be just as rowdy. "I live in New York and a lot of my family there are from Hong Kong. It's a huge Hong Kong-style family. Those are not quiet people, I'm not a quiet person, none of the people here are quiet. So I'd be very surprised if they are tonight!" Judging by the audience's laughter that night, the drag comedian was probably not let down.
Asia is uncharted territory for her and that's just how Miz Cracker wants it. "This tour is all about exploring and seeing new places we've never seen. It's also about learning. I've been to London so many times, so it's less of a learning curve. To make the show work, I have to keep my eyes and ears open and learn the sense of humour in those cities I visit," she says.
For that reason, a portion of the show on religious history was changed in Singapore and replaced with a Q&A instead. But the drag star is intent on drawing parallels between the world of old and now with her show. "I wanted to tell the history of the world. The idea came to me in August last year, I didn't know how. But slowly but surely, little numbers about history came to my mind. And then it was like ok, we are going to do it," says Miz Cracker, who watched lots of history documentaries and Philomena Cunk (Diane Morgan's ignorant journalist character from the Cunk on… mockumentaries) to prepare for it.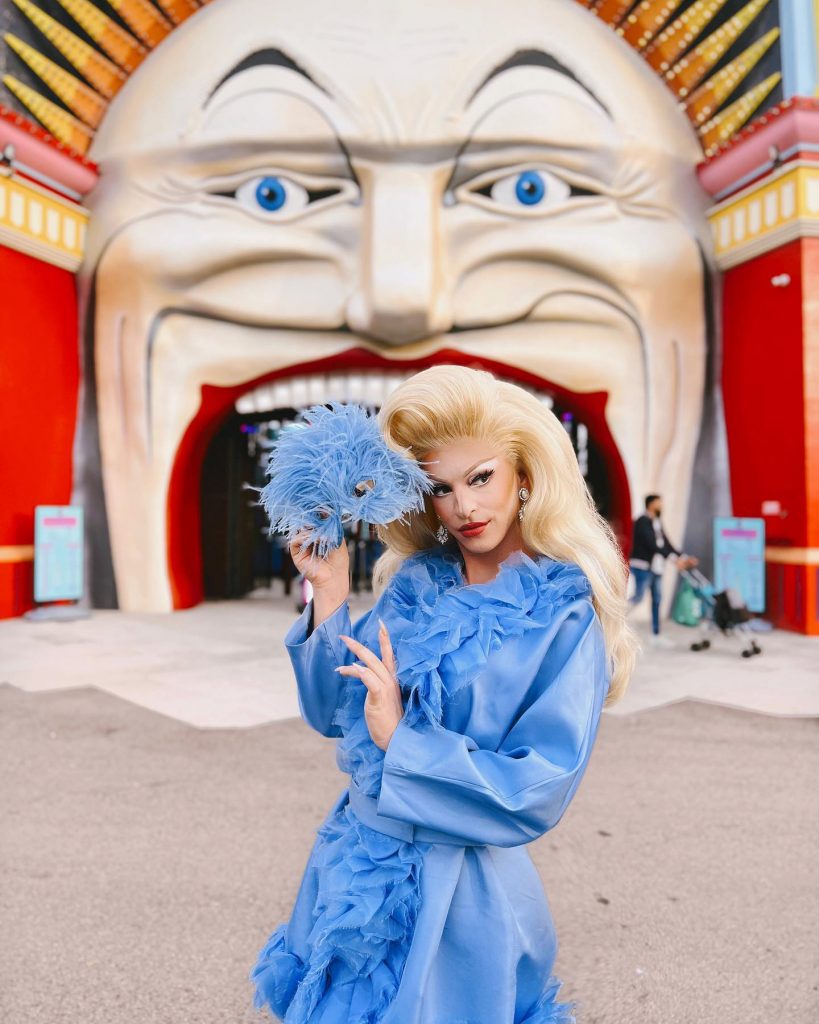 2023 has not been an easy time to be a drag queen, especially in the US. Laws restricting drag performances in public have made many performers, venue owners and fans anxious. Though these were ruled "unconstitutional" shortly after our conversation, it has obviously caused the community much worry.
With "fascism, racism, nationalism" and conservatism in general on the rise, we wonder if Miz Cracker thinks that the power of comedy might be able to sway things. "I don't know…" she says and pauses. "A lot of people would sit here and say comedy is going to save us. But I don't think that's right. I don't think that by telling jokes about important issues, I'm doing the work I have to do."
"I have to get out there in the world to make a difference. You can get a message across in comedy. You can hide an important message inside of it, but you still have to do what's needed. You can't just be like 'well, I'm a comedian. My work is done!' Does that make sense?" she says. "Hopefully, comedy can get people thinking. OR it can also get people to stop thinking for a minute so they can relax, recharge, and then feel strengthened at the end of your show. If it's just stupid, that's fine too!"
Clearly, Miz Cracker understands the assignment she's been given as a comedian. "Your responsibility is to always make people laugh, make people happy. Audiences and their tastes have changed, but the job of comedy has always remained the same. If you go out, say something, and nobody laughs, never say that again."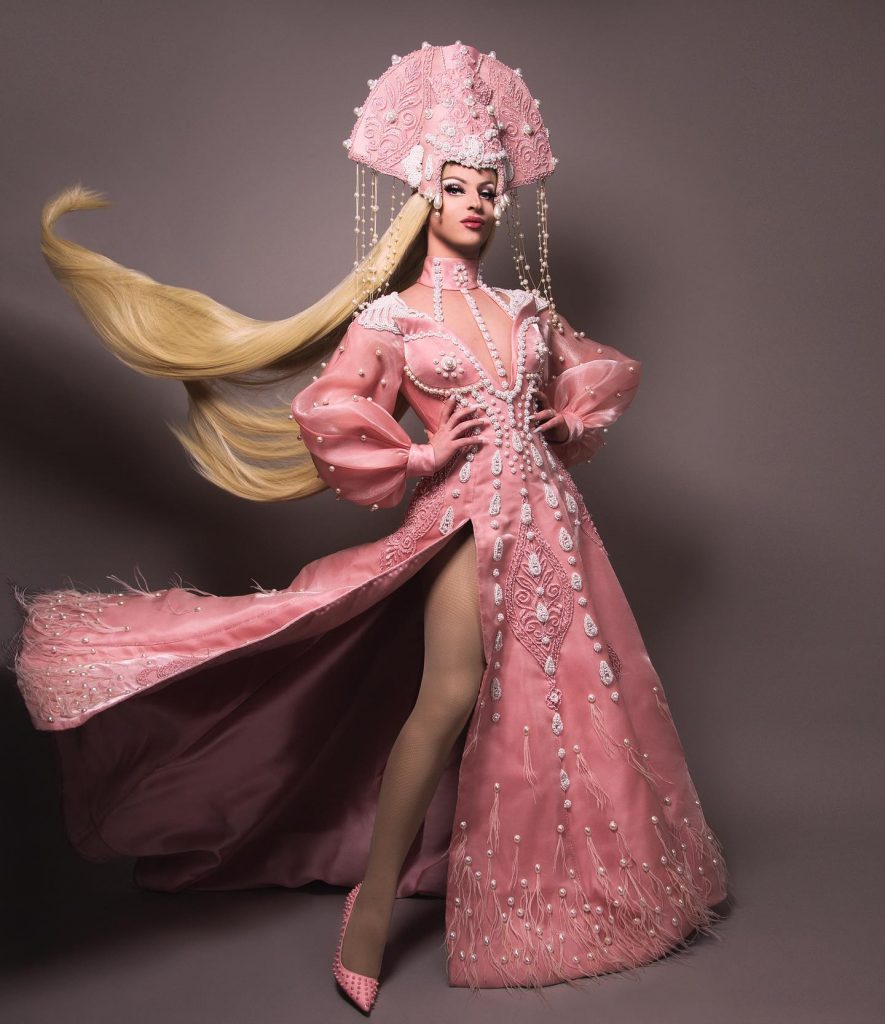 That go-out-and-just-do-it grit was what drove her to sign up for Rupaul's Drag Race in the first place. Miz Cracker first competed on its tenth season in 2018, narrowly missing out on a spot in the top four. She then returned a couple of years later for the fifth season of the show's All Stars edition, where she shared the runner-up position with another favourite of the franchise, Jujubee.
Of course, we had to grill her on some of her experiences on the show. Her favourite Season 10 memory would be working with YouTuber Chester See, whom Miz Cracker made over as Miz Cookie. The makeover helped her cinch a win for that episode. "We still talk once in awhile. He's come to some of my shows and it really does feel like we'd be family forever cause we had such a great experience," she says.
"My favourite memory for All Stars 5 is of Jujubee napping. Everyone was running around panicking. But Jujubee went to the cafeteria, got six tacos, ate them all and took a nap," recounts Miz Cracker. "I was like 'girl, are you insane?!' but Jujubee was like 'they want you to be stressed, don't be stressed'." The two have gone on to record a duet and toured Australia together recently. Miz Cracker claims her All Stars 5 sister to be "so sweet and one of my favourite ladies in the world."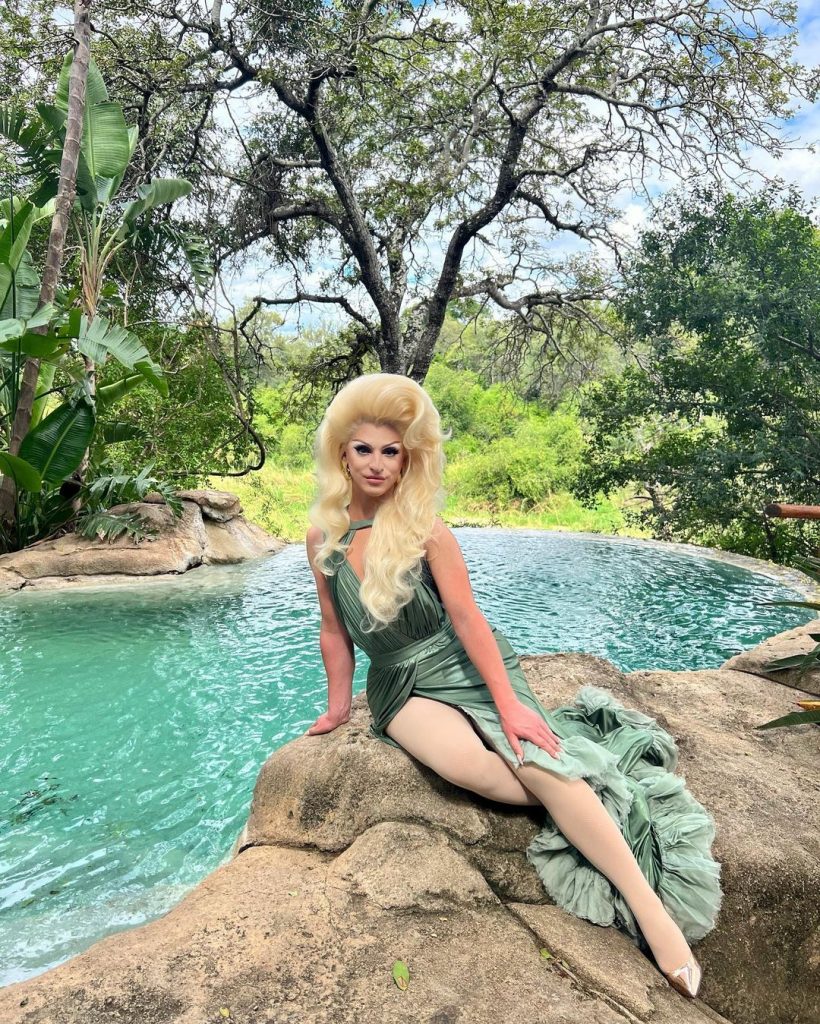 As every fan would know, Drag Race can be quite a pressure cooker. Challenges like the Snatch Game, where contestants do their best celebrity impersonation and engage in a ping pong of improv comedy with RuPaul himself, are highly anticipated and seen as one of the most important challenges of the show. RuPaul has stated that it separates "the basic bitches from the fierce-ass queens".
Understandably, Miz Cracker has some PTSD from having to do that high-pressure challenge twice. "I wasn't very fond of Snatch Game. It was worse the second time around! I hate doing it, watching it… Everyone is always so excited about Snatch Game though."
But she remains a big fan of the franchise, citing the second season of the UK edition as her favourite. "What a great season! It had A'Whora, Tayce, and Lawrence Chaney… They are such wonderful people," she says. But her other favourites aren't just her sisters across the pond. "My favourite drag queen [is] Naomi Smalls, who is gorgeous and hilarious. Everything she says is golden. She's the funniest!"
"Priyanka is a goddess and probably needs medical attention. I just love her, she deserves that HBO show (We're Here) so much. Farrah Moan is who I think I look like in my head. I love watching Gia Gunn doing stuff. That person is also crazy. She's just mean and I love it!"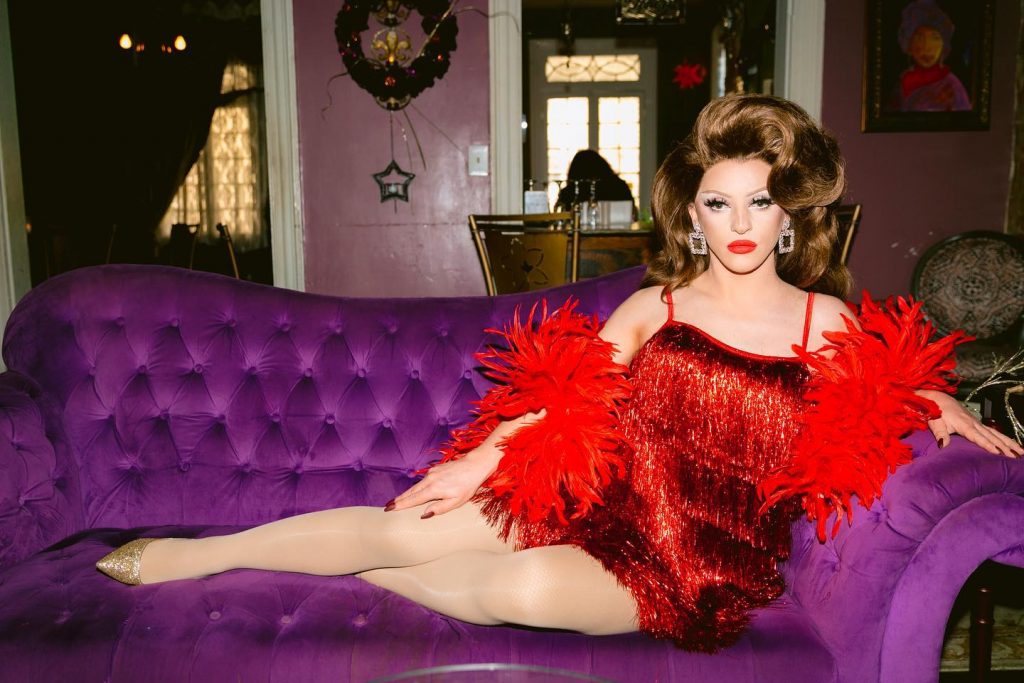 However, it's not just the queens that have made it on TV that impress and inspire Miz Cracker. "I always see drag that inspires me around the world. There was this club called Axis in Columbus, Ohio and there was one drag queen with terrible makeup and a horrible costume. When she went on stage, I thought it was going to be bad but she performed the greatest number I've ever seen. She was so funny and it's such a good reminder that you can never judge a book by its cover and you can never know what you're going to get with a drag queen," she says. "I'm so inspired by many of the queens I see, especially those in my hometown (of New York) like the great Kizha Carr who is an amazing person. Local drag is really where it's at."
We ask if a return to the TV competition is likely for her, like Jujubee who has competed four times. Miz Cracker's answer was a stern "never!".
"Not under any circumstance. It was very, very, very, very bad for my mental health. I'm like the Simone Biles of Drag Race. I will not do it again. In fact, I will not do television again. I love doing tours like these and that was why I went on Drag Race in the first place, because I wanted to tour around the world and do live shows."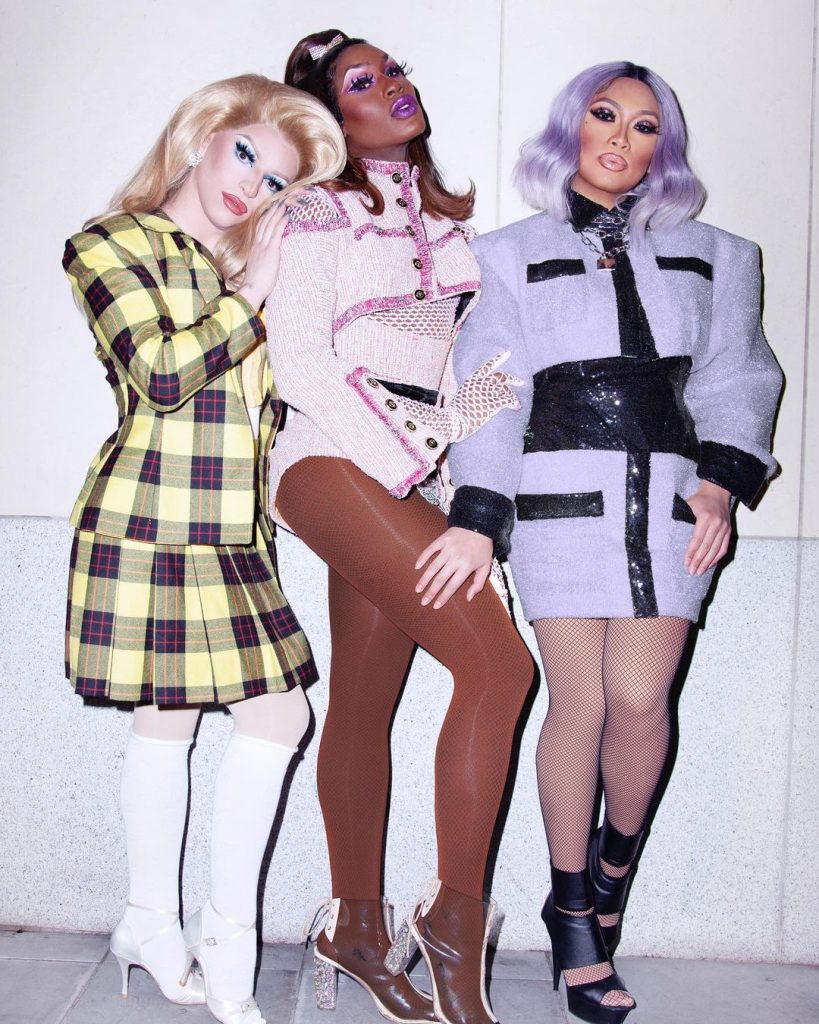 And that's exactly what she has done. When it comes to touring (and maybe more), Miz Cracker is down for both group fun and intimate sessions. "I like variety. When it's just Katelyn and myself on the road, that's always fun. But every once in a while, I like to go on tour with a bunch of girls. We learn so much from each other and laugh so much. They are such characters," she says. "At the end of a solo tour, you'll feel very, very lonely. At the end of a group tour, you are like "If I see another person…"
Despite Miz Cracker's bubbly, high energy persona, one senses that she is very much an introvert at heart. But life on the road and on stage remains an essential therapy for her. "Life on the road means I don't have to be at home. If I'm at home, then I go crazy because work is the only thing in this life that I enjoy. I like friends and family in small doses, I like men when they are thousands of miles away, because the best way to date someone is by text message. Once they start hanging around, they start spending your money and other stuff like that. So I like a casual distance. Work is my marriage, even though I cheat on it at times," she says.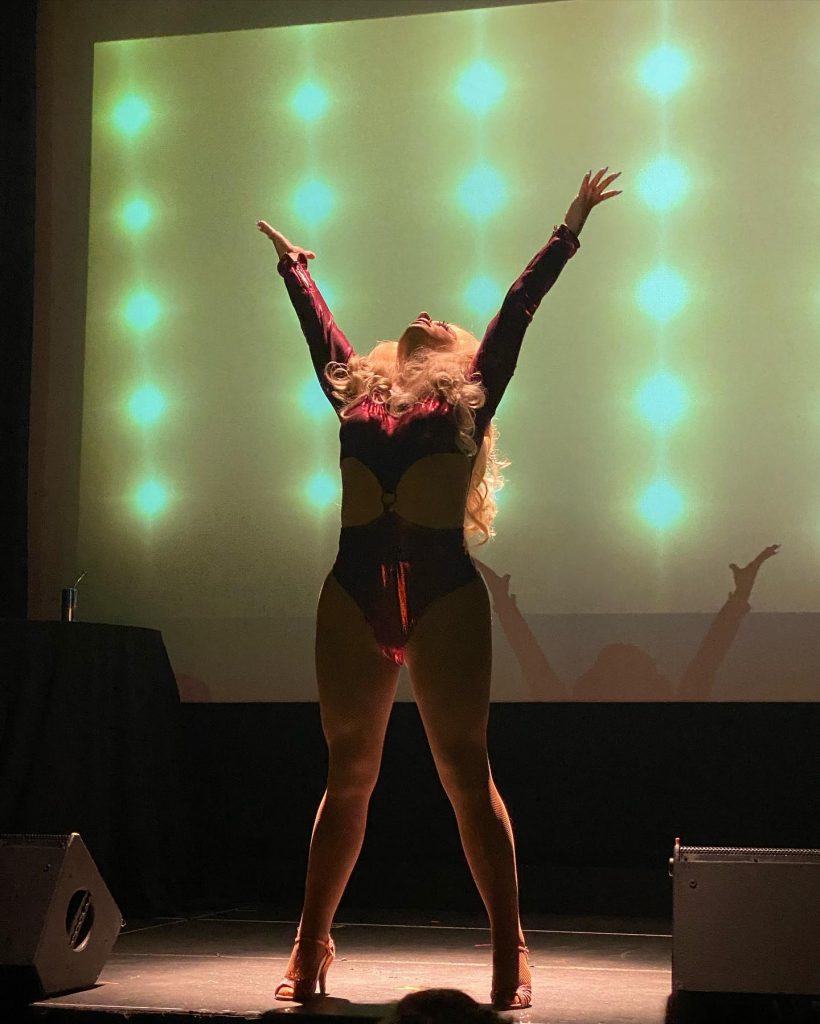 Life as a travelling drag performer can be uncertain, but Miz Cracker will have her hands full with a Christmas tour soon and plans to continue bringing A Brief History of the Entire World… And Also Me! around the world for the coming year. But beyond that, she has no fixed plans. "I'll wake up in the middle of the night and be like 'I know what I want to do' but right now, my brain is empty. I was at the same place last year, I was like 'I want to do a history of the world!'. Now I'm here," she says.
"We are thrilled with Hong Kong and really wish we could stay for longer. If they want Miz Cracker to come back, say so on the Internet!"
Photos by Miz Cracker
Also see: The dawn of the toy cinematic universe