Let's be real, the heart of the holiday season is all centered around food. Thankfully, several restaurants in Hong Kong plan to stay open for service on Christmas and Christmas Eve, taking away all the stress of cooking up a feast and having to clear up the mess in the late hours of boxing day while you're nursing your hangover. Whether you're looking for the five-star hotel treatment or somewhere trendy, we've rounded up the crème de la crème of Christmas spreads in Hong Kong.
Upper House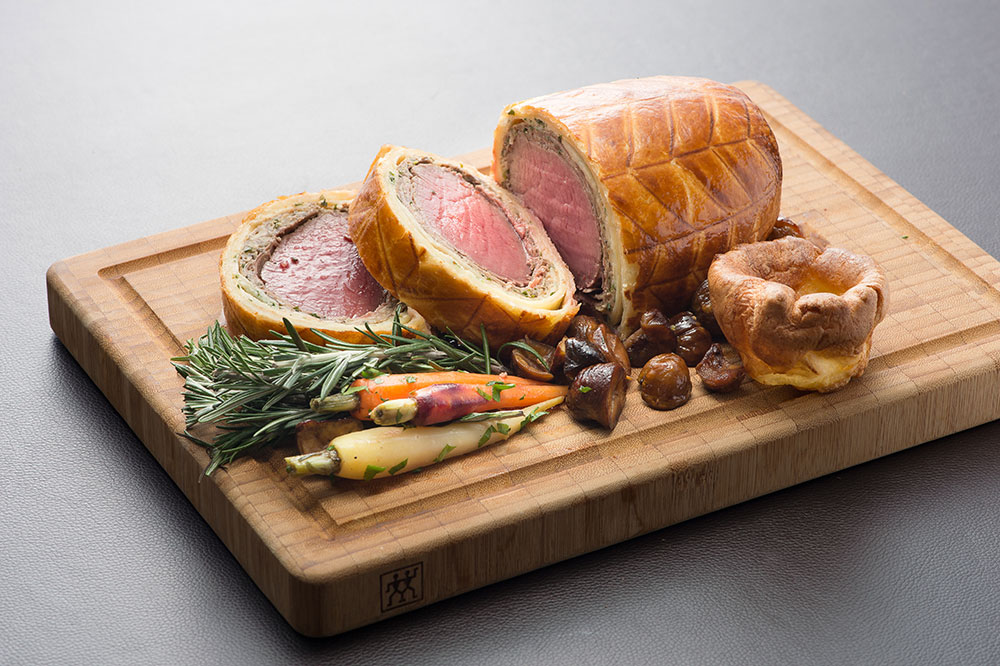 Upper House kicks off the festive season with an array of gourmet offerings. Café Gray Deluxe's elegant Christmas set menus include all the trimmings as well as an all-new family-style sharing menu in the warm and inviting setting of the Sky Lounge (HK$600 per person, minimum of eight people, available from 20-30 December for lunch and dinner).
For Christmas Eve Dinner, think starters and mains of Vouleté of Artichokes and Oscietra Caviar and Macquarie Island Sea Bass en Papilotte with Calamansi Beuerre Blanc. Next, choose mains between the robust Crisped Duck Breast "Calvados" or the succulent Beef Wellington with Truffle Foie Gras Sauce for the main course. Round off the meal with a delightful Tangerine Semifreddo with Nougatine-Craberry Compote or Chocolate Délice, Huckleberries with Gingerbread Crumble.
Christmas Eve 4-course dinner (HK$1,550 + HKD $800 wine pairing per person, 6-8pm), Christmas Eve 6-course dinner (HK$2,350 + HK$1,000 wine pairing per person, 8:30pm-late) and 4-course Christmas Day lunch and Dinner (HK$995 + HK$800 wine pairing per person, 12-2:30pm, 6pm-10:30pm) available from 24-25 December.
Café Gray Deluxe, 49/F, The Upper House, Pacific Place, 88 Queensway, +852 2918 1838, upperhouse.com
Meats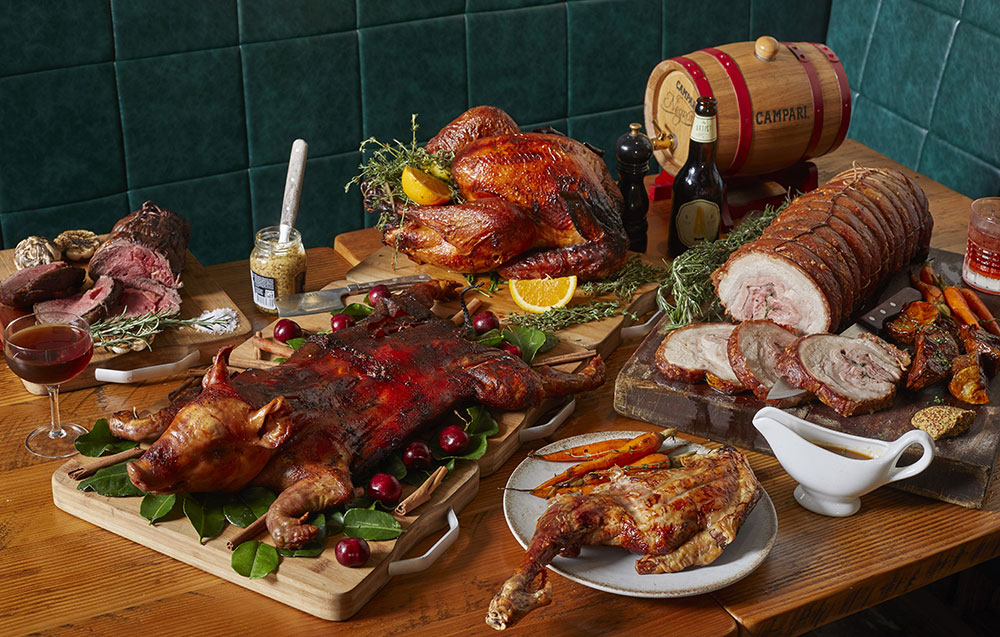 This Soho gem is putting on a tender, juicy and satisfying Christmas feast like no other. The five-course special Tasting Menu (HK$480) boasts flavoursome small plates such as the signature Chicken Liver Pate and Octopus with Bagna Cauda and smoked paprika and succulent sharing plates of Suckling Pig, Broccolini and, of course, Roast Turkey. There's also Roasted Rib Eye and Ugly Potatoes that are cooked in chicken juices with garlic and thyme. If that isn't enough, a Chocolate Fondant served with caramel ice cream and popcorn will make for the perfect sweet ending.
The 5-course Christmas Tasting Menu (HK$480 per person, HK$220 Free Flow Package from 9pm-12pm) is available for dinner from 5-11pm (with booking) on 24-25 December.
Meats, G/F, 28-30 Staunton Street, Soho, Central, +852 2711 1812, piratameats.hk
Four Seasons Hotel Hong Kong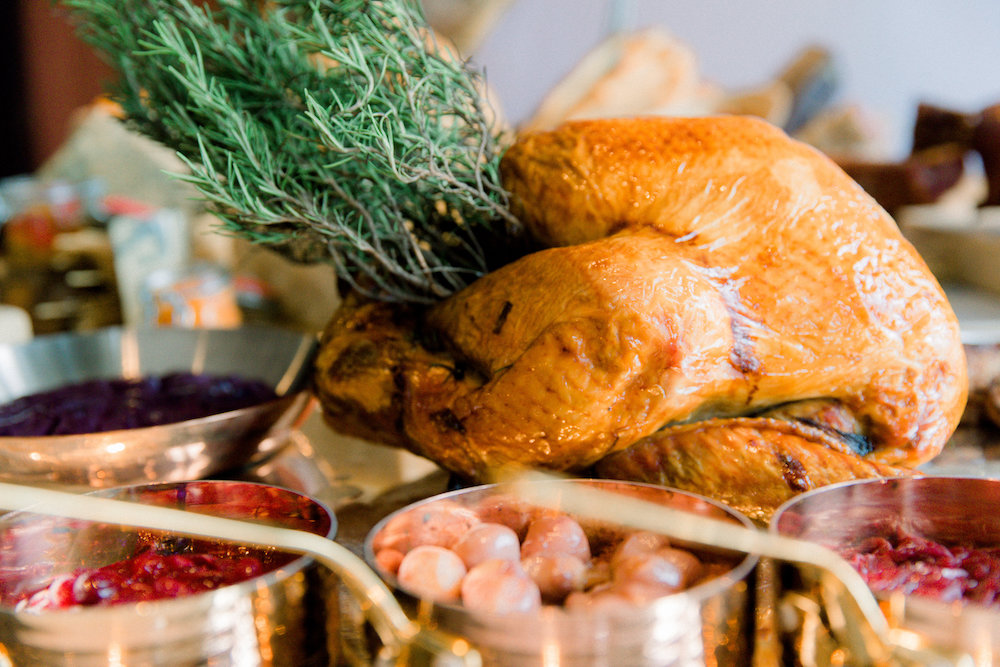 The one and only Four Seasons Hotel had us all at Butterball Turkey. The juiciest in the market, this snazzy hotel is offering The Perfect Turkey Takeaway made by Executive Chef Andrea Accordi for guests to enjoy at home. Not only is the turkey beautifully basted, but also crafts a cast of traditional side dishes with Italian flair, for a truly celebratory experience. The chestnut stuffing is a rich and aromatic mélange of caramelised chestnut, celaric, rosemary and Italian sausages while the pickled cipoline side is handcrafted in Matera, Italy. Other highlights include purple sweet potato from Okinawa, braised red cabbage, and cranberry compote. The Butterball Turkey (6-7kg) from the United States is particularly tender and juicy after cooking. Chef Accordi slow cooks the turkey at 69 C in the oven for 10 hours, increasing the heat during the last 15 minutes to yield moist meat with crispy, golden skin. The Four seasons turkey comes beautifully packaged for take-away or gifting. Order via the Festive Desk at least 72 hours before the desired pick up day.
6-7kg Slow Roasted Butterball Turkey, Red Cabbage, Cranberry Compote, Purple Sweet Potato Mash, Chestnut Stuffing, Pickled Cipolline, Rosemary Jus (HKD $2,780)
Please visit their holiday website for ordering details, as well as their 8kg Gammon Ham On The Bone (HKD $2,650), 5kg Lava Stone Grilled Rangers Valley Tomhawk Steak (HKD $4,680) and Plateu of Antipasi (HKD $2,600)
8 Finance Street, Central, 3196 8888
Statement (Tai Kwun)
A modern British restaurant newly launched within Tai Kwun, a centre of heritage and arts (which you may or may not have noticed as you were bar-hopping your way down Hollywood Road on the way to Lan Kwai Fong) have more than just the traditional classics (read: stuffed turkey and Christmas pud) ready for you to indulge on. Statement are offering a whole British turkey served with trimmings such as goose fat roasted potatoes, buttered heritage carrots and Brussel sprouts roasted with chestnuts and braised red cabbage.
Christmas Dinner (HK$888 per person) is available from 16-26 December and Christmas Brunch (HK$688 per person) is available from 22-26 December.
Statement, Police Headquarters Block 01, Tai Kwun, 10 Hollywood Road, +852 2848 3000, statement.com.hk
TOWN by Bryan Nagao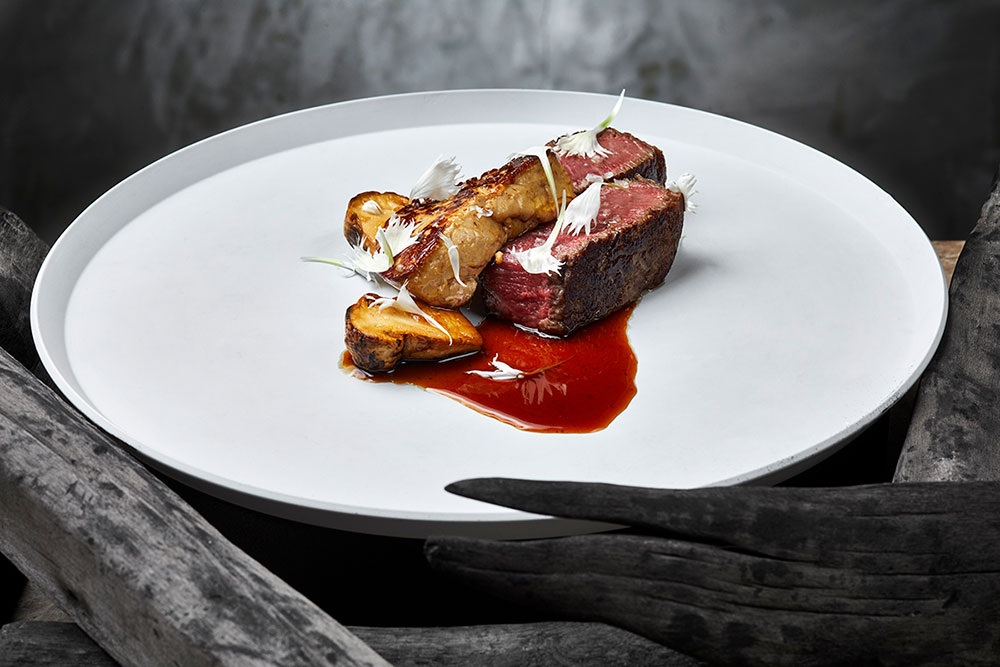 Celebrity chef Bryan Nagao's popular Causeway Bay hotspot is one of the cooler Hong Kong joints opening its doors on Christmas Day. Diners can expect a tantalising 6-course Christmas menu priced at HK$1,288 per person, starting with "Pipikaula" Uni, Sea Asparagus, Yuzu Kosho and continuing with Carabineros, Asari Clams, Miso, and Crispy Parma Ham. Meat lovers will fall for the divine Australian Roasted Quail and the "Marayuka" Tenderloin, Foie Gras, Preserved Matsutake, which gets seared on the binchotan grill, topped off with foie gras and a ragout of last season's pickled wild mushrooms. Seafood fans can indulge on the Lobster "Blue" White Asparagus and Pomelo-Cucumber, Onion Dashi. For a sweet ending, the "Mont Blanc" Black Currant Jam, Vanilla Chestnut Cream Meringue will satisfy that sweet tooth.
The Christmas menu is available as a 4-course tasting menu (HKD $888 per person, 6:30-8:30pm seating); or as a 6-course tasting menu (HKD $1,288 per person, 8:30pm to late seating). Early bird bookings before December 10th 2018 will receive a HK$200 discount with the 4-course and 6-course menu priced at HK$688 and HK$1,088 respectively.
Cubus, 10/F, Hoi Ping Rd, Causeway Bay, +852 2568 8708, townrestauranthk.com
Pirata

Pirata Group's very own Pirata is one of the best places to feast on Christmas Eve and Day. For just HK$450 a head, they'll be dishing up an excellent sounding five-course tasting menu, with a mix of warming, wintery fare for all to enjoy. Think mains of My Mama's Meatballs and Eggplant Parmigiana, as well as delicious pastas such as Liquid Parmasan Ravioli. Chef Stefano will be preparing home-made Tiramisu and Panna Cotta for an indulgent sweet end to round off the evening. Groups large or small will feel at home sharing generous plates of honest Italian food, made with fresh ingredients and cooked with love.
The Christmas Tasting Menu (HK$450 per person during first sitting, HK$580 per person during second sitting, HK $240 free flow from 9-12pm) is available for dinner from 6pm -7pm & 8:30 pm onwards on 24-25 December.
Pirata, 239 Hennessy Rd, Wan Chai, +852 2887 0270, pirata.hk
CÉ LA VI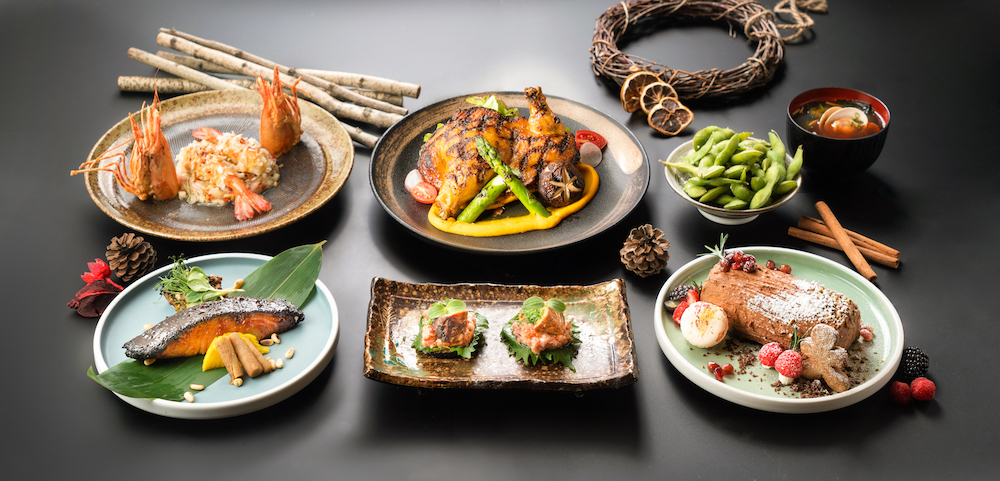 CÉ LA VI has got your traditional Christmas meal sorted with five courses for dinner and four courses for lunch. Mains for the four course lunch include a choice between the Slow Roasted Spring Chicken or Alaskan Black Cod Saiko Miso, whilst the dinner includes both mains served alongside roasted Brussel sprouts, pine nuts and a festive gingerbread crumble to finish.
The four-course Christmas Lunch (HK$288 per person) and five-course Christmas Dinner (HK$588 per person) is available from 1-30 December.
Cé La Vi, 25/F, California Tower, 32 D'Aguilar Street Central, +852 3700 2300, celavi.com
Aqua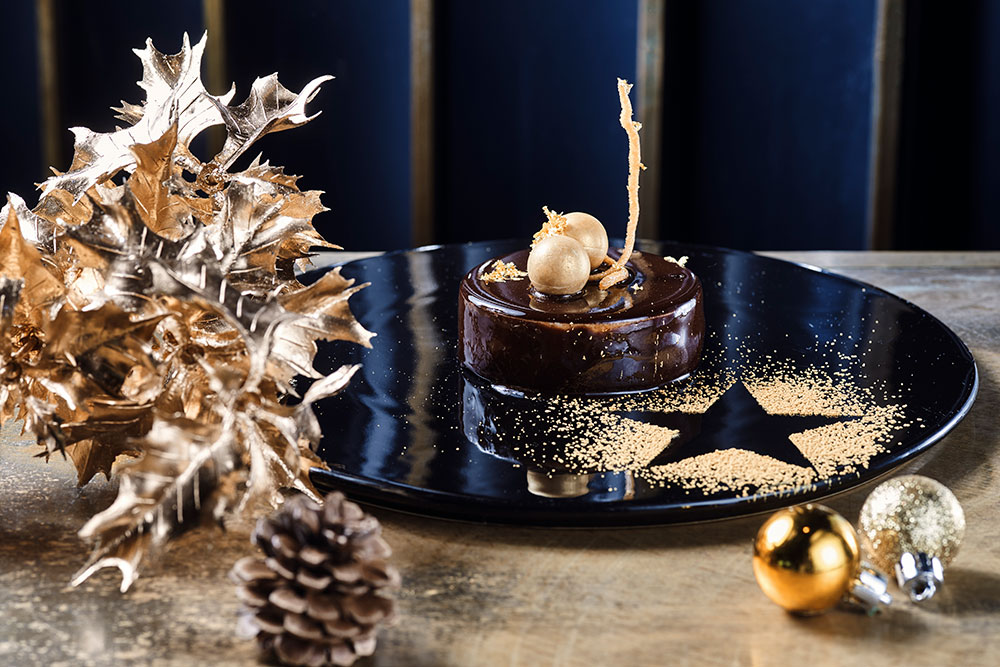 One of the most talked-about restaurants in Hong Kong is offering a delectable five course menu, featuring a mixture of Italian and Japanese dishes as well as a delicious five course vegetarian menu. To really knock you off your seats, the restaurant is serving up a delightful sweet treat – the Celestial luxe tiramisu, inspired by the incredible skyline viewed from where the restaurant perches within One Peking. Enjoy your Christmas spread with breathtaking floor-to-ceiling windows slant at an angle across the entire length of the venue, making an incredible frame to Hong Kong's glittering skyline.
The five=course Christmas menu (HK$1288 per person + HK $688 wine pairing, HK$888 for children) is available from 15-20 December.
Aqua, 29-30/F, One Peking Rd, Tsim Sha Tsui, +852 3427 2288, aqua.com.hk
Chifa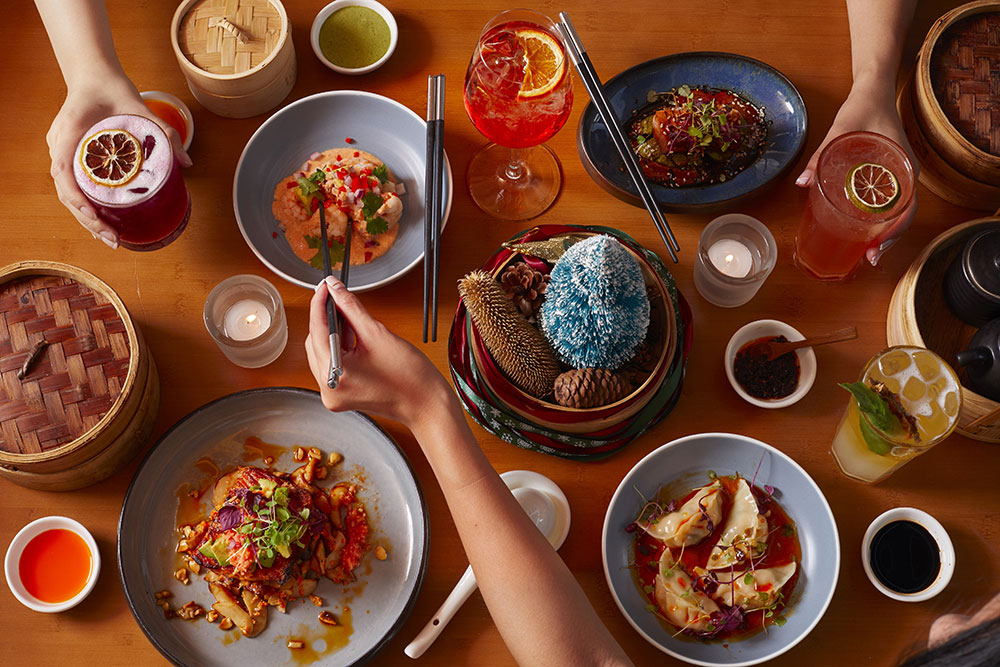 If you're looking to break with tradition, this trendy Peruvian Chinese Restaurant is offering an exemplary four course tasting menu for a hard-to-beat deal of HK$380 per person. The tasting menu, designed to be shared with all guests at the table, comprises of small dishes such as Silken Tofu, beautifully wrapped Dumpling and mains such as a juicy Baked Salmon or Rack of Lamb. Their selection of desserts is equally inviting with their Arroz Con Leche.
The Four Course Tasting Menu (HK 380 per person during first sitting, HK$480 per person during second sitting, HK$180 free flow package from 9-12pm) is available for dinner from 6-8pm & 9pm (with booking) on 24-25 December.
China, 26 Peel Street, G/F, Central, +852 2311 1815, chifa.hk
Intercontinental Hong Kong
This upmarket hotel has a meticulously-planned programme of festive dining – all showcasing the hotel's spectacular views of Hong Kong's iconic glittering skyline and award-winning cuisine and service. Diners will be spoilt for choice with each of their six stylish restaurants offering Christmas lunch and dinner.
Expect a delicious variety of five to eight course set lunches and dinners, festive afternoon tea sets, brunches, a kids gingerbread house decorating class as well as free flowing champagne with free juice and soft drinks throughout. Prices range from HK$668 a head to the pricier end of Christmas Day deals at HK$2,088, but that includes copious amounts of festive alcohol as well.
Please click here for more details on restaurant offers and opening times.
InterContinental Hong Kong, 18 Salisbury Road, Tsim Sha Tsui, +852 2721 1211, hongkong-ic.intercontinental.com/en/
Madame Ching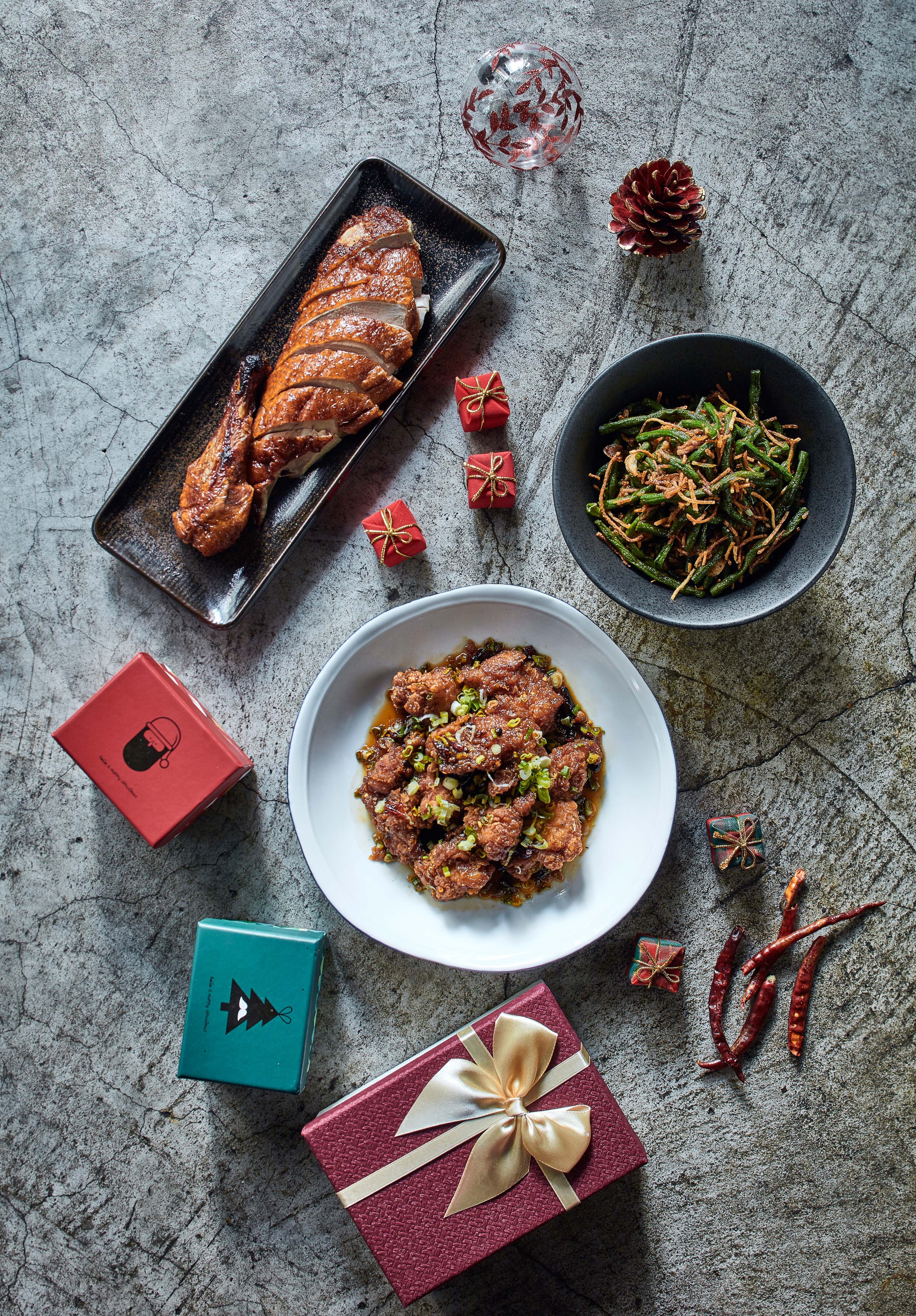 Madame Ching is offering an innovative Chinese Christmas Tasting Menu (HK$480 per head) ideal for families looking to treat themselves. Diners can expect to share dishes at the table and chow down on the Amadai fish with braised eggplant and black beans, refreshing Tuna Poke and Surf Clams, and the main event: juicy Roast Duck and Suckling Pig. The Seasonal and Sharing plates are served alongside an assortment of Side dishes including Long Beans and Brussel Sprouts, ensuring the whole family is perfectly satisfied. For the Christmas pud finale, enjoy a refreshing Yakult Ice cream.
The Chinese Christmas Tasting Menu (HK$450 per person) is available for dinner from 8:30pm onwards (with bookinsg) on 24-25 December.
Madame Ching, 5 Star Street, Wan Chai, +852 2577 7227, madmeching.hk
The Landmark Mandarin Oriental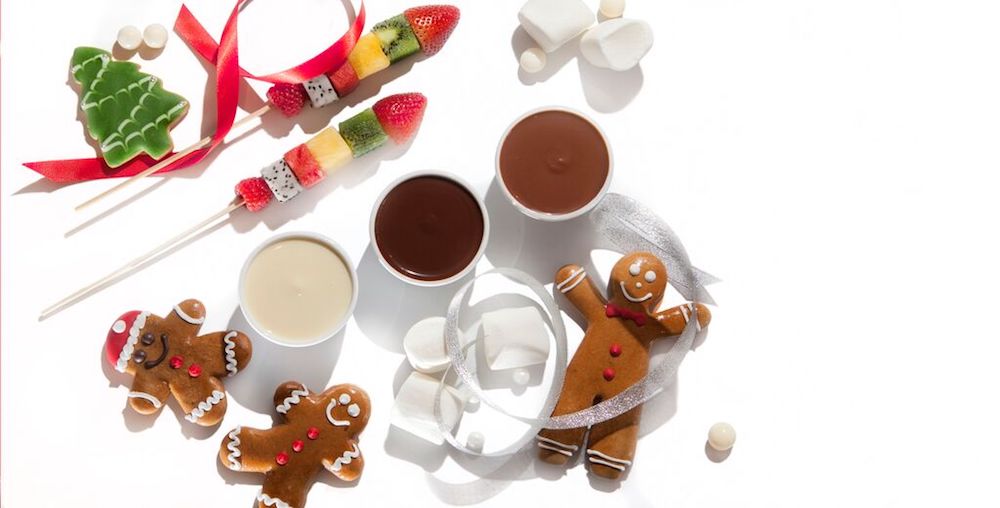 Intimate, contemporary and ideally placed in the vortex of Hong Kong's financial and luxury shopping districts, The Landmark Mandarin Oriental Hong Kong transforms itself into a festive paradise every December, and this year the theme for their festive dining and bar is a very sweet Candyland. The MO are offering Festive Brunch at MO Bar, as well as Lunch or Dinner Function Packages in the beautiful Tian and Di rooms, with menus overseen by award-winning Culinary Director Richard Ekkebus, perfect for group celebrations.
From Christmas Eve through to Boxing Day, Mo Bar will be serving an à la carte Festive Brunch as a DJ spins tunes all afternoon. Kids young (and old) will be delighted by a candy shop serving fresh cotton candy and free-flow drinks, festive cocktails, champagne, draught beer and wines.
Breakfast buffet (HK$288 per person, from 7:00-10:30am), Christmas Brunch (HK$648 per person, from 12:00-15:00pm on 24-26 December; 0 to 5 years old complimentary, 6 to 12 years old HKD $298).
The Landmark Mandarin Oriental, 15 Queen's Road Central, +852 2522 0111, mandarinoriental.com
Kowloon Shangri-La
As venues for alternative Christmas meals go, the myriad of restaurants at the Kowloon Shangri-La offer five-star dining celebrations with their stellar Christmas menus, hampers and gifts, as well as a lucky draw and festive activities. Presenting themed meal packages throughout this year's festive season, the notorious five-star hotel provides guests a choice of restaurants serving Italian, Chinese, Japanese and international cuisine, as well as a deli, bar and lounge. The season's dining highlights include festive buffets at Café Kool, special Christmas Eve meals at Angelini with views of the festive lights over the harbor, as well as a festive-themed menu at Lobby lounge.
Kowloon Shangri-La, 64 Mody Rd, Tsim Sha Tsui East, +852 2721 2111, shangri-la.com/hongkong/kowloonshangrila
Kerry Hotel

To avoid slaving over a hot oven come Christmas Day, head to the Kerry Hotel's Big Café to feast with family and friends.They're offering the best seasonal festive dishes, perfect for enjoying amongst the table; from a traditional Rotisserie Turkey with all the trimmings to freshly baked individual Salmon Wellingtons. Their festive menu is available throughout the month of December for lunch and dinner, with special additions added from the 14 December as we near Christmas Day.
The Christmas Lunch Buffet will range from HK$398 to HK$598 and the Christmas Dinner Buffet will range from HK$708 – HK$908 available from 1-31 December.
For pricing and further information, please click here
Kerry Hotel, 38 Hung Luen Road, Hung Hom Bay, +852 2252 5888, shangri-la.com/hongkong/kerry
The Langham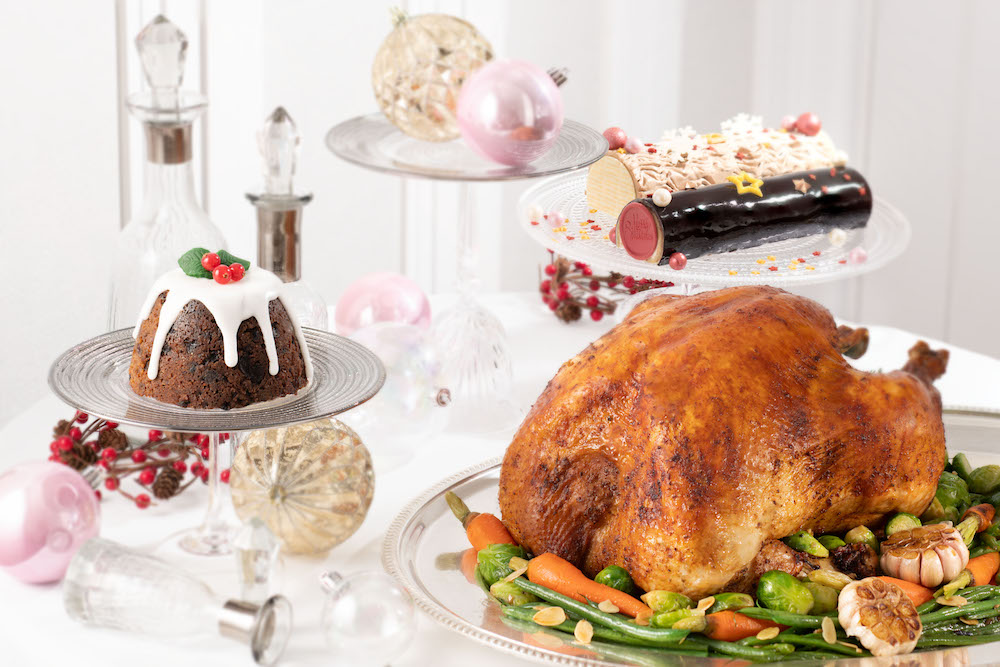 Whether you're bleary-eyed and in need of a good feed, or looking for somewhere more refined to meet friends and family, The Langham is fully embracing the Christmas season with their impeccable dining offers. Christmas lunches, brunches and dinners are offered at three restaurants: The Food Gallery, Bostanian Seafood & Grill and Main St. Deli.
The Food Gallery is for those looking for a buffet feast with Roasted Tom Turkey, Provençal Roasted New Zealand Lamb Rack, Pepper and Sea Salt Roasted Australian Prime Rib Beef, Pan-fried Foie Gras and other hot fares. Complete the Christmas feast with a delicious range of desserts ranging from stollen bread, Christmas cookies, minced pies and Christmas puddings.
If you're looking to cosy up and get tucked into a festive feast, the Bostanian Seafood & Grill are serving lunch, brunch and dinner, featuring a scrumptious range of appetiser buffet style and a selection of mains such as Char-grilled Rib-eye and Roasted Lamb Rack. End on a sweet note with Warm Christmas Pudding, Christmas Log or "Le Retro" dessert.
If you're looking to skip the fuss and enjoy the comfort of eating at home, the Main St. Deli are offering a Turkey-To-Go Takeaway. Delivered in a new wood grain carton box, spread the holiday cheer with the sought-after Roasted U.S. Tom Turkey (6 or 8-10kg) with stuffing, gravy and all the trimmings that feeds up to 20 people. Opt for additional soup, pumpkin cheesecake, pecan pie or dessert for the ultimate Christmas experience.
The Langham, 8 Peking Road, Tsim Sha Tsui, +852 2375 1133, langhamhotels.com