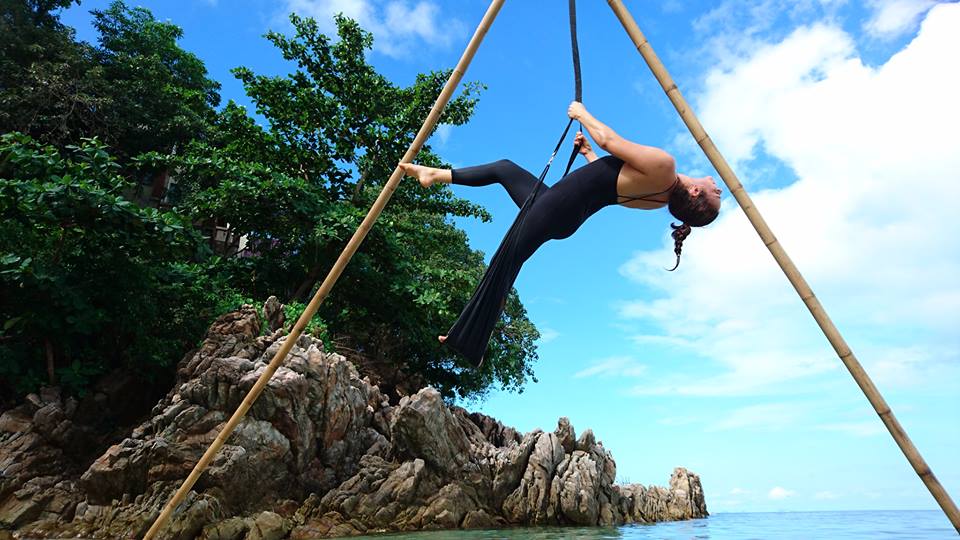 Even in this heat, when the sun's out all you want to do is be outside – and that includes working out. For some, it's probably a bit too hot (and humid) to run or be doing circuits outside. However, there are plenty of stunning parks (with that 'grammable Hong Kong skyline), beaches and outdoor areas where some of the city's most talented and up-and-coming yogis are sharing their practice.
Make the most out of the summer with our guide to the best outdoor yoga classes Hong Kong has to offer (and the perfect set-up for your next Insta pic):
AIA Vitality Park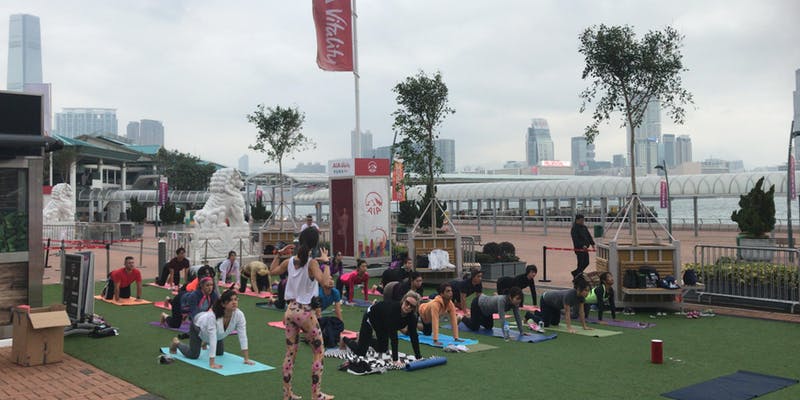 The AIA Vitality Park is a new wellness area at the Hong Kong Observation Wheel, which will regularly host fitness and health workshops and events. This week, Sheung Wan's boutique yoga studio The Yoga Room will be hosting an outdoor yoga class for free on Saturday, June 2 from 9am to 10am. All you have to do is register and bring your own yoga mat, blocks and a towel – make sure you don't forget the last one, the heat has been almost unbearable the last few days
They will also be hosting a 'FatBurnExtreme' HIIT workout and a sports-inspired GameFit workout, tailored to help athletes target all aspects of their fitness that they'll need as part of their training, in collaboration with XP Fitness Hub.
Stay up-to-date with their fitness events at eventbrite.hk
Hatha Yoga with Maxine Chan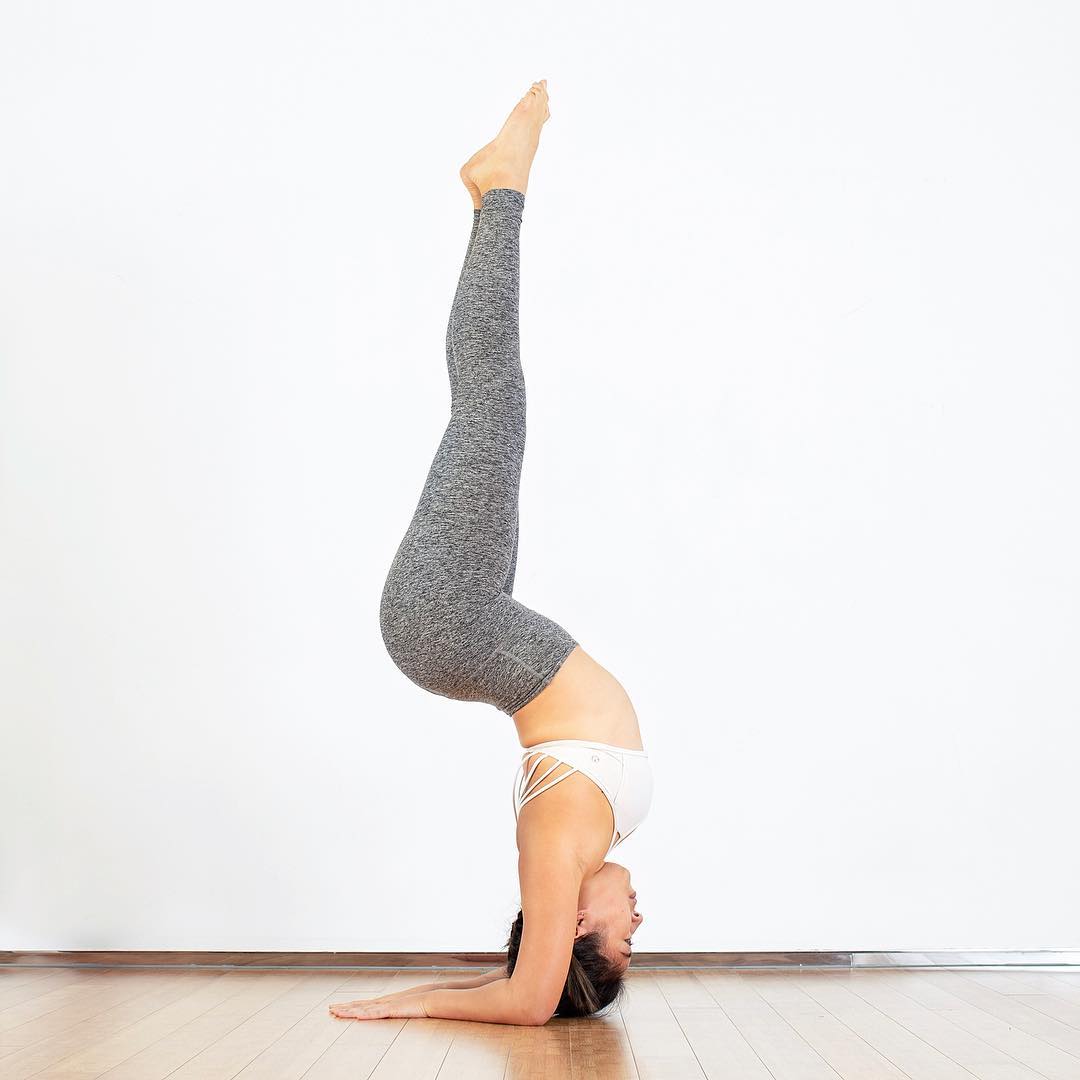 Having just received her RYT200 yoga teaching certification, fitness influencer Maxine Chan will be teaching her first yoga classes starting this weekend at Tamar Park on June 2 and June 3 from 4pm to 5pm. Her Hatha Yoga will focus on building strength and confidence with all-rounded movements, including the warrior sequence, crow pose and backbends. All you need is a water bottle, yoga mat and to register on Instagram. Classes will be held at least once or twice a month. Don't be shy – she'll be more than happy to help you take the perfect snap for Instagram too (check out her poses here for a little inspiration).
Outdoor Sunrise Yoga and Meditation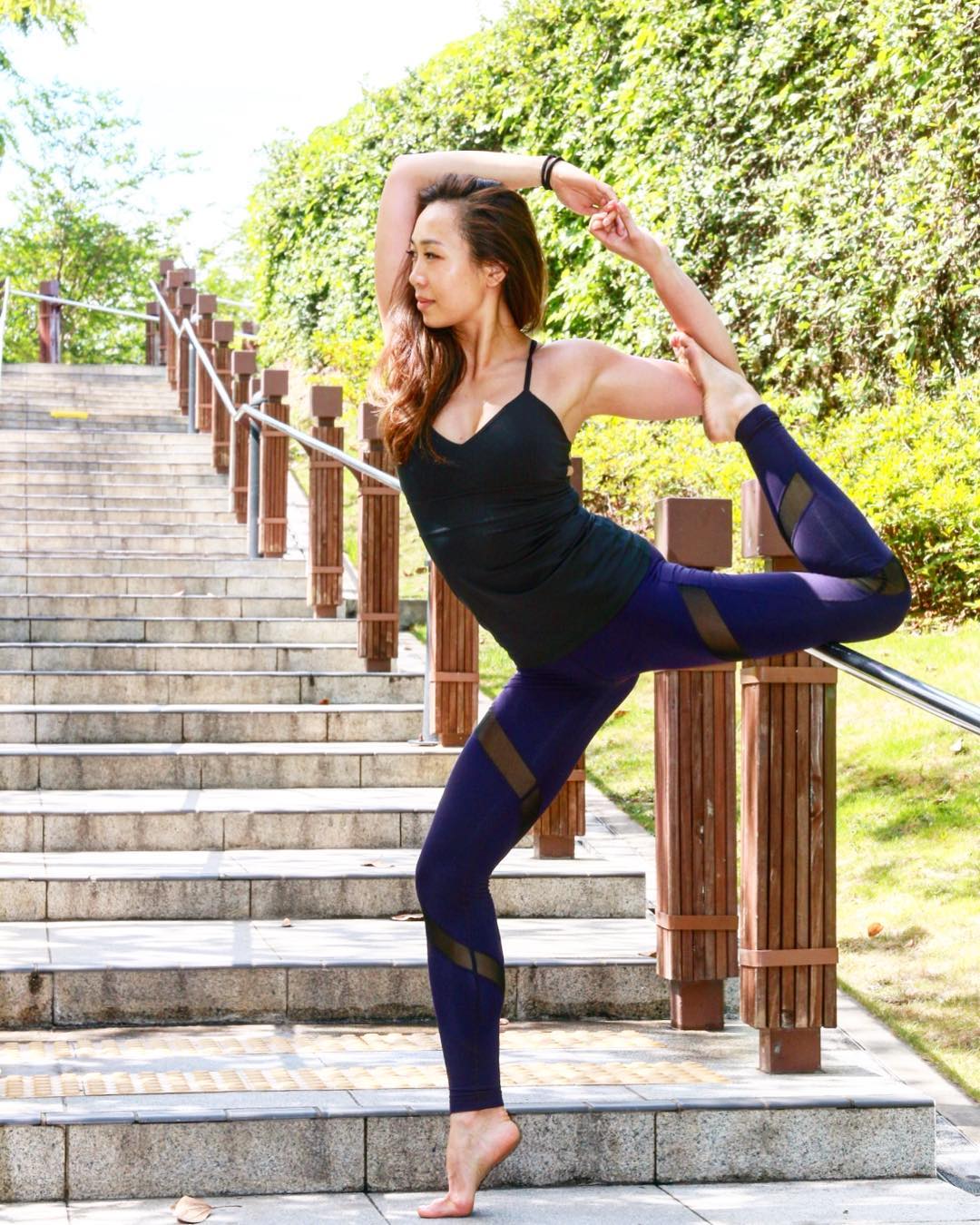 CorpYoga by Cam and feloSOPHIE will be co-hosting an all-levels sunrise yoga session this Friday, June 1 from 7am to 8:15am. Salute the sun and get your flow on at King George V Memorial Park in Sai Ring Pun. After a series of poses focused on strength and deep stretching, you'll then enjoy a short meditation led by Gianni Melwani. The class is HK$100 per person and an additional HK$50 for mat rental.
To register visit felosophie.hk
Bamboo Yoga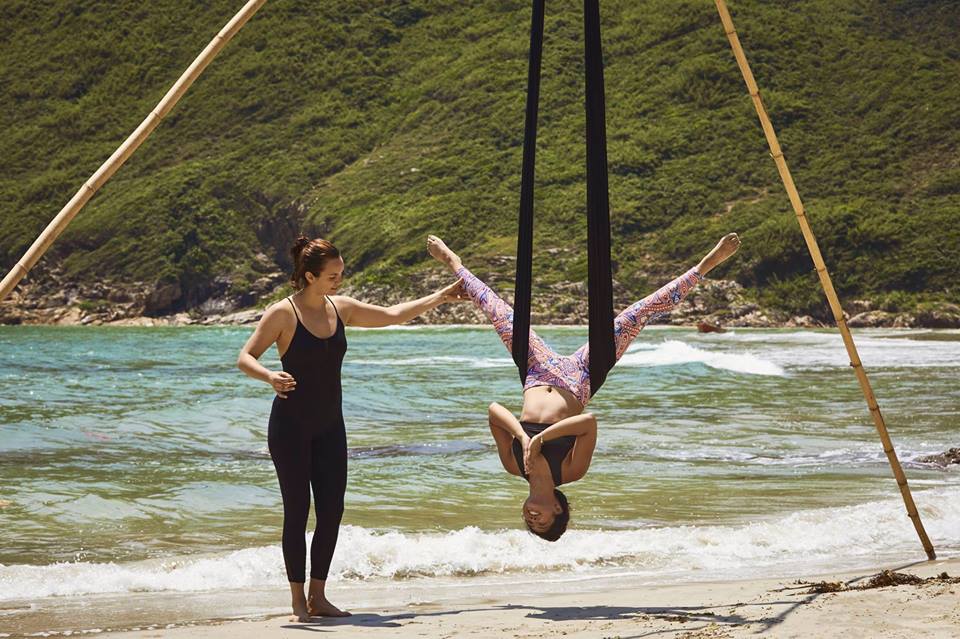 Living in Hong Kong means that it can take you only half an hour to reach the beach. Home to over 100 beaches, this concrete jungle is also one of the best places to get outdoors. If Aerial Yoga is your thing or you're keen to check it out and work on your tan at the same time, then you must check out Bamboo Yoga. Founded by Aleksandra Milewicz, Bamboo Yoga offers half-day (HK$540 exclusive food and transportation) and full-day workshops (HK$750 exclusive of food and transportation) on the weekend.
For those who have been to at least five Aerial Yoga classes before, the Saturday half-day workshop takes you straight to Sai Wan Beach for a challenging yet exhilarating inversions as you dangle over the water – it's great for the 'gram too. First-timers should opt for the full-day workshop that takes place on Sundays and starts with a morning class at Yoga BamBam to get you comfortable with the poses and hammock before a short hike to the beach so you can put what you've learnt to the test.
Check out the full schedule at eventbrite.hk
SUP Yoga Hong Kong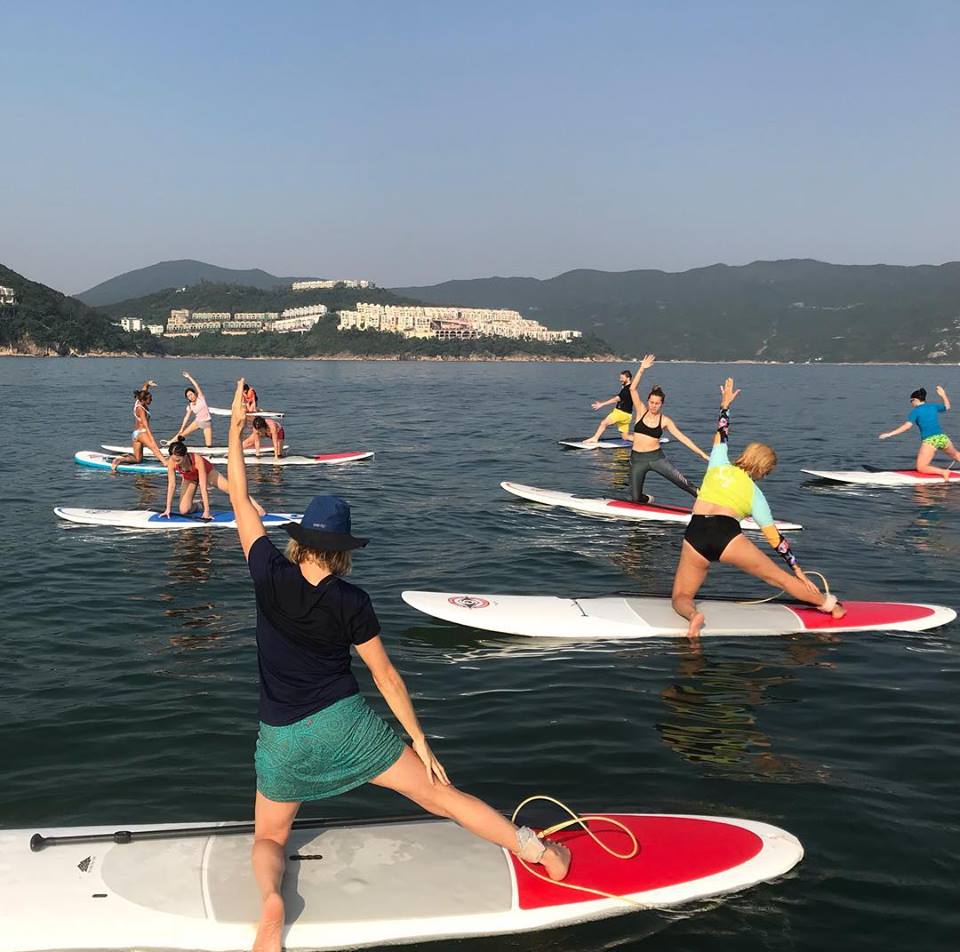 Take your paddleboarding skills to the next level with SUP Yoga Hong Kong. The run a variety of classes taking place at Stanley beach. These include SUP yoga (and yes, this also includes a SUPsavasana on a paddleboard as you get rocked by the water), SUP Meditation and Yin where the boards are anchored, SUP Fitness as well as SUP paddle tours around Stanely Bay. The 90-minutes SUP Yoga class is HK$500 per person (inclusive of board rental) and private classes for a minimum of four people are also available for HK$450 each.
Check out their full schedule for June here and more information at SUP Yoga Hong Kong
HK Outdoor Yoga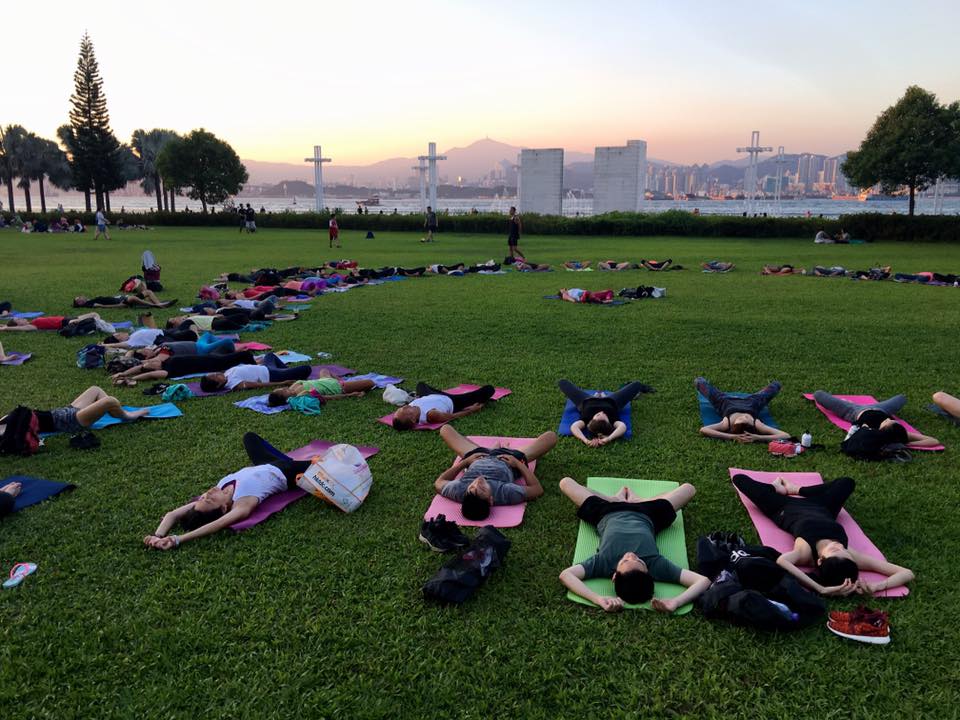 Founded by Jane Hagen, HK Outdoor Yoga runs free yoga classes to give back to the community and share how yoga can help all of us relax and de-stress from the constant pace of city life in Hong Kong. Start off your day the right way at Sun Yat Sen Memorial Park with their weekly Sunrise Yoga classes on Tuesday and Thursday from 7am to 7:50am.
Check out their schedule on their Facebook page
Ben & Jenny Yoga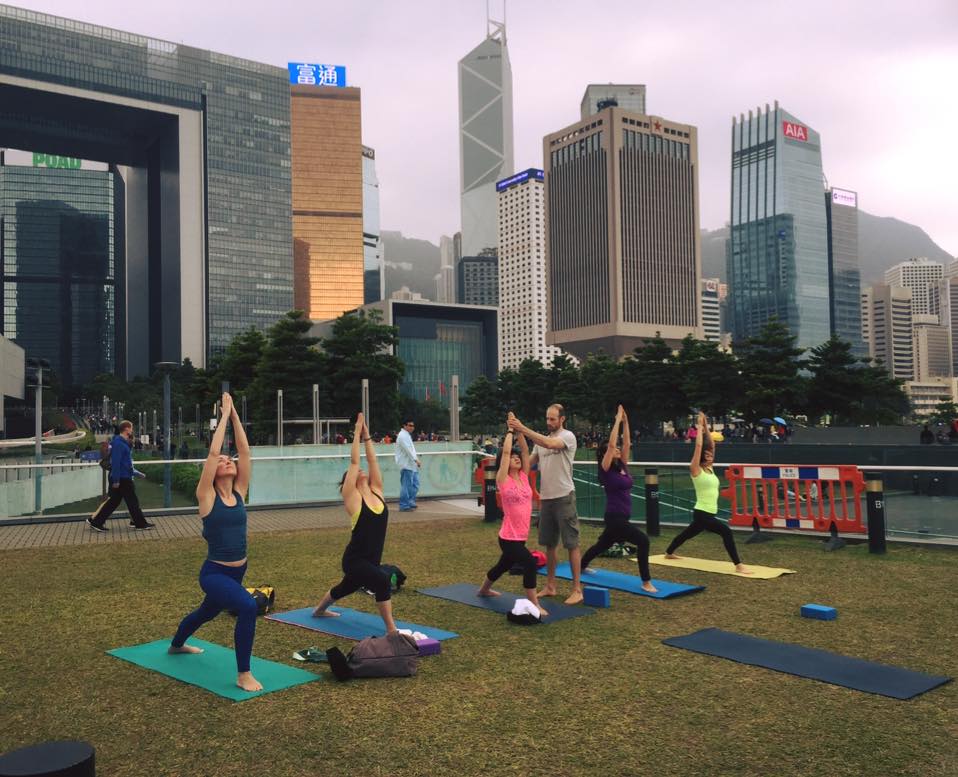 Yogis Ben and Jenny also host classes for the community in Hong Kong with a "pay as you wish" policy. The classes are kept small so you get quality attention and they include everything from Calisthenics at Sun Yat Sen Memorial Park and Ashtanga Yoga at Lockhart Road Sports Centre to Arm Balancing & Inverstions at Sheung Wan Sports Centre and Vinyasa Yoga.
Check them out at facebook.com/benandjennyyoga