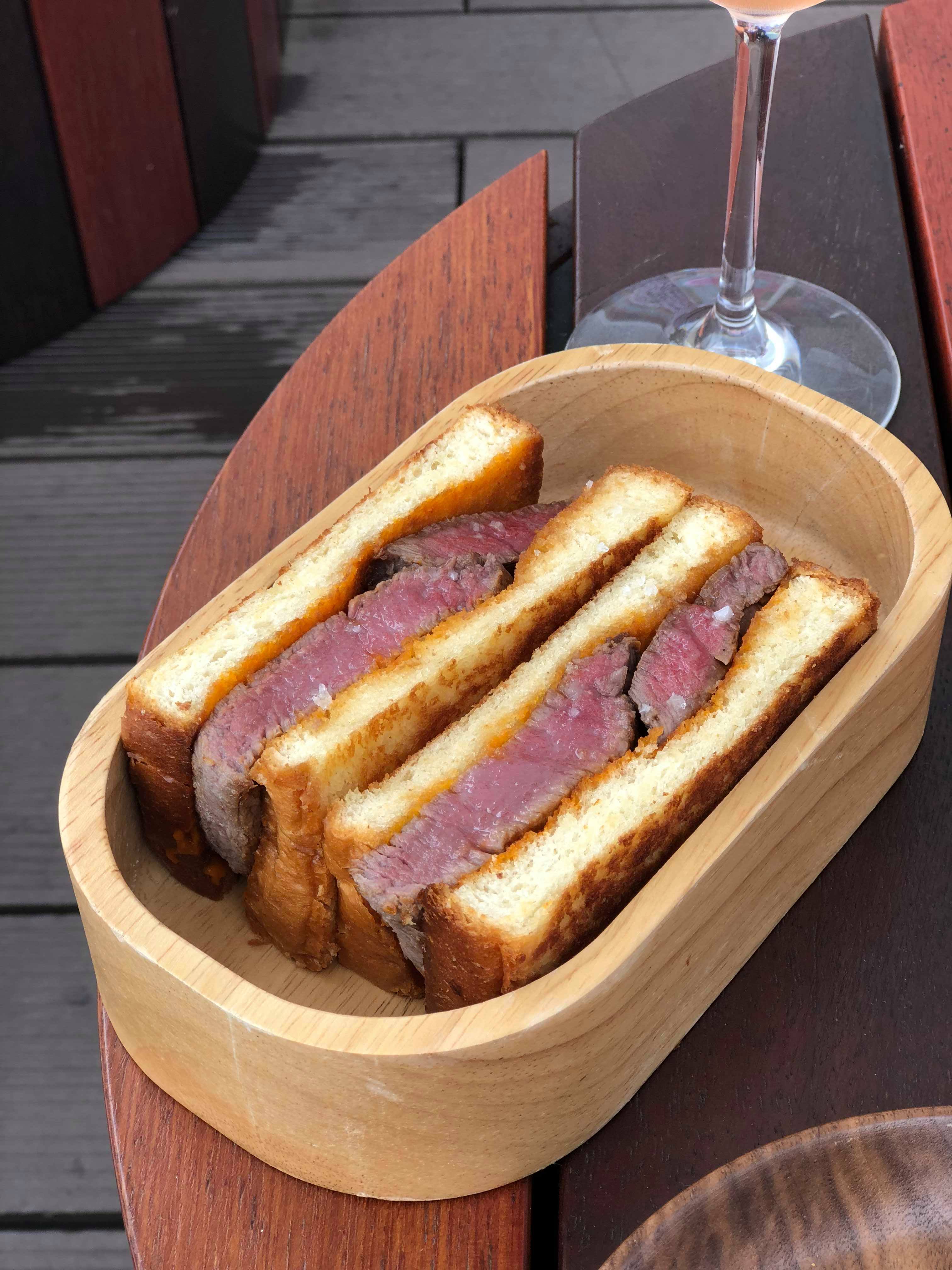 The Japanese cutlet sandwich, also known as katsu sando, is a simple yet exquisite and comforting dish, packed with incredible flavour. Breaking it down, katsu means cutlet; and in the culinary arts, the term cutlet is used to refer to a boneless, thin cut of meat – beef, chicken, veal, pork or lamb – that cooks very quickly and is usually pan-fried. Sando is the Japanese abbreviation for sandwich.
Recently, hotels and restaurants have been giving their own take on the traditional chicken katsu sando, replacing it with a decadent soft and rich Wagyu marbled beef, the kind that is as soft as butter; and arguably one of the most-chewed food trends of 2018.
Here's where to satisfy your deep fried katsu (be it beef, chicken or pork) cravings in Hong Kong:
Wagyumafia
Still undergoing intense renovation at the space by Catalunya in Wan Chai, is Tokyo export Wagyumafia, infamous for the most expensive katsu sando in the world - their Chateaubriand cut is crowned King of all beef and goes at a premium of HK$1,400; second to none in katsu sando world. The finely marbled Miyazakai beef is prepared by Wagyumafia co-founder Hisato Hamada, and is dipped in a meticulously house-made panko crust between toasted bread. For a whopping HK$800 for a "full sando" or HK$400 for a "half sando" you get to try one of the best juicy, buttery beef katsu sandos in the market.
Price: $HK 800 – $HK1,400 – Beef Sando
Wagyumafia, G/F Guardian House, 32 Oi Kwan Road, Wan Chai
PIQNIQ
If you're looking for Wagyu Beef Sandos with a hard-to-beat view and a breezy rooftop, Piqniq has got you sorted right down to a tee. For those of you who haven't been to the Le Comptoir Group's new rooftop venue, located in the heart of Central - you know what you've got pencilled in your diary for the next week or so. Chic or casual, whichever you might choose, Piqniq is set to be one of the coolest alfresco spaces in town with gorgeous views of Victoria Harbour and the Peak. Food is served in picnic baskets whilst you're comfortably sat on decks or beanbags. As you sip on their curated list of wines, champagnes and classic cocktails, be sure to look out for one of Yayoi Kasuma's iconic polka-dot pumpkins.
Price: $HK 398 - Mizayaki beef sando
Piqniq, R/F (Rooftop), H Queen's, 80 Queens Road Central, Hong Kong, 5200 1683
Yardbird
Yardbird is home to an incredibly juicy chicken katsu sando. The nose-to-tail Yakitori restaurant have been doing chicken katsu sandos before anyone else in Hong Kong. At just HK$90 you can bag yourself two small tasty chicken katsu sandos. Major brownie points – the staff love pouring sake for you whether you want it or not! Get there early to avoid queing as they do not take reservations, and they don't seat parties until the whole group has arrived.
Price: HK$90 – Chicken katsu sando
Opening hours: Monday-Sunday 6pm to Midnight (closed Sunday)
Yardbird, G/F, 154-158 Wing Lok Street, Sheung Wan, Hong Kong, 2547 9273
Takumi by Daisuke Mori
Seating 12 guests in a relaxing open kitchen environment, the Michelin-starred, Franco-Japanese restaurant is another hot spot for this delicacy. Takumi have their very own Beef Katsu Sandwiches using the best Hida beef tenderloin you've ever tasted. They also have the pork katsu sando on offer made with Okinawa Sangen pork tenderloin and house-made tomato relish which is only available upon request.
Price: $HK 880/per 5 courses, $HK 2,080/per 10 dishes
Opening hours: Lunch 12-2:30pm, Dinner 6:30-10:30pm (closed Sunday)
Takumi, Shop 1, G/F, The Oakhill, 16 Wood Road, Wan Chai, Hong Kong, +852 2574 1299
Marble Kappo Restaurant at Crowne Plaza Hotel
Japanese-french kappo restaurant Marble at the Crowne Plaza Hotel serve the finest Miyazaki beef sandos in Hong Kong. The exquisite slab of beef paired with toasted shallots and the restaurant's very own secret sauce possesses a sublime texture for those who are lucky enough to have a taste of one of these show-stoppers. The restaurant's signature dish can also be enjoyed as part of a set that includes an appetizer, double boiled beef soup, the Miyazaki beef sando itself, dessert and a coffee for HK$388. Ozaki beef, the finest of it's kind of Wagyu is served at dinner.
Price: $HK 388 – Beef sandwich set
Opening hours: Lunch served from 12-2:30pm, Dinner from 6-10:30pm
Marble Kappo Restaurant, 1/F, Crowne Plaza Hong Kong, 8 Leighton Road, Causeway Bay, 2650-8988