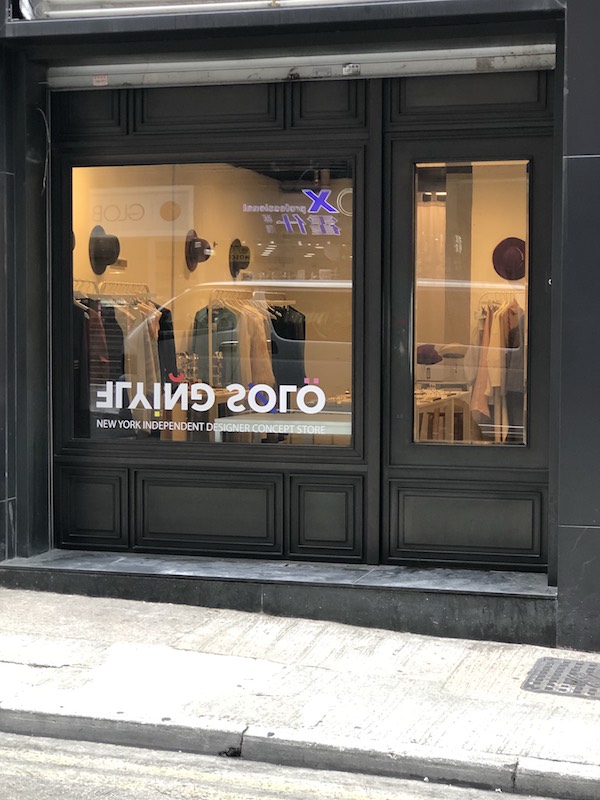 Flying Solo is a unique fashion incubator from New York that has flown into Hong Kong for a week-long pop-up. Founded by Elizabeth Solomeina a mere 16 months ago, the incubator aims to provide emerging designers with support – everything from a physical retail space, guidance and education for both the designer and the customer. Flying Solo is centered around community and the idea of helping each other out. They've certainly found a formula that works superbly – it's already expanded twice in New York since its inception and now, internationally.
Run by designers, for designers, 11 of Flying Solo's names are debuting in Hong Kong with eight of them in-store to meet all the customers. Having a physical retail space is a huge draw for Flying Solo. With such a focus on social consciousness, the designers actually work in the space, selling not only their own designs but others' as well. This allows them to meet actual customers and interact with the people who will be wearing their products. This also creates an opportunity for the designers to educate their consumers, about topics such as ethical manufacturing, quality materials and why prices may be higher than the fast fashion markups we're all used to.
The pop-up will be on until Saturday, November 11 at 1 Lyndhurst Terrace. Check out the list of designers below and learn more about the incubator here.
· Elena Rudenko (RTW)
· GBGH (Jewellery)
· Halstenbach (RTW)
· Iza by Silvia D'Avila (Jewellery)
· Jasmine Chong (RTW)
· Kasané (Jewellery)
· NOT by Jenny Lai (RTW)
· Solomeina (Jewellery)
· Spinoza (Eyewear)
· The Modern Tales (Jewellery)
· WYNONO (Hats)