SIHH 2019: Bovet 1822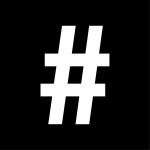 By: #legend
May 23, 2019
Bovet 1822 debuted their first appearance at this year's SIHH with an impressive collection. Its unique heritage and craftsmanship that has spanned from the 19th century had my vote to be one of the most artistic watch makers of our time. It's all about the ARTS!
Bovet timepieces were known for their pocket watches turned table-clock by opening their caseback bezel ring used as the pivot/support to be placed on the table. Bovet 1822, with its rich history of revolutionizing the applied arts of watchmaking, is also the integral part to the soul of the Maison. In 2001, Mr. Raffy became the sole owner of the Maison and vowed to safeguard decorative art techniques, such as artistic engraving, miniature painting, and the art of enameling. Unique pieces and customized timepieces today represent one third of the timepieces manufactured annually by BOVET 1822.
Bovet 1822 has also been relentlessly pursuing the perfection of watchmaking of our time by designing their own patented mechanism called Amadéo Convertible Case. The Amadéo system transforms the timepiece into a reversible wristwatch, a pocket watch, or a table clock without the use of any tools. Ingenious!
Amadéo Fleuriere 43, the three men's timepieces complete the 2019 BOVET 1822 Decorative Arts Collection. Two of them represent Chinese dragons, a theme which has been found in BOVET collections since 1822. The Emperor of China himself was a keen collector of dragon timepieces, a tribute to this theme's success and credibility worldwide.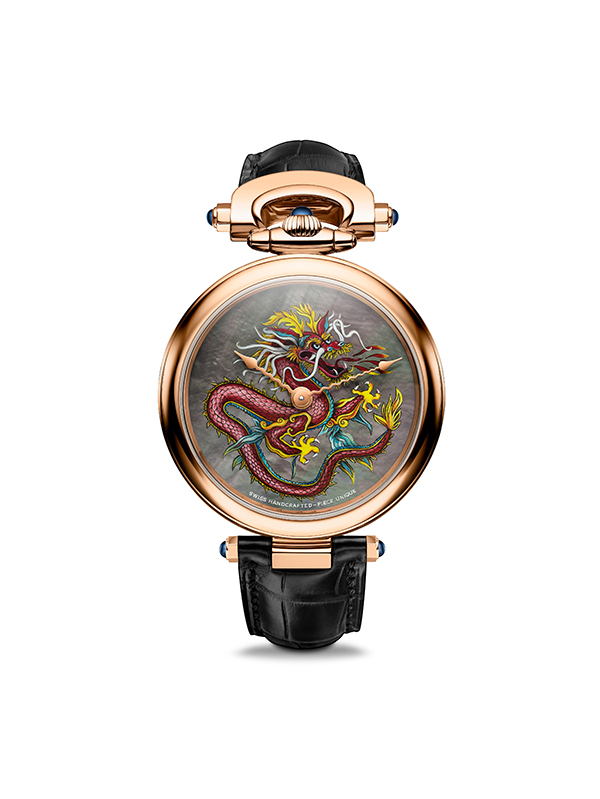 A golden dragon on a field of blue in the decorative dial of the convertible 43 mm-diameter Amadéo case in red gold. Meanwhile a second version features a brightly colored dragon rendered boldly against a dark mother-of-pearl dial. Both dragon timepieces come in 18K red gold in 43mm Amadéo convertible case.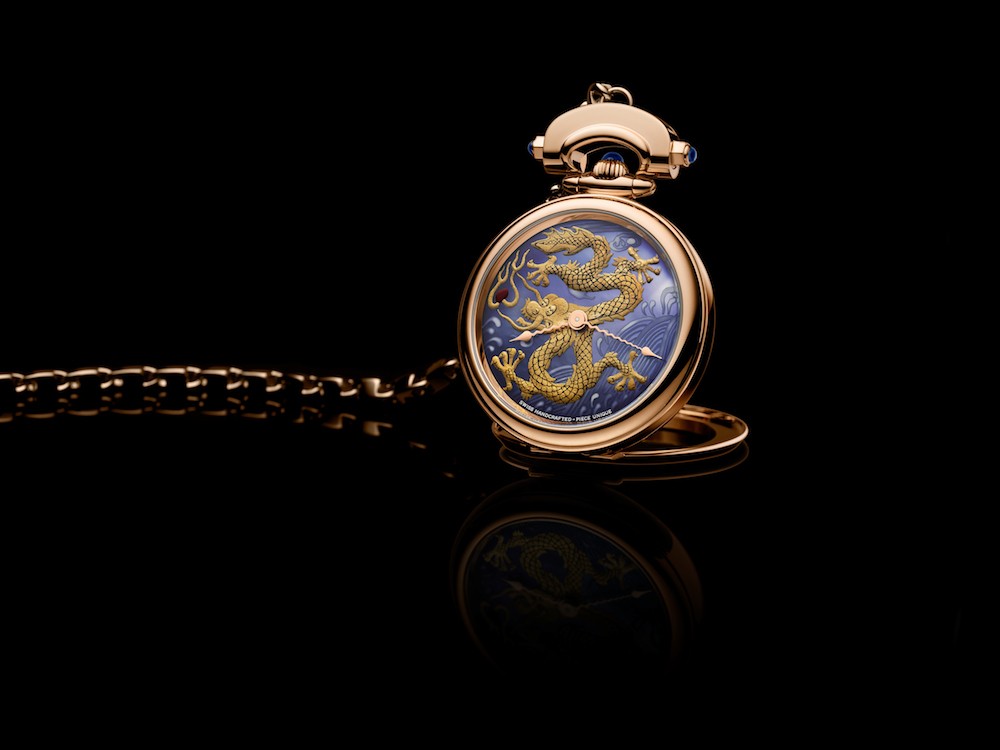 The final timepiece in this Decorative Arts Collection features a white tiger. Of all the animals, it is one of the most difficult to reproduce in the small-scale dimensions of a timepiece dial. Each hair of the tiger's thick fur has been individually painted by the artisan, who uses a microscope to precisely guide their brush's single marten hair. This extreme miniaturization requires the greatest precision over many weeks and months, for a single painting. The white tiger in 18K white gold in 43mm Amadéo convertible case.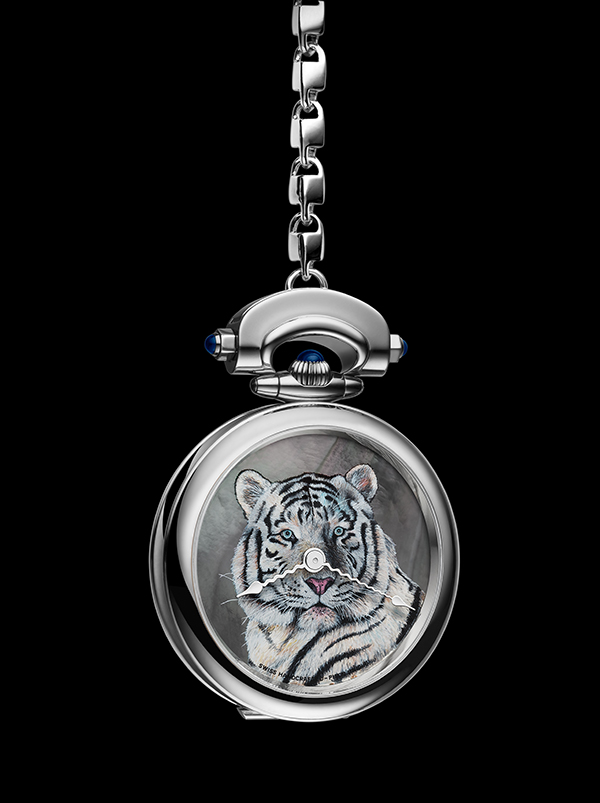 The Amadéo Fleurier 39. Using this same technique, BOVET artisans also present a dial illustrating koi carp. This is a theme dear to collectors from Southeast Asia, where koi carp is symbolized of love. The Koi comes in 18K white gold with 227 round-cut diamonds approx. 1.26 carats on the bow, bezel and lugs in 39mm Amadéo convertible case.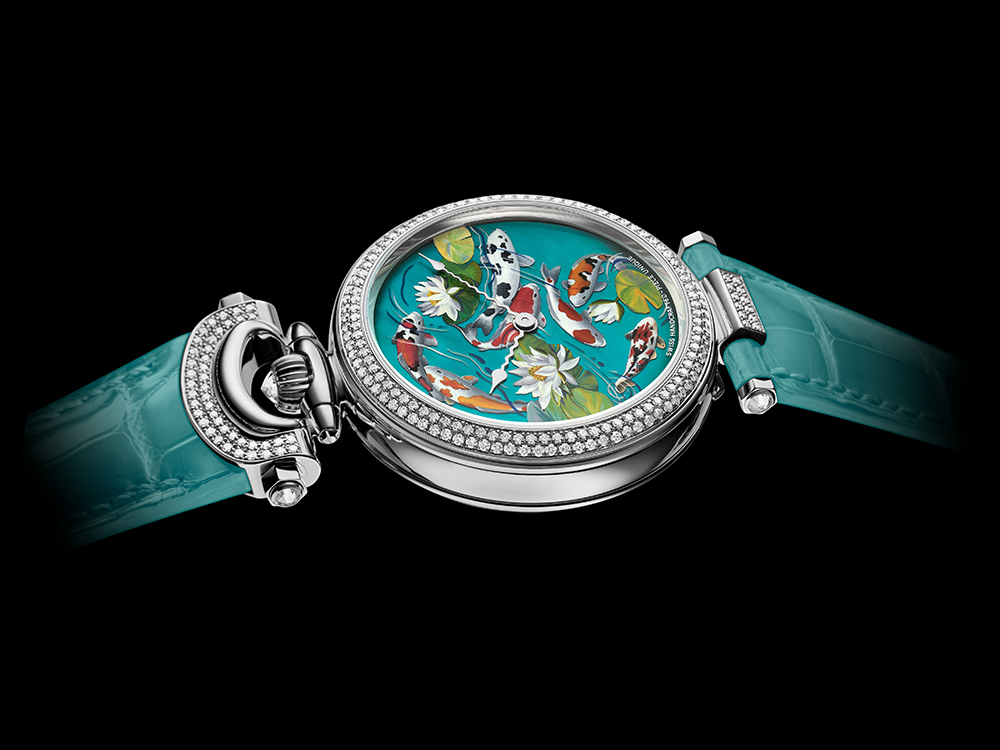 Following the Bovet 1822 Amadéo Fleurier tradition. Another novelty is their latest Virtuoso IX Double Time Zone 10-day Power Reserve Big Date Flying Tourbillon (Reversible Watch). This watch comes in 18K red, white gold or platinum in a 46.3mm Amadéo convertible case.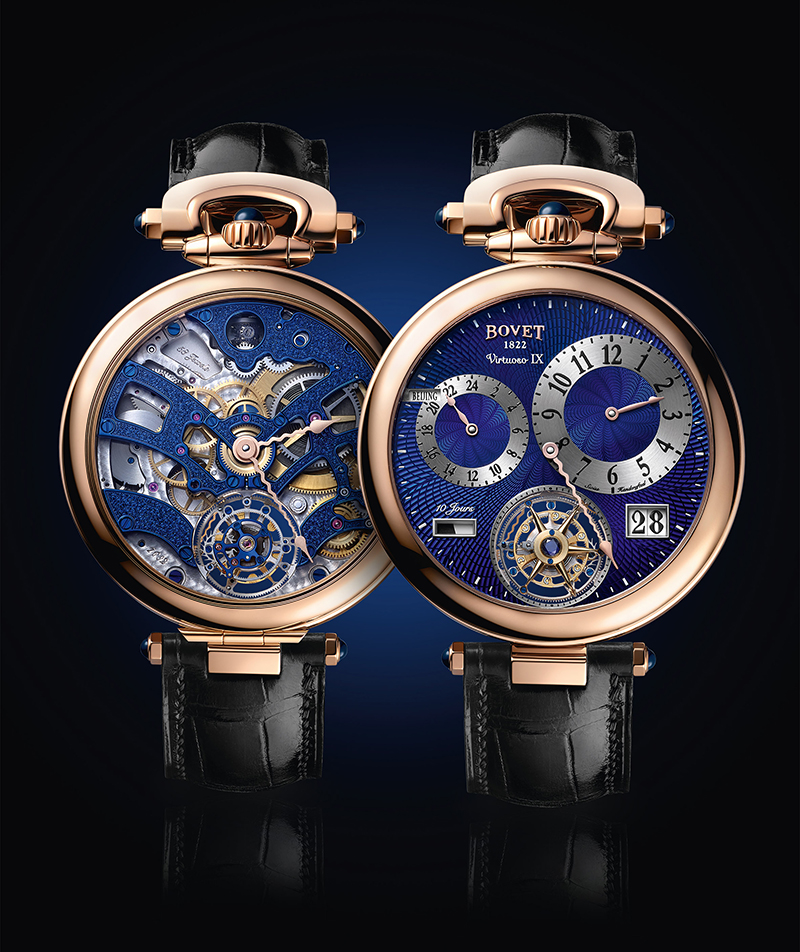 From the Bovet 1822 Récital collection come three more styles: Récital 21 Perpetual Calendar with Retrograde date, Récital 23 Moon Phase and Récital 26 Brainstorm Chapter One. These are all some of my favorites at this year's show.