Roger Dubuis' quest of gravity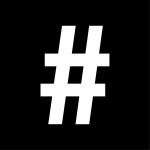 By: Stephenie Gee
June 26, 2023
Roger Dubuis has always tended to the extreme in terms of positioning, exclusivity and aesthetic. Now it has taken another revolutionary step forward with the unveiling of the new Monovortex Split-Seconds Chronograph and Excalibur Monobalancier Titanium. Product Strategy Director of Roger Dubuis Gregory Bruttin tells Gordon Lam and Stephenie Gee all about it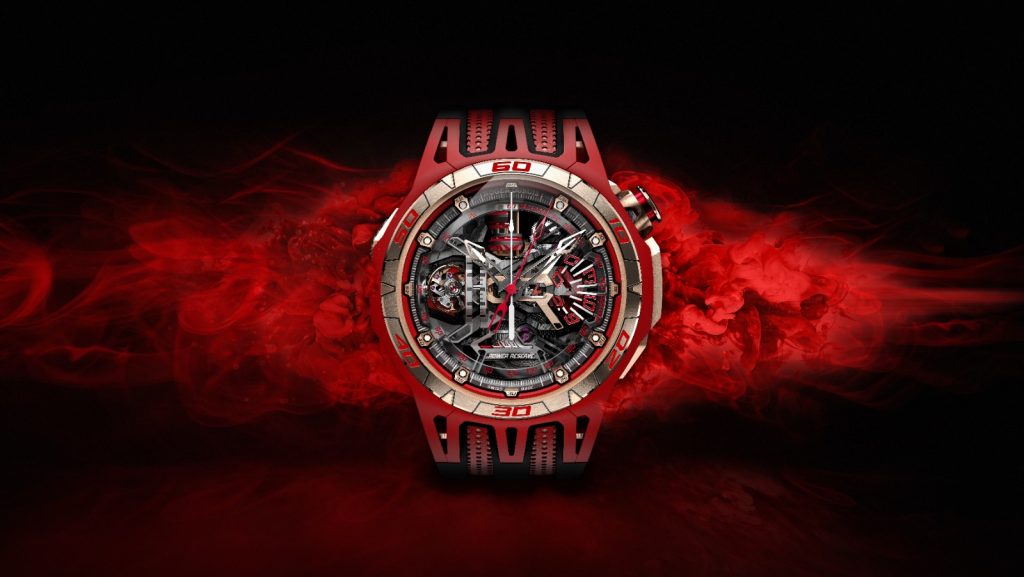 Since its founding in 1995, Roger Dubuis has never shied away from innovation, even if it meant scaring off a few people. And this daring ethic was on full display at Watches and Wonders 2023, from the visually striking "Hyper Life Factory" booth complete with a robot dog (the name is Vortex) prowling the premises to the all-new concept timepiece that furthers the late Roger Dubuis's quest to defy the complex realm of physics: Monovortex Split-Seconds Chronograph.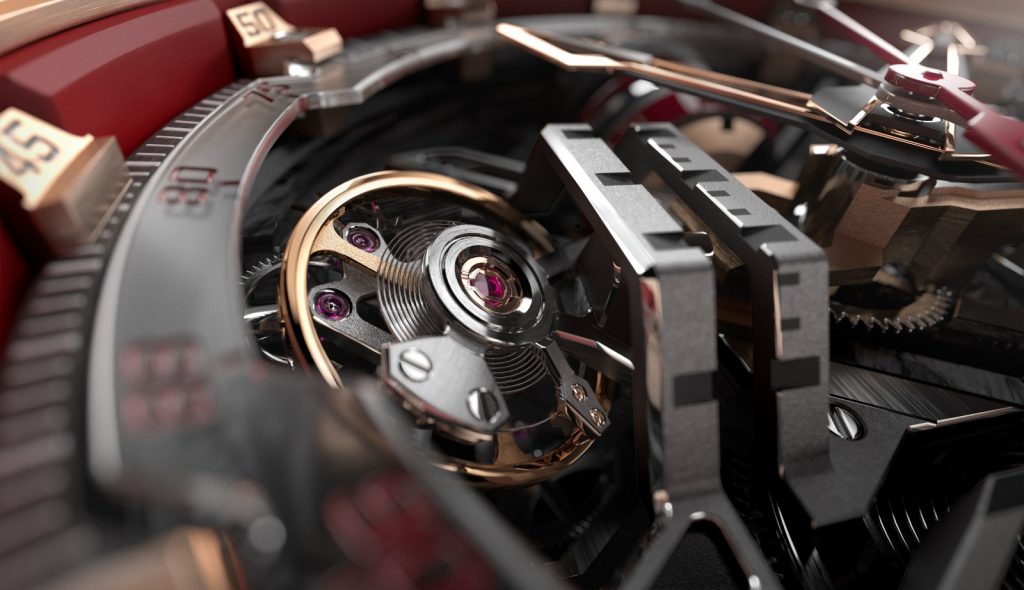 "Last year, we had the Knights of the Round Table. And the idea was to put in the centre of the watch a tourbillon to illustrate our quest of gravity. That is the beginning of this story," explains Gregory Bruttin, the brand's product strategy director. Armed with degrees in microtechnology and watchmaking microelectronics, and a master's in watchmaking design, Bruttin has been for 21 years carrying – and elaborating on – the legacy that Dubuis started.
"We have practised gravity and tried to fight gravity for a long time because it was one of the dreams of Mr. Dubuis. This year, we have this concept watch and the idea of it is to really understand what happens with gravity," Bruttin says.
"Gravity is very interesting. One is we use the gravity and the other one is you cancel the gravity. And about the movement – one thing Mr. Dubuis always said to me was, 'Greg, be innovative. Shake the rules of watchmaking but respect the tradition.' So the movement is very modern and we add a very traditional chronograph with split seconds to respect the tradition of watchmaking."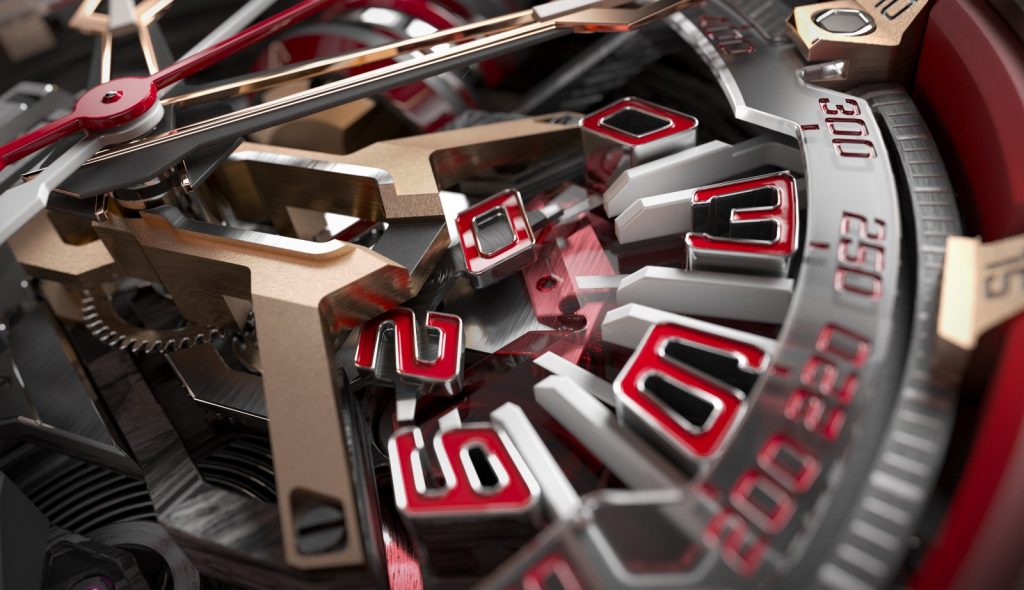 This groundbreaking timepiece is in defiance of, and control of, gravity. After years of research and trial and error, Roger Dubuis's signature complication, the tourbillon, now defies gravity. While most tourbillons only counteract its effects along one axis, Roger Dubuis has extended that ability across all six sides.
Positioned at 9 o'clock, the Conical MonovortexTM Tourbillon has a 360° trajectory, protecting the precision of the watch no matter the position of the wearer's wrist. With a unique approach to problem solving, the independent watchmaker decided to take full advantage of the positive force that gravity can be.
Born after years of deep research and more than eight months of technical optimisation, the Turborotor Cylindrical Oscillating Weight sits vertically at 12 o'clock so that the entire force of gravity pushes down on the design like a spinning barrel, generating power more efficiently and more ergonomically.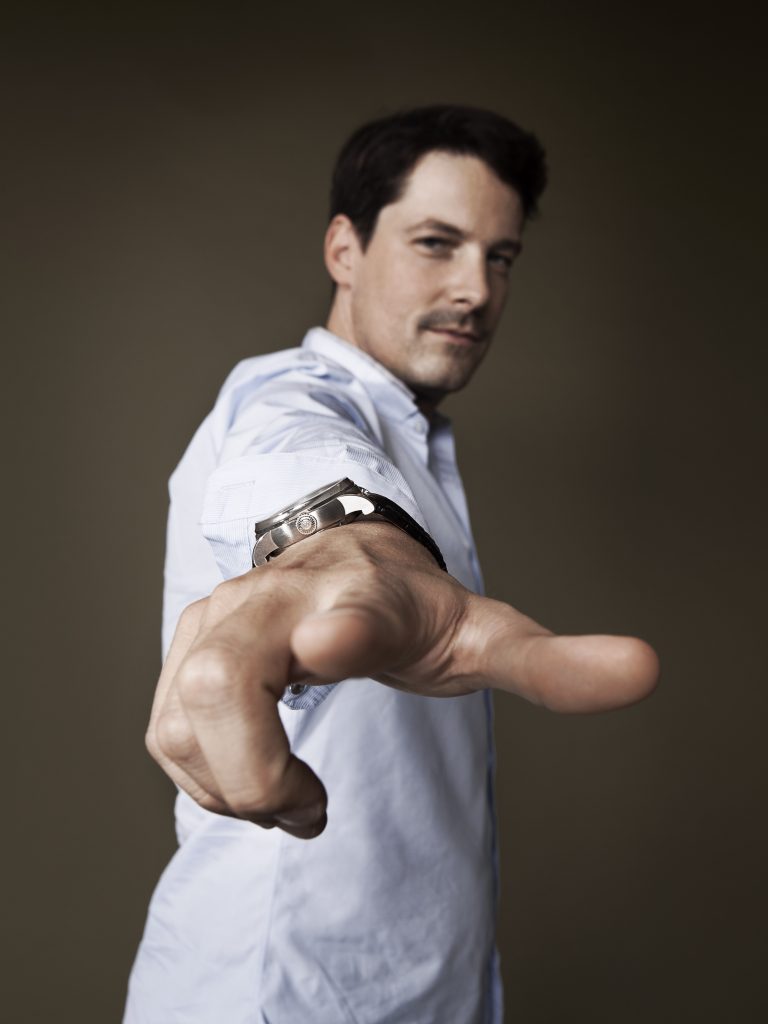 Powered by the RD114 Calibre, the Monovortex also celebrates the comeback of an iconic complication at Roger Dubuis: the split-seconds chronograph. Ingeniously constructed with a double column wheel system, it is enhanced with a Rotating Minute Counter, known as the 120° RMC.
The counter, positioned at 3 o'clock, takes on an unexpected isotoxal shape, adding a touch of playfulness to the design of the mechanism. The display, which is protected by patent, features a tripartite hand that accurately rotates past the 0-9 digits on the right.
Also see: Watches and Wonders 2023: Roger Dubuis works with gravity
Technicalities aside, there is an aesthetic appeal, too. Set in a 47mm mineral composite-fibre case that's claimed to be 2.5 times lighter than ceramic and 13% lighter than carbon composite, the Monovortex is striking from the first glance with its fiery red and pink gold livery that the company says took years to develop.
"We think the red is very interesting," Bruttin says. "We study trends in terms of colour, and we've seen that these past couple years since the Covid situation, people want to have colourful products. This is why we developed this specific red composite – because we want to be modern on innovation and craftsmanship.
"I'll give you an example. Ten years ago, black was, for a lot of people, the trend, so we found a solution to achieve the colour. Then a few years ago, we launched a white composite and today white is really a colour in the watchmaking industry. We've developed a lot of white products and we've had a lot of success with that. Red is a very difficult colour to achieve. And I don't think it's just a trend; the watchmaking industry loves to add colour because it's linked to passion, to cars, everything. We want more colour in our lives."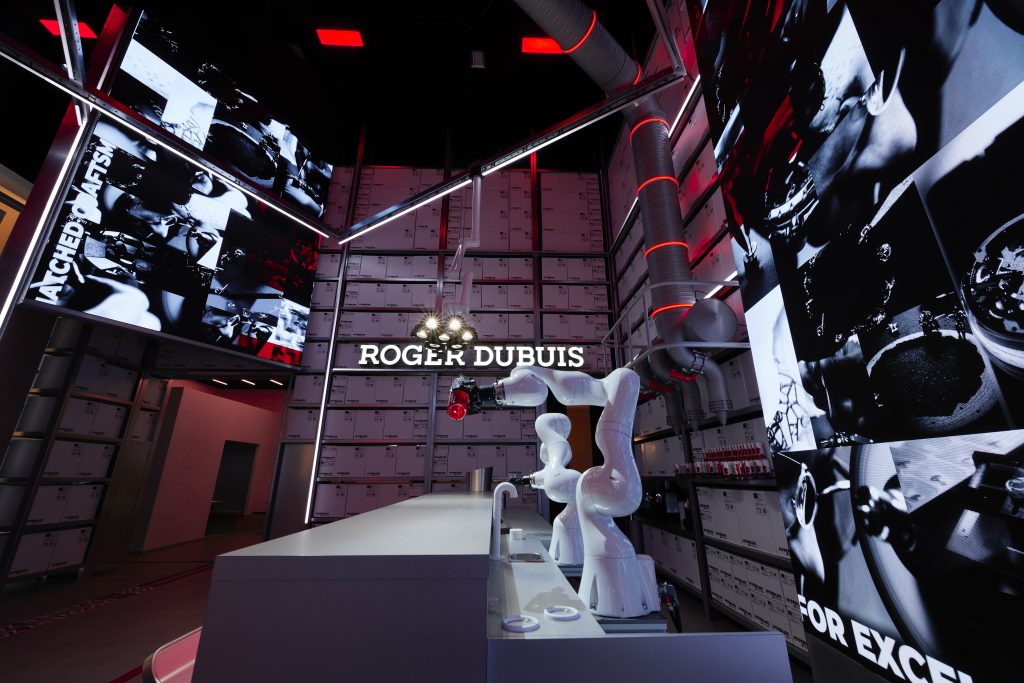 There are some things that are, in fact, rather normal about the watch. It has an hour hand and a minute hand, lumed and in pink gold; two chronograph hands, primary and rattrapante; and pink gold hour markers that double as a minutes scale. But beyond these elements, things get crazy.
"Innovation on craftsmanship – that's the vision for the brand," says Bruttin. "In the future, we will continue to leverage our relationship with Lamborghini on certain models, so you can also look forward to that this year! We want to continue the vision of hyper horology with very traditional complications with a modern twist. And we want to continue to focus on and develop the Excalibur collection because it's the best place to express ourselves – we have a lot of space."
The latest showcase of Roger Dubuis's unique blend of craftsmanship, innovation and performance in this flagship line is the new Poinçon de Genève-hallmarked Excalibur Monobalancier Titanium, which more or less is the classic Excalibur rendered in, as the name implies, titanium. "Using titanium is actually more expensive because the machine can actually burn," reveals Bruttin.
"But steel, in our opinion, is not the best material for high-end watches. Titanium is better. It's more comfortable, it's a bit stronger, and it's much lighter." By 33 percent, really, in comparison to a regular stainless-steel piece, in addition to boasting many innate benefits, from its naturally soft and hypoallergenic nature to its high anti-corrosion and anti-magnetic properties.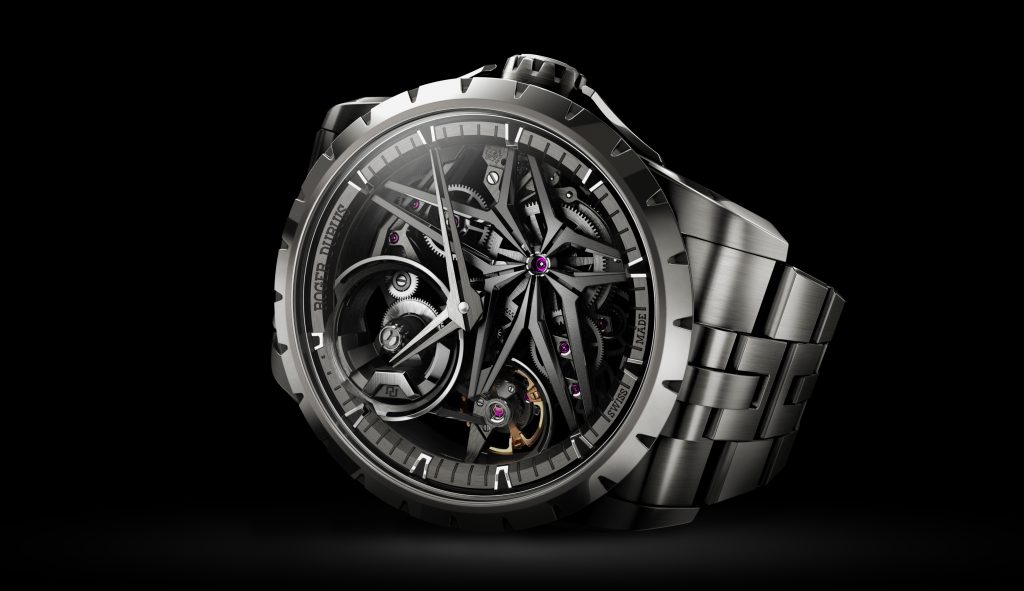 Modern and edgy, the Titanium is adorned with a premium matte metallic sheen that is complemented by shiny polished bevels on the bracelet. Attention to detail is pushed further with the 42mm case's central lug featured on the bracelet links, demonstrating even more harmonious aesthetics.
While jarringly understated – when set against previous renditions where gemstones are coated with an under-layer of Super-LumiNova and hour markers represented by micro-sculptures of the legendary defenders of the realm – the monotone grey colour scheme accentuates the sharpness of the skeletonised dial.
But to exceed expectations in fine watchmaking, the movement of a timepiece must match its aesthetics. Powered by the automatic, self-winding RD720SQ, the watch features a calibre renowned for its breathtaking performance. The micro-rotor – visible from the dial – is engineered to minimise vibrations, while the remarkable inertia of its
balance wheel maximises stability and effectively diminishes its sensitivity to shocks.
Simultaneously, the cutting-edge mechanics of the diamond-coated silicon escapement wheel combined with the diamond-coated silicon pallet- stones ensure an impressive 72 hours of power reserve, providing the wearer with enhanced practicality and comfort.
With Roger Dubuis, living your most epic life every single day has never been easier.
Also see: Watches to get for Father's Day