Montblanc: Glacier-inspired dials for the 1858 Iced Sea Collection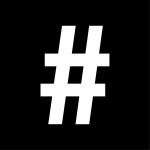 By: David Ho
March 27, 2023
The Montblanc 1858 Iced Sea Automatic Date is back with a new dial colour in grey. The elegant new shade is a boutique exclusive
The hue is inspired by the ice of one of the Mont Blanc mountain's largest glaciers – the Mer de Glace. The glacial ice there appears grey under certain light due to the mineral deposits within its structure. Taking inspiration from the majestic scene, the new Iced Sea edition comes in a 41mm stainless steel case with a caseback featuring a 3D engraving of an iceberg and a black scuba diver exploring the glacial waters below.
To create the glacier dials, Montblanc used a special technique known as gratté-boisé for the base that gives each dial a sense of depth and luminosity. Meanwhile, the engravings on the casebacks are done with a laser that structures the metal to create a 3D relief image with depth. Then, a stunning contrast is created through a series of matte and shiny finishes.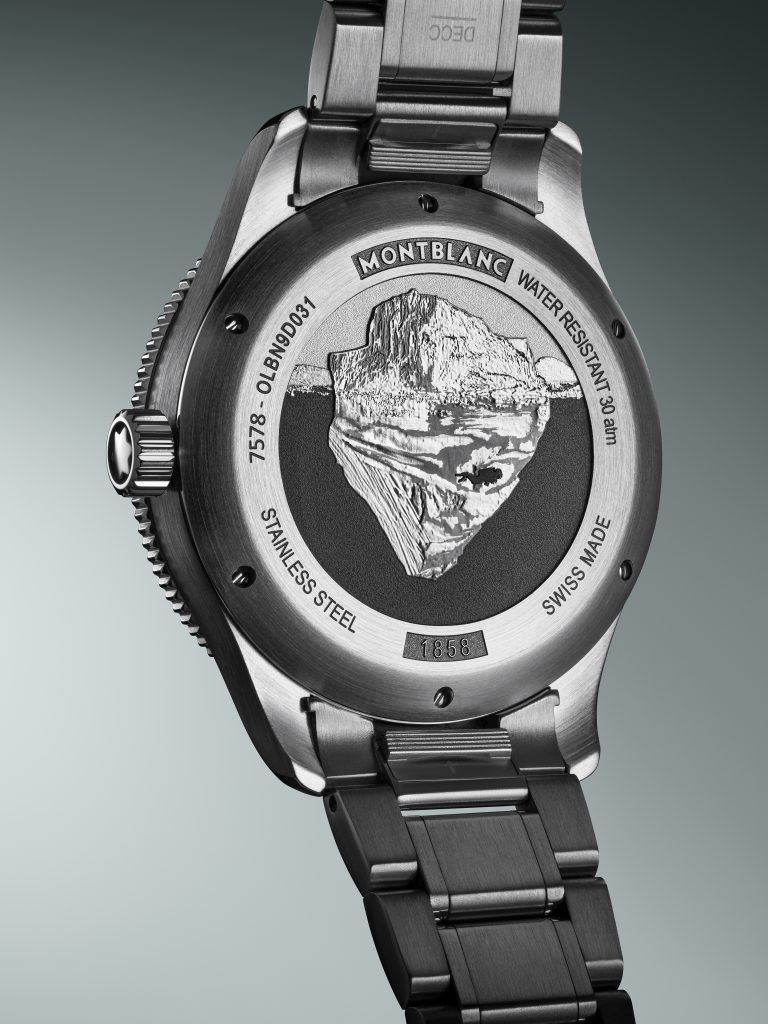 Beyond its amazing aesthetics, the Montblanc 1858 Iced Sea Automatic Date Editions are actually sturdy performers. They are ISO 6425-certified, making them suitable as diving instruments. The maison also makes sure each timepiece has undergone the Montblanc Laboratory Test to ensure they are shock, magnetic, temperature, and water-resistant (approx. 30 bar) and their fasteners are reinforced for enhanced security.
As companions to adventurous souls, the watches are visible in all conditions. Montblanc has incorporated its white Super-Luminova on the hands, indexes, and the dots at 12 o'clock on the bezel, which all glow in a luminescent shade in blue low light, keeping to that icy theme. It also comes with uni-directional ceramic bezels with the first 15 minutes in a contrasting colour, a particularly important feature for diving watches.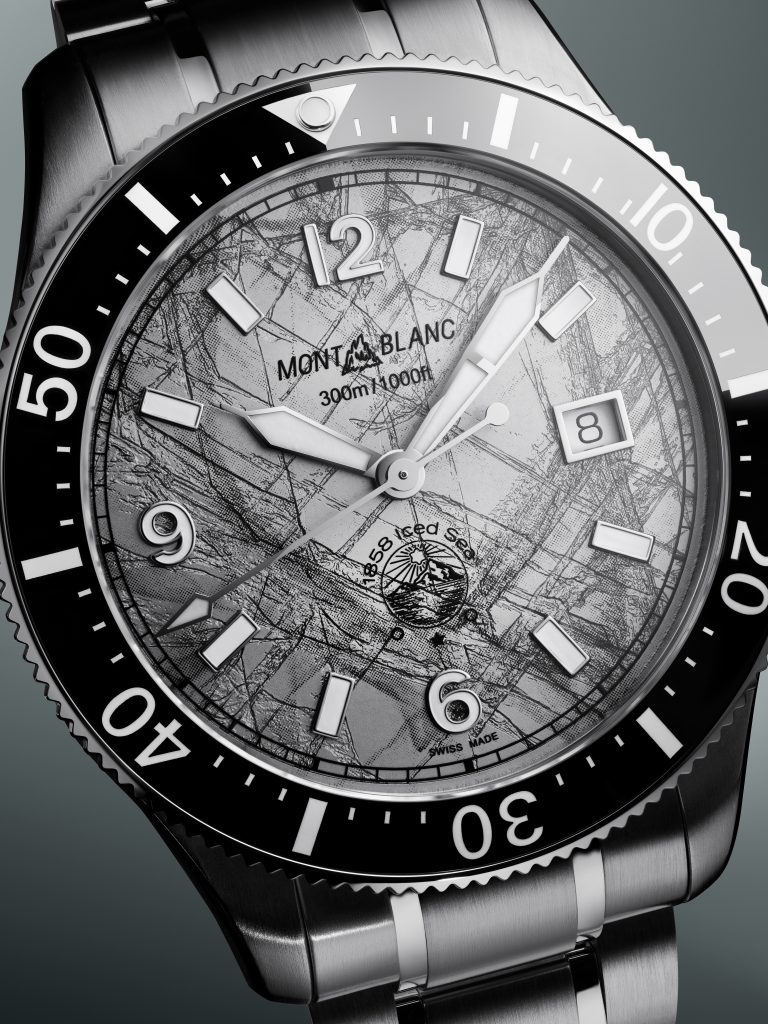 Furthermore, the Montblanc 1858 Iced Sea collection includes interchangeable stainless-steel bracelets that can be quickly and easily switched for a black rubber strap, complete with stitching to match the dial colour. Swaps can be done without the need to return to the boutique or the use of any tools. The interchangeable bracelets are also adjustable on the wrist to fit every owner and whatever they might be wearing, a good consideration when wearing the watch over a wet suit.
The stainless steel bracelets for the Montblanc 1858 Iced Sea Automatic Date timepieces have tapered links and are secured by a double deployant buckle. Stainless steel and rubber were chosen as the materials of choice due to their resilience in saltwater environments.
Besides the glacier grey edition of the Montblanc 1858 Iced Sea Collection, there will also be a new Boutique Edition with a green glacier dial that gives the impression of looking into the depths of glacial ice. Though most glaciers are white or blue, some also come in a deep emerald shade because of the ice's iron oxides. This marks the second green edition in the Iced Sea collection. But it differs from the previous model thanks to its black ceramic bezel, which previously came in green.
It also has a 3D-engraved caseback showing a larger scuba diver in green, which makes this special Boutique Edition even more unique. This Montblanc 1858 Iced Sea Automatic Date Boutique Edition comes in a 41mm stainless steel case and will be available exclusively in Montblanc boutiques across the world.
All Montblanc 1858 Iced Sea Automatic Date timepieces are powered by automatic movements and indicate the hours, minutes, seconds, and a date at three o'clock. They also come with a recycled and 100 per cent recyclable watch pouch so the wearer can be truly green, not just with their chosen hue.
Designed with explorers in mind, there are plenty of other awe inspiring timepieces from the Montblanc 1858 Collection.
Photos by Montblanc