Experiencing Jaeger-LeCoultre's craftsmanship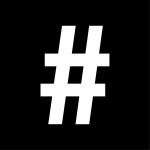 By: Gordon Lam
August 23, 2023
Home to the most important watchmaking manufacture in the legendary Vallée de Joux, Jaeger-LeCoultre has been at the forefront of its industry since 1833. Gordon Lam visits its hallowed grounds and comes away with a newfound appreciation for innovation, precision and craftsmanship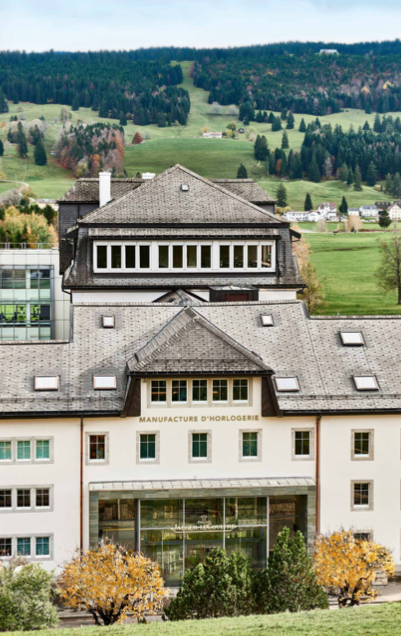 After four days at Watches and Wonders, covering more than 20 different watch brands, it was finally time to relax, wind down and enjoy the best watchmaking the world has to offer. And where else to do that but at the Jaeger-LeCoultre factory in Switzerland's legendary Vallée de Joux?
We set off from Geneva early in the morning on the last day of Watches and Wonders with Jaeger-LeCoultre's Hong Kong team, the driver kindly stopping along the way for us to take some memorable photos at the famous Lac de Joux – the largest lake in the Jura Mountains and a popular destination for nature and watersports enthusiasts. Roughly an hour after we left Geneva we arrived at the main entrance of the manufacture, which is situated right in front of a bright yellow zebra crossing. It immediately reminded me of The Beatles' famous Abbey Road album cover.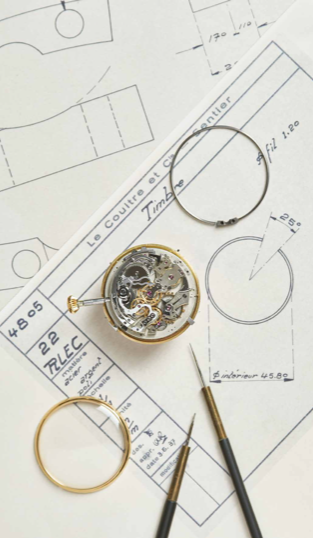 But we weren't here to discuss John Lennon or English rock bands. The worldwide hub of haute horlogerie, Vallée de Joux has been home to Jaeger-LeCoultre ever since Antoine LeCoultre transformed his family's small barn into a workshop in 1833 to produce gear-wheels for watches. LeCoultre's gear-wheels were of such outstanding quality that he was able to realise his dream of creating his own watch brand, which 70 years later would become Jaeger-LeCoultre after his grandson Jacques-David LeCoultre joined forces with French master craftsman Edmond Jaeger.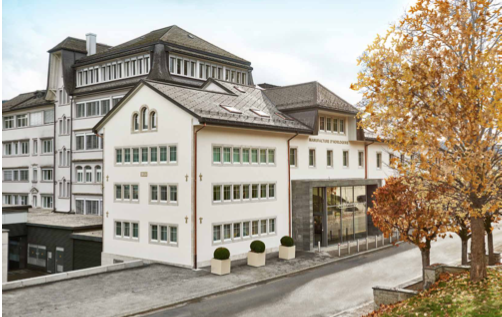 Today, Jaeger-LeCoultre can lay claim to the most important watchmaking manufacture in the entire Vallée de Joux. What's more, Jaeger-LeCoultre is one of the only manufactures to create, develop, decorate and produce all of its own timepieces. In total, 180 different watchmaking crafts are gathered under one roof – including one
of the industry's only dedicated Rare Handcrafts ateliers, capable of timeless decorative techniques such as guilloché, engraving, gem-setting and an array of enamelling methods.
After a light breakfast, we donned our official white watchmaker coats and started our first journey into the history of Jaeger-LeCoultre. I was ready to have my curiosities satisfied and learn how the atelier had managed to create over 1,200 calibres in almost 200 years. Lucky for us, the brand has put together an incredible collection of iconic creations, ranging from historical to modern horological assemblies, that reflect the key stages of the maison's history and craftsmanship, at the Jaeger-LeCoultre Heritage Gallery.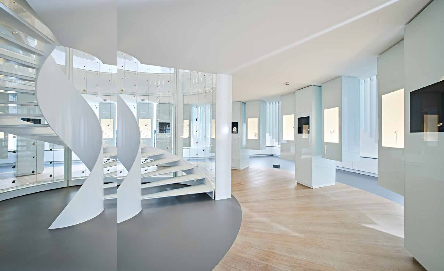 Walking past the entrance plaque engraved Manufacture D'Horlogerie, we could immediately appreciate the building's restored façade as a proud celebration and display of the brand's long history of spectacular craftsmanship. Once inside, we visited the restoration workshop that houses the invaluable original plans that allow expert watchmakers to restore life to antique watches, pocket watches and other assemblies from as long ago as the early 20th century. Normally, it's either impossible to repair old watches or the components have to be updated to suit the times. Where original parts are unavailable, identical components can now be reproduced from scratch by utilising the original blueprints and swages (metal-stamping templates) to make them as good as new.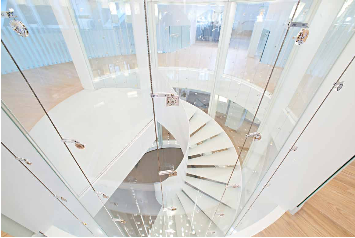 Eventually we found ourselves standing on the exact spot where Antoine LeCoultre set up his first workshop. All of a sudden we were immersed among 500 dazzling timepieces displayed in huge glass and leather showcases designed to evoke a watch movement. The stupendous collection included several era-defining models like the famous Duoplan dating back to 1925, the evergreen Reverso watches produced from 1931 till now, the Memovox line and the Futurematic from the 1950s as well as the Polaris from 1965, to name a few.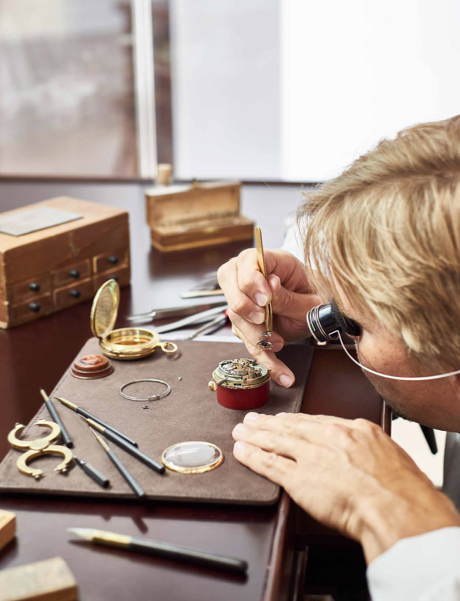 Aside from historic originals, recognisable contemporary creations such as the Gyrotourbillon I (2004), the Reverso grande complication à triptyque (2006) and the Atmos Transparente from the same year, derived from the 1928 prototype of the Atmos clock, added to the spectacle. On the technological side, the 1907 Lépine pocket watch was a sight to behold. The antique piece is equipped with the world's thinnest calibre, the LeCoultre Calibre 145, making it the world's thinnest pocket watch with an 18-carat yellow gold "knife" case, a name earned with its record-setting 1.38mm thickness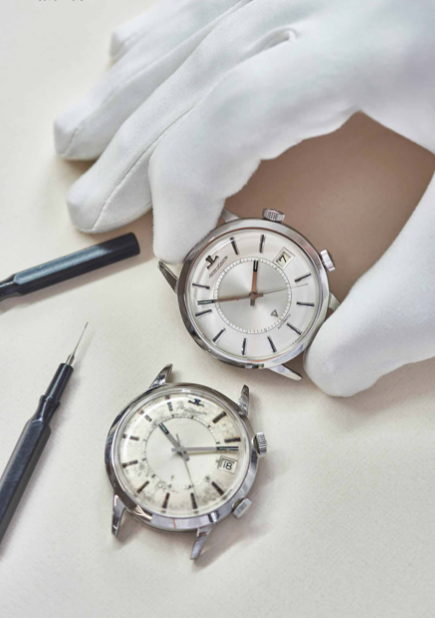 After gazing at the mesmerising creations, my attention was drawn to the massive glass wall that occupies the centre of the complex. This monumental display case encompasses 340 out of the 1,262 mechanical movements ever designed by the "Grande Maison". Among the sea of precise mechanisms was its prized calibre 101, titled the world's smallest movement with a net weight of less than a single gram despite comprising 74 parts, an astonishing innovation in 1929. The diamond-embellished 1938 Joaillerie 101 exhibited in the Heritage Gallery encases the record-breaking calibre 101. This highly exclusive watch requires meticulous work that only a few skilled watchmakers can handle.
I was baffled at how the atelier has developed a massive collection of 413 patents across the years, but what really caught my eye was the Millionometre, invented by Antoine LeCoultre, the master himself, in 1844. Before microns even existed, this impressive instrument exceeded its predecessors and was able to measure this undiscovered unit.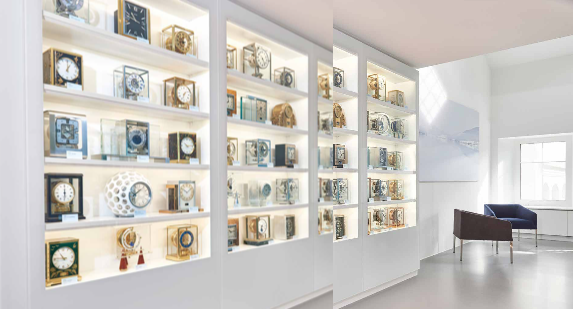 One level up, the atmosphere became much more intimate, or even hush-hush, as masterpieces and one-of-a-kind designs were individually displayed to showcase their full glory. What set my blood pumping was the chance to admire the renowned Hybris Mechanica collection, hailed as the most elaborate and exceptional calibres resulting in the most complex and innovative timepieces ever.
The Heritage Gallery stores the maison's treasured archives as a source of inspiration, including written records of technical plans, patents, drawings, old books, client registries, even advertisements and catalogues. I also spotted some original tools and a worn wooden workbench, which I would like to imagine the mastermind sitting on during his heyday. Our visit was an eye opener to say the least, and everything was truly impressive!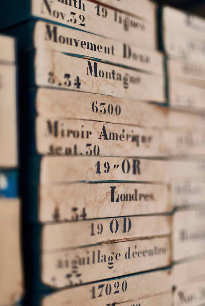 Right after our mind-blowing historical lesson, we were ushered into a Reverso Discovery Workshop. This had to be my favourite part – getting my hands on Jaeger-LeCoultre's emblematic Reverso watch case and learning how to assemble its parts in order to make the case swivel was a dream come true. The highlight of the workshop was the official certificate given after completion and signed by none other than my good friend, Jaeger-LeCoultre CEO Catherine Rénier.
The next stop was lunch, served in a private dining room named for this year's Jaeger-LeCoultre theme, The Golden Ratio, along with other Asian media from Malaysia, Korea, Thailand and beyond. We were also lucky enough to take a quick tour of the official staff canteen, whose balcony overlooks Antoine LeCoultre's original workshop and which has been recently renovated. The original manufacture stands proudly next to the now modernised railway track that still ferries villagers across Vallée de Joux. The sun was out in full blast as if summer had come early, in contrast to the morning by the lake when we were all wrapped up in winter jackets.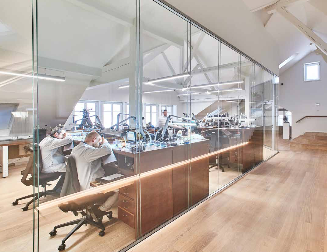 On the way back through the staff canteen, I noticed the extensive menu and choice of cuisines they had on offer. It was comparable to any five-star hotel's buffet. For a split second, I was tempted to see if they had a position open for me to work there just for the sake of the food! But after a scrumptious lunch, we were back on tour visiting different manufacturing floors with different raw materials as well as components departments. I was truly astonished to see and witness all the design and development work, meet the artisans involved, and learn about the modern machinery that all contribute to bringing each Jaeger-LeCoultre masterpiece to life.
As we ventured deeper into the maison's high complication watches, as well as its renowned Atmos clock departments, we were sworn to secrecy to ensure we wouldn't reveal any trade secrets to the general public. It's truly amazing the amount of groundbreaking knowledge Jaeger-LeCoultre has contributed to the world of watchmaking. To call the brand a "legend" is surely an understatement. I, for one, will be more than happy to come back and spend more time observing and learning from its incredible craftsmen. Oh, and trying out the staff canteen.
Also see: Audemars Piguet and the sound of music