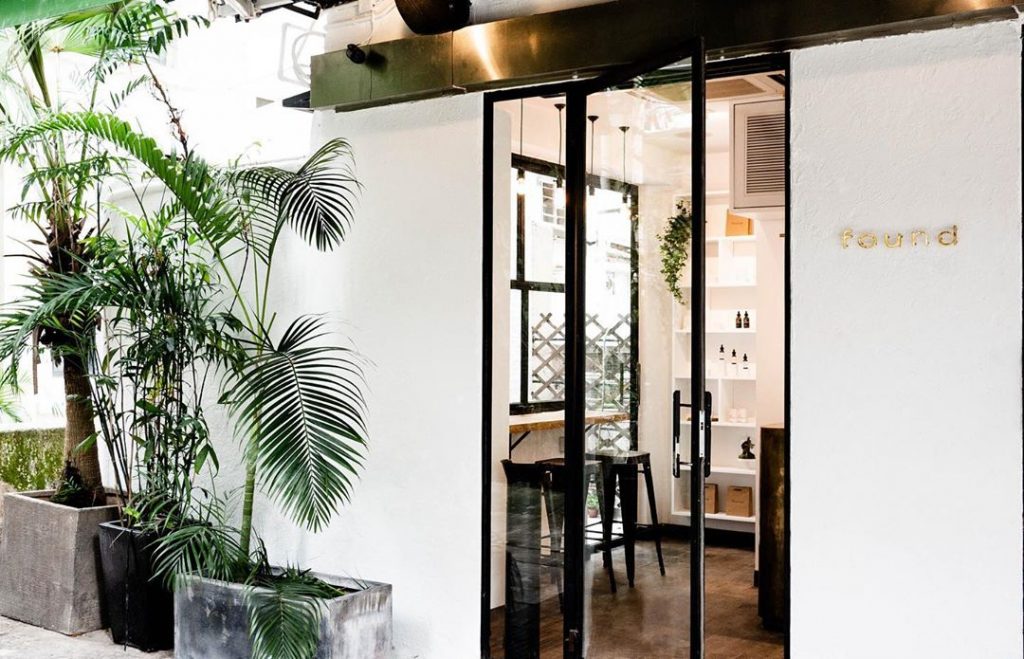 By now, you've probably heard of CBD in Hong Kong. Short for cannabidiol, CBD is an ingredient derived from the cannabis plant that offers therapeutic benefits without the psychoactive properties found in its counterpart, THC (tetrahydrocannabinol).
CBD is now officially the latest 'It' ingredient to show up everywhere. Whether it's in chocolate or beauty products, one easy way to try out CBD's benefits are by putting it in your morning brew.
Most of us love the eye-opening effects of coffee, but for those who get the jitters, anxiety and/or stomach issues from a cuppa joe, that's where CBD comes in. When coffee and CBD are consumed together, the energising benefits of caffeine are balanced by the relaxing effects of CBD to keep you both calm and alert.
Ready to try some CBD coffee (and tea) in Hong Kong? Make your way to these Hong Kong cafes offering CBD add-ons – you can thank us later.
Found
Found is the first CBD cafe and shop started by the team behind Hong Kong-based organic CBD brand Felix & Co, which offers more than a standard cup of coffee, thanks to—you guessed it—the 20mg CBD that adds a dose of calm to your morning caffeine. For ready-to-drink options, choose from Sofe Coffee's CBD-infused cold brews that come in two flavours: fruity Ethiopia and nutty Papua New Guinea, both are available in 20 and 40mg CBD. 
Found, Unit A, G/F, 8 Tai on Terrace, Hong Kong, +852 5288 2281
Elephant Grounds
What's better than brunch? Brunch with CBD! Hong Kong-based coffee chain Elephant Grounds is now giving customers the option to add Life CBD's water-soluble liquid CBD to their espresso-based drinks at three of its selected locations including Star Street, Mid-Levels and Fashion Walk, where you can also purchase Felix & Co's CBD oils. Depending on how you feel, choose from the two dosage options available: 20mg (HK$25) and 10mg (HK$15). Tip: If it's your first time, start with a smaller serving. 
Elephant Grounds, multiple locations, +852 2562 6700
Winstons Coffee
One of the first cafes in Hong Kong to serve bottled cold brew coffee, Winstons Coffee gives its classic cold brew a CBD twist with 1ml (equivalent to 25mg) of OTO CBD's non-alcoholic cocktail bitters infused with a spice blend of bitter orange, bergamot, lemongrass, liquorice, cinnamon, cacao and cardamom. It's available at both Winstons Kennedy Town and Sai Ying Pun, and you will save the planet and HK$2 on your next drink by bringing the bottle back to either location.
Winstons Coffee, Shop 4, 213 Queen's Road West, Sai Ying Pun, Hong Kong, +852 2559 5078; Shop 8, 11 Davis Street, Kennedy Town, Hong Kong, +852 2697 1878
Elixir
Not one to shy away from trying new things, Elixir in Sheung Wan has partnered with Cubed CBD to offer a package that includes two Cold Brew Bags and a bottle of 300mg CBD drops (15ml) for HK$500, including free local delivery. When ordering a coffee, you have the option to add CBD oil at no extra charge. Stay tuned for Pal, the cafe's next venture of cold brew bags with 10mg of CBD isolate. 
Elixir, 9 Mee Lun Street, Sheung Wan, Hong Kong, +852 6083 0915
Matchali
If coffee's not your cup of tea, a jitter-free matcha might just be your new favourite pick-me-up. Packed with antioxidants and slow-release caffeine, the health benefits of matcha are amplified when paired with Reset Bioscience CBD at Matchali. Perfect for relieving anxiety, inflammation and stress, CBD matcha will mellow you out with an extra sense of serenity.
Matchali, Shop 200D, Pacific Place; Shop 239, Landmark Atrium, Hong Kong, +852 9684 9838