Exploring Luang Prabang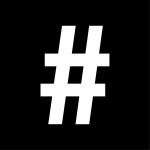 By: Sarah Engstrand
October 11, 2018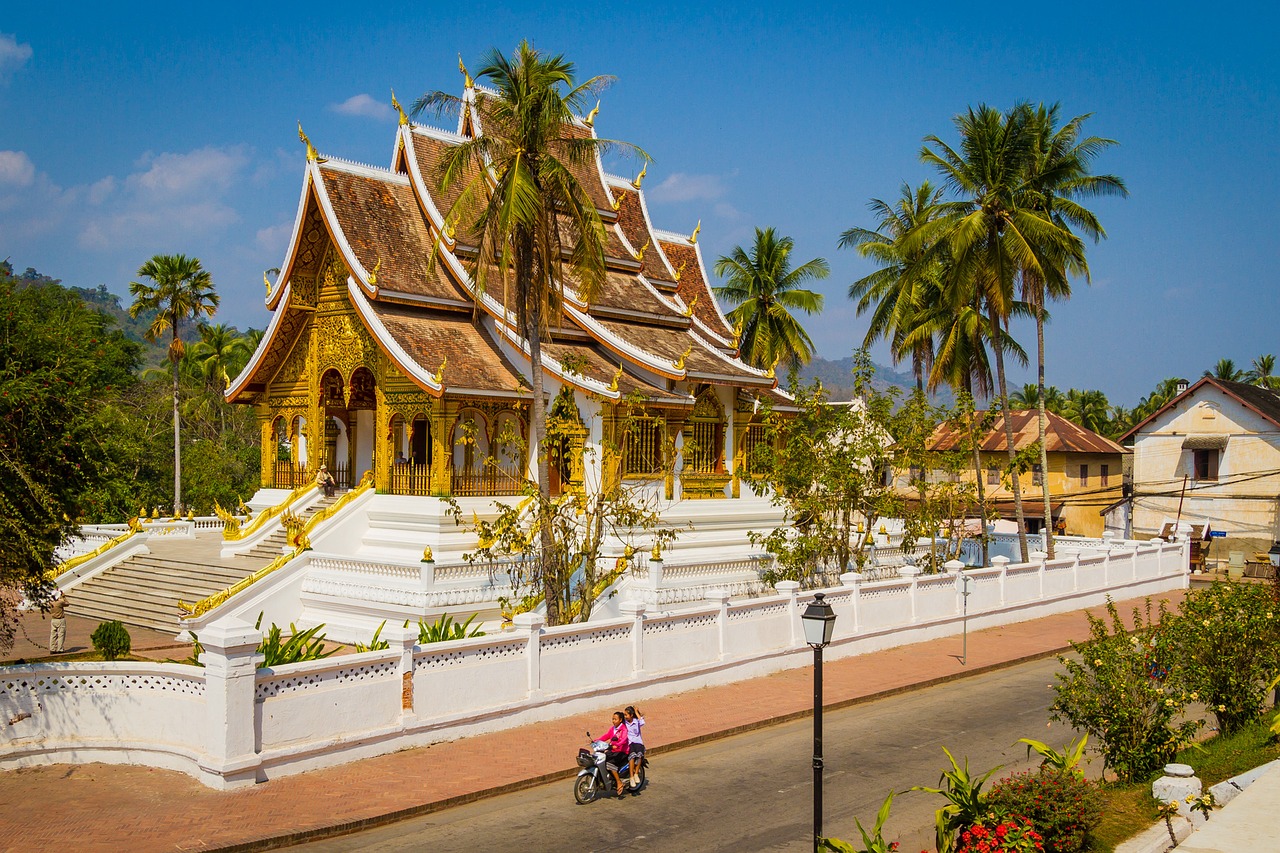 If Luang Prabang isn't on your 'must-visit' check-list, it should be. The spiritual home of Laos, it's a sleepy little city that quietly hums along —at least until 11pm or so, when the curfew sets in. Laos itself only opened to foreign visitors in the 1990s, and by 1995 Luang Prabang had been declared a UNESCO World Heritage Site. Almost universally loved, the small peninsula is often described as a place where time has stood still, but that's just not true. While it maintains its historic charms, the city has evolved over the last two decades catering to the tastes of the many visitors.
In addition to its cultural treasures—the city has over 30 watts, and a former royal palace— Luang Prabang also has a luxurious appeal to it, with top-tier hotels and beautiful boutiques dotting its quiet roads. The entire city can be explored on foot or by bicycle, and it doesn't take long to fall under its spell. Veer off the main road and get lost in maze of winding alleys, charming French colonial buildings and a flurry of young monks in saffron robes. It is, in a word, enchanting.
What to Do
Luang Prabang is the perfect place to visit when the hustle of Hong Kong is getting to you. Time moves slower here and there's no reason to rush. Enjoy the change of pace while you explore some of the area's top sites.
Kuang Si Falls
These falls are famous for their dramatic pools of azure waters, and stunning views over the city. At least in the dry season. During the rainy season (May – October), the water turns a murky brown- but is still open to swimmers. The falls are about 30km away from the city, so it's best to arrange a tuk tuk through your hotel. Before you get to the falls, take some time to wander through the sun and moon bear sanctuary at the entrance. Is it perfect? No, but they're doing amazing work educating the public on the horrors of bear bile farming – a prized ingredient in certain Chinese medicines. Getting to the falls themselves is a fairly easy walk and once there, you can take pictures from the various platforms, or head up to the top. Be warned – it's a steep way up and a slippery way down.
Laos Buffalo Dairy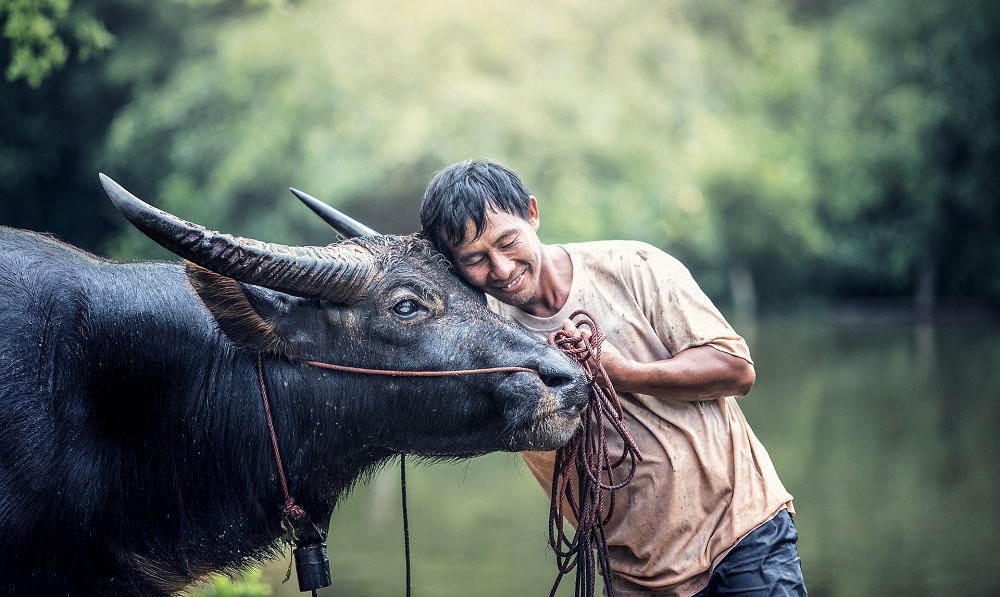 After the falls, reward yourself with a stop at the Laos Buffalo Dairy, the first of its kind in the country. Besides making some of the best ice cream and desserts you've ever had (the bread & butter pudding is extraordinary!) the dairy educates local farmers on the best ways to care for their animals. They rent pregnant water buffalo from local villagers, creating a circular economy, and ensure every mother and calf that comes through their farm is vaccinated and healthy. They also have pigs, chickens and rabbits that you can feed, in addition to getting up close and personal with the buffalo over a bath and milking session. Of course, you can just stop by for an ice cream if farm life isn't your best life.
Laos Buffalo Dairy, Ban Muang Khay, Luang Prabang, Laos; +856 30 96 90 487
www.laosbuffalodairy.com
Mount Phousi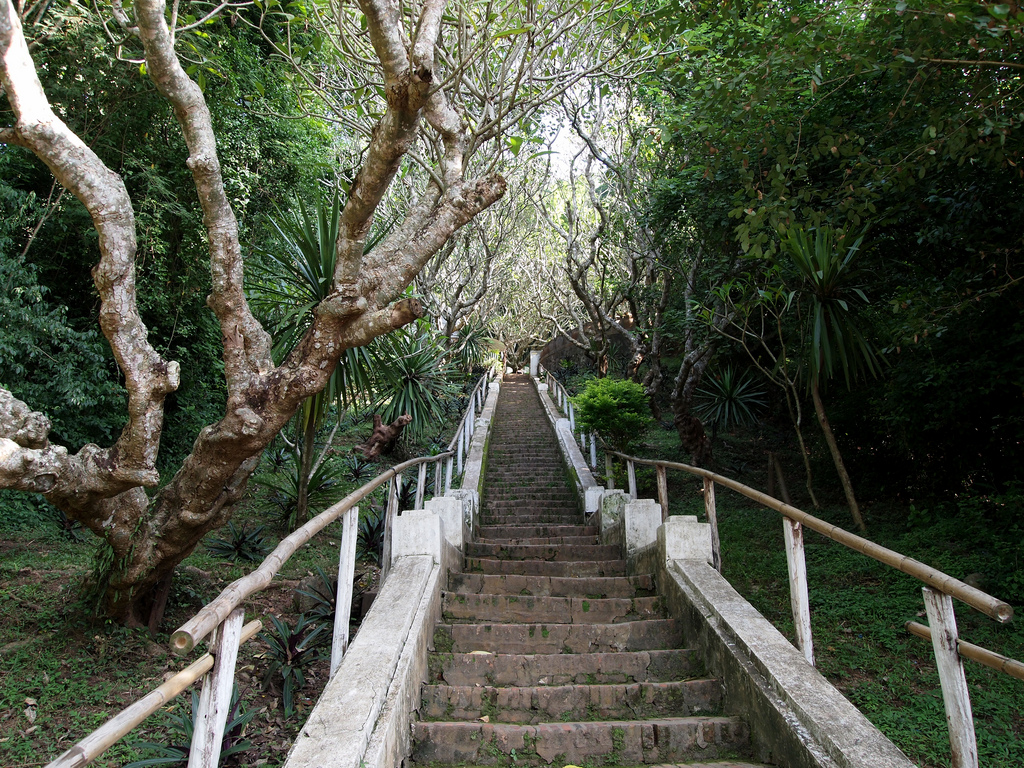 Sunsets in Luang Prabang are beautiful, and the best view is at the top of Mount Phousi. Right in the middle of the city, the mountain rises 150 meters above the town. Along the 300 steps up you can see small temples, shrines and statues, which help make the trek more bearable. Up at the top, watch as the sun sets behind the mountains, lighting up the Mekong River. But don't be surprised if you get a little distracted. Local school children head up each night to speak with visitors and practice their English, it's a great opportunity to speak with some locals and learn more about Laotian culture. Oh, and bring bug spray—the mosquitos are brutal.
Night Market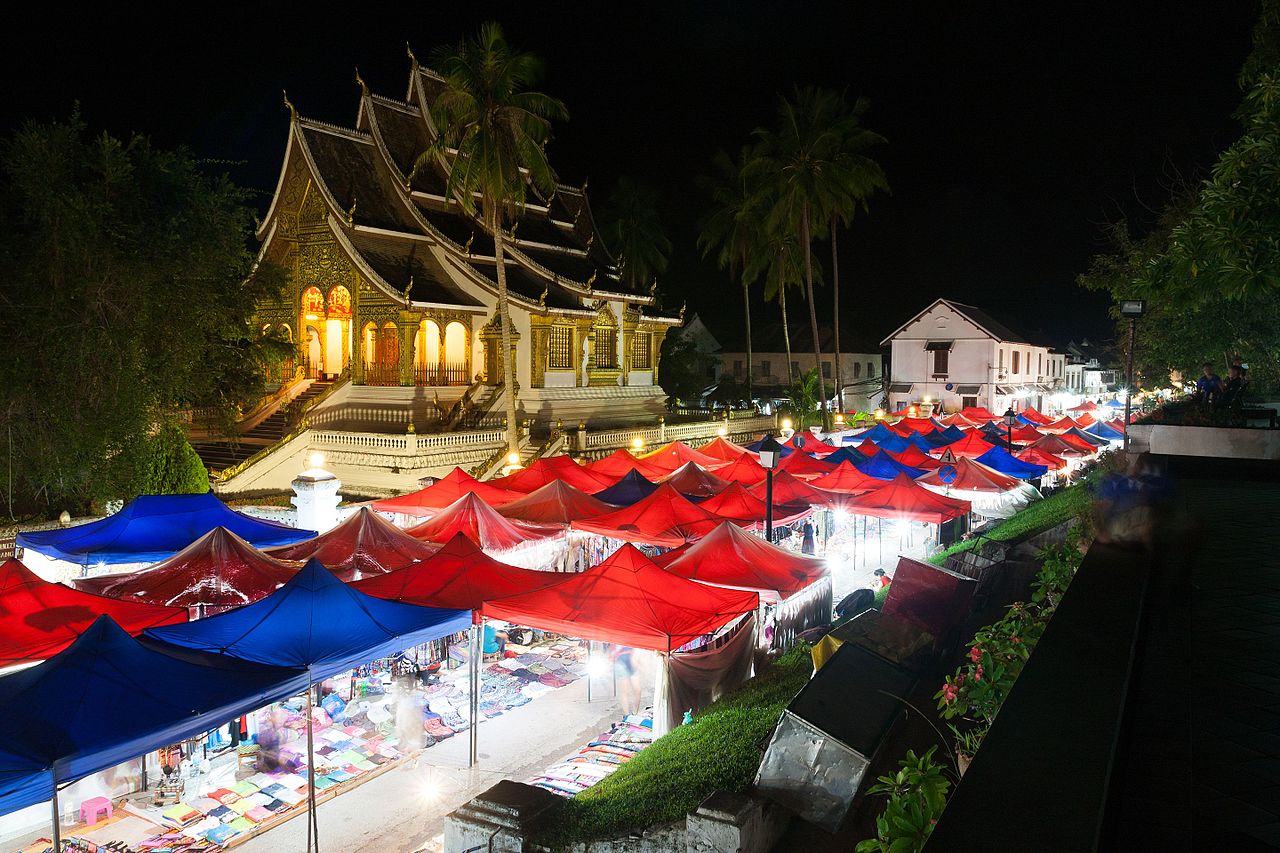 Head straight down Mount Phousi, and you'll hit the city's lively Night Market. This is a great place for souvenirs and is worth a trip or two. Well-priced shops stay open late, so you can pop in for antiques, carved wooden bowls, traditionally-crafted textiles or beautiful silver jewellery from the Hmong people. When you're hungry, head to the food market, sometimes called 'buffet alley'. It's overwhelming at first, a tightly packed bazaar of colours and fragrances, but it's worth exploring, and the Laotian sausage is excellent. The market usually opens around 5:00pm and closes by 11:00pm.
Bamboo Bridge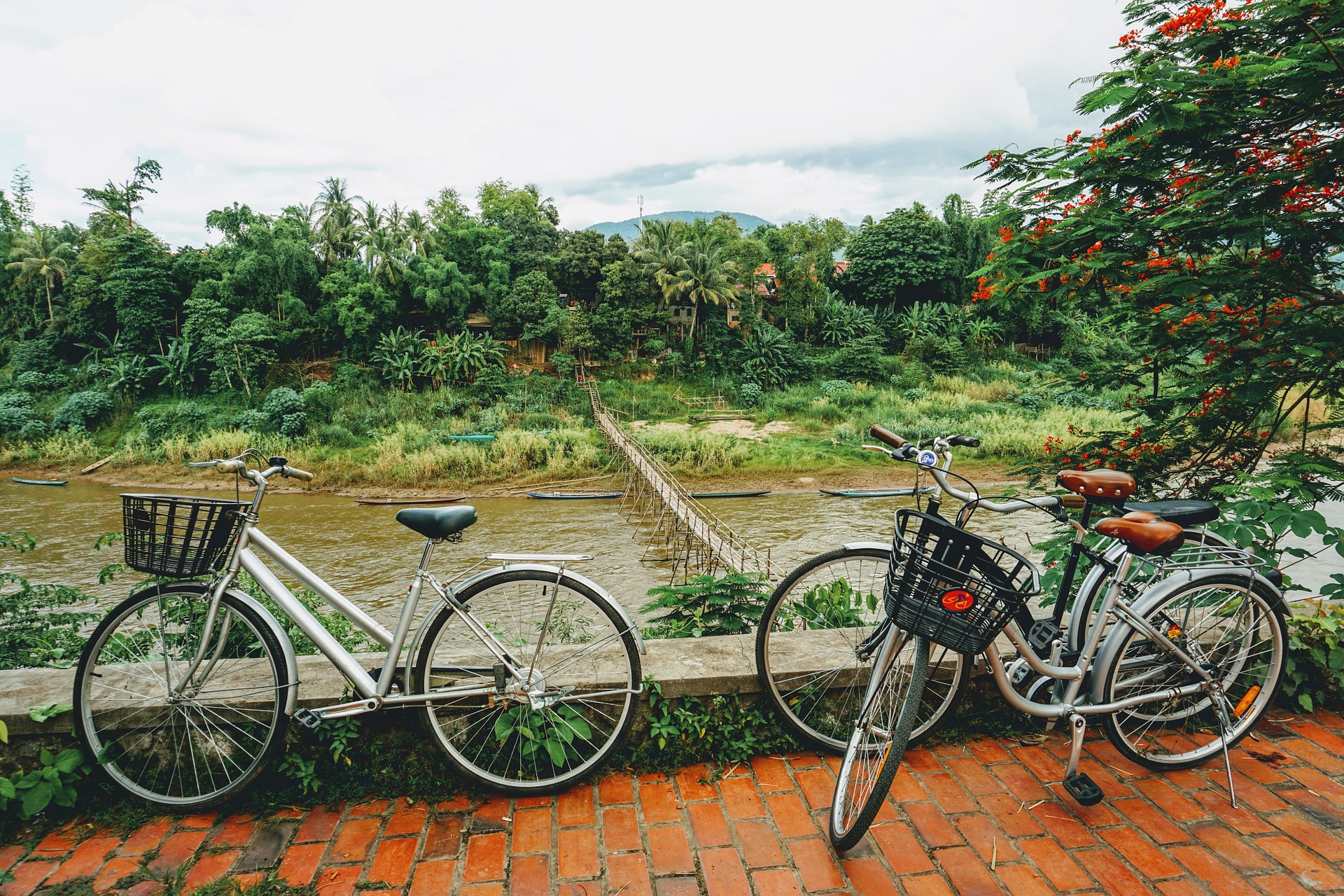 Luang Prabang is split by the Nam Khan River. You can get from one side to the other by traditional roads, or, for a nominal fee, you can cross the hand-woven bamboo bridge. Each year, a local family erects the bridge, which is either taken down or washed away by the rainy season. It's worth crossing at least once, just to appreciate the craftsmanship- and it's a great spot for the gram. The 5,000 KIP (about HK$5) helps maintain the bridge and fund its annual resurrection, and it is free to use after 6pm.
Alms Giving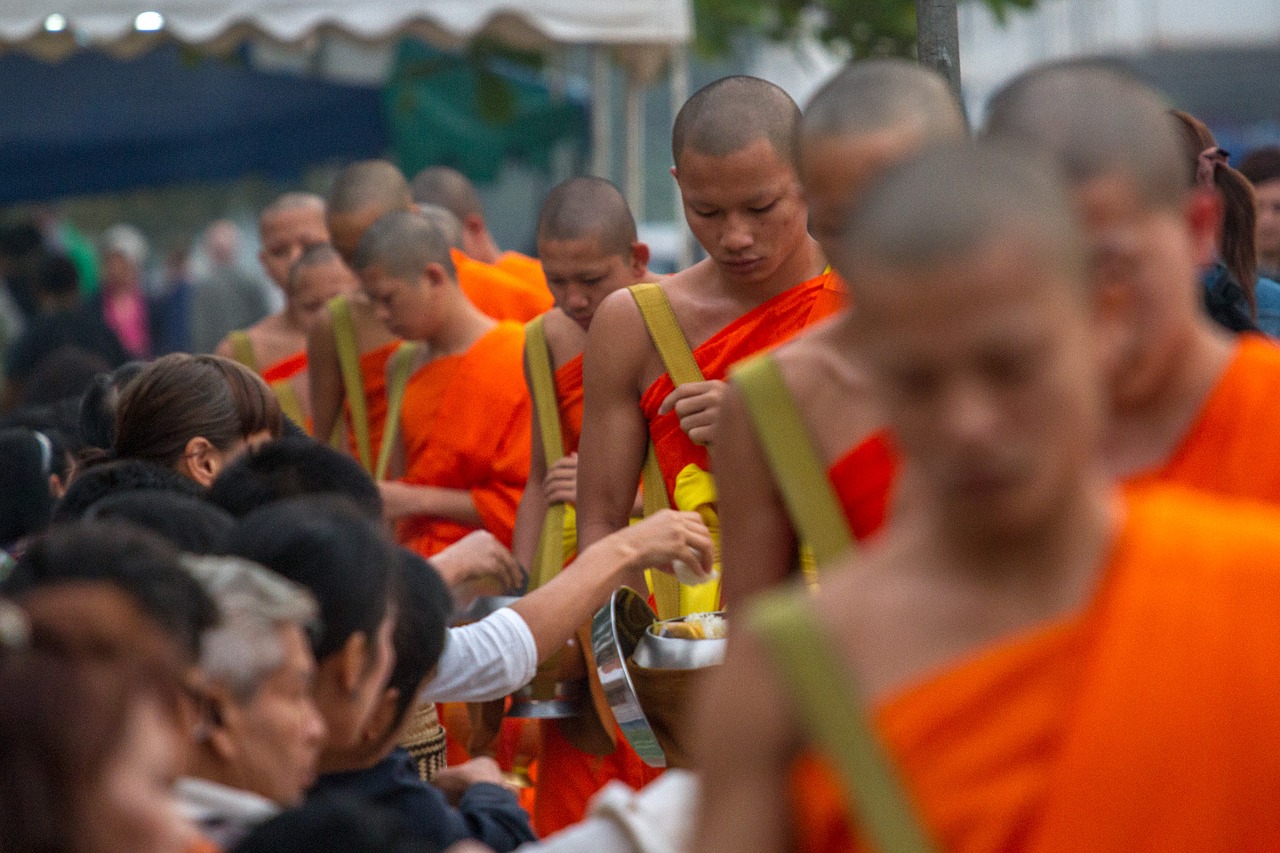 Every morning at sun rise, hundreds of Buddhist monks leave their temples and head into Luang Prabang to collect their meal for the day. This is a sacred ritual in Laos, a time for the community to take care of their spiritual leaders, and to receive blessings in return. Those wishing to observe should do their research beforehand to avoid disrupting the daily practice. A few words of advice: arrive before the monks, turn off your flash, and generally try to be as unobtrusive as possible.
Where to Eat
Laos cuisine is bold, heavy on the fragrant herbs, and almost always centres around sticky rice. When looking for your next bite, there is no shortage of restaurants to choose from in Luang Prabang, but these two stood out from the competition.
Tamarind
Tamarind is a must-visit for those new to Laos because the restaurant provides one of the best, most accessible culinary educations in the city. The food of Laos isn't as widely understood as Thailand or Vietnam, and this menu reads like a miniature encyclopaedia, explaining every dish in addition to Laotian customs and preferred flavours. It's like having a private chef coach you through each bite. A la carte dishes are available, but go for one of the set dinners to get a full variety, like lemongrass-stuffed-chicken, and a selection of Luang Prabang sausages, dips, relishes (or jeow), steamed fish and more. If you're offered a 'Lao Lao shooter'- the banana whiskey is quite smooth, and the ginger packs a punch.
Tamarind, Kingkitsarath Rd, Luang Prabang, Laos; +856 71 213 128

www.tamarindlaos.com
Secret Pizza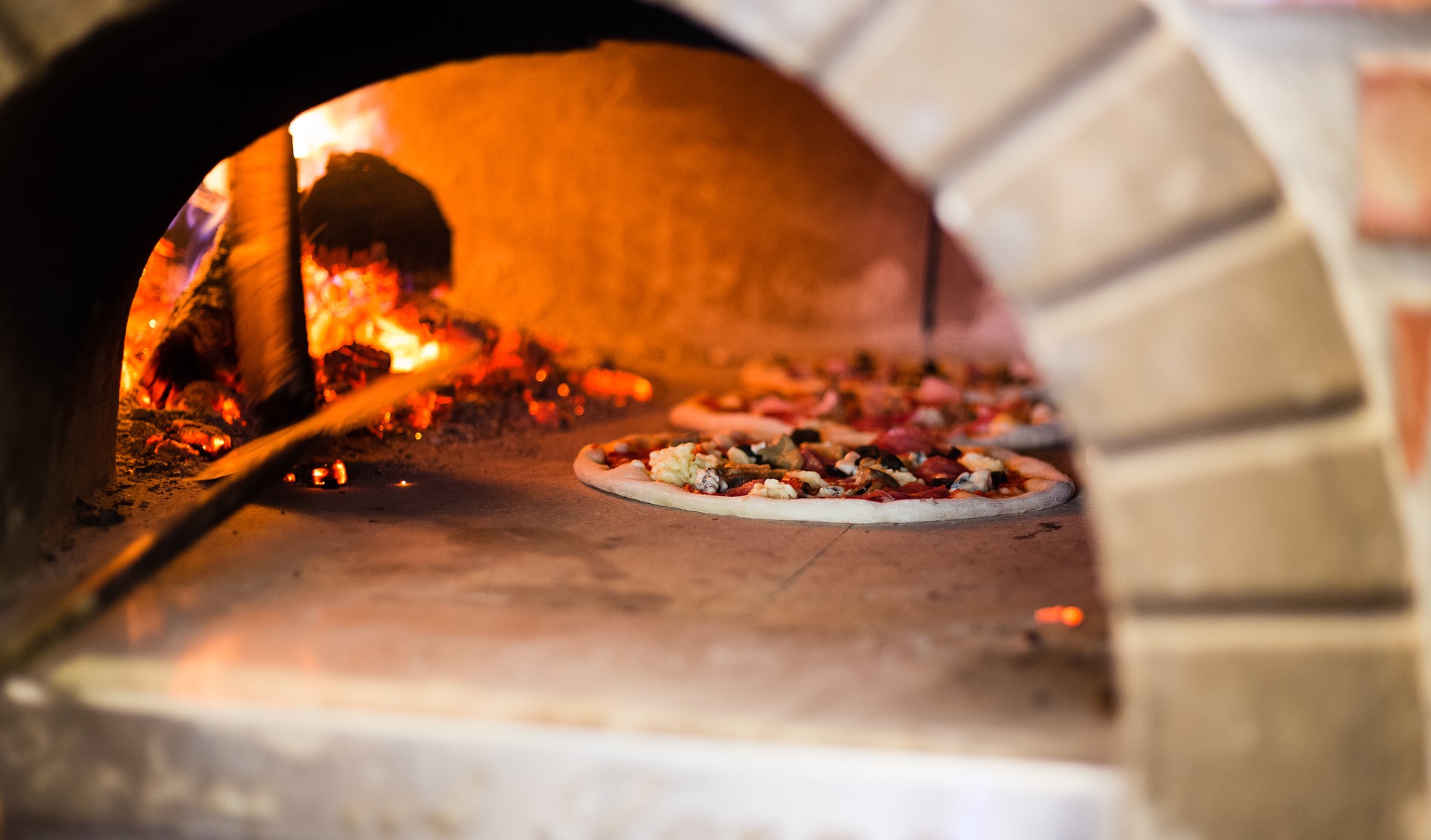 After a few days of sticky rice and jeow, you might be craving something a little different. If that's the case, Secret Pizza is for you. Only open twice a week, on Tuesdays and Fridays, this little independent shop is just outside of the main town and serves up some of the best pizza in the country. Chef Andrea bakes his pizzas in a wood-fired oven outside his home, and his slices can hold their own against New York City's. This is a no-frills spot, so don't expect anything fancy. Just good pizza and friendly service.
Secret Pizza, 3 Ban Nasamphanh St, Luang Prabang, Laos; +856 20 56 528 881

www.facebook.com/pizzasecret
Where to Stay
Satri House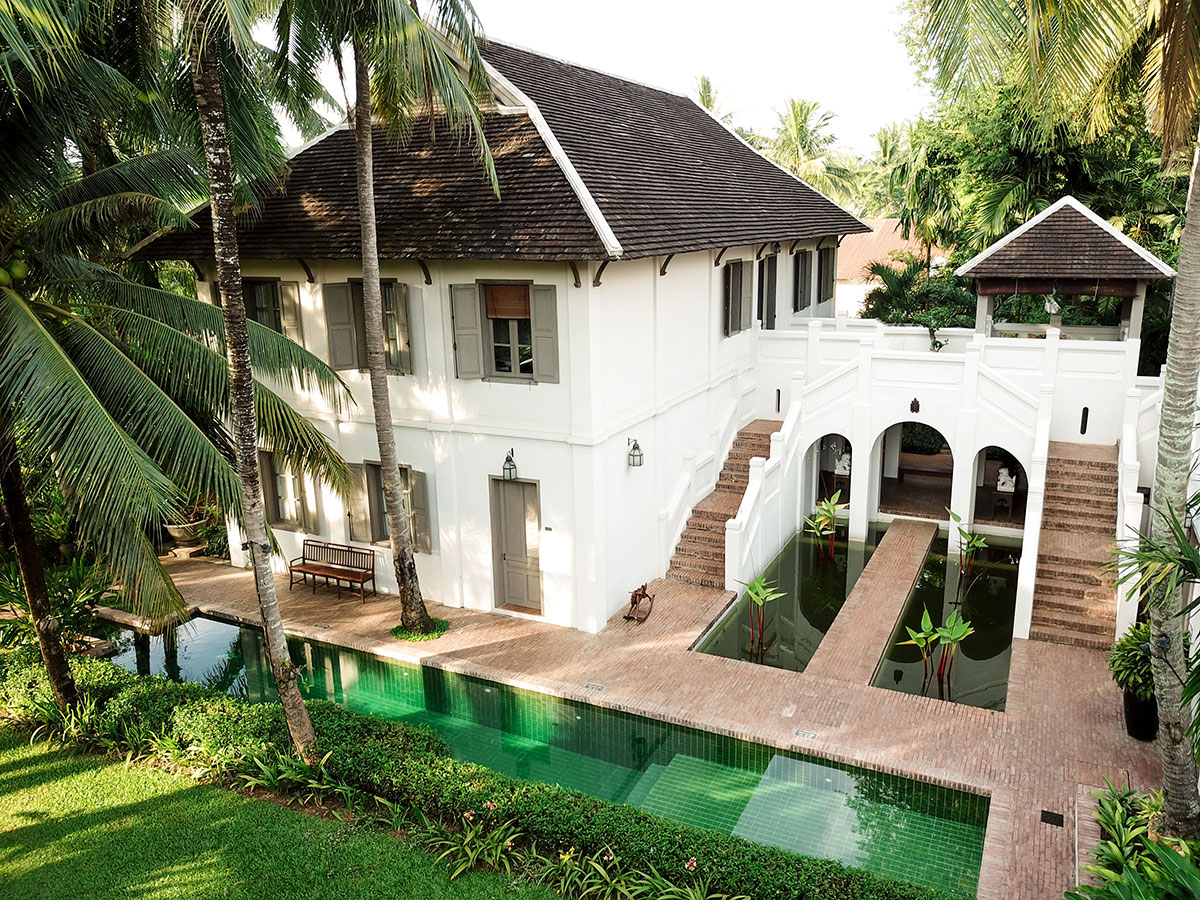 Fancy living like a royal for a night? Then book a stay at the luxurious Satri House, a stunning former royal residence. Even before you check in, they lavish you with old-world elegance- like an airport pick-up in their vintage Rolls Royce. With just 31 rooms, this boutique hotel is one of the best in the city, with a serene spa, lily-filled pond, two gorgeous green pools and an herbal steam room. The rooms are understated but oh-so-elegant (and eco-conscious), a perfect example of Indochine design at its best. In the bathrooms, you'll find all of your essentials decanted in beautiful glass bottles, and in the bedrooms lavish silk-covered daybed's beckon you after a day of site-seeing. If you'd rather lounge around for a few hours, don't forget to don the silk bathrobes. Set a little way outside of town, you can borrow bikes from the front desk, or enjoy a little morning walk after breakfast. Book through Mr. & Mrs. Smith to enjoy a 60-minute Indochina massage for two at the lush spa.
Satri House, 057 Photisarath Road, Ban That Luang, Luang Prabang; +856 71 253 491

www.satrihouse.com
The Apsara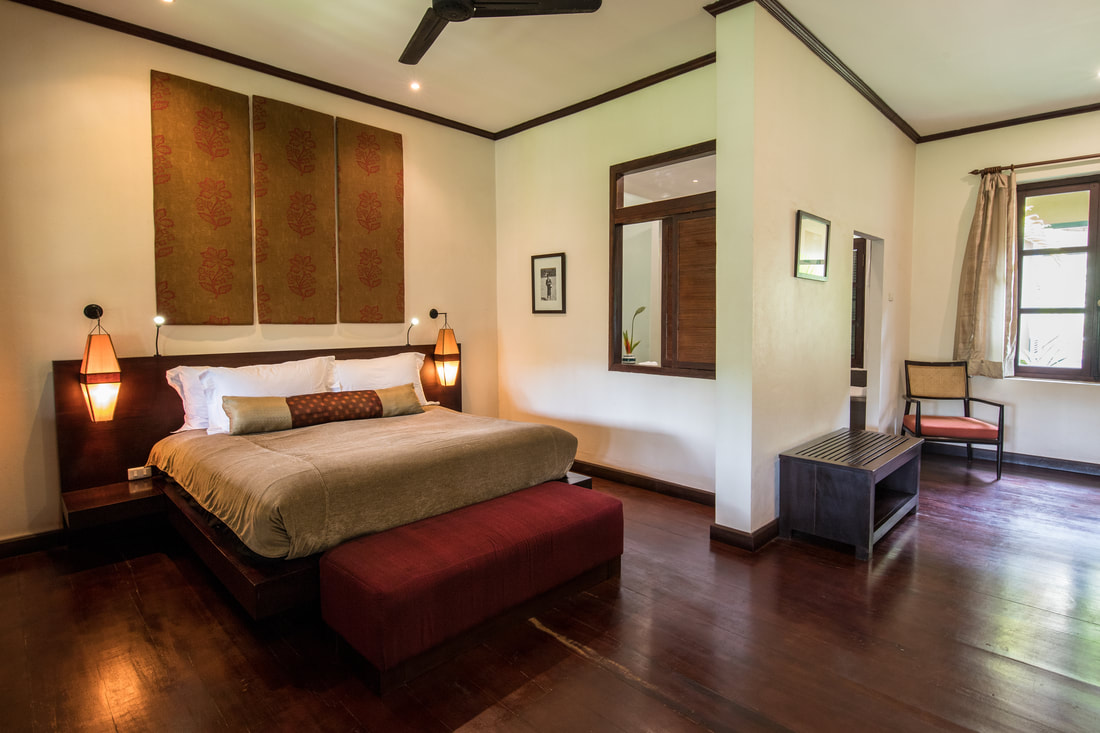 The Apsara is another must-visit boutique hotel in Luang Prabang, it's a stately white colonial hotel known for its eclectic rooms and a lovely restaurant, just on the cusp of town. Across the Khan River is the Apsara Rive Droite, a chic sister hotel with a charming lobby. The renovated French-villa is an oasis of calm away from the main town, and its spacious rooms boast a mix of old-world and new, like modern mattresses juxtaposed with traditional bed linens and dark wooden floors. Individual terraces opens up to the river, where you can enjoy a pre-dinner drink listening to the sounds of nature of outside. Book your stay through Mr. & Mrs. Smith and enjoy a Smith extra: dinner for two at the hotel's restaurant (drinks not included, sadly, but the curry is excellent). A complimentary boat is on hand to ferry you quickly between the two locations.
The Apsara Rive Droite, Ban Phanluang, Luang Prabang, Laos; +856 71 213 053

www.theapsara.com